Whatfinger: Frontpage For Conservative News Founded By Veterans
"The Best Mix Of Hard-Hitting REAL News & Cutting-Edge Alternative News On The Web"
This Is What The MSM Doesn't Want You To Know:† CNN Busted By Local News Station For Hiding Facts, Before Accidentally Telling The Truth About Border Wall - 'It Works'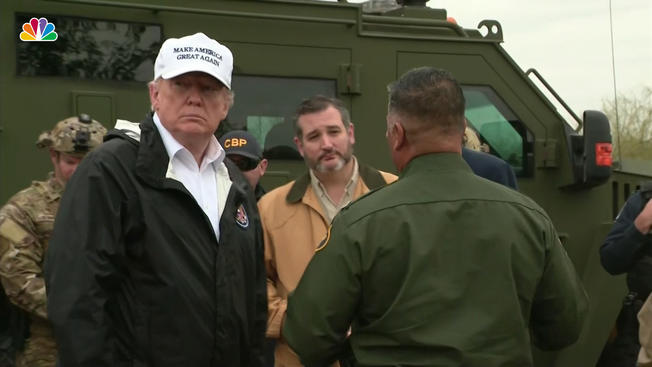 (Texas Border Patrol Agent Speaks with President Trump/Ted Cruz about border security)



By Susan Duclos - All News PipeLine


CNN is having another very bad week. On Thursday a local television station in San Diego called out CNN for hiding the truth about the border and the effectiveness of having a "wall" for border security, and CNN's resident entertainer Jim Acosta showed up on the border to prove a border wall or fence isn't needed, and accidentally showed why border security works, proving President Trump's points.

CNN HIDING THE TRUTH BECAUSE IT DOESN'T FIT THEIR NARRATIVE

A local television station KUSI, publicly called out CNN for requesting one of their reporters to give them a local view on the border wall issues. KUSI complied, offering CNN a local reporter that had often reported from the border. CNN declined the report because it did not fit into the establishment media narrative.

From KUSI:


We believe CNN declined a report from KUSI because we informed them that most Border Patrol Agents we have spoken to told us the barrier does in fact work.

We have continuously been told by Border Patrol Agents that the barrier along the Southern border helps prevent illegal entries, drugs, and weapons from entering the United States, and the numbers prove it.

The local news station also addressed the issue live on air.


This has become standard procedure for some in the liberal establishment media, as evidenced by NBC's Chuck Todd declaring on his show "We're not going to give time to climate deniers," telling his audience that the "science is settled." Todd neglects to mention or "inform" his audience that there are over 31,000 scientific researchers that disagree and say the science is not settled. Qualification of those signatories† adequately matches the qualifications of scientists and researchers that do believe that climate change is man-made.

This means the science is not settled and by disallowing anyone to go onto his show that would argue the science, means Todd, like CNN, is hiding any opinion and evidence that doesn't conform to their preferred narrative.

That is activism, not journalism.


CNN'S JIM ACOSTA ACIDENTALLY TELLS THE TRUTH..... THE BORDER WALL WORKS

CNN, rather than accepting the local news reporters they originally requested, someone that actually has experience reporting on border issues, or even speaking to the border patrol agents themselves, decides to send Jim Acosta to McAllen, Texas, which has a steel border wall and fencing in some areas, and states† he doesn't "see anything resembling a national emergency situation," in a tweet which included his video footage standing right next to the wall.

In the video, which is shown at the beginning of the discussion of Acosta's accidental truth telling, shown below, he explains that he is not seeing "any kind of imminent danger, there are no migrants trying to rush toward this fence, here in the McAllen, Tx area." He then went on to inform his viewers that "as a matter of fact, it is pretty tranquil down here."

Tranquil because that area has a barrier........ which many, many social media users, television pundits and Donald Trump Jr., laughingly point out to Acosta, calling his failed attempt to prove barriers aren't needed ,"one of the biggest self-owns ever."



Political pundit and Director of content for Targeted Victory, Caleb Hull, states "Jim Acosta just posted one of the biggest self owns ever. He's walking along the border where there's a wall in place talking about how there's nothing that 'resembles a national emergency situation' and "'there's no migrants trying to rush.' That's because there's a wall, Jim." Others joined in the mock-fest against Acosta, highlighted by Twitchy.

The reactions seen in the comments to Acosta's tweet, show just badly his attempt to argue against a wall or barrier, backfired.

Of course, Donald Trump Jr. decided to have a little fun with Acosta as well. In response to Acosta's tweet stating "I found some steel slats down on the border. But I donít see anything resembling a national emergency situation.. at least not in the McAllen TX area of the border where Trump will be today,"† Don Jr. said "Of course you donít Jim. Thatís because walls work. Thanks for your help proving @realDonaldTrumpís point and simultaneously creating one of the best self-own videos ever!!!"

Acosta decided to respond back with "Itís a little strange Don. You guys seem to be saying the current measures in place are working. Does that mean your dad should reopen the government and get federal employees back to work? #byebye," to which Don Jr. slam dunked Acosta by responding "I know this might be hard for you to comprehend Jimbo, but the reason why all of Twitter has been mocking you today is because you were at a part of the border WITH A WALL. So yes, of course it was working. Replicate that across the border & weíll all be safer. #RealNews #ByeBye"

Related:†ĎHEíS STILL TWEETING?!í Jim Acosta doubles down on the border wall self-ownage [video]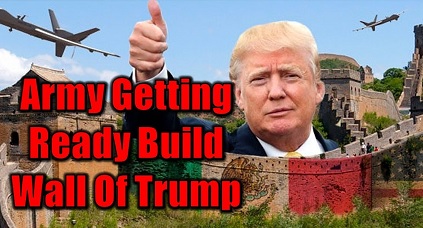 THIS IS WHAT THE MEDIA DOESN'T WANT YOU TO KNOW

As the government shutdown continues because Democrats in congress refuse to provide funds for a border wall along the southern border, the Pentagon is quietly preparing for President Trump to declare the border crisis a national emergency, thereby opening up funds for the military to build the wall, as reported by USA Today.


The Pentagon is preparing options to build barriers on the southern border in the event that President Donald Trump declares a national emergency there, the latest indication such a move is gaining traction within the administration.

"The Department of Defense is reviewing available authorities and funding mechanisms to identify options to enable border barrier construction," said Navy Capt. Bill Speaks, a Pentagon spokesman. "As there has not been such a declaration made, it would be inappropriate to comment further on those efforts."

Trump is considering a declaration of a national emergency as a way to free up funds for a border wall if talks with Democrats fail to yield a deal on his signature issue.

One of the probable reasons that CNN declined to accept the report from the KUSI reporter who is familiar with border issues, and has often spoken directly to those in the know, Border Patrol agents, is because what they have to say, does not fit the establishment media's narrative.

On Thursday, President Trump visited the border in Texas, and during his conversation with a BP agent, he stopped him, turned towards the media and asked him to speak directly to them, and boy did he!†

Listen to the short clip below because this is what the MSM doesn't want their audiences to see and hear. The truth, from those right there on the ground trying to keep our border safe and secure.



BOTTOM LINE

While Acosta's self-own is entertaining it is also very revealing as to how disconnected liberal media is today. Acosta continued publishing segment after segment of people telling him they felt safe in McAllen, Texas , a border town. In Acosta's mind, he was showing viewers that a border town is safe, yet not once did he appear to understand the irony of the fact that they felt safe because they were protected by a barrier wall and fencing, and that Acosta himself was proving it, while trying to disprove it.



ANP NEEDS YOUR HELP. With digital media revenue spiraling downward, especially hitting those in Independent Media, it has become apparent that traditional advertising simply isn't going to fully cover the costs and expenses for many smaller independent websites.
Any extra readers may be able to spare for donations is greatly appreciated.
One time donations or monthly, via Paypal or Credit Card:

Or† https://www.paypal.me/AllNewsPipeLine
Donate monthly from $1 up by becoming an ANP Patron.




comments powered by

Disqus