Whatfinger: Frontpage For Conservative News Founded By Veterans

"The Best Mix Of Hard-Hitting REAL News & Cutting-Edge Alternative News On The Web"
June 25, 2015
Confederate Controversy: Amazon Lies To Customers Claiming 'Federal Law' Forced Them To Remove Confederate Flag - Busted By White House Spokesman! Amazon Still Selling Hamas, Hezbollah Flags And Nazi Memorabilia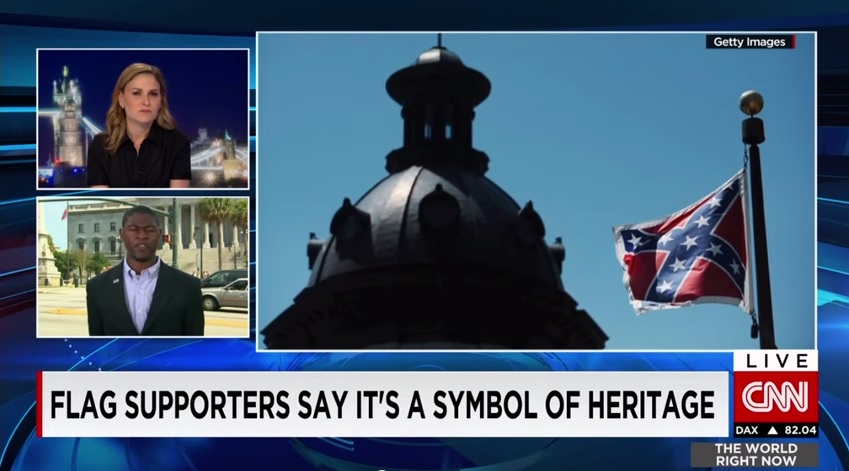 By Susan Duclos - All News PipeLine

After a picture emerged of the Charleston shooter, Dylan Roof, holding a Confederate flag, the nine lives taken at a historical black church on June 17, 2015 became nothing more than a political football as Barack Obama once again danced on the graves of the dead to push his ideological gun control agenda and multiple retailers were pressured into removing the Confederate flag from their inventory.

While those retailers include but are not limited to; eBay, Sears, Etsy and Walmart, with Google taking it upon themselves to block digital ads featuring Confederate flags, it is Amazon that was caught in a bold-faced lie, refusing to take responsibility and be accountable to their customers for their decisions.

As the screenshot below shows, a representative of Amazon, via their chat feature, stated outright that they removed the confederate flag from their inventory because of a "federal law," but a directed quote from White House Press Secretary Josh Earnest directly contradicts that assertion.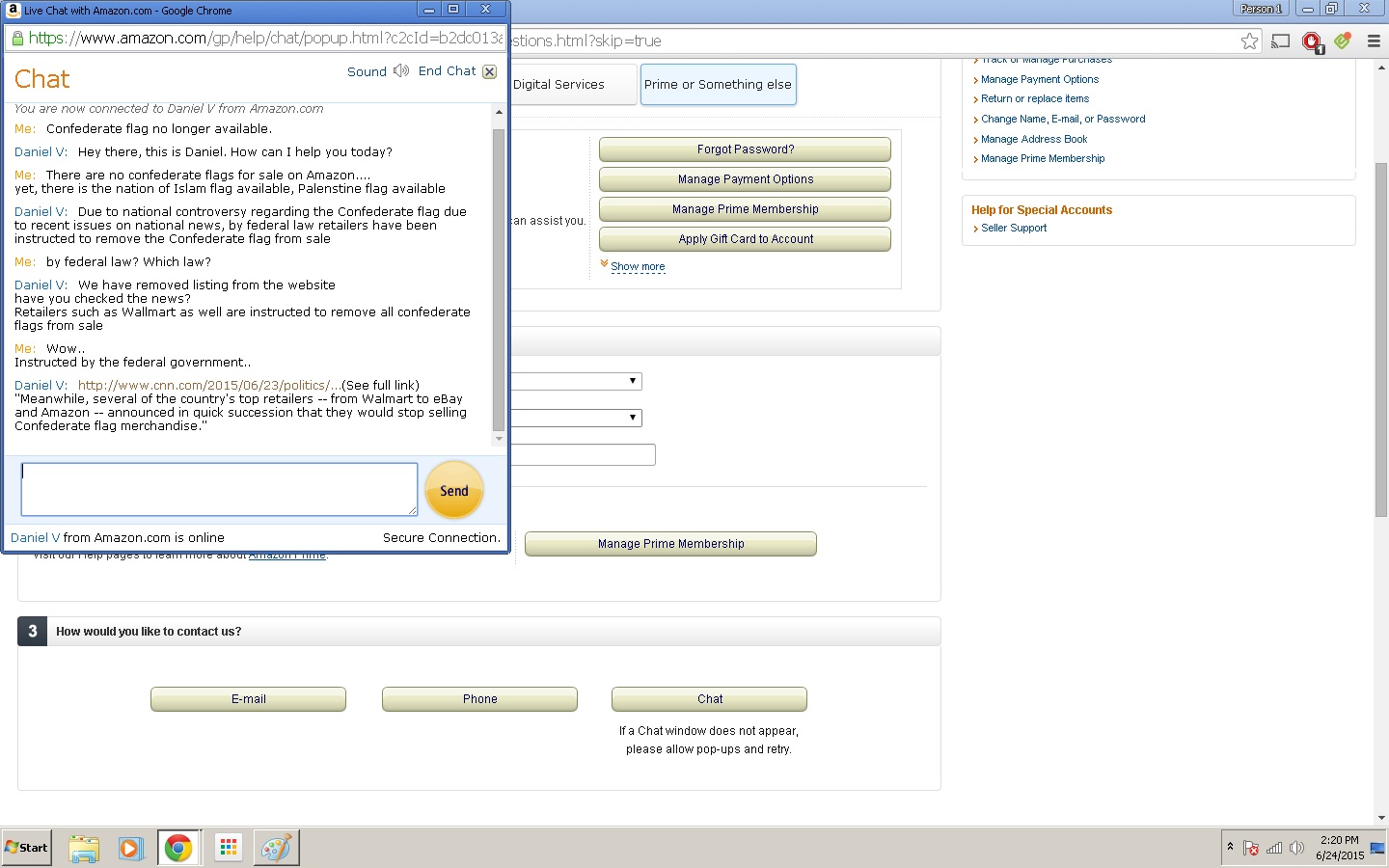 To enlarge the screenshot above, click the image for easier reading.

They claimed that by "federal law retailers have been instructed to remove the all confederate flags from sale." The same representive ignored requests to cite which law.

Now from US News we see the direct quote from WH Press Secretary Josh Earnest:

White House Press Secretary Josh Earnest, asked about the retailers pulling flags from stores, said those are "decisions for individual businesses to make." He added that the businesses' decisions were consistent with the president's position.

If a "individual" business or retailer is going to jump into the political fray, they should have the courage of their convictions, not deliberately lie to their consumers in order topass the buck.

That is the first issue, the second issue is their excuses that they are banning the flag because some find it offensive.

Many find Nazi memorabilia offensive, yet Amazon is still selling it. Many find flags of groups designated as "Foreign Terrorist Organizations" by the U.S. State Department to be offensive, such as Hezbollah and Hamas, but Amazon is still selling them, found here and here.

Some find BDSM and the sale of "simulated rape contraptions"  depicting women being tortured and physically abused as being "offensive," yet Amazon sells those items. (Link to Natural News - Warning: Graphic Images) If you are "offended by the graphic images at the Natural News link, take it up with Amazon - Customer service: 1 (888) 280-3321, CEO's name is Jeff Bezos. Note - Bezos is also the owner of Washington Post, according to Politico.

[UPDATE] Since the CS phone number above brings you to a foreign country with representatives who sound completely clueless, below is the corporate contact information for Amazon:


Amazon Corporate Office Address
Amazon.com Inc.
410 Terry Ave N 
Seattle, WA 98109
Contact Amazon
Phone Number: (206) 266-1000




Fax Number: (302) 636-5454




Website: 

http://www.amazon.com

 




Email: 

Email Amazon

The point here is someone is always going to be offended by something and if Amazon removes all items that could be deemed offensive by a certain segment of the population, they would have no inventory to sell and would be out of business. If they cannot stand by their decisions, take reposibility for them and are actively lying to customers about it, then they are not holding themselves accountable for their decisions and it is up to consumers to hold them accountable.

To give credit where it is due and while I disagree with many of his stances on a variety of issues,  Democratic Presidential hopeful and U.S. Senator for Virginia, Jim Webb,  is being hammered for trying to be the voice of reason in this bizarre controversy and campaign against the Confederate flag, in a Facebook post dated June 24, 2015, shown below: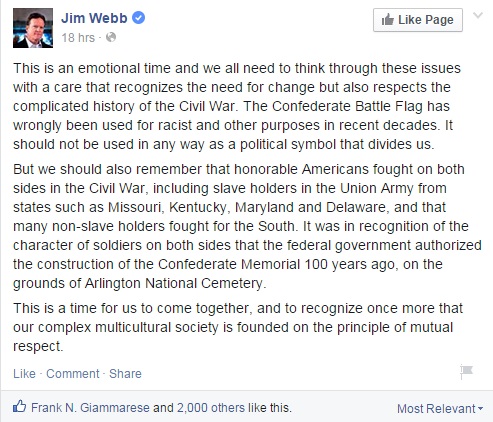 While large retailers seem more than willing to bow down to the thought police, other smaller companies and individuals are still selling the Confederate flag, such as Cooter's Place, with Ben Jones, the actor who played Cooter on "The Dukes of Hazzard" TV series taking to Facebook to explain why they would continue selling their wares. Statement shown below can be found here. 



TO ALL OF OUR FRIENDS AND FANS FROM BEN JONES AKA "COOTER"

I THINK ALL OF HAZZARD NATION UNDERSTANDS THAT THE CONFEDERATE BATTLE FLAG IS THE SYMBOL THAT REPRESENTS THE INDOMITABLE SPIRIT OF INDEPENDENCE WHICH KEEPS US "MAKIN' OUR WAY THE ONLY WAY WE KNOW HOW."

THAT FLAG ON TOP OF THE GENERAL LEE MADE A STATEMENT THAT THE VALUES OF THE RURAL SOUTH WERE THE VALUES OF COURAGE AND FAMILY AND GOOD TIMES.

OUR BELOVED SYMBOL IS NOW BEING ATTACKED IN A WAVE OF POLITICAL CORRECTNESS THAT IS UNPRECEDENTED IN OUR NATION OF FREE SPEECH AND FREE EXPRESSION. ACTIVISTS AND POLITICIANS ARE VILLIFYING SOUTHERN CULTURE AND OUR HERITAGE AS BEING BIGOTED AND RACIST. WE KNOW THAT THIS IS NOT THE CASE. AND WE KNOW THAT IN HAZZARD COUNTY THERE WAS NEVER ANY RACISM.

THOUGH THE FLAG HAS BEEN REMOVED FROM SUCH PLACES AS WALMART, TARGET AND AMAZON, IT WILL NEVER BE REMOVED FROM ANY OF OUR COOTER'S STORES AND MUSEUMS. WE ARE ALL THE SAME GOOD PEOPLE TODAY THAT WE WERE LAST WEEK AND LAST YEAR AND WE ARE NOT GOING TO BE SHAMED INTO TURNING OUR BACKS ON OUR HERITAGE AND OUR CONVICTIONS.

WE ARE NOT RACISTS. WE DESPISE RACISM AND BIGOTRY. AND WE THINK THE PEOPLE WHO ARE CREATING THIS "CULTURAL CLEANSING" ARE THE REAL BIGOTS IN THIS STORY.

WHEN WE SAY OUR FLAG STANDS FOR "HERITAGE, NOT HATE" AND "PRIDE, NOT PREJUDICE", WE MEAN IT. AND WE BELIEVE THAT OLD SAYING, "YOU CAN'T KNOW WHERE YOU ARE GOING IF YOU FORGET WHERE YOU CAME FROM."

COOTER'S IS GOING TO CONTINUE TO SELL OUR SOUTHERN SYMBOLS AS LONG AS THERE IS A COOTER'S. I WILL FIGHT THESE PEOPLE UNTIL HELL FREEZES OVER, AND THEN I WILL FIGHT THEM ON THE ICE.

In an ironic turn of events, multiple outlets still selling the Confederate flag, are seeing sales soar to the point where some have even been sold out, with notices at www.rebel.com stating:

Sorry folks!
Rebel flags are completely sold out, everywhere!Nothing like this since 9-11!)
Next week, we get the first fresh polys!
(Probably a month before sewn flags are back.)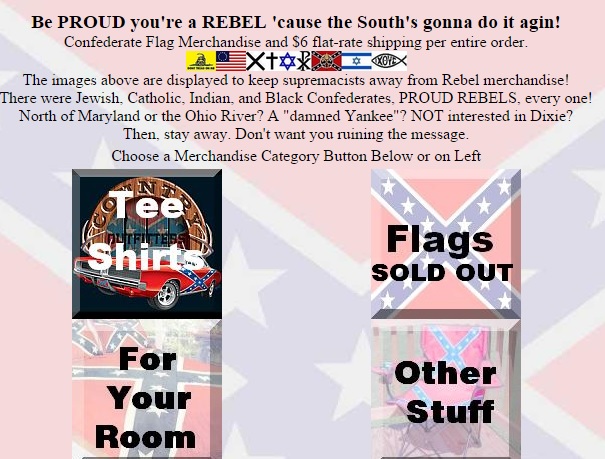 The message at www.rebelstore.com states the following:

We appreciate your support during this terribly sad time while the intolerant, the mean spirited, and the uneducated attack our Proud Southern Heritage with a vengeance.

Sorry - we have sold out . Thank you so much - our faith in the South has been renewed!

If you have already placed an order with us - please be patient and rest assured that we are working as quickly as possible to get your order out to you and we will send an email as soon as we ship with the tracking information.  We have received over 8,000 orders in less than 24 hours, when a good day for us is 20 orders in 24 hours.  We are filling them and shipping in the order in which they were received.

As soon as we are "caught up" with the backlog, we will again have the website back up and running.

Please don't worry that we will ever bow to the historically stupid,  politically correct.

UltimateFlags.com is still selling the Confederate flag, with a note stating "***Due to overwhelming order volume, orders placed today may delayed while sufficient flags are made available for shipping. All orders WILL be filled as quickly as possible. - J Nesbit, owner."

Americanflags.com is still selling four different types and Flagandbanner.com has a variety of Confederate merchandise for sale.

There are two more ironies in this absurd campaign against the Confederate flag: 1) Facebook and Twitter campaigns to make June 27, 2015 a "National Burn the Confederate flag day,"  are now drawing complaints because they can no longer find the flag "cheaply" to burn because the larger retailers have stopped selling it and; 2) Large corporate businesses such as Walmart, eBay and Amazon, that have practically destroyed the capability of small businesses to compete have now just given those small businesses a tremendous boost in sales while drawing fire from the public about jumping into the political fray.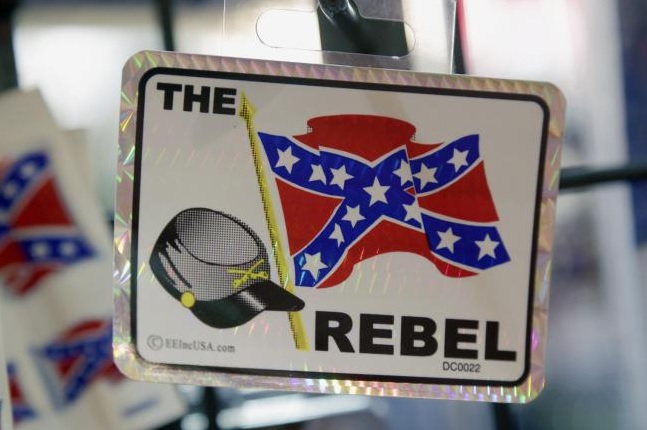 comments powered by

Disqus