Whatfinger: Frontpage For Conservative News Founded By Veterans

"The Best Mix Of Hard-Hitting REAL News & Cutting-Edge Alternative News On The Web"
June 25, 2015

Commercial Camouflage: Converting Shopping Malls Into FEMA Camps With Guard Towers Right In Front Of Our Faces? Obama Authorizes Slave Labor On American Soil


By Stefan Stanford - All News Pipeline - Live Free Or Die
Photos, videos and email tips can be sent to tips@allnewspipeline.com

With retail malls across America going out of business while chain stores with a mall presence are closing stores by the thousands due in large part to the wretched economy, one mall developer, Kimco Realty, announced a plan back in 2010 that would provide a long-term fix for their woes - a long-term partnership with the Department of Homeland Security to lease AT LEAST one of their properties to provide office space for US Customs and Border agents. Kimco's partner in that deal with the DHS just happens to be The Rockefeller Group Development Company. 

Kimco Realty is now in the process of developing a 'retail outlet' in Marana, Arizona (as seen in pictures above and below) that one of our readers, a United States Veteran, feels very strangely about and perhaps for good reason. Telling us that the Marana Spectrum is supposed to be opening in October of 2015, as of yet they have no anchor stores signed to move in but what concerned him most, as a US Vet, were the tall towers being built at each corner of this project. As you can see in the pictures, this new 'mall' is also located directly next to train tracks and as our reader got these pictures, a fully loaded down military train just happened to be passing by. He says he expects they might soon build a spur into this 'center'.

We have attempted to contact the individual in charge of leasing and development of this project but as of yet, have not had our phone calls returned. Of course, there is no way for us to know at the immediate time whether or not this mall being built is actually some sort of prison or FEMA camp but as our reader mentions, there is something very strange about this project that just doesn't sit right with him; we agree with him, especially considering all of the other information that ANP has uncovered about all of this as outlined in much more detail below.

Back in 2003 in this interesting story on Educate-Yourself.org a story was written called "Rockefeller, Nazis, The UN & Genocide" which outlined the Rockefeller Foundation and their link to the depopulation agenda. In fact, the Rockefeller Foundation is the prime sponsor of public relations for the UN's drastic population reduction program and their ties to the leaders of the eugenics movement in Nazi Germany are well documented and go back more than half-a-century.

In an April 17, 2015 story by Susan Duclos called "They Are Preparing For Something Huge - Walmart, Jade Helm, USNORTHCOM 'Critical Infrastructure' Flashback - The Stampede Of The Trojan Horse Herd Is Now Underway!!!" Susan told us about The Rockefeller Group's ties to 'Foreign Trade Zones' and their connection to the mysterious Wal Mart closings across the country. With corporate dictatorship in America now solidified with the passing of Barack Obama's TPP, the Rockefeller Group and other large, global corporations are now in the position to call the shots and decisions that they make at the global level will eradicate decisions made by local, state and even federal governments. As Mike Adams of Natural News says in this new story, US Congress in DC has forfeited the economic future of our entire country. Much more below.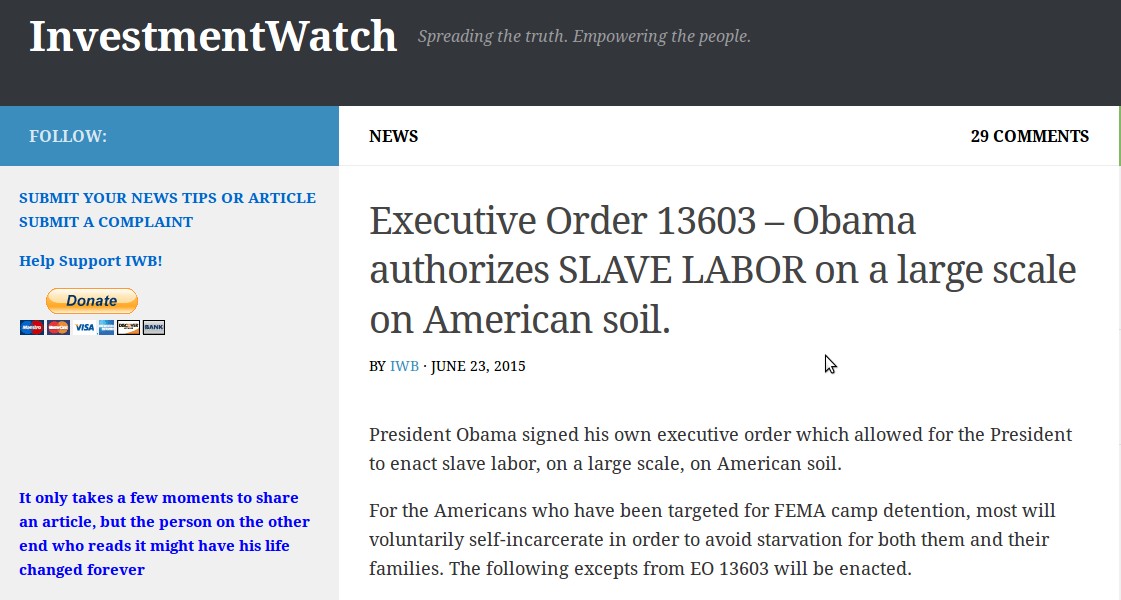 The videos below pictures include the 1st one, an excellent one from Nathan Leal from The Watchman's Cry who discusses Jade Helm 15 and 'incarceration camps' in America as well as the 2nd one from DTAGIVINGALLDILIGENCE who discusses the Investment WatchBlog story (screenshot above) called "Executive Order 13603 - Obama Authorizes SLAVE LABOR On A Large Scale On American Soil" in which we learn that Obama has recently signed his own law allowing him to throw those who have been targetted into FEMA camps and force them to do hard labor.:

President Obama signed his own executive order which allowed for the President to enact slave labor, on a large scale, on American soil.
For the Americans who have been targeted for FEMA camp detention, most will voluntarily self-incarcerate in order to avoid starvation for both them and their families. The following excepts from EO 13603 will be enacted.
Third world population control, using food as one of the primary weapons, has long been a matter of official covert US national policy and a portion of President Obama's Executive Order (EO 13603) is a continuation of that policy. Americans will be the new third world and your food will be withheld in order to enforce compliance with the planned slave labor in support of the WW III production needs.
Most Americans will report for duty on a voluntary basis in order to avoid starvation. Duty for what?
Slave Labor Force

According to Executive Order 13603, the President, or the head of any federal agency that he shall designate, can conscript "persons of outstanding experience and ability without compensation," in both "peacetime and times of national emergency." I can hear the Obama supporters now as they will write to me and say, "Obama would never do that, you are drinking from the Kool-Aid". Well, here it is, you can read it for yourself.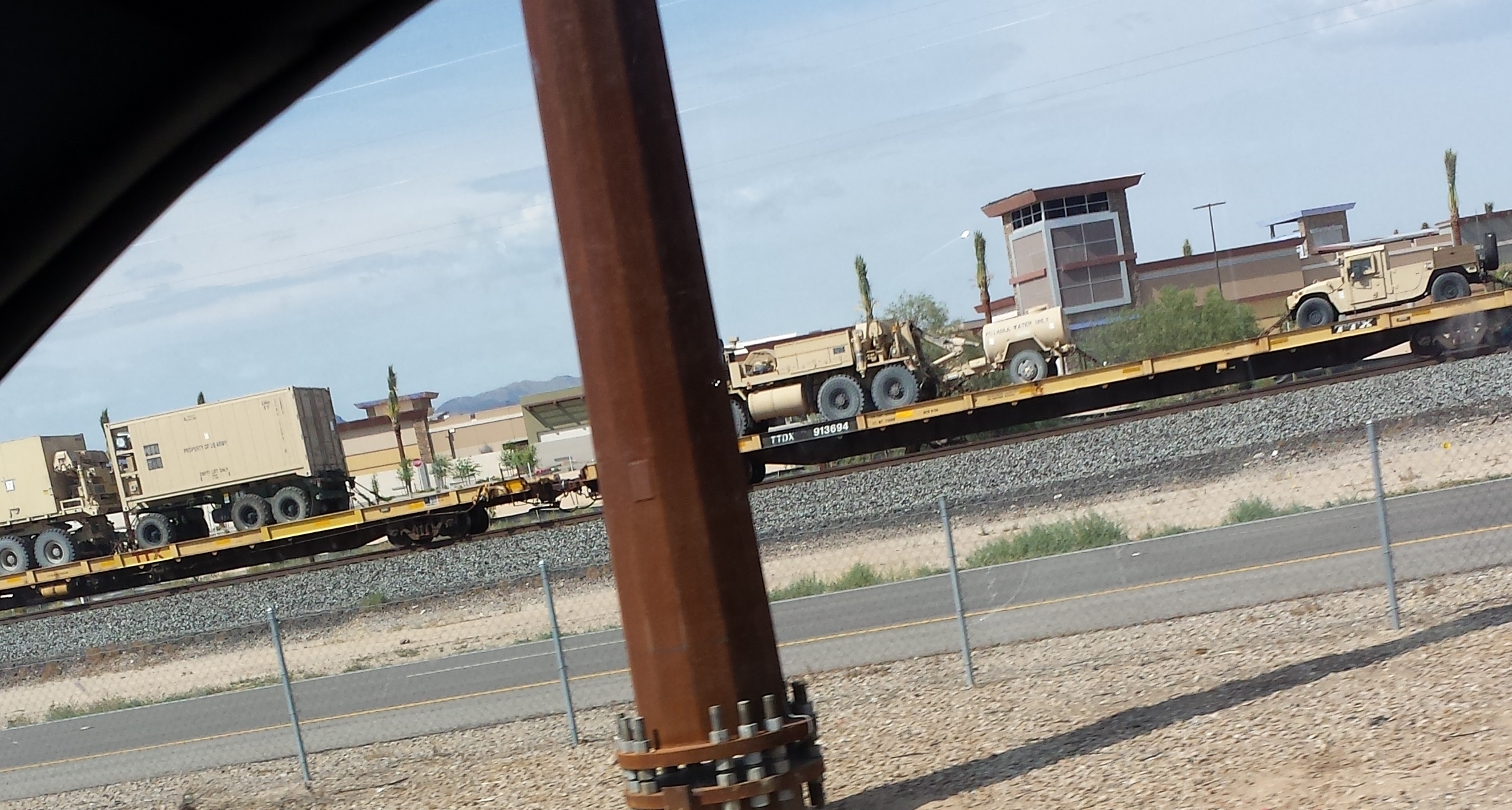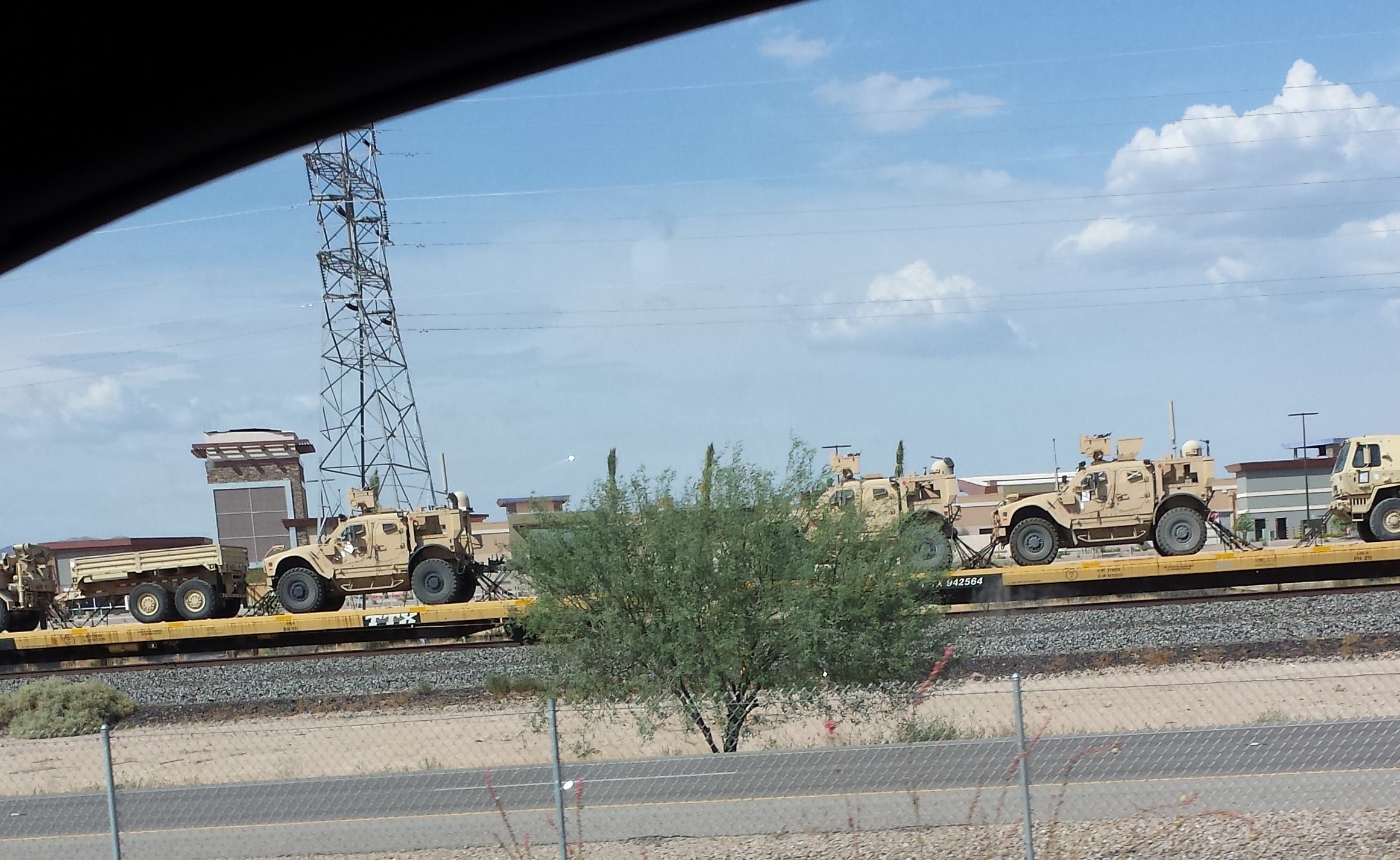 With more and more of America's shopping malls looking like what we see in the video below, drone footage of the abandoned mall in Frederick, Maryland, we can only wonder how much longer it will be until more of them are converted into 'shelters' for the uncooperative and the belligerent during the coming storm.



comments powered by

Disqus