Whatfinger: Frontpage For Conservative News Founded By Veterans
"The Best Mix Of Hard-Hitting REAL News & Cutting-Edge Alternative News On The Web"
April 18, 2017
152 'Mass Death Events' In First 108 Days Of 2017 - Does 'Deagel Intentional Population Destruction' Map Show The Results Of Fukushima Radiation Decimating The Northern Hemisphere?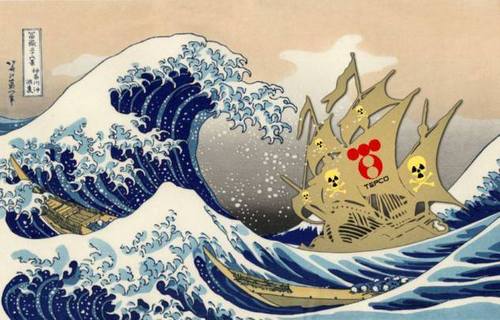 By Stefan Stanford - All News Pipeline - Live Free Or Die
In this April 3rd story by Amy Goodrich over at Natural News she reported that there is a massive, ongoing academic cover-up concealing the near-total collapse of our ocean food chains, specifically in the Pacific Ocean, and mass deaths to humans will surely follow. Warning within her story that "each day more signs are emerging that our ocean and world is slowly dying" and "we're living in perilous, unstable times that may affect every living thing on our planet", we're not the least bit surprised that the mainstream media and governments "don't see any harm in remaining surprisingly silent". 
Almost as if 'intentional population destruction' was 'the plan', we take a look within this story at some of the most recent signs and stories from around the world that show we better be prepared for the danger ahead by looking at the danger that's already here.

We also take another look at the map seen below created by ANP reader 'Proud' and this ANP story from April 14th in which we asked "Does This Map Show The Planned Destruction Of 90% Of The World's Population?" from the viewpoint of Fukushima's radiation blanketing much of the Northern hemisphere. Finally we'll take a look below videos at the most recent SQAlert in which he shares with us why the wise will continue to prepare for the end of life as we know it, as if there might not be a 'tomorrow' to do so, and as if we were now living in the 'Days of Noah'.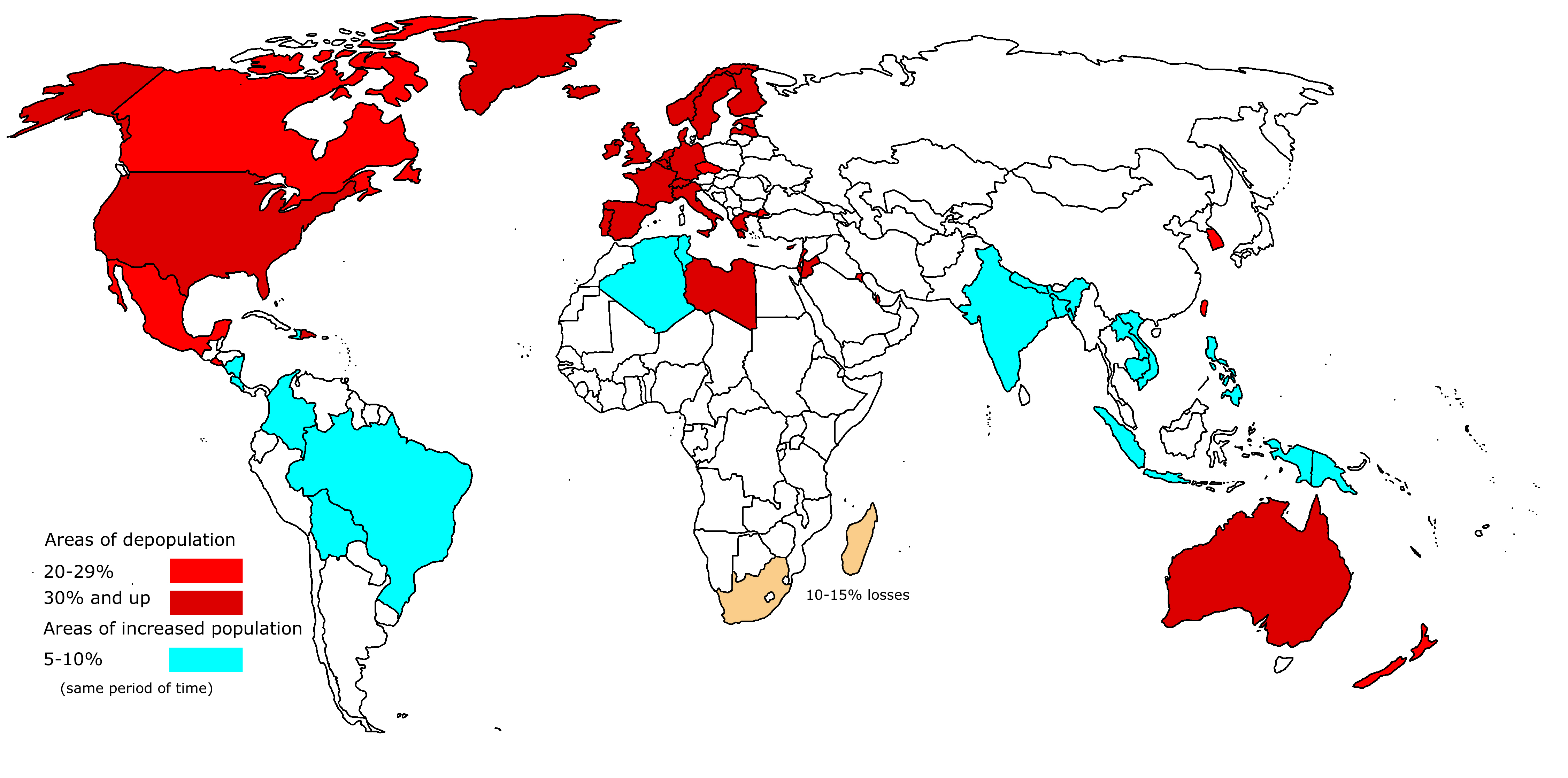 The February 1st, 2017 story from ENENews reported Fukushima-derived radioiodine and radiocaesium has been identified across the entire Northern hemisphere. Dr. Shuzo Takemoto, professor of the Department of Geophysics, Graduate School of Science, Kyoto University warned back in 2016 our planet now faces a 'global catastrophe' while warning our planet Earth is still susceptible to an even more dreadful scenario should Fukushima #2 be completely destroyed. 

On April 14th, ANP published the map above showing the percentages of expected population change by 2024 according to Deagel.com, a website which uses the 'deep state' as its sources. For those new to Deagel, please take a look here, here, here and here for several more details. As Deagel and the map shows, the biggest areas of expected population loss in the future are largely in the Northern hemisphere and largely 'western' nations. 

As we've been reporting on ANP for the last few years and as has been extensively documented by the website End Times Prophecy, 'mass animal death events' have been happening across the Pacific Ocean region, the West coast of the US and the northern hemisphere unlike anything any of us have ever seen before in our lifetimes.

Do we think that we are somehow 'immune'? It's long been warned, "whatever we do to our planet, we do to ourselves". In the first video below our videographer reports the reasons why many believe that Fukushima will be an 'extinction level event' for large regions as our food supply is poisoned and our sources for sustenance are rapidly taken away. From this March 13th story on ANP detailing the mass animal deaths since Fukushima.

As nuclear expert Dr. Helen Caldicott recently stated of Fukushima, "highly radioactive water is still pouring into the ocean every day and will likely continue doing so until the end of time". Calling the hopes of cleaning up the mess that's been made 'a fantasy', the stories and videos we examine in this ANP story prove to us we're sleepwalking towards extinction. The 'mass animal deaths' painstakingly kept track of by End Times Prophecy continue with at least '117 known mass animal death events' in 43 countries in 2017 alone. 

According to End Times Prophecy, the year 2016 brought 556 KNOWN 'mass death events' spread over 81 countries. In 2015 there were 828 known 'mass death events' spread over 96 countries. In 2014 there were 651 known 'mass death events' spread over 76 countries. In 2013 there were 798 known mass death events in 93 countries. In 2012 there were 465 'mass death events' documented across 67 countries while in 2011, the year of the disaster, hundreds of mass death events also happened across the planet. 
: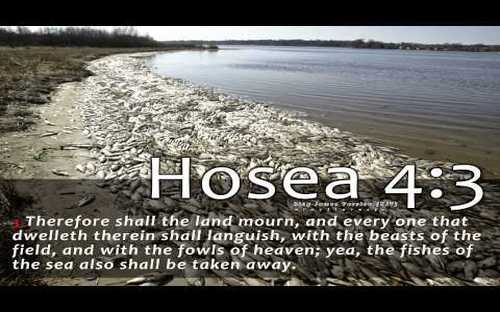 Should we be surprised by what is happening now with 'mass animal death events' reported across the world? Several recent story title's from ENENews in the month of March alone included:

"Most catastrophic fisheries collapse in history" expected along West Coast — Official: "This is a nightmare, I have never in my life dreamed that it could get this bad" — Threat of "coast-wide fishing failure" (VIDEO)

Nuclear Investigator: Worry over underground explosions at Fukushima — New data shows molten fuel is "dropping lower each day", melting deeper into ground below plant — Disaster far worse than public being told — "Why aren't we reading about this everywhere?"



Report: Hundreds of millions of Pacific salmon missing, presumed dead — Gov't issues emergency order along US West Coast — Japan suffering historic collapse, fish starving to death — All forms of ocean life dying in stunning numbers across Pacific





Massive die-offs reported in Pacific Ocean — Officials: "No fish out there, anywhere, over a very large area"… "What's happening? Where's their food?" — "Alarming… Frightening… Total failure in reproduction… Like nothing we've ever observed before" (VIDEO)





Nuclear Engineer: Fukushima is "worst industrial cataclysm in history of world… As close to hell as I can imagine" — Melted fuel 'disappeared' — Contamination will go on for hundreds of thousands of years… "No one knows when it'll end" — Gov't perpetrating ongoing cover-up (VIDEO)





Fish leaking pus, covered in lesions, deformed along US West Coast — Fisherman: Nearly all fish caught affected; "I've never seen this… Some had pus all over body" — Official: So many are showing illness, environmental conditions could be a factor (PHOTOS)





"Mysterious cancer" killing sea lions along US West Coast — Bones turning to "mush" — "Inside there's just masses of yellow, cancerous tissue" — Animals dying at "alarming rates" (VIDEO)



As the End Times Prophecy blog reports, none of this should be a surprise - we were warned long ago.  



Some people say this is all a mystery. Some say these are all natural die offs. Some people say that Chemtrails is the cause. Some say this is caused by Fukushima. Some people say this is due to man's pollution. And others say this is God's judgment. Whatever the cause, we know one thing for certain, that this was prophesied to happen in the Bible.





Hosea 4:1-3 ...'Hear the word of the Lord, ye children of Israel: for the Lord hath a controversy with the inhabitants of the land, because there is no truth, nor mercy, nor knowledge of God in the land. By swearing, and lying, and killing, and stealing, and committing adultery, they break out, and blood toucheth blood. Therefore shall the land mourn, and every one that dwelleth therein shall languish, with the beasts of the field, and with the fowls of heaven; yea, the fishes of the sea also shall be taken away.'





Revelation 11:18 ...'And the nations were angry, and thy wrath is come, and the time of the dead, that they should be judged, and that thou shouldest give reward unto thy servants the prophets, and to the saints, and them that fear thy name, small and great; and shouldest destroy them which destroy the earth.'



In the 2nd video below, an excellent compilation video recently released, we learn the deceptive truth about the Fukushima Daiichi tragedy and what the mainstream media will never report to us. And below videos, we get an outstanding SQAlert on why we as Christians and 'preppers' should continue to prepare for dark times ahead. While some have called the call to prepare 'doom porn' or 'fear mongering', throughout time we've seen those who 'heeded the call' were the ones who were delivered from seemingly impossible situations...while those didn't perished. 





 

FEAR OF THE LORD AND OBEDIENCE TO HIM, IS THE SINGLE CHARACTERISTIC OF THOSE WHO WERE DELIVERED FROM IMPOSSIBLE SITUATION



FEAR AND THE ACCUSATION OF PROMOTING FEAR.

Hebrews 11:7 By faith Noah, being warned of God of things not seen as yet, moved with fear, prepared an ark to the saving of his house; by the which he condemned the world, and became heir of the righteousness which is by faith.

We can see from this Bible Verse several things First, Noah was warned by God, that means that God has has principle by which He operates, those principles once known can be instructional. We see those circumstances develop again and we can be assured God will act the same way.

Second, those warnings from God elicited a holy FEAR in Noah. Yes, FEAR, not all fear is bad, much of the fear we experience is a self preserving fear, a healthy fear, it tell us something is wrong and that we need to modify our behavior to prevent a calamity from befalling us.

Third, Noah acted on that FEAR, We know he built and ARK, that ARK took a lot of effort, not only an ARK, but that Food and Water to go on the ARK. He Prepared, So a Warning produced fear, which produced Action, which produce the saving of his family.

The results of the Warning, Fear, Action and Salvation.

This is what get to me, people saying I am just going to have faith, Noah had faith, and his faith caused in him to commit a large portion of his life and efforts to that end. So we can see that one of the greatest acts of faith in the Bible also took extreme human effort. Faith without works is a dead faith.

Lesson, you have your faith and when the flood comes, you can look for driftwood, my faith is causing me to act (human effort) so in the time of calamity, I will have an ARK with food, water, and other supplies on board.

Also don't think I will share this ARK with you, you are stubborn and stiffnecked, you refuse to rightly divide God's Word. You can then look for your driftwood, Your cries of "That's not Fair" will go totally unheeded.

Robert Griswold, Owner -- Ready Made Resources

SQ - JESUS SAID MEN'S HEARTS FAILING THEM FOR FEAR OF LOOKING AFTER THOSE THINGS COMING UPON THE EARTH - THOSE WHO LABEL THE TRUTH AS 'FEAR MONGERING' AND 'DOOM PORN' ARE THE ONES WHO WILL BE "PUDDLING THEIR BRITCHES", WHO WANT TO STAY IN THE PASSIVE REALM OF DENIAL AND NAME CALLING - AVOID, AND FLEE FROM THEM, AT THE VERY COST OF YOUR LIFE -





comments powered by

Disqus