Whatfinger: Frontpage For Conservative News Founded By Veterans
"The Best Mix Of Hard-Hitting REAL News & Cutting-Edge Alternative News On The Web"
May 28, 2015
UPDATE!!! Blue Bell Ice Cream 'Refrigerated Morgue Trucks' Join Military Convoy In Colorado Weeks After Listeria Outbreak Shuts Down Ice Cream Production


By Stefan Stanford - All News Pipeline - Live Free Or Die

UPDATE!!! A customer service representative from Blue Bell has asked us to update our story with this official statement.:
The trucks you refer to in the post below, are trucks we are relocating from our closed branches to those that remain open. It just so happened that our trucks were traveling on the same highway as the military convoy, but there is no relation to their activity. Can you please update your story to reflect the correct information?

Thank You,
Jenny Van Dorf
Public Relations Market Specialist
Blue Bell Advertising Associates
1101 South Blue Bell Road
Brenham, TX 77833

979-830-2180

Only weeks after declaring that it will be several months before Blue Bell Ice Cream begins producing ice cream again after a multi-state listeria outbreak linked to them, a dozen or so Blue Bell Ice Cream trucks were seen participating in a military convoy on Colorado roads as shared in the new videos below from DAHBOO777. We know from Bundy Ranch that the government uses vehicles such as the Budweiser truck seen in the image below to transport clandestine cargo. Why has Blue Bell suddenly gotten into the convoy business with the US military? Several rather disturbing possibilities are discussed below and the sudden timing of these events along with the unfolding of Jade Helm 15 in America leads us to believe that Blue Bell being shut down, forcing thousands to be laid off and furloughed, may be related to the closings of Wal Marts across America - simply, the US military needs what you have, and now. Blue Bell's customer relations, reached at  979-836-7977, has totally danced around this subject when asked and in fact, has totally contradicted themselves with their explanation.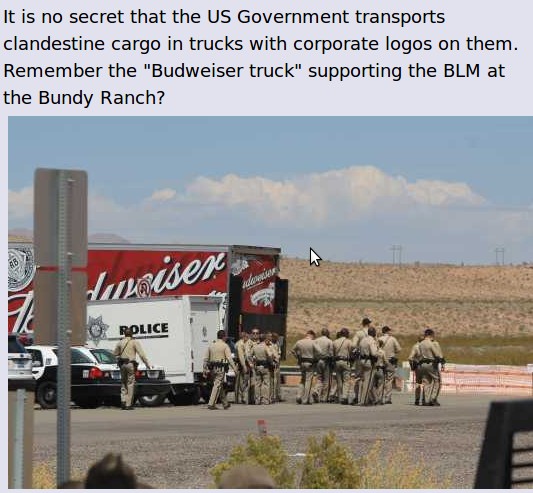 One theory that's emerged is that these trucks are being used as 'hidden in plain sight' refrigerated morgues which can be used to carry bodies 'out of sight out of mind' and that theory ties right in with a recent disturbing email received by ANP just days ago in which we were warned that there is a very real possibility that US troops might soon have to kill American citizens. Back in 2005 after Hurricane Katrina, the East Valley Tribune published a story called "New Orleans Left To The Dead And Dying" in which they tell us "the dying goes on - at the airport and an airport triage center where bodies are kept in a refrigerated truck". A September 2014 story tells us that refrigerated trucks were used as portable morgues after 9/11.



"By the afternoon the school had been identified as a potential site for a temporary morgue. Refrigerated trucks were lining up outside, along Hudson Street."



The precedent for use of these vehicles as portable out-of-site morgues has clearly been set.

With military exercises taking place across the country this summer and evidence that preparation is being made at the top for economic collapse, warnings have gone out that this could be a 'summer of rage' with more rioting across the country as the elite have contrived the perfect conditions for mass unrest across America.

While rare, listeria is the 3rd ranked cause of death from food poisoning in the United States and the fact that so many of these refrigerated Blue Bell trucks are taking part in a military convoy in Colorado with Jade Helm soon approaching is causing a lot of people to wonder 'why,' including these video comments, who bring up the suspicious nature of Blue Bell traveling with the military along with one this theory that ties right in to the recent admission by the Pentagon that they 'inadvertantly' shipped live anthrax to laboratories across America.: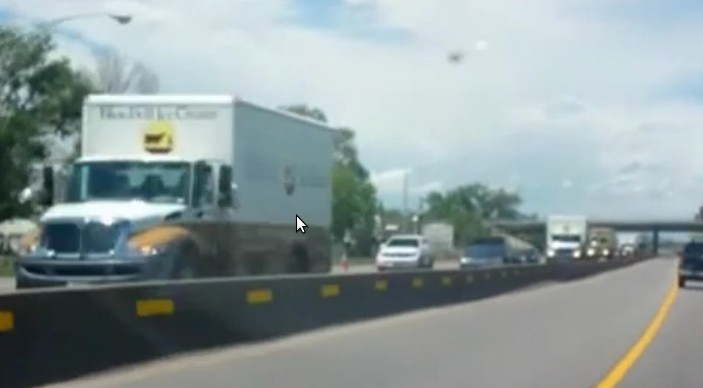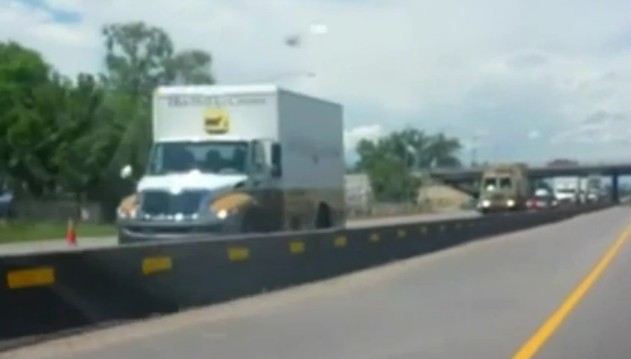 Notice the compressor at the bottom front area of the truck.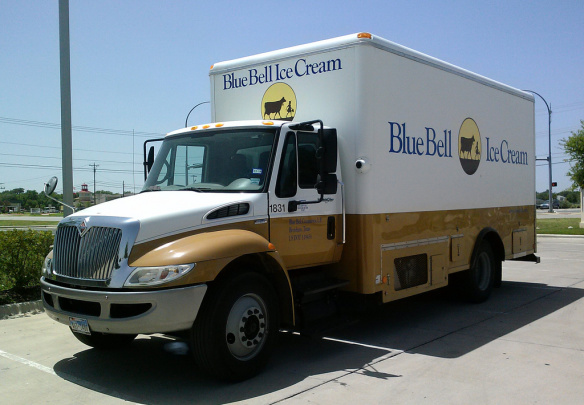 In March 2011, the first case of this outbreak occurs at a Texas hospital that has not been named by state or federal health officials.
In May 2011, the second case occurs at the same Texas hospital.
In January 2014, the first Kansas case of this outbreak is reported in a patient at Via Christi hospital in Wichita.
In March 2014, the second case is reported in Kansas.
In October 2014, three cases are reported; two in Kansas, one in Texas.
In January 2015, a fifth case in Kansas is reported. At this point, eight people in two states have been sickened over a four-year period and three have died but health officials are still unaware that the illnesses have a common cause.
On February 12, 2015  during routine testing at a distribution center, the South Carolina Department of Health & Environmental Control finds Listeria in two Blue Bell products- Great Divide Bars and Chocolate Chip Country Cookie sandwiches The products were manufactured at Blue Bell's Brenham facility.
The Texas Department of State Health Services is alerted and conducts its own tests on product samples collected from the Brenham facility. Listeria is again found in Great Divide Bars and Chocolate Chip Country Cookie sandwiches and also found in a single-serving ice cream product, Scoops, made on the same production line.
In early March 2015, health officials identify the Kansas cluster when they notice that two of the cases were both Via Christi patients. Using PulseNet, an inter-agency foodborne illness database, they match DNA "fingerprints" of rare Listeria isolates from the Kansas patients to those found in the ice cream samples.
On March 9, Via Christi hospital is alerted that Listeria has been found in Blue Bell products. It removes them from circulation and holds them in quarantine. It provides invoices to the Kansas Department of Health and Environment showing that the Blue Bell brand ice cream Scoops used in the patients' milkshakes came from Blue Bell's facility in Texas.
On March 13, the Centers for Disease Control and Prevention (CDC) announces an outbreak of listeriosis linked to Blue Bell ice cream served to patients at a Wichita hospital between January 2014 and January 2015. The outbreak had sickened five people, killing three of them.
Via Christi posts information on its website saying the hospital had no knowledge the ice cream was contaminated until it was notified by health authorities on March 9 and that it has removed all Blue Bell products from circulation.
Blue Bell posted a message on its website saying: "One of our machines produced a limited amount of frozen snacks with a potential listeria problem. When this was detected all products produced by this machine were withdrawn.  Our Blue Bell team members recovered all involved products in stores and storage. This withdrawal in no way includes our half gallons, quarts, pints, cups, three gallon ice cream or take-home frozen snack novelties."
Blue Bell CEO Paul Kruse tells The Houston Chronicle in a March 13 story that the machine used to make Scoops and other single-serve items had not been in operation for about a month and a half, putting its shutdown days if not weeks before South Carolina's February 12 discovery of Listeria.



comments powered by

Disqus