Whatfinger: Frontpage For Conservative News Founded By Veterans
"The Best Mix Of Hard-Hitting REAL News & Cutting-Edge Alternative News On The Web"
March 22, 2016
EUROPE ATTACKED - Multiple Explosions Rock Brussels, Dozens Dead As ISIS Extremists Celebrate The Attacks

By Susan Duclos - All News PipeLine

UPDATE - Follow up -†Turkey's President Warned Days Ago Of Bombs In Brussels: 'The Snakes You Are Sleeping With Can Bite You At Any Time' - Trump Warned Brussels 2 Months Ago: 'There's Something Really Bad Going On' - They Didn't Listen - Will We?

Anywhere from 26 to 34 people have been killed, depending on what reports we read, †in Brussels as a suicide bombers detonated bombs at Zaventem Airport in Brussels near the American Airline desk and another blast hit the city metro station, as ISIS extremists immediately took to social media to celebrate and praise the attacks.

The descriptions from witnesses describe scenes from a horror movie of "dismembered bodies everywhere," stating it looked like an "apacolypse," as blood soaked survivors ran for their lives.

†Fearing the attacks may not be over, AFP reports Belgium has tightened security at their nuclear plants with a heavy police and military presense, specifically pointing out that "In February, investigators probing the Paris attacks found video footage of a senior Belgian nuclear official at the property of a key suspect."

According to Sky News, the†Belgian news agency Belga reported that "Shots were fired and Arabic shouted before the two airport bomb blasts."

The Daily Mail reports that†two suspects were arrested a mile from the Maelbeek metro station at around 11am as hundreds of troops and police flooded the streets.

[UPDATE] We are reminded by a SQ note over at SteveQuayle.com that Donald Trump warned over a month ago, that Belgium was a "hellhole" because there has been no assimilation.†

Bloomberg reports that just days ago "Belgian officials warned that there were dozens more jihadists at large in the city and that more attacks were being planned."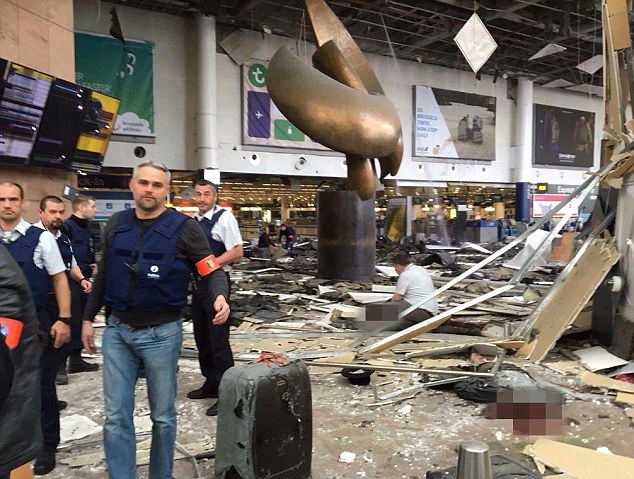 More reports below, this is a developing story that will be updated as new information comes out.†

Please feel free to leave links, video or news related to this attack in the comments.

Related:†BREAKING NEWS: At least 34 dead after suicide bomber detonates near American Airlines check-in desk at Brussels Airport before a SECOND blast hits Metro station just yards from EU headquarters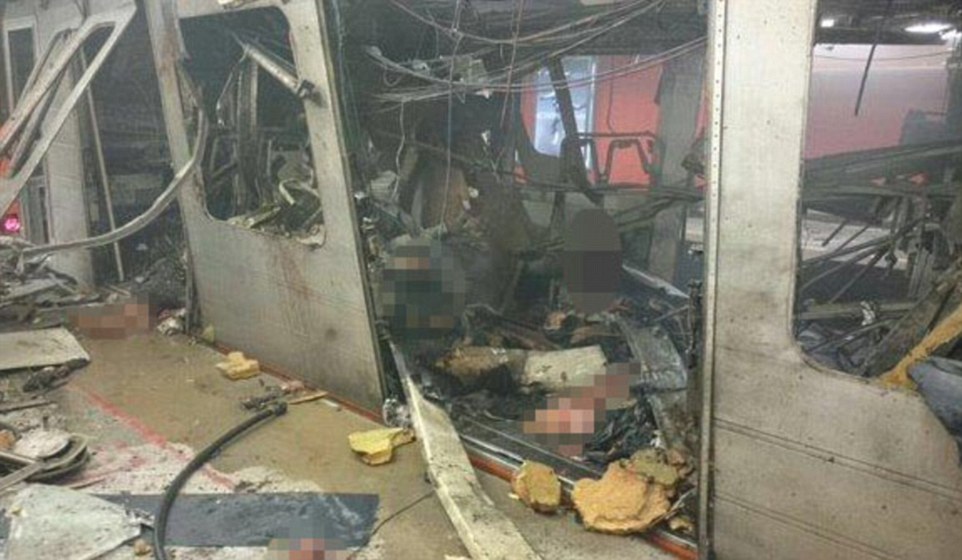 The image above is being used by the Belgian media who claim this is the damage caused by the bomb at the Maelbeek Metro station in central Brussels this morning. It has not been verified by the authorities but is being widely circulated on social media.

More images and videos can be found at this Daily Mail article titled "Horror on the Metro: Terrified passengers flee for their lives after blast on train at Brussels station leaves 20 dead and scores injured."

Related links, via Drudge:

Shouts in Arabic before explosion...
More troops deployed to streets...
City Shut Down...
Phone Users Urged to Text Not Call as Networks Jammed...†
'Shocking' Unpreparedness...†
Terrorists remain at large...†
Just blood -- like apocalypse...
ISIS Celebrates...
Whole of Europe has been hit: Hollande...
DELTA, UNITED reroute flights...†
Belgium beefs up security at nuke plants...
Royal Palace evacuated...
Aftermath footage shows terrified travelers cowering behind suitcases...†
Europe vows to defend democracy on 'black day'...†






comments powered by

Disqus