Whatfinger: Frontpage For Conservative News Founded By Veterans
"The Best Mix Of Hard-Hitting REAL News & Cutting-Edge Alternative News On The Web"
What Are They Hiding In Florida? Journalists Threatened With Arrest, Fake Ballots & Court Rules Election Supervisor Violated Florida Constitution
- Are  Florida Democrats Trying To Steal The Elections?


By Susan Duclos - All News PipeLine

We had hoped after the midterm elections across the country we could at least take a week to not speak about elections, but alas, once again, Florida, specifically two liberal counties in Florida, Broward and Palm Beach, have managed to muck up the entire election process in such a spectacular example of corruption and incompetence, if it weren't so vitally important and pathetic, it would be laughable.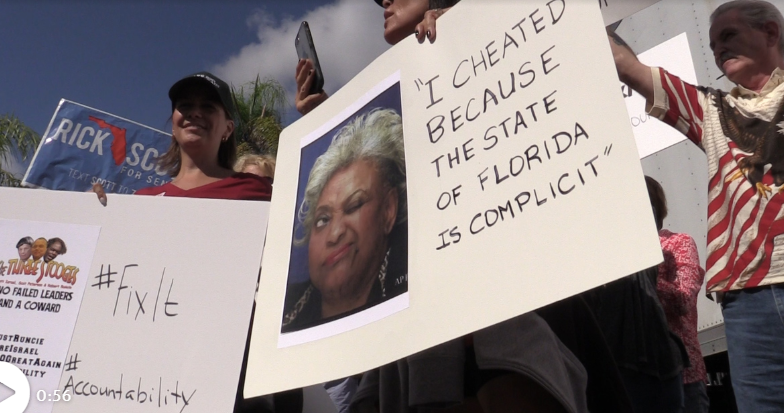 (Protesters outside Broward County Election Supervisor's Office)



WHAT ARE THE DEMOCRATS HIDING IN FLORIDA?

Broward County, Florida: We'll begin with Broward County, where Supervisor of Elections Brenda Snipes, who has a "long history of trouble" as detailed by the Sun Sentinel, including a court ruling that she broke election law by destroying ballots, leaving major amendments off ballots in 2016, and suddenly discovering almost 1,000 ballots in 2012, a week after the election, is once again in the spotlight for incomptence at best and utter corruption at worst, possibly even a mixture of the two.

In the days since Tuesday's midterm elections across the country, Broward County mysteriously "discovered" nearly 80,000 additional votes, affecting the Florida Senate race between the current Florida Republican Governor Rick Scott, and incumbent Democratic Senator Bill Nelson as well as the Governors race between Ron DeSantis and Andrew Gillum.

On November 7th, the day after the midterm election, Governor Scott was leading Senator Nelson in the Senate race by 38, 717 votes, according to Florida Today, and with the newly "discovered" ballots, that lead is now down 12,500+ votes, showing the extreme difference the extra ballots and election antics on the part of Snipes has made in favor of Nelson.

Those antics include refusing to report vote tallies according to Florida law, forcing Governor Scott to file a lawsuit for an emergency hearing to force Snipes to provide the information to  Republicans that she was already required by law to provide but wasn't doing.

Judge Carol-Lisa Phillips sided with Scott by ruling there has "been a violation of the Florida constitution," by Snipes and her officials, as well as the state's public records act, by not turning over requested records.


It comes as Scott has warned of possibly "rampant fraud," two heavily Democratic counties continue to report new votes, and three top races in the state appear headed for recounts. Fox News confirmed Friday that an unknown number of "bags" of uncounted early vote ballots have been found in Broward County. It is less than 100 ballots total, but officials did not give a precise number.

Scott's emergency complaint accused Snipes, the Broward County supervisor of elections, of being "unwilling to disclose records revealing how many electors voted, how many ballots have been canvassed, and how many ballots remain to be canvassed," and charges that the uncertainty "raises substantial concerns about the validity of the election process."

Further muddying the water, it appears that Snipes also "accidentally"  mixed in rejected ballots with valid ones, a mistake which was only found after Snipes handed over 205 provisional ballots to the Broward County canvassing board for inspection, according to the Miami Herald, which is the largest newspaper in South Florida.


On Election Day, Broward election staffers set those 205 votes aside, removed the anonymous ballots from their signed envelopes and counted them up in a voting machine that didn't add those numbers to the final vote count. The elections department didn't originally intend to have the canvassing board review those votes, but after uproar from lawyers for the Republican Party, the office handed them over to the board, which usually reviews ballots still in the envelopes.

On Friday, the three-person canvassing board — on which Snipes usually sits — found about 20 of those 205 votes had mismatched signatures and declared them illegal. That means there are at least 20 illegal votes mixed into an anonymous pile of 205, all sitting in a machine that counted them but did not add them to the final count.

"The ballots cannot be identified," Snipes confirmed when a lawyer for the Republican Party asked.

Republican Party lawyers immediately pressed Snipes about the future of those 205 votes and if they'd be counted. Snipes declined to answer and continued judging signatures on remaining ballots. There is no statute guiding what happens next.

The Florida Senate and Governors' races are not the only elections that Snipes utter incompetence and election foul play are affecting, as the Republican candidate for agricultural commissioner, Matt Caldwell, has also filed suit against the Broward County Supervisor of Elections, "asking the court to protect the integrity of all ballots and all public records relating to the election for Commissioner of Agriculture," as reported by News-Press.


Caldwell thought he had edged out a victory in the agricultural commissioner race Tuesday night when he had about a 40,000 vote lead over Democratic candidate Nikki Fried.

But the latest vote count shows Caldwell losing by 3,120 votes to Fried. The difference between the candidates is .04 percent, signaling an automatic recount, and a likely manual recount.

"Over the course of the last two and half days, the Broward supervisor has continued to magically find boxes of ballots that have potentially altered the course of the race," Caldwell said in an interview Friday. "And after all that time, we still cannot get a straight answer as to where they came from, when they were cast. We just heard there is another magical box of 2,100 ballots they supposedly found here (Friday)."

He said what is happening in Broward County is unacceptable.

"The fact that it's my opponent's home county and you continue to have ballots just be found at random times without any explanation I think it just undermines the faith in the entire process and certainly leaves me doubtful about the current count that has been presented out there," Caldwell said.

Things get worse believe it or not, as former Florida Lieutenant Governor Jeff Kottkamp is claiming that an "Affidavit filed by Broward Election's employee in support of Caldwell lawsuit provides eye witness account of Elections staff filling in blank ballots. When this was reported the employee was fired and told not to come back."




Palm Beach County, Florida: Next we have Palm Beach Country, Florida, another liberal enclave that apparently is having their own set of issues, including banning media cameras from the public ballot counting, then threatening them with arrest. NBCUniversal, Scripps Media, Fox Television and others, immediately filed an emergency motion for a Writ of Mandamus against Election Supervisor Susan Bucher and the canvassing board.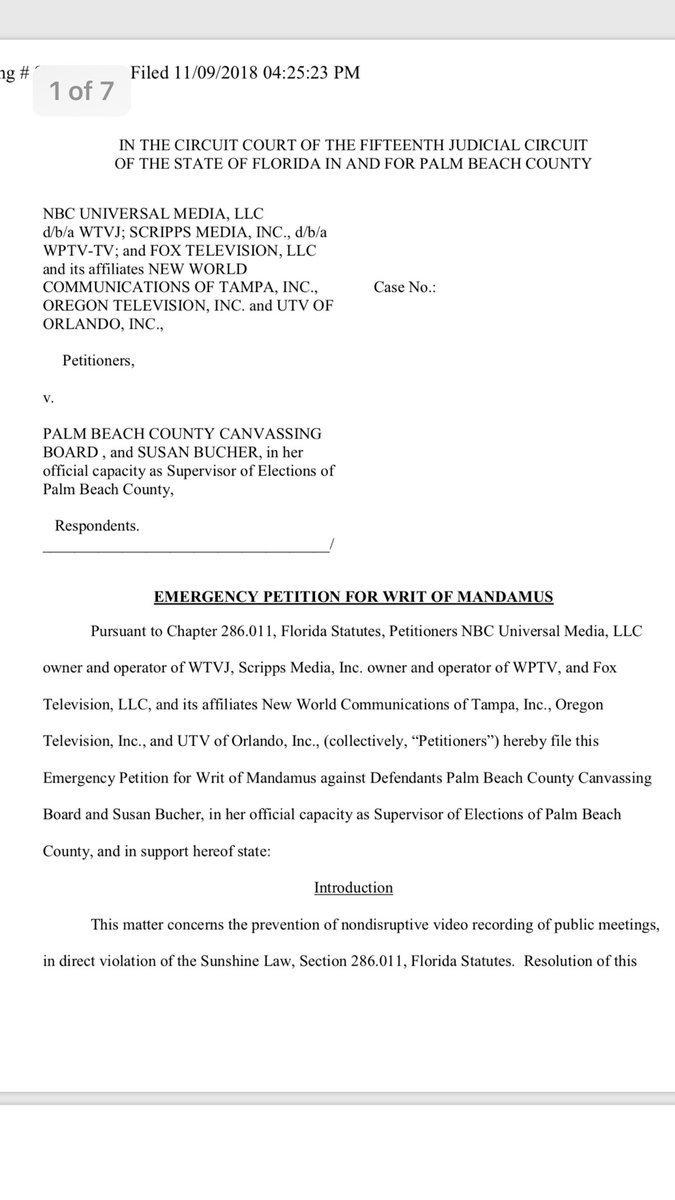 According to Marissa Bagg of NBC6, "Judge agrees with @NBCNews, @nbc6  and other media outlets— cameras are now allowed to record inside room where provisional ballots are being reviewed by canvassing board in Palm Beach County."

The issues in Palm Beach do not end there either as Governor Rick Scott was forced to go to the courts again against Bucher for withholding crucial information regarding the vote counts. 

In that case Chief Judge Krista Marx sided with Scott and "ruled that Bucher's office violated state public records laws and ordered it to hand over "overvoted" and "undervoted" absentee ballots deemed defective by county election officials to the canvassing board for review before they are counted," according to The Hill.


A judge in Palm Beach, Fla., on Friday ordered the county's top elections official to turn over to the county canvassing board a trove of ballots deemed faulty by local officials, delivering a key legal victory to Gov. Rick Scott's (R) Senate campaign.

Florida Representative Matt Gaetz highlights that the issues with Broward County are not an issue with "Florida" but just the Democrat strongholds alone, stating "65 of the 67 counties got it right; it wasn't broken for them, they got it right. Orange County is huge, they got it right. Our most populated county, Miami-Dade, did everything right. This is not a Florida problem. This is a Broward County problem."

Florida Senator Marco Rubio highlights both Broward and Palm Beach Countries in a three-part tweeted statement, shown below: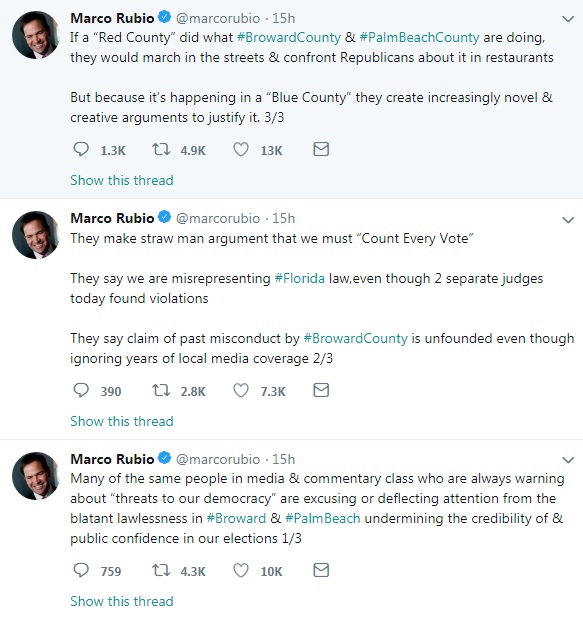 In another court proceeding a judge gave Bucher an additional two hours to get the information the Scott campaign was suing for, while refusing to extend it the days Bucher wanted. More on that explained below.




BOTTOM LINE

I am not sure how Florida residents, whether Republican, Democrat or Independent, can trust the results that include Broward or Palm Beach Counties, especially after hidden ballots, the refusal to provide even the basic information about how many ballots were cast, where they were cast and when they were cast, the nearly 80,000 ballots "discovered" after the polls were already closed, and the other issues that have plagued Broward Country and to some extent, Palm Beach.

I am also not sure a machine recount, using ballots that may have been tampered with, will be acceptable, and there may be more legal action to demand a manual hand recount of the ballots themselves, but even then, with so much information hidden from the public, how can Floridians even trust any of the newly "discovered" ballots at all?

What a mess.





ANP NEEDS YOUR HELP. With digital media revenue spiraling downward, especially hitting those in Independent Media, it has become apparent that traditional advertising simply isn't going to fully cover the costs and expenses for many smaller independent websites.

Any extra readers may be able to spare for donations is greatly appreciated.

One time donations or monthly, via Paypal or Credit Card:



Or  https://www.paypal.me/AllNewsPipeLine
Donate monthly from $1 up by becoming an ANP Patron.





comments powered by

Disqus