Whatfinger: Frontpage For Conservative News Founded By Veterans
"The Best Mix Of Hard-Hitting REAL News & Cutting-Edge Alternative News On The Web"
READ The 476 Page FISA Report From Department Of Justice (DOJ) Inspector General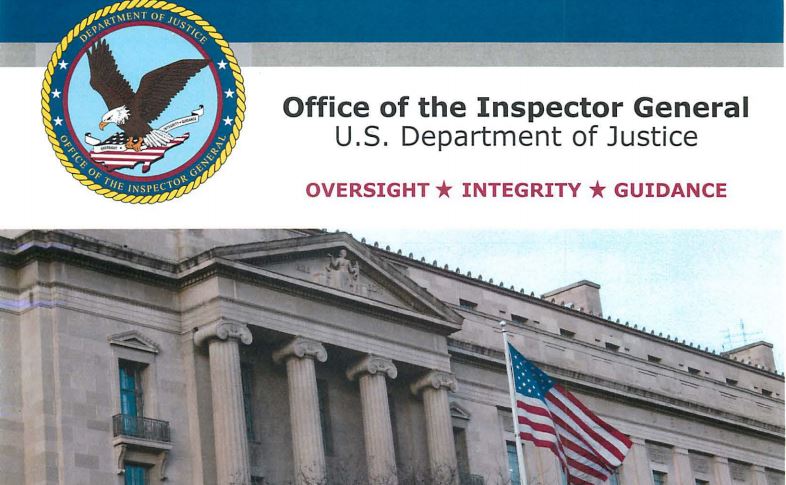 By All News PipeLine

The long-awaited report by the Department of Justice (DOJ) Inspector General regarding possible FISA abuses on the part of senior level intelligence agency members, has been released.

We at All News PipeLine will provide our analysis of the 476 page report after going through the entire document but we wanted to give readers a chance to read it for themselves, determine what they find important.

Before embedding the document, we will provide the OIG press release.

Readers are encouraged to highlight anything they find critical within the report, along with the page number, in the comment section below.


IG PRESS RELEASE: (Link here)


FOR IMMEDIATE RELEASE
December 9, 2019

DOJ OIG Releases Review of Four FISA Applications and Other Aspects of the FBI's Crossfire Hurricane Investigation

Department of Justice (DOJ) Inspector General Michael E. Horowitz announced today the release of a Review of Four FISA Applications and Other Aspects of the FBI's Crossfire Hurricane Investigation. The DOJ Office of the Inspector General's (OIG) findings are summarized in the report's Executive Summary, available at the links below.

During this review, the OIG examined more than one million documents that were in the DOJ's and FBI's possession and conducted over 170 interviews involving more than 100 witnesses. The scope of the OIG's review included:

 The decision to open an FBI investigation on July 31, 2016 known as "Crossfire Hurricane" and four individual cases on current and former members of the Trump campaign, George Papadopoulos, Carter Page, Paul Manafort, and Michael Flynn; the early investigative steps taken; and whether the openings and early steps complied with DOJ and FBI policies (Chapter 3);

 The FBI's relationship with Christopher Steele, whom the FBI considered to be a confidential human source (CHS); its receipt, use, and evaluation of electronic reports from Steele; and its decision to close Steele as an FBI CHS (Chapters 4- 6);  Four FBI applications filed with the Foreign Intelligence Surveillance Court (FISC) in 2016 and 2017 to conduct Foreign Intelligence Surveillance Act (FISA) surveillance targeting Carter Page; and whether these applications complied with DOJ and FBI policies and satisfied the government's obligations to the FISC (Chapter 5-8);

 The interactions of DOJ attorney Bruce Ohr with Steele, the FBI, Glenn Simpson of Fusion GPS, and the State Department; whether work Ohr's spouse performed for Fusion GPS implicated ethical rules applicable to Ohr; and Ohr's interactions with DOJ attorneys regarding the Manafort criminal case (Chapter 9); and

 The FBI's use of Undercover Employees (UCEs) and CHSs other than Steele in the Crossfire Hurricane investigation; whether the FBI placed any CHSs within the Trump campaign or tasked any CHSs to report on the Trump campaign; whether the use of CHSs and UCEs complied with DOJ and FBI policies; and the attendance of a Crossfire Hurricane supervisory agent at counterintelligence briefings given to the 2016 presidential candidates and certain campaign advisors (Chapter 10).

The OIG's analysis appears in Chapter 11 and the OIG's conclusions and 9 recommendations to the DOJ and FBI appear in Chapter 12. The FBI's response to the OIG's report is included in the report as an attachment.

[UPDATE[ U.S. Attorney John Durham, tasked by Attorney General Bill Barr, to investigate the origins of the Russia investigation, has come out with a statement disagreeing with the IG's conclusions. 

His statement reads "Based on the evidence collected to date, and while our investigation is ongoing, last month we advised the Inspector General that we do not agree with some of the report's conclusions as to predication and how the FBI case was opened." (Source)



Report embedded below and can be found on the OIG's website: https://www.justice.gov/storage/120919-


(ANP EMERGENCY FUNDRAISER! Due to the recent unforeseen medical expenses , All News Pipeline will need a little bit of financial help in the days ahead. If you like stories like this, please consider donating to ANP to help keep us in this 'Info-war' for America at a time of systematic censorship and corruption.)



FISA REPORT Compressed by Victor I Nava on Scribd






ANP EMERGENCY FUNDRAISER: With non-stop censorship and 'big tech' attacks upon independent media, donations from readers are absolutely critical in keeping All News Pipeline online. So if you like stories like this, please consider donating to ANP.

All donations are greatly appreciated and will absolutely be used to keep us in this fight for the future of America.

Thank you and God Bless. Susan and Stefan. 

PLEASE HELP KEEP ANP ALIVE BY DONATING USING ONE OF THE FOLLOWING METHODS.

One time donations or monthly, via Paypal or Credit Card:



Or  https://www.paypal.me/AllNewsPipeLine
Donate monthly from $1 up by becoming an ANP Patron.



Donate Via Snail Mail

Checks or money orders made payable to Stefan Stanford or Susan Duclos can be sent to:



P.O. Box 575

McHenry, MD. 21541

ANP is a participant in the Amazon Services LLC Associates Program.







comments powered by

Disqus