Whatfinger: Frontpage For Conservative News Founded By Veterans
"The Best Mix Of Hard-Hitting REAL News & Cutting-Edge Alternative News On The Web"

March 3, 2017
Are Massive 'Immigration Crisis Drills' At Guantanamo Bay Preparing For A Forthcoming 'Huge Event'?
- Routine Drills Or Preparation For Something Much More?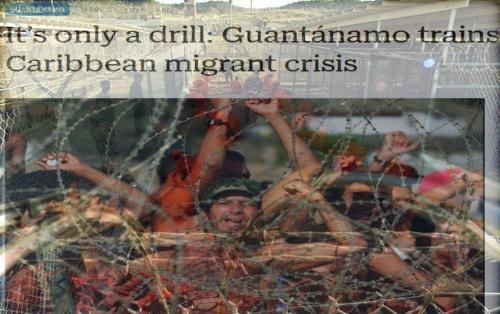 By Stefan Stanford - All News Pipeline - Live Free Or Die
In this new story from Mac Slavo over at SHTFPlan he reports upon a massive and expensive military drill being held at Guantanamo Bay, allegedly in preparation for a huge immigration crisis. As Slavo reports, "normally when you see a drill go down, often times it's a precursor to the real event." 


As Joe Joseph over at the Daily Sheeple tells us in the first video below when commenting on these drills, such massive drills in the past have often come along with an actual 'event', almost as if those planning the drills had some insider knowledge of 'an event to come'.
While the Miami Herald story claims "It's Only A Drill", we'd be wise to remember that drills were also going on September 11th of 2001, during the Norway terror attacks, the Paris terror attacks, the 7/7 terror attacks and that's just the tip of the iceberg. First, from the Miami Herald story with much more below.
Hundreds of U.S. forces are rehearsing a migrant crisis this week at the U.S. Navy base at Guantánamo Bay, Cuba, a massive multimillion dollar drill that envisions the United States capturing huge numbers of people in the Caribbean bound for the United States — and how the military, State Department and Homeland Security would collaborate on handling it.
At the Southern Command, Army Col. Lisa Garcia said the military was contributing 400 troops and spending $2.5 million on its portion of the month-long exercise, to include transportation and airlift. It ends Friday.
She said Southcom's "battle staff" is taking part in the exercise as well as its Public Affairs team. The Miami Herald asked to watch and report on the exercise and was declined. The U.S. military likewise declined to release photos of it.
It's called Operation Integrated Advance and it "is dedicated to improving our integration with federal and local partners," the colonel said. The military has engaged in some sort of annual Guantánamo-related migrant exercise for at least a decade.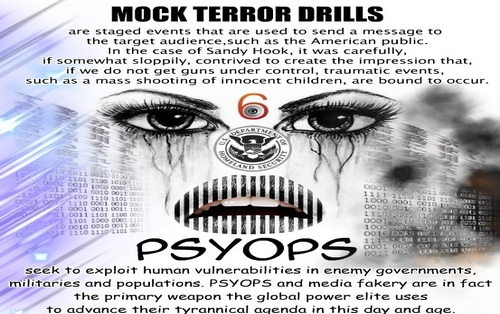 With President Donald Trump now in office, might 'false flags' finally be a thing of the past and could these drills be in preparation for 'mass roundups' of those here illegally in America? As the DHS statement states, these exercises are 'routine'. Even DHS head General John Kelly previously had stated that there would be no 'mass deportations' - but could this be in preparation for 'mass roundups' in the future?



Base residents and visitors have spotted the activity and asked whether the event was somehow related to a planned surge in deportations of undocumented migrants from the United States since President Donald Trump took office and hired retired Marine Gen. John Kelly, a former Southcom commander, as Secretary of Homeland Security.





A Department of Homeland statement called the exercise "routine." But spokesmen would not say whether it additionally was training to put deportees there or limited only to war-gaming how to handle something like the humanitarian crisis that saw tent cities sprout across the base in the 1990s to temporarily hold up to 60,000 Cubans and Haitians across several waves.





The exercise — which has had troops building a tent city and overwhelmed some guest housing facilities for weeks — runs through March 3. They are expected to pull up stakes and be gone by Sunday when the Pentagon dispatches an airlift of staff and observers for a series of war court hearings in three cases that will extend into April.





"This year's exercise scenario focuses on a potential mass migration in the Caribbean," a Homeland Security statement said Wednesday. "The primary objective is to protect the safety of life at sea and to deter mass migration using organic DHS forces reinforced by other federal, state, and local assets and capabilities."



It also said: "As stated by Secretary Kelly previously, there will be no mass deportations."

In previous years both Army.mil and Navy.mil reported upon Operation Integrated Advance with the Army summing up for us why these training drills are so important though recent events show more immigrants are moving OUT of the US than attempting to come in with President Donald Trump promising to be much tougher on illegal immigration than we've seen for the past several decades.



This year's exercise primarily tested SOUTHCOM and its service components' abilities to develop command and control relationships required to respond to a mass migration scenario, while working and training alongside other federal agencies.





"What this exercise allows us to do is flesh-out some of the processes and resources we would need if a mass migration were to occur," said Rear Adm. Jon G. Matheson, deputy commander of U.S. Naval Forces Southern Command and 4th Fleet and deputy joint task force commander for JTF-MIGOPS.





Mass migration operations are complex and large in scale, requiring a coordinated interagency U.S. government response. Integrated Advance allowed Army South and SOUTHCOM to increase interoperability with other U.S. government agencies.





"If there was a mass influx of migrants, it takes a significant effort to set up the camps. In order to ensure we have the capability and capacity to do that, it is, on occasion, appropriate to bring forces out to the actual environment where the camps would be set up," said Matheson.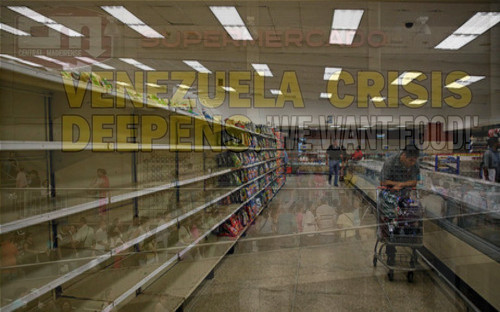 The new story from Zero Hedge reports that the failed nation of Venezuela is now down to its last $10.5 billion in foreign reserves with more debt payments soon coming due. As we had previously reported, hunger, chaos and civil unrest is spreading rapidly in Venezuela, and giving Americans a warning about what could be coming home in a very worst case scenario.

In the meantime, 'Venezuela' has landed on America's doorstep with more and more Venezuelans attempting to gain access to America, where food is still plentiful and basic necessities can still be found in mass quantities. As this September of 2016 story from CNN Money reported of one Venezuelan residents recent travels, "I Flew Into America To Buy Toilet Paper".

As we hear from Dave with the X22Report in the 2nd video below, the 'deep state' has positioned itself and as we've been watching across the alternative news, it appears like a huge event may soon be about to unfold.
Dave also warns in the final video below that all of the preparation we've been witnessing around the world could also be tied to the global economy in freefall mode with Dave asking, has a date now been set for that dire event? 

As we reported back on February 27th, according to former Ronald Reagan White House Budget Director David Stockman, a financial day of reckoning could soon be ahead with Stockman himself warning that beginning on March 15th, our economy could begin the pain of grinding to a halt with this summer possibly bringing a 'debt bomb' that even President Trump will be unable to prevent going off.



comments powered by

Disqus