Whatfinger: Frontpage For Conservative News Founded By Veterans
"The Best Mix Of Hard-Hitting REAL News & Cutting-Edge Alternative News On The Web"
Still In Stock! Forget What Is Unavailable And Focus On What You Can Still Get Your Hands On - A Little Creativity Can Make A Huge Difference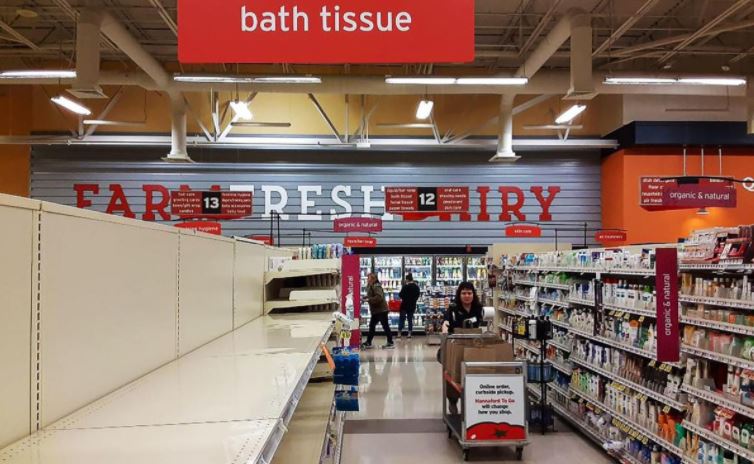 By Susan Duclos - All News PipeLine

In "normal" circumstances listing what is "currently unavailable" or "out of stock"† helps individuals gravitate away from those items, but circumstances are not normal as the COVID-19 coronavirus continues to spread. Right now it is faster to list the things that are still available, and a better use of our time to research those items so readers have a chance to obtain the things that are helpful for self-quarantining and surviving an extended period of time without having to be where groups of other people are.† †

After detailing some of the latest shopping news, we're going to provide some Do-It-Yourself or alternate options for the items that are currently unavailable by using items "still in stock."†

SHOPPING ISSUES........

Wall Street Journal reports that grocers are failing to keep up with demand as panicked shoppers are emptying shelves as fast as the store employees can fill them.† Long lines to just get into the stores, and checkout wait times excruciatingly long, while "whole aisles were rendered bare this week as companies told more workers to stay home and schools began to cancel classes," the report states.

Stores are taking a variety of steps to minimize risk of the spread of infection, while still providing as much inventory as possible, as shown by the information on Publix below:


Publix Super Markets Inc., which operates more than 1,100 stores, on Saturday said it would shorten store and pharmacy hours to close at 8 p.m. Walmart Inc. said its U.S. stores would close overnight to clean and disinfect surfaces. Wegmans Food Markets Inc. said it would shorten hours, trim options at its hot-food bars and set purchase limits for foods including eggs, frozen vegetables, boxed cereal and rice.

The individual companies responsible for feeding America are also concerned about labor shortages and getting shelves restocked at all, as explained in a recent Anchorage Daily News piece:


Food producers and supply chain managers say there is generally enough nonperishable food on shelves, in warehouses and on the production line to last several months, but the challenge could soon be getting that food to the right places once local distribution centers are wiped out.

In addition, millions of Americans, who previously got food at restaurants or in school or at work cafeterias, will have to serve themselves at home, with food bought from grocery big-box enterprises.

"The replenishment cycle is going to be the real test here," said Sean Maharaj, a supply chain expert and managing director at AArete, a consulting firm in Chicago. "Manufacturers don't sit on a lot of extra inventory, so what do you do when everything you have is depleted?"

The thing is there are plenty of supplies left and the stories above, while important and newsworthy, do not offer the options that are still available, being alternative products that can still be bought, and are still in stock, to create an alternative to items that are sold out, or alternative establishments that still have certain items while the traditional stores† we usually get those products are out of stock.

For example: Folks are having a heck of time getting cleaning supplies and paper products, and other items at many grocery stores or big box stores across the country, yet places like Lowes has a decent selection of products, for in store pickup or shipping for free for any order over $45.† Home Depot also sells cleaning supplies, paper products and other products that seem to be flying off the shelves at physical stores, although we do not that depending on what location, some items are listed as "limited stock."

Disclaimer: While ANP is an Amazon affiliate, we are not an affiliate with Home Depot, Office Depot or Lowes, or any other store linked to in this article. We are simply trying to provide links to items still available, no matter where they are.

Same with some of the office supply stores such as Office Depot, although again, even they are running out of stock on certain items.

With the increase in tensions at physical stores, yelling, screaming, and fights breaking out over products, it is not just the risk of infection that has people preferring to order online and get their products delivered.

This is preferable in a number of ways including to prevent the spread of infection, and keeping away from other people that are panicked and dangerous.†

Even Amazon is announcing on their blog that they are running out of a number of items and seeing delivery delays on others, while blocking sellers that "artificially raises prices on basic need products during this pandemic," aka price gouging during an emergency.


(ANP FUNDRAISER! Due to recent medical expenses, All News Pipeline will need financial help in the months ahead. If you like stories like this, please consider donating to ANP to help keep us in this 'Info-war' for America at a time of systematic censorship and corruption.)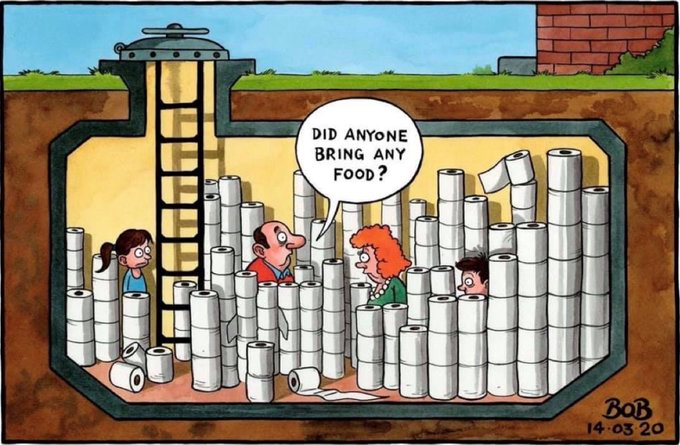 (Image emailed by an ANP reader on March 16, 2020)



STILL IN STOCK!!

While yesterday we dealt with some of the things the younger generations should be learning from the older generations during this pandemic, such as making their own breads and growing their own fruits and vegetables and being able to do so indoors year round, today we went hunting at Amazon for alternative items still in stock to replace those that are unavailable.

One reader went to get flour and found the shelf empty, so we found some flours are still in stock, as are some grains to grind up their own flour, different kinds are available with reasonable shipping dates, including gluten free for those with an intolerance.

Cheap coffee grinder, or food processor and a sieve, and voila, you can make your own flour. Much less expensive than buying a grain mill.

Other food reportedly flying off the shelves at grocery stores around the country include canned good.†

While there are many canned goods that are "currently unavailable" even online at Amazon, there are also plenty of products still available, and the delivery times are still reasonable.

Canned meats seem to be very sought after, but we did find that Yoders, which offers† Beef chunks, Bacon, Chicken chunks, Hamburger,† Turkey,† Pork, and Pork sausage, are all still available, by the case. Only their regular beef is listed as unavailable.

We are hoping many have already started their indoor gardens for fruits and vegetables, and for those that have just started it or have gardens not yet ready to harvest, we went hunting for some cans of fruits and vegetables still in stock.

There are also a number of canned fruits available, but most have a delayed delivery date already of about two weeks, but we have found a 106 oz jumbo sized can of fruit cocktail, pitted cherries, mango slices, figs, and more that are still available or will be in stock within the next few days.

Another thing to remember: We know that many of the emergency survival food companies have much of their product listed as out of stock, but there are certain sellers on Amazon that still have fruits and vegetables, sold separately from their whole meals, entrees and large kits. Granted they cost more than getting it fresh from the grocery store, but the benefits are a long shelf live, the freeze dried foods can be reconstituted to use in other recipes or eaten alone, and† the content expands once rehydrated.†

Augason Farms Freeze Dried Berries Variety Kit No. 10 Can 3-Pack

Augason Farms Freeze Dried Whole Blueberries 12 oz No. 10 Can

Augason Farms Freeze Dried Whole Raspberries 8 oz No. 10 Can

Augason Farms Freeze Dried Diced Mango 9.52 oz No. 10 Can

Augason Farms Freeze Dried Pineapple Chunks 12 oz No. 10 Can

Vegetables are a little harder to find, canned or freeze dried, but there are alternative options, such as an herb and vegetable mix that can be added to stews or soups, or a vegetable and bean blend. There are others, either freeze dried, canned or even bagged, but carefully look to the delivery date listed.†

Something else to remember is peanut butter, jarred or powdered, and crackers is a very good snack and a source of protein, and hasn't sold out.....yet.

BOTTOM LINE

We started this latest series of "still in stock" articles with food, because without food and water, people die. We did not highlight water as something to stock up on because unlike a grid down scenario, or corrupted water supply, we have not noted water service interruptions in any country, city or state.† For those that want to get water anyway, it is still available as well.

Items still in stock can used as substitutes to products that cannot be bought at the moment and with a little creativity, one can make it through this pandemic and self-quarantine and still be very comfortable and eat what you want and when you want it.






ANP EMERGENCY FUNDRAISER: With non-stop censorship and 'big tech' attacks upon independent media, donations from readers are absolutely critical in keeping All News Pipeline online. So if you like stories like this, please consider donating to ANP.

All donations are greatly appreciated and will absolutely be used to keep us in this fight for the future of America.

Thank you and God Bless. Susan and Stefan.†

PLEASE HELP KEEP ANP ALIVE BY DONATING USING ONE OF THE FOLLOWING METHODS.

One time donations or monthly, via Paypal or Credit Card:



Or† https://www.paypal.me/AllNewsPipeLine
Donate monthly from $1 up by becoming an ANP Patron.



Donate Via Snail Mail

Checks or money orders made payable to Stefan Stanford or Susan Duclos can be sent to:



P.O. Box 575

McHenry, MD. 21541

ANP is a participant in the Amazon Services LLC Associates Program.







comments powered by

Disqus