Whatfinger: Frontpage For Conservative News Founded By Veterans
"The Best Mix Of Hard-Hitting REAL News & Cutting-Edge Alternative News On The Web"
September 29, 2015
Obama Tweets 'Hope You're Ready' - Nasdaq 'Death Cross' Forms 4-Horsemen Pattern - Dr. Jim Willie Joins Paul Sandhu To Discuss Death Of King Dollar


By Stefan Stanford - All News Pipeline

The story on CNBC News last night had a title like something you'd read in an 'end times prophecy' story except that it was all very real and based within the financial world: "Nasdaq 'Death Cross' Forms 'Four Horsemen' Pattern". In it we learn exactly why this financial story has such an apocalyptic name; Nasdaq has just become the 4th of the major indexes to go into a death cross formation and for the 1st time since 2011, "all four horseman of the apocalypse" are in a 'death cross' simultaneously. 

The Nasdaq composite spooked investors on Monday after forming a death cross, a trading pattern that shows a decline in short-term momentum and is often a precursor to future losses. 
A death cross occurs when the short-term moving average of a security or an index pierces below the long-term trend, in this case the 50-day moving average breaking through the 200-day moving average.
In the past month, similar chart patterns formed in the S&P 500, Dow and small-cap Russell 2000, but the Nasdaq avoided a death cross formation until Monday.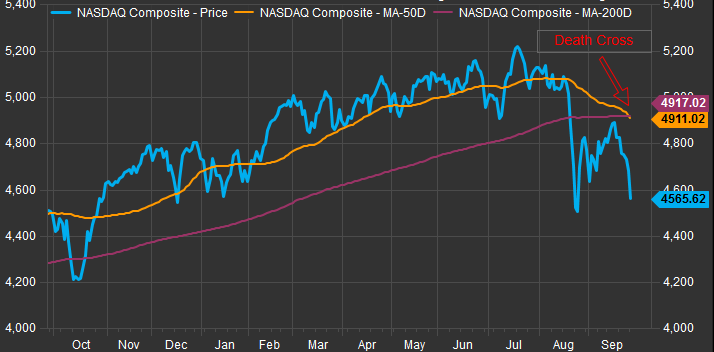 In the 1st video below, ExplorerOne breaks down some possibly cryptic recent Barack Obama tweets while telling us more about this Nasdaq 'death cross' that signals the 'fourth horseman' of the apocalypse CNBC told us of while in the 2nd video below, Dr. Jim Willie joins Paul Sandhu to talk with us about everything else in the financial world that the mainstream media refuses to tell us including taking a look at the slowly dying dollar that has long ago seen its' best days. 

With businessman Carl Ichan now warning that there is danger and a looming catastrophe ahead, we wonder if this is what Obama was referring to in a recent tweet "Hope You're Ready" that came out just days ago as discussed in the 1st video. 

We also learned today from Zero Hedge that UBS is about to blow the cover on a massive gold-rigging scandal and with central banks and the FED traditionally being the biggest gold manipulators on the planet, this is another sign that everything is about to fall apart as the markets suffer another 'black monday' and Deutsche Bank is prepared to become this cycle's Lehman Brothers according to the Dollar Vigilante.

So, was there a cryptic reason behind Barack Obama's recent tweets, especially the one in which he urged "I hope you're ready"? Jim Willie's recent video with Paul Sandhu in 2nd video below.



Also discussed within this video: September 28th: The devious attack by USGovt against Volkswagen to force the US$ towline in commercial slavery, the VW violation is bogus and contrived, the hidden $1 trillion monthly QE volume for aiding Wall St banks in oil hedge losses, grand blemish in $40bn in daily Failures to Deliver in USTreasurys (naked shorting by Wall St banks), the USFed being trapped and unable to hike rates for many reasons, rate hike would kill the entire USTBond market rapidly and Wall Street banks even more rapidly, the new Iran oil supply guarantees low oil price and continued damage to US oil sector and Wall Street underwriters to oil hedge contacts, the Emerging Market debt on the verge of defaults since all denominated in USD terms, the Syrian refugee problem (migrants?) with USGovt to blame, the effective cover for 1000 guerrillas to enter Europe without proper border checks, the global shortage of Gold & Silver in both physical and fraudulent paper, the one year delay in Global Currency Reset under agreement by US & China, the footnote to beware of Yemen for threat to House of Saud whose has an assortment of internal problems





comments powered by

Disqus