Whatfinger: Frontpage For Conservative News Founded By Veterans
"The Best Mix Of Hard-Hitting REAL News & Cutting-Edge Alternative News On The Web"
 
October 3, 2016
Has 'Judgement Day' Arrived? World Faces 'Most Dangerous Hour'
- Is Russia More 'Prophetically Aware' Of The Role They Play In God's Judgement On 'Mystery Babylon' Than The West Can Even Grasp?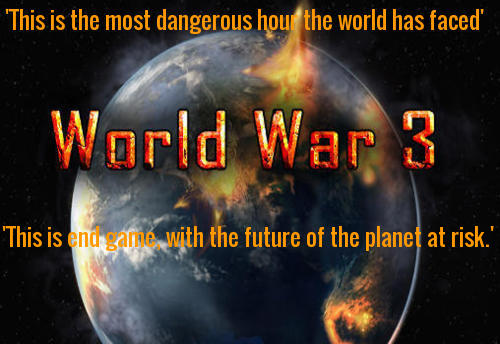 By Stefan Stanford - All News Pipeline - Live Free Or Die
The recent story by Larry Chin over at Global Research that Steve Quayle linked to on his website days ago told us that we are now in the most dangerous hour that the world has ever faced. Warning us that the 'end game' is now here, we're also told the future of the entire planet is now at risk.
Warning us that the next president in America will likely be a 'criminal in a long line of criminals' leading America, Chin reinforces what ANP has long been warning: There is no way that the 'New World Order' will permit a government that is not crawling with its own members, infested with 'Bush and Clinton crime family' operatives.

With tensions across the entire world now at a fever pitch, we take a look below at a 2015 story in which we were told the Russian military recently got a 'Judgement Day Command Center' which leads us to ask if Russia is more 'prophetically aware' of the role they play in God's Judgement of 'Mystery Babylon' than the West is even aware of? We also take a look below at a new SQAlert in which we're warned that everything is pointing towards World War 3 as well as another look at Russia's Yamantau Mountain complex and its role in any possible 'future Armageddon'.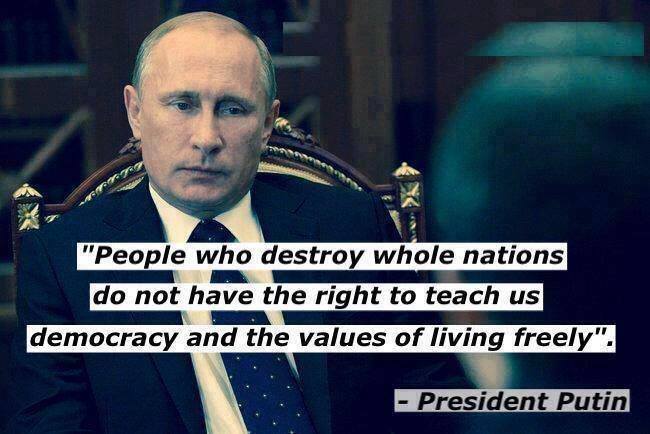 The recent story from the Associated Press tells us that the US State Department has just suspended bilateral contacts with Russia. While some might think that's not a bad thing, we're reminded of the events leading up to the Japanese attack upon America that helped kick off World War 2. As we read in this Wikipedia entry on the events leading up to Pearl Harbor, part of the Japanese plan for the attack included breaking off negotiations with the United States 30 minutes before the attack began.

Considering that Russian President Vladimir Putin once stated that Russia could destroy the United States in 30 minutes and the fact that they are well prepared to do so should the US continue to push them speaks volumes.

As we told you back on August 27th, we've recently been watching a very disturbing series of events including Germany, the Czech Republic, China and the US issuing warnings to their citizens to prepare for the worst. With 40 million Russians participating in a massive drill between October 4th and October 7th, we see massive trouble on many different fronts, all of them prepared to boil over. As we read from the new SQAlert below, everything is now pointing towards WW3.



MAJOR HEADS UP - ALL THE DRILLS BETWEEN RUSSIA, CHINA AND NORTH KOREA, POINT TO WW3 WITHOUT GOD'S INTERVENTION





THE EVENTS THAT ARE HAPPENING NOW ARE AS PLAIN AS DAY-WHAT THE BRAIN DEAD, SOON TO BE NUKED, 'AMERICAN CALIGULITES' AND THEIR' PROFANE POLITICIANS' FAIL TO UNDERSTAND, IS THAT TRAITORS WITHIN A GOVERNMENT DON'T ALWAYS HAVE TIME TO GET TO THEIR SAFE PLACES,YACHTS OR BUNKERS.HERES A BRIEF CONVERSATION BETWEEN ONE OF MY READERS AND I IN THE LAST 20 MINUTES---ROBERT:





Well Steve, between the multitude of prophetic dreams the prophets are experiencing,. of asteroids striking the earth- and my son Jordan talking in his sleep Sept.1999,.Pittsburgh,PA ; "Dad,.destruction is coming on the fourth." Everything is pointing to Oct.4th.

Isaiah 24 Please read It

http://allnewspipeline.com/WW3_Russians_Drill_Moving_40_Million_To_Bunkers.php



SQ - ROBERT, NONE OF THIS TAKES ME BY SURPRISE - REMEMBER AFTER 25 YEARS ON TALK RADIO'VE BEEN WARNING OF THESE EVENTS AND HOW THEY WILL ALL HAPPEN SIMULTANEOUSLY  --





Robert -- SIMULTANEOUSLY; Is the operative word Steve. So many Americans live in their alternative reality with their heads, minds buried in their devices, internet world. When all is wiped away, technology and distractions, a new reality will greet them, and they will be terrified,  traumatized by the carnage, destruction and violence that they see. We must abide in Jesus Christ, our lives hid with Christ in God, retreat to and live in that "Secret Place of The Most High." Shalom Robert-----------





SQ - THE 40 MILLION RUSSIANS TO THEIR BUNKERS IS NOT A DRILL - EVERYTHING AND EVERYONE WHO WILL BE COORDINATING THEIR ATTACK ON THE U.S. IS MOVING MEN AND MATERIALS INTO POSITION, WHILE OUR GOVERNMENT AND FOREIGN MERCENARIES ARE FOCUSED ON MARTIAL LAW AND DIS-ARMAMENT OF THE AMERICAN PEOPLE - PRAY AND PREPARE AS SUDDEN DESTRUCTION MEANS IT WILL TAKE US ALL OFF GUARD - 'THERE IS POWER IN THE BLOOD OF JESUS'!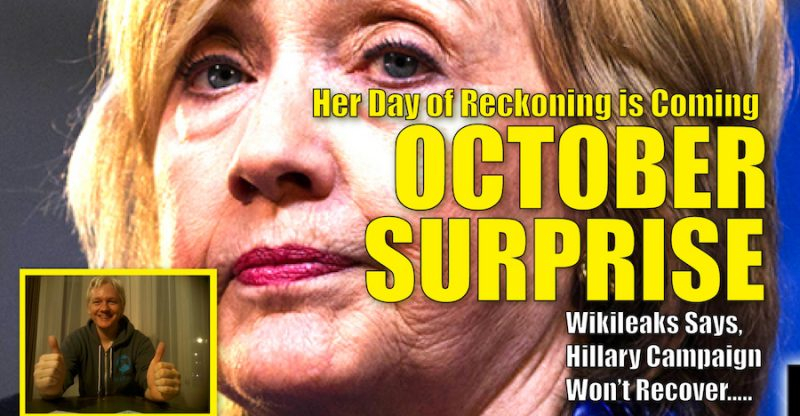 With Wikileaks still planning on making a 'stunning announcement' on Tuesday that could bring down Clinton and in so doing, trample upon the globalists plans for America and the world, we're not the least bit surprised that an 'insider' recently warned that America is a tinderbox and several matches could set the entire country on fire.
While that 'insider' was warning about the world of finance that recently saw some Deutsche Bank customers unable to withdraw their funds from the bank, allegedly due to IT issues, we're reminded that Trends Forecaster Gerald Celente has long warned us that 'when all else fails, they bring us to war'.

As this story from Fox News Sunday told us, Wikileaks had originally cancelled their planned 'bombshell' over 'security concerns' as was so aptly illustrated on the cover of the Drudge Report on Sunday seen below. What 'security concerns' might they be concerned about? Was the Clinton/Bush crime family prepared to use their well-paid terrorists to 'blow up' Assange's 'party' and prevent the truth from getting out? The fact that Clinton is prepared to go to war with Russia over these email leaks tells us everything we need to know: they could completely destroy her.



With the US presidential election now just over a month away, might 'politics' help bring an end to all of the problems that the world faces? As the Global Research story tells us, America is now facing a choice between a war criminal who has committed a very long list of bloody war crimes and a total political unknown in Donald Trump who Chin tells us may himself be 'compromised' though to us, the choice we have in November is quite clear: Another warmongering globalist or someone who has promised to put 'America 1st'.

Though Chin also tells us a Trump presidency likely would not happen w/o the globalists blessings, we have to wonder how accurate that statement is considering how hard the globalists continue to pound on Trump though we'll agree with both Trump and Chin, the system is horribly broken.:
The next president will likely be a criminal, in a long line of criminals, or a puppet that is controlled by these same criminal forces. This is a virtual certainty,

barring a total revolution that sees all members of the New World Order removed from power and punished, the CIA and other criminal entities shut down, an international cease fire, and an end to all wars

.
Humanity faces an unprecedented crisis with little effective means to stop what is coming.

There are no elections: votes do not and will not count. Elections are fake, and this one is no different. Elections are digitally hacked, rigged, and scripted, rigged the way they have for decades. There is no real choice in this charade anyway. One candidate is clearly and emphatically criminal. The other is not trustworthy and may be compromised.
This is the most dangerous hour the world has faced. This is end game, with the future of the planet at risk.
The

final moves on the "Grand Chessboard" are before us

: all of the Middle East and Central Asia, the world's last reserves of oil, are in play, Syria is on the edge, Russia is under attack, and

nuclear holocaust is a terrifying possibility

.

War with Russia and China are no longer "unthinkable", but being planned in earnest.
A Hillary Clinton White House guarantees war, and a triumph for the Criminal State

.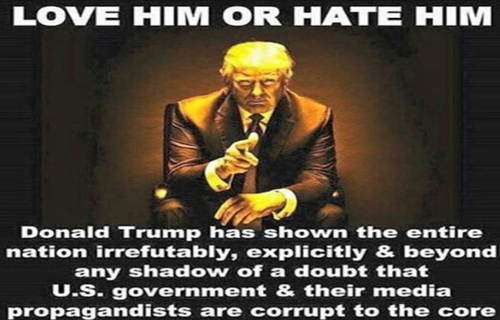 Is America ready for more and more and more war and possibly the 'war to end all wars'? As Albert Einstein stated many years ago:

"I know not with what weapons World War III will be fought, but World War IV will be fought with sticks and stones."



The fact that Russia's 'doomsday command center' just happens to be called 'Judgement Day' has not been lost on 'the Watchmen' who've long been paying attention to these things. While 'Judgement Day' is one of the Russian's 'command posts in the skies', Yamantau Mountain (which Bill Clinton helped to build while selling out America's security) is completely stocked and ready to house the Russian political and military command structure.

As we reported on ANP yesterday, Russia now has enough underground bunkers in Moscow that it can house the entire city's population should disaster strike. As we learn in this story from FAS, 'civil defense' has long been a part of Russia's overall defense plan while the US does absolutely nothing for its citizens should nuclear war arrive upon our shores.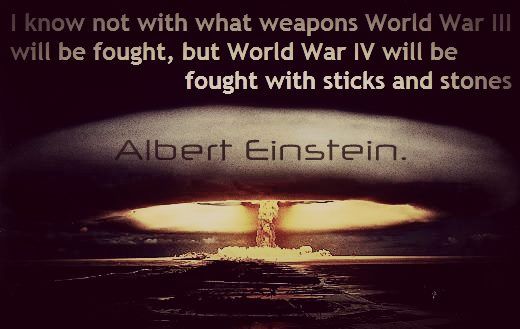 In the 1st video below from Rick Wiles' Tru News we hear Wiles talk with us about whether or not our mainstream media will even cover the increasing hostilities with Russia that could lead to WW3 and nuclear annihilation as well as recent statements by Russian leaders that they are fully prepared with underground bunkers for 100% of the city of Moscow. As Wiles tells us, Russia is feverishly preparing to protect their population should our leaders here in America go completely insane and launch an attack against Russia that would quickly lead to the end of America.

In the 2nd video below our videographer breaks down the story on ANP from Sunday in which we told you that 40 million Russians would be taking place in massive drills in Russia between October 4th and October 7th.

In closing, with the entire world now seemingly preparing for war and massive chaos, we look again at the new SQAlert and see great wisdom and advice in Steve's words in this time of great danger.: "PRAY AND PREPARE AS SUDDEN DESTRUCTION MEANS IT WILL TAKE US ALL OFF GUARD - 'THERE IS POWER IN THE BLOOD OF JESUS'!"








comments powered by

Disqus