Whatfinger: Frontpage For Conservative News Founded By Veterans

"The Best Mix Of Hard-Hitting REAL News & Cutting-Edge Alternative News On The Web"
October 18, 2020
Store Shelves Are Emptying Again As Second Wave Of Panic Shopping Has Begun - Lack Of Variety And Product Is Just The Beginning Of What Is Expected


By Susan Duclos - All News PipeLine
With some establishment media finally joining the party, and catching up and reporting on different types of shortages still being seen randomly throughout America, we note new shortages expected will be on items that generally weren't a problem the last time around.
One of the main points people seem to ignore or forget is that grocery stores and other places to purchase food are still not recovered from the initial rounds of panic shopping when the COVID-19 lockdowns first began.
Recent reports show stores are trying to get their stocks replenished, while at the same time trying to prepare for another round of panic shopping, which according to some reports, has already begun.
Another things we have been hearing about is the lack of variety and ability to obtain certain brands, as many companies have limited their choices in order to keep other items available.
When the coronavirus pandemic first struck, grocery retailers across the nation were scrambling to restock shelves as consumers panic-shopped for canned goods, flour, yeast and most curiously, toilet paper. Now, with a second wave of COVID-19 looming and fear over potential unrest around the presidential election, consumers are aggressively stocking up on various foods. And grocers are struggling to keep up with the demand.

"As of now what we are seeing is the start of the second wave of panic," said Chris Mentzer, the director of operations for Rastelli Market Fresh in New Jersey. "Our customers keep telling me how they are looking for any type of freezer to purchase so they can start stocking up their homes now. Their main concern is meat." He explained that customers are mainly looking to buy and freeze beef and poultry — ground beef, steaks, roasts and all varieties of chicken.

"They're also starting to buy a lot of frozen meals and frozen pizzas," said Mentzer. "We are seeing anything that can be microwaved quickly or easily made in the oven for kids, fly off the shelves, as people are preparing for schools and colleges to be closed this winter — along with a run on dried goods and paper goods, as well."
.Usually on these food shortage reports we list available items for readers to get online to avoid having to get caught up in the chaos of panic shoppers, at the bottom of the article, which we will also do here, but we will add some throughout as we report on it.
With that said, refrigerators and freezers, are beginning to be a little more difficult to come by, according to Kitchn.com. 
Is your refrigerator running? If so, you better go catch it (thank you, endlessly entertaining kindergarten joke). But if it's not, you might be really out of luck these days: NPR reports that after all the yeast and flour shortages of early quarantine, what's really hard to track down these days isn't a specific food, but the appliance in which we store our food.
It's not the first appliance to disappear from warehouses: In the spring, a run on freezers as people stocked up on supplies rendered them unavailable for months. And when those were gone, customers moved on to purchasing all the refrigerators that had freezers on them.  
The article also says that to a lesser extent they are seeing shortages of washers and dryers as well.
From what we are hearing, many appliance stores are still selling all the aforementioned products but some are saying it could be weeks or months before the item will be in store or available to be delivered, so it is a little difficult to stock up on items that need refrigeration and freezing without the appliance to store said food in.



The items listed below are all in stock with a very short delivery time, as of now, that could change at any moment.
Fridges and Freezers:
Chest Freezer, TACKLIFE 5 Cu. Ft Small Freezer 10.4℉ to -11.2℉, with Removable Basket/7 Temperature Setting/Power Saving, White, for Home/Kitchen/Office/Bar - MPWCF053T
MOOSOO Chest Freezer, 17.7 Cubic Feet with Removable Storage Basket Deep Freezer 5 Gears Temperature Control Energy Saving CSA Certificated
Arctic King ARC070S0ARBB 7 cu ft Chest Freezer, Black
MOOSOO Compact Refrigerator, 7.3 Cu.Ft Dual Door Fridge with Freezer, 7 Adjustable Temperature, Removable Shelves, Ultra-Quiet Silencer, Ideal Food and Drink Storage
Daewoo RTE21GSWMD Top Mount Refrigerator, 21 Cu.Ft (Limited stock)
hOmeLabs 7.6 cu. ft. Refrigerator with Freezer - Energy Star Certified, Stainless Steel, Adjustable Glass Shelves
FRIGIDAIRE, Stainless Steel FFSS2315TS 33 Inch Side Refrigerator with 22.1 cu. ft. Capacity
According to SFGate, there is also expected to be a run on gloves again, which makes it prudent to order now to replenish what you have used over the course of the past few months.
It is also mentioned in that piece that the prices for gloves and masks and other similar items have risen considerably, which leads us to the conclusion that as the supplies start dwindling again, those prices will spike again as well.
Gloves and Masks:
Wostar Nitrile Disposable Gloves 2.5 Mil Pack of 100, Latex Free Safety Working Gloves (Small, Medium And Large available)
Medical Blue Nitrile Gloves, Box of 100, 5 mil, Size Large, Latex Free, Powder Free
As for masks, we will list some here, but given the new reports about the ineffectiveness of masks used by those not infected, we would caution folks to do some research and decide for yourself if you want to stock up on them or not.
Face Mask 3-Layer Disposable Masks 50Pcs/Box
New reports are also showing what items are expected to fly off the shelves first, and will many recommending the stocking up on gloves and masks, other items they are recommending the purchase of in preparation for more shortages, include hand sanitizer, cleaning supplies and, once again, toilet paper.
How "experts" can recommend toilet paper and other items, while ignoring food, always manages to astound me.
Foods available for delivery will be listed at the bottom of this article because there is a significant amount. Cleaning supplies, toilet paper and hand sanitizer will be listed below the foods.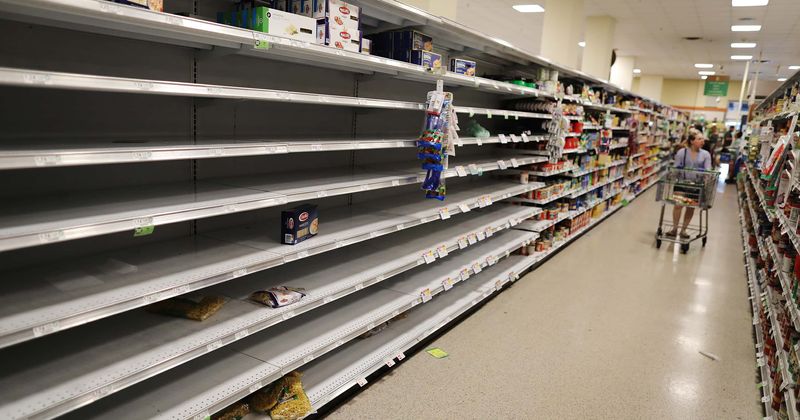 FOOD NEWS........................
On October 12, 2020, NewsMax headlined with "Americans Plan to Stockpile Food as Pandemic Persists."
In that piece they highlight a new survey which shows that 52% of Americans "plan to stockpile groceries and other household products this fall to prepare for a possible recurrence of the pandemic."
The article also mentions fears of election unrest adding to the reasoning for the planned stockpiling.
On October 14, 2020, USA Today also reported "Americans plan to stockpile food this fall over fears of COVID-19 surge, election unrest."
"We talked about doing a big shop like we're going into quarantine," says Hall, 53, of Burlington, Vermont. On the list: enough basics such as milk, beans and rice to last for two to three weeks.

Hall, a consultant, points out that her local grocery stores struggle to keep their shelves fully stocked and have shortages of products like cleaning supplies, even though her state has one of the lowest COVID-19 rates in the U.S.

"Arguably speaking, we have control of things in Vermont, but you still go into the grocery store and there are shelves that are sparse," she says.
Related: With Even The Mainstream Media Now Warning Of Food Shortages And Panic Buying Ahead Of The Election, America's Countdown To Chaos Is In Full Swing 
This is why I said at the top of this article that the establishment media has finally joined the party as they have downplayed the initial shortages until it was too late to encourage people to stock up because they shelves were already empty.
This tells us that if they are warning people now about expected shortages, we can be sure they are expected to be much worse than what the media is reporting.
Seriously, at this point, even if there is no second wave of the coronavirus, a second wave of panic shopping has already begun. First because of the hype of the media and their howls of "second wave of COVID-19."
Secondly and perhaps more importantly, Americans are seeing the unrest in the streets, the Antifa/BLM rioters, buildings and cars burning, stores emptied and left a mess by looters, and innocent men and women on the street, outdoor dining and even trying to sleep in their homes, being harassed by thugs.
Anyone that thinks that grocery stores and other food retailers are going to get back to normal on selection and availability of specific brands, is in for a big surprise, if anything it will get worse.
Last but not least, we are seeing reports and chatter online of expected peanut, therefore peanut butter shortages expected, along with corn syrup that people who use a lot for their businesses are having a hard time acquiring the amounts they need.

Related: U.S. faces shortage of up to 8 billion meals in next 12 months, leading food bank says
BOTTOM LINE
If the mainstream media, at least a small portion of it, are finally acknowledging the shortages, and offering a limited amount of reports about round two of panic shopping having already begun, then we can fully expect things to break wide open very soon where the "news" cannot be ignored by the rest of the MSM.
Readers of Independent Media took heed when their trusted websites informed them of the shortages that were coming, and warned about the "medical martial law," that was coming, despite being treated like fear-mongers by those ignoring what was happening, did what they needed to do, stocked up, slowly and carefully without panic shopping, resupplied what was needed, and saved themselves from having to enter the fray of panic shoppers when it all finally hit the fan.
While personally I do not think the second wave of COVID-19 will be anywhere near what the first wave was, I do think that liberal state leaders and politicians, will attempt to shut down their cities and the economy again anyway, which is why the upcoming shortages are almost a given at this point.
Stock up, resupply, top of what you have, and if you need things, get them now, they may be listed as "currently unavailable" by next week or next month.
STILL/BACK IN STOCK

Meats:

Porter & York - Whole Chickens 6-pack
Chicago Steak Meal Set- Indulge your taste buds with the Ultimate Gourmet Grilling Assortment - Includes Savory Ribeye, Top Sirloin Steak, Angus Steak Burgers, & Lemon Herb Chicken Breasts

Harris Robinette Natural 100% Grass Fed Ground Beef - Hamburger Meat, Ground Meat - Made in the USA - 10 Pack

Aged Angus Filet Mignon Top Sirloin NY Strip Ribeye and Premium Ground Beef by Nebraska Star Beef - All Natural Hand Cut and Trimmed - Steak Gift Packages Delivered to Your Door

Bison Burgers & Steaks Combo Pack: 100% All-Natural, Grass-Fed and Grain Finished North American Bison Meat with no Growth Hormones or Antibiotics - USDA Tested - 14 Piece of Tender, Flavorful Meat

H.F.'s Outstanding All Natural Skinless Boneless Chicken Breast, 40 Ounce

Porter & York, Prime Beef Bone In Ribeye Steaks 20oz 4-pack

Porter & York Brand Meats - Prime Beef Boneless Ribeye Steak 16oz 4-pack

T-Bone Steaks, 6 count 16 oz each from Kansas City Steaks

32 Classic Steakburgers, 4.5 oz each from Kansas City Steaks



Freeze Dried Foods:

Wise Company Emergency Food Supply, Freeze Dried Meat Variety, 15-Year Shelf Life, 60 Servings

Wise Company ReadyWise, Emergency Food Supply, Emergency Freeze Dried Fruit Bucket, 120 Servings

Wise Company Emergency Food Supply, Variety Pack, 25-Year Shelf Life, 104 Servings

Wise Company ReadyWise, Emergency Food Supply, Freeze Dried Vegetables, 120 Servings

Augason Farms 5-20091 Deluxe Emergency 30-Day Food Supply (1 Person), 200 Servings, 36,600 Calories, Net Weight 20 lbs. 7 oz.

Mountain House Classic Bucket | Freeze Dried Backpacking & Camping Food | 24 Servings

Mountain House Diced Beef #10 Can Freeze Dried Food - 6 Cans Per Case

Augason Farms Lunch and Dinner Variety Pail Emergency Food Supply 4-Gallon Pail

Augason Farms Breakfast Emergency Food Supply 11 lbs 1.8 oz 4 Gallon Pail


Some fruit pails or buckets shipping now for 2 to 3 weeks, so might want to pick individual cans/packets HERE.


Augason Farms Peanut Butter Powder 2 lbs No. 10 Can

Augason Farms Vegetable Stew Blend 2 lbs 0.5 oz No. 10 Can

It's Just - Whole Egg Protein Powder, Made in USA, Non-GMO (8oz)

Augason Farms 5-90158 Scrambled Egg Mix, 2 lbs, 4 oz. No. 10 Can

Augason Farms Dried Whole Egg Product 2 lbs 1 oz No. 10 Can

Hoosier Hill Farm All American Dairy Whole Milk Powder 1 lb

Hoosier Hill Farm Heavy Cream Powder Jar, 1 Pound

Hoosier Hill Farm Real Butter powder, 1 lb


Augason Farms Dehydrated Chopped Onions 1 lb 7 oz No. 10 Can

Augason Farms Freeze Dried Shredded Mozzarella Cheese 1 lb 14.19 oz No. 10 Can


Amazon Search 'Flour'



Canned/Packaged Goods:

Wellsley Farms White Premium Chunk Chicken Breast in Water, 12.5 Ounce, 6 Count


Swanson Chicken á la King Made with White and Dark Meat Chicken, 10.5 Ounce Can (Pack of 12)
Kirkland Signature Chicken Breast (Chicken Breast -6 Count)
Keystone Meats All Natural Canned Chicken, 28 Ounce

Dinty Moore Beef Stew with Fresh Potatoes & Carrots 20 oz (Pack of 12)

Armour Star Classic Homestyle Beef Stew, 20 oz. (Pack of 12)

Keystone Meats All Natural Canned Beef, 28 Ounce

SAMPCO Shredded Beef 3lb.


Keystone Meats All Natural Canned Pork, 28 Ounce

Armour Star Roast Beef With Gravy, 12 oz.

Armour Star Banner Sausage, Easy Open Can, 10.5 oz. (Pack of 12)

Wild Planet Skipjack Wild Tuna, Sea Salt, Keto and Paleo, 3rd Party Mercury Tested, 5 Ounce (Pack of 12)

Armour Star Luncheon Meat, 12 oz. (Pack of 12)



Canned Vegetables Variety Of Options

Canned Fruits Variety Of Options

Rice

Beans

Pasta



Cleaning - Disinfectant:


Clorox Commercial Solutions Clorox Clean-Up All Purpose Cleaner with Bleach - Original, 128 Ounce Refill Bottle, 4 Bottles/Case

Glissen Chemical Nu-Foamicide EPA Registered 1-Gal All Purpose Cleaner Concentrate, Makes 32 Gallons of Disinfectant/Detergent/Food-Contact Sanitizer/Virucide, Industrial Commercial Grade

Hospital Grade Bulk Disinfecting Bathroom Sanitizer by Comet Professional, Multi-Purpose Spray Cleaner with Bleach Wipes up Pathogens for Commercial Use, 32 oz. (Case of 8)

SC Johnson Professional WINDEX Multi-Surface & Disinfectant Cleaner Refill, 1 gallon (Pack of 4)

RMR-141 Disinfectant and Cleaner, Kills 99% of Household Bacteria and Viruses, Fungicide Kills Mold & Mildew, EPA Registered, 1 Gallon Bottle

Care Touch Alcohol-Free Hand Sanitizing Wipes (5 Pouches) | 100 Antibacterial Hand Wipes Wipes with Vitamin E + Aloe Vera | for Babies and Adults


70% Alcohol Hand Sanitizer GEL With Aloe Vera - 1 Half Gallon Refill by Nature's Oils

Hand Sanitizer Gel (24 Pack - 2oz Bottle) - 75% Alcohol - Kills 99.99% of Germs - Scent Free Antibacterial Gel with Vitamin E & Aloe for Moisturizing in Mini 2 Ounce Bottles

Mrs. Meyer's Clean Day Liquid Hand Soap, Cruelty Free and Biodegradable Formula, Honeysuckle Scent, 12.5 oz- Pack of 3

SWAN 3% Hydrogen Peroxide Topical Solution First Aid Antiseptic, 32 Fluid Ounce (Pack of 12), 384 Fl Oz

Hydrogen Peroxide Topical Solution, 32 Ounce (3 Pack)

Isopropyl Alcohol


Non-Food Items:


Tork Universal TM1616S Bath Tissue Roll, 2-Ply, 4" Width x 3.75" Length, White (Case of 96 Rolls, 500 per Roll, 48,000 Sheets)

Amazon Brand - Solimo 2-Ply Toilet Paper, 350 Sheets per Roll, 30 Count


Angel Soft Professional Series Premium 2-Ply Embossed Toilet Paper by GP PRO (Georgia-Pacific), 16880, 450 Sheets Per Roll, 80 Rolls Per Case

Kleenex Professional Facial Tissue for Business (03076), Flat Tissue Boxes, 12 Boxes / Convenience Case, 125 Tissues / Box

Sparkle 2-Ply Perforated Roll Paper Towels by GP PRO (Georgia-Pacific), White, 2717714, 85 Sheets Per Roll, 15 Rolls Per Case

Scott Essential Multifold Paper Towels (01804) with Fast-Drying Absorbency Pockets, White, 16 Packs / Case, 250 Multifold Towels / Pack

PLENTY Ultra Premium Full Sheet Paper Towels, White, 15 Total Rolls

Kirkland Signature Extra Strength Acetaminophen 500MG Caplets (1000 Count)

Kirkland Signature Acid Controller 20mg, 250 Count Tablets

All Natural Acid Indigestion Relief 6 fl oz

Pepcid AC Maximum Strength with 20 mg Famotidine for All-Day Heartburn Prevention & Relief, 50 ct.

Pepcid Complete Acid Reducer + Antacid Chewable Tablets for Heartburn Relief, Berry Flavor, 50 ct.



ANP is a participant in the Amazon Services LLC Associates Program.
EMERGENCY FUNDRAISER: With non-stop censorship and 'big
tech' attacks upon independent media, donations from readers are absolutely critical in keeping All News Pipeline online. So if you like stories like this, please consider donating to ANP.

All donations are greatly appreciated and will absolutely be used to keep us in this fight for the future of America.

Thank you and God Bless. Susan and Stefan.

PLEASE HELP KEEP ANP ALIVE BY DONATING USING ONE OF THE FOLLOWING METHODS.
One time donations or monthly, via Paypal or Credit Card:

Or https://www.paypal.me/AllNewsPipeLine
Donate monthly from $1 up by becoming an ANP Patron.



Donate Via Snail Mail

Checks or money orders made payable to Stefan Stanford or Susan Duclos can be sent to:



P.O. Box 575

McHenry, MD. 21541










comments powered by

Disqus