Whatfinger: Frontpage For Conservative News Founded By Veterans

"The Best Mix Of Hard-Hitting REAL News & Cutting-Edge Alternative News On The Web"

May 21, 2021 


THIS Is How They'll Try To Inject Everyone! Bombshells Hidden Within Associated Press Story Hint Mandatory Shots Are Ahead As 'Mark Of The Beast' Is Promulgated As 'The Law Of The Land'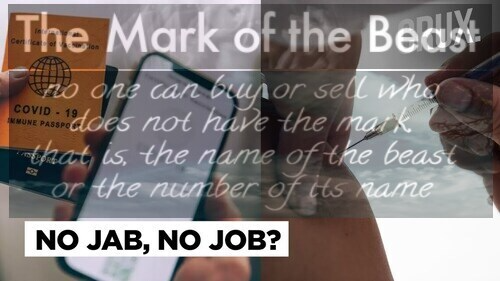 Hidden within this May 20th story over at the Associated Press titled "Big Gaps In Vaccine Rates Across The US Worry Health Experts," we get an indication of where America is likely headed in the months ahead with that story reporting:
"Low vaccination rates will leave room for the virus to circulate, re-emerge and possibly form new variants" so "high vaccination rates are critical to keeping the disease under control, especially when we get back to the fall and winter."
Quoting one Dr. Eric Topol, the head of the Scripps Research Translational Institute, within that story who said that "the gaps in COVID-19 vaccination (rates) can be traced directly to political influences, particularly what he called 'anti-science' attitudes among Republican leaders, who were skeptical about the value of masks, too", the 'kicker' we've long warned Americans need to watch out for came soon after:
Dr. Topol said "he expects U.S. regulators to grant full approval to the vaccines soon, which will give employers, the military and health systems the green light to require vaccination. That will make the biggest difference." 
So with the very real potential of 'required', aka 'mandatory', Covid shots in America's near future, the American people might soon have to answer the question.: "Where is your line in the sand?"
As the Gateway Pundit had reported in this new story that Steve Quayle linked to on his website Friday morning, the state of Oregon's 'Health Authority' is now REQUIRING that businesses have their customers show 'proof of vaccination' to enter their establishments without masks, what the GP story says gives us proof that state has been transformed from a liberal hellhole into '1930's Germany overnight'. 
And with that story giving us another sign that they'll be 'back-dooring-in' vaccination passports any way they can, it's also another sign that this experimental mRNA injection really is leading us to the Mark of the Beast warned of in the Book of Revelation in the Bible, with those who don't participate in the 'vaccine ritual' being denied the right to purchase food and other items without first 'wearing the mask of shame'.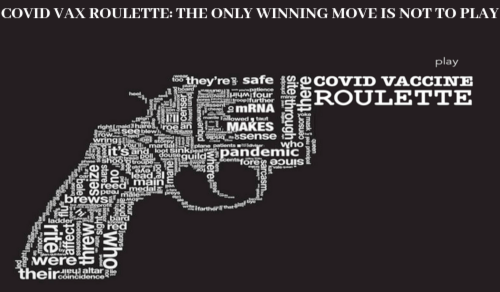 With that previously mentioned AP story also blaming 'conspiracy theorists' for the huge 'gap' in vaccination rates from one place to another across America, let's go ahead and take a look at that story and the hidden warnings contained within it to see where Democrats are trying to push America in the days, weeks and months ahead.   
A month after every adult in the U.S. became eligible for the vaccine, a distinct geographic pattern has emerged: The highest vaccination rates are concentrated in the Northeast, while the lowest ones are mostly in the South. 
Experts say the gap reflects a multitude of factors, including political leanings, religious beliefs, and education and income levels.
Close to 160 million Americans -- 48% of the population -- have received at least one dose of a COVID-19 vaccine, and 125 million are fully vaccinated against the virus. 
New England and Northeastern states account for eight of the top 10 in vaccination rates, with Vermont No. 1 as of last Friday, according to the Centers for Disease Control and Prevention. Nearly 64% of its population has received as least one dose. Following right behind are Massachusetts, Hawaii, New Hampshire, Maine, Connecticut, Rhode Island, New Jersey, Pennsylvania and New Mexico, all of them at 54% or higher. 
Eight Southern states are in the bottom 10, all of which are under 40%. Mississippi was dead last at 32%, followed by Louisiana, Alabama, Wyoming, Idaho, Tennessee, Arkansas, Georgia, West Virginia and South Carolina. 
Closing the gaps is vital to controlling the virus that has killed 588,000 people in the U.S., health experts say. The vaccination drive has helped drive U.S. cases down to their lowest level since last June, at around 30,000 a day on average, and reduced deaths to about 570 a day, a level not seen since last July. 
With that story actually claiming that 'vaccination rates' were responsible for what they're calling the 'lower levels' of Covid cases across America without giving us any scientific proof, while warning that 'the gaps' in rates of the vaccinated could lead to 'a resurgence of the virus', we'd warned within this May 15th ANP story it felt like we were being 'set up for the kill' with the sudden 180 degree Covid-turn recently taken by TPTB. Once again, from the AP story. 
The divides aren't just limited to states — there are marked differences between urban and rural places, from county to county and from one neighborhood to another. The disparities are even more glaring when looking at individual places around the U.S.: Vermont has four counties where 75% of the residents have had at least one dose, while there are 11 Mississippi counties with under 25% vaccinated. 
Roddy Carroll has seen both sides from where he works in technology sales in Atlanta and where he grew up in northern Georgia. "There's a pretty stark difference," he said. Back home in rural Murray County, only 1 in 4 residents have rolled up their sleeves for a shot. Carroll blames conservative politicians for sowing doubts that have made people reluctant. "They're more willing to listen to conspiracy theorists than doctors who know how vaccines work," he said. "You're talking about people you've known all their life. But you hear them say those things, and you think, `How well did I know them?'" 
Those anti-vaccine beliefs have led to some uncomfortable conversations with his family, Carroll said. "I don't know anybody who hasn't had tense moments like that," he said. 
Dr. Eric Topol, head of the Scripps Research Translational Institute, said the gaps in COVID-19 vaccination can be traced directly to political influences, particularly what he called "anti-science" attitudes among Republican leaders, who were skeptical about the value of masks, too. 
Getting more people vaccinated will take continued education, incentives and "head-on" confrontation of misinformation, Topol said.  
Yet while they talk about the 'head on confrontation' of 'misinformation', why doesn't the mainstream media ever talk with us about the 'Russian roulette' nature of getting 'shot up' with these 'vaccines', especially after the state of Connecticut recently published the ingredients of Moderna's 'vax', ingredients that include the deadly poison 'SM-102', which has been banned for human and/or veterinary use? 
(ANP NEEDS YOUR HELP: Donations and ad revenue are all that keep ANP online, so please consider donating to ANP to help keep us in this fight for America's future. At this critical time in US history at a time of systematic, 'big tech' censorship and widespread Democrat corruption, truthful media and independent news and views are crucial.)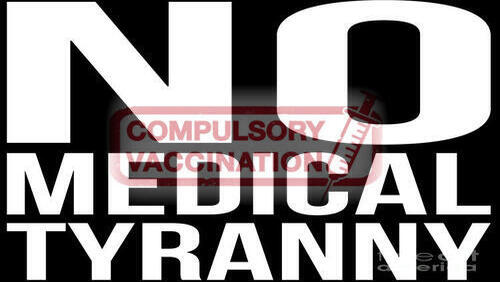 So with 'vaccine passports' looking almost like a sure thing in our futures, just as the 'conspiracy theorists' had long ago warned were likely ahead, how many other states will soon follow the lead of Oregon, turning 'law and order' in their states into something that we've seen before in the darkest moments of history? 
As the American Thinker warned in this new story, such 'passports' threaten to become America's version of the 'yellow star', with Steve Quayle warning in an SQnote while linking to that story: "And the death camps are already being manned-ready for their ultimate purpose which is the annihilation of human beings!"
Think that it could never happen here? As Ammo.com had warned in this May 20th story that they sent to ANP, if Americans DON'T learn the lessons from the 'three red terrors' and other totalitarian regimes that have suddenly emerged through history, we're quite destined to repeat their mistakes. From this American Thinker story which gives us a great look at where America is headed before our conclusion.: 
With millions of Americans vaccinated against COVID-19, a national debate now rages over "vaccine passports" (or vaxxports) that privilege those who have taken "the jab." These proofs of immunization take the form of a smartphone app with a personalized QR code. Those favoring such digital certification say it makes us "safer" as a society and hastens a return to pre-pandemic normalcy. 
But critics liken it to China's social scoring system (Social Credit System) aimed at rewarding those who conform and punishing those who don't. They decry it as government overreach, invasion of privacy, and curtailment of personal freedom. They believe Americans shouldn't be required to show proof of vaccination or reveal personal information to go about their daily lives. Anti-vaxxport protesters in California's Orange County – who are on the frontlines in this battle – even had a placard saying "'Show Your Papers' is a Nazi Plan." 
The Biden administration ushered in the vaxxport program deviously, freeing itself of accountability and letting private companies in tune with it to implement the agenda. The idea was floated as a trial balloon with a statement by White House press secretary Jen Psaki: "There will be no federal vaccinations database and no federal mandate requiring everyone to obtain a single vaccination credential." But by adding that "the development of a vaccine passport, or whatever you want to call it, will be driven by the private sector," Psaki admitted that the policy would be enforced by private companies. 
The effort is spearheaded by the usual suspects – Microsoft, Oracle, the Commons Project (a Rockefeller Foundation-funded non-profit that is part of the World Economic Forum), and other corporations committed to global vaccination certification. They claim to follow an "equitable and privacy-preserving approach to verifiable data sharing." Their project, the Vaccination Credential Initiative – a coalition of more than 300 healthcare and technology groups – is working on the upcoming implementation of a SMART health card that stores vital medical data, including vaccination records. But such record-keeping systems are at risk. In 2019, a University of California test found the healthcare reporting mechanism vulnerable to cyberattacks, data privacy breaches, and even data manipulation that could result in patient injury or death.
So with America now on the fast track towards medical-authoritarianism, and 10's of millions of Americans not even seeing what's now unfolding before their eyes, where will you draw your own personal 'line in the sand' if one day in the future, you're no longer able to make purchases or have a job if you don't 'receive the mark of the beast'? 
With all of this insanity unfolding across the country giving the American people another reason to prepare like never before, especially should grocery stores soon require Americans to either 'display their papers' or 'wear their mask of covid shame', each of the videos below take a look at the potential tyranny unfolding here in America while below the videos, we've gone ahead and added in links to a bunch of 'survival foods' that can be delivered directly to your door within days, just in case of a sudden worst case scenario. 
ANP is a participant in the Amazon Services LLC Associates Program.
ANP EMERGENCY FUNDRAISER: With non-stop censorship and 'big
tech' attacks upon independent media, donations from readers are absolutely critical in keeping All News Pipeline online. So if you like stories like this, please consider donating to ANP.

All donations are greatly appreciated and will absolutely be used to keep us in this fight for the future of America.

Thank you and God Bless. Susan and Stefan.

PLEASE HELP KEEP ANP ALIVE BY DONATING USING ONE OF THE FOLLOWING METHODS.
One time donations or monthly, via Paypal or Credit Card:

Or https://www.paypal.me/AllNewsPipeLine
Donate monthly from $1 up by becoming an ANP Patron.



Donate Via Snail Mail

Checks or money orders made payable to Stefan Stanford or Susan Duclos can be sent to:



P.O. Box 575

McHenry, MD. 21541








Freeze Dried Foods:

Wise Company Long Term Emergency Freeze-Dried Food Supply, Breakfast and Entree Variety

MRE Meals - 124-Serving Freeze Dried Emergency Food Supply

Long Term Dehydrated Food Storage - 120 Large Entree Servings - 29 Lbs- Disaster Prepper Freeze Dried Supply Kit

Wise Company ReadyWise, Emergency Food Supply, Emergency Freeze Dried Fruit Bucket, 120 Servings

Wise Company Emergency Food Supply, Freeze Dried Meat Variety, 15-Year Shelf Life, 60 Servings

Wise Company Emergency Food Supply, Variety Pack, 25-Year Shelf Life, 104 Servings

Wise Company ReadyWise, Emergency Food Supply, Freeze Dried Vegetables, 120 Servings

Mountain House Classic Bucket | Freeze Dried Backpacking & Camping Food | 24 Servings

Mountain House Diced Beef #10 Can Freeze Dried Food - 6 Cans Per Case

Mountain House Cooked Diced Chicken #10 Can

Augason Farms Lunch and Dinner Variety Pail Emergency Food Supply 4-Gallon Pail

Augason Farms Breakfast Emergency Food Supply 11 lbs 1.8 oz 4 Gallon Pail

Fruit pails or buckets shipping now for 2 to 3 weeks, so might want to pick individual cans/packets HERE.

PB2 Original Powdered Peanut Butter - [2 Lb/32oz Jar]

Augason Farms Vegetable Stew Blend 2 lbs 0.5 oz No. 10 Can

It's Just - Whole Egg Protein Powder, Made in USA, Non-GMO (8oz)

Augason Farms 5-90158 Scrambled Egg Mix, 2 lbs, 4 oz. No. 10 Can

Augason Farms Dried Whole Egg Product 2 lbs 1 oz No. 10 Can

Hoosier Hill Farm All American Dairy Whole Milk Powder 1 lb

Hoosier Hill Farm Heavy Cream Powder Jar, 1 Pound

Hoosier Hill Farm Real Butter powder, Gluten and Hormone.free, 2 lbs

Augason Farms Dehydrated Chopped Onions 1 lb 7 oz No. 10 Can

Nutristore Freeze Dried Mozzarella Cheese Shredded Premium Quality

Amazon Search 'Flour'

Canned/Packaged Goods:

Wellsley Farms White Premium Chunk Chicken Breast in Water, 12.5 Ounce, 6 Count

Keystone Meats All Natural Canned Chicken, 28 Ounce by Keystone Meats

Swanson Chicken á la King Made with White and Dark Meat Chicken, 10.5 Ounce Can (Pack of 12)

Dinty Moore Beef Stew with Fresh Potatoes & Carrots 20 oz (Pack of 12)

Armour Star Classic Homestyle Beef Stew, 20 oz. (Pack of 12)

Keystone Meats All Natural Canned Beef, 28 Ounce

SAMPCO Shredded Beef 3lb.

Kirkland Signature Chicken Breast (Chicken Breast -6 Count)

Keystone Meats All Natural Canned Pork, 28 Ounce

Armour Star Roast Beef With Gravy, 12 oz.

Armour Star Banner Sausage, Easy Open Can, 10.5 oz. (Pack of 12)

Wild Planet Skipjack Wild Tuna, Sea Salt, Keto and Paleo, 3rd Party Mercury Tested, 5 Ounce (Pack of 12)

Armour Star Luncheon Meat, 12 oz. (Pack of 12)

Canned Vegetables Variety Of Options

Canned Fruits Variety Of Options

Rice

Beans

Pasta

Don't Forget Your Dogs & Cats

HAPPY HOWIE Natural Gourmet Meat Rolls Bundle Packs (Beef-Turkey-Lamb)

Purina Fancy Feast in Gravy Adult Canned Wet Cat Food



comments powered by

Disqus