Whatfinger: Frontpage For Conservative News Founded By Veterans
"The Best Mix Of Hard-Hitting REAL News & Cutting-Edge Alternative News On The Web"
October 9, 2020 
An October 15th Drill Has Been Set For This 'Worst Case Scenario' That Could Rip America In Two With Unimaginable Earth Changes Now Underway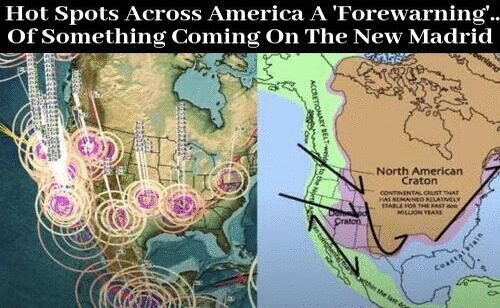 With the year of 2020 already having cemented itself into the record books as one of the wildest and craziest years in US history on many different fronts, numerous new warning signs have been coming out over the last several days that, if they come to pass, could kick the absolute necessity of Americans to 'prepare' into 'overdrive'. 
As we hear in the 1st video at the bottom of this story from 'earthquake/earth-changes watcher' Dutchsinse, he's recently been witnessing thousands of sudden bursts of heat all around the New Madrid fault zone, as well as numerous oil + gas wells 'flaring off'. 
Warning us within his video that these 'hot spots' seem to flicker on and off for 5 or 10 minutes before then vanishing, as our videographer also warns, this is occurring only along the edge of the North American craton in mass events, with other flare ups in Kansas, Oklahoma, Texas, New Mexico, Colorado, Wyoming, Idaho, Washington State, and Oregon (all along the craton edge!). 
And with the Central part of America now preparing for an apocalyptic earthquake in the "Great Central US Shakeout", a a wide-ranging earthquake drill set for 10:15 a.m. on October 15th, with the goal of the drill being "to improve preparedness and draw attention to the earthquake hazards that exist in Illinois, across the country and around the world", as this story over at The Telegraph reports, while it might seem that this area should be more concerned with flooding or tornadoes, a major earthquake is considered the worst-case disaster scenario by local and state emergency planners. 
And while some people reading this story might ask, why should they care about a New Madrid quake if they're living hundreds to thousands of miles away from there, as the website for New Madrid, Missouri had reported, the New Madrid earthquakes of 1811 and 1812 were the biggest earthquakes in American history. They occurred in the central Mississippi Valley, but were felt as far away as New York City, Boston, Montreal, and Washington D.C. President James Madison and his wife Dolly felt them in the White House. From this story over at The Express before we continue.: 
The 150-mile long New Madrid Seismic Zone in New Madrid, Missouri, is the source of the concern, and is also thought to be overdue for a massive tremor, which would (directly) impact seven states - Illinois, Indiana, Missouri, Arkansas, Kentucky, Tennessee and Mississippi. 
It has not seen significant earthquakes for more than 200 years. 
In the winter of 1811 and 1812 there were three earthquakes of magnitude 7 - as high as 7.7 - and a series of aftershocks across the American Midwest. 
The results were catastrophic, with the course of the Mississippi being diverted, chasms ripping open, and volcanoes of sand and water bursting through the ground. 
(ANP EMERGENCY FUNDRAISER: Due to unexpected health expenses and emergency repair bills, please consider donating to ANP to help keep us in this 'Info-war' for America at this most critical time in US history as we approach the 2020 election during a time of systematic 'big tech' censorship and widespread Democrat corruption.)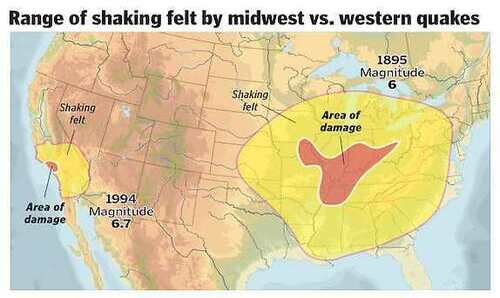 As we see in the map above, the 'range of shaking' for Midwestern vs Western quakes shows a much wider area for not only 'damage inflicted' but 'shaking felt' from the last great New Madrid quake than they'd expect from anything at all on the West coast. 
With well over 150 million people living in the 'danger zone' should a New Madrid quake be unleashed, as Steve Quayle recently warned in an important 'final warning' email, unimaginable earth changes are now underway that could quite literally rip our country in half at the New Madrid. 
Hello Steve -- This report is about the DANGEROUS things happening along the New Madrid Fault Line and extending to the edges of the NORTH AMERICAN PLATE. 
1> There are totally visible hotspots along the fault even going to the bayou and gulf coast. Some hot spots are 1,100 degrees, and some have been measured by locals as high as 1,350 degrees at ground level. 
2> There are now planes constantly flying over this area because the results of the North American plate BENDING AND CRACKING into 2 pieces is a huge event. What the planes have discovered so far is that there are sub-surface cracks which go as DEEP as 600 kilometers down. 
3> The cracking and BENDING has already tripled the SUBDUCTION ZONE stress IN CASCADIA, 3X FROM 2 WEEKS AGO. 
4> The stress on the east coast IS also increased at least 3x in the SUBDUCTION ZONE.
Please read the rest of Steve Quayle's recent 'New Madrid' warning email here. And with the New Madrid fault zone overdue for a big quake, and the last time one hit, the damage was widespread and catastrophic, we serve our families and loved ones best by preparing, even if we don't live in the immediate area, as most of our 'earthquake preps' can be used in other emergencies as well.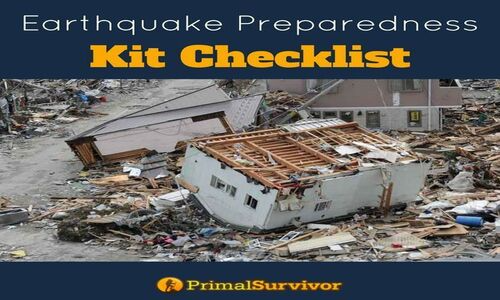 According to this new story over at Zero Hedge, numerous 'doomsday camps' across America are now opening ahead of the election in just weeks that many are concerned will bring great violence to America. With the world's 'doomsday clock' , the symbolic countdown to an apocalyptic global disaster, now at its 'closest point to midnight' in its 73-year history, the fact that the Bulletin of Atomic Scientists moved the clock from two minutes to midnight to 100 seconds to midnight, a 20-second advance, shows the "existential danger" that we may be in from many different threats in 2020.  
So while at this moment, we have no idea exactly what crisis will strike next, and we ourselves have no way of knowing exactly when a devastating New Madrid quake might hit America, with all of the other potentially apocalyptic scenarios that now surround us, 'preparing' will put us in a much better situation than 95% of the US population. So let's go ahead and go over to Ready.gov for their earthquake prepping advice. 
After an emergency, you may need to survive on your own for several days. Being prepared means having your own food, water and other supplies to last for several days. A disaster supplies kit is a collection of basic items your household may need in the event of an emergency. 
Make sure your emergency kit is stocked with the items on the checklist below. Most of the items are inexpensive and easy to find and any one of them could save your life. Headed to the store? Download a printable version to take with you. Once you take a look at the basic items consider what unique needs your family might have, such as supplies for pets or seniors. 
Basic Disaster Supplies Kit 
To assemble your kit store items in airtight plastic bags or bins and put your entire disaster supplies kit in one or two easy-to-carry containers such as plastic bins or a duffel bag. 
A basic emergency supply kit could include the following recommended items: 
Water - one gallon per person per day for at least three days, for drinking and sanitation. (Water purification tablets could also make the difference between life and death!) 
Food (at least a three-day supply of non-perishable food) 
Battery-powered or hand crank radio and a NOAA Weather Radio with tone alert 
Whistle (to signal for help) 
Dust mask (to help filter contaminated air) 
Plastic sheeting and duct tape (to shelter in place) 
Moist towelettes, garbage bags and plastic ties (for personal sanitation) 
Wrench or pliers (to turn off utilities) 
Manual can opener (for food) 
Local maps 
Cell phone or other emergency communications with chargers and a backup battery 
Download the Recommended Supplies List (PDF) 
Additional Emergency Supplies - Consider adding the following items to your emergency supply kit based on your individual needs: 
Masks (for everyone ages 2 and above), 
Soap, hand sanitizer, disinfecting wipes to disinfect surfaces 
Prescription medications 
Non-prescription medications such as pain relievers, anti-diarrhea medication, antacids or laxatives 
Prescription eyeglasses and contact lens solution 
Infant formula, bottles, diapers, wipes and diaper rash cream 
Pet food and extra water for your pet 
Cash or traveler's checks 
Important family documents such as copies of insurance policies, identification and bank account records saved electronically or in a waterproof, fire-proof portable container. 
Sleeping bag or warm blanket for each person 
Complete change of clothing appropriate for your climate and sturdy shoes 
Matches in a waterproof container 
Feminine supplies and personal hygiene items 
Mess kits, paper cups, plates, paper towels and plastic utensils 
Paper and pencil 
Books, games, puzzles or other activities for children 
Maintaining Your Kit 
After assembling your kit remember to maintain it so it's ready when needed: 
Keep canned food in a cool, dry place. 
Store boxed food in tightly closed plastic or metal containers. 
Replace expired items as needed. 
Re-think your needs every year and update your kit as your family's needs change. 
Kit Storage Locations 
Since you do not know where you will be when an emergency occurs, prepare supplies for home, work and cars. 
Home: Keep this kit in a designated place and have it ready in case you have to leave your home quickly. Make sure all family members know where the kit is kept. 
Work: Be prepared to shelter at work for at least 24 hours. Your work kit should include food, water and other necessities like medicines, as well as comfortable walking shoes, stored in a "grab and go" case. 
Car: In case you are stranded, keep a kit of emergency supplies in your car.
Additional items that always come in handy in an earthquake or civil unrest emergency situation that might result in a 'grid down scenario' include.: 
Generators:

Honda EU2200i 2200-Watt 120-Volt Super Quiet Portable Inverter Generator

WEN 56203i Super Quiet 2000-Watt Portable Inverter Generator w/Fuel Shut Off, CARB Compliant, Ultra Lightweight

A-iPower SUA2000iV 2000 Watt Portable Inverter Generator Quiet Operation, Lightweight

Westinghouse WGen7500 Portable Generator with Remote Electric Start - 7500 Rated Watts & 9500 Peak Watts - Gas Powered - CARB Compliant - Transfer Switch Ready

Champion Power Equipment 76533 4750/3800-Watt Dual Fuel RV Ready Portable Generator with Electric Start

Champion Power Equipment 100692 2000-Watt Ultralight Portable Inverter Generator

Extension Cords:

Southwire 2588SW0002 Outdoor Extension Cord- 12/3 American Made SJTW Heavy Duty 3 Prong Extension Cord- Great for Commercial Use, Gardening, and Major Appliances ( 50 Foot- Yellow)

AmazonBasics 16/3 Vinyl Outdoor Extension Cord | Orange, 100-Foot

Solar Panel Kit:

ECO-WORTHY 1KW Complete Solar Panel System Kit with Battery and Inverter for Homes House Shed Farm
Please also see: "Still Or Back In Stock ANP Shopping Page - With ANP Reader Suggestions"

So with our society in the process of breaking down all around us, preparing now for absolutely anything and everything is in our own and our family's best interests, especially with Democrat and deep state traitors still not being held accountable for their crimes of treason and sedition against America, Democrats now pushing a '2nd wave covid-19 lockdown' ahead, our next election only weeks away and looking more contentious than ever and now the New Madrid region 'rocking and rolling' with 'directed energy weapons' being beamed into the region sending us another sign that things could get very ugly, very quickly, in the days and weeks ahead.  
And as we're warned in the 2nd video below, with all of this happening at a time when most of the Joint Chief's of Staff of the US military are now in covid-19 quarantine after being in meetings with US Coast Guard Admiral Charles Ray who tested positive for the virus earlier this week, and now Nancy Pelosi and Democrats readying the 25th Amendment in a last-ditch effort to try to remove President Trump from office just weeks before the election, America is entering completely unknown territory. 

ANP is a participant in the Amazon Services LLC Associates Program.
EMERGENCY FUNDRAISER: With non-stop censorship and 'big
tech' attacks upon independent media, donations from readers are absolutely critical in keeping All News Pipeline online. So if you like stories like this, please consider donating to ANP.

All donations are greatly appreciated and will absolutely be used to keep us in this fight for the future of America.

Thank you and God Bless. Susan and Stefan.

PLEASE HELP KEEP ANP ALIVE BY DONATING USING ONE OF THE FOLLOWING METHODS.
One time donations or monthly, via Paypal or Credit Card:

Or https://www.paypal.me/AllNewsPipeLine
Donate monthly from $1 up by becoming an ANP Patron.



Donate Via Snail Mail

Checks or money orders made payable to Stefan Stanford or Susan Duclos can be sent to:



P.O. Box 575

McHenry, MD. 21541




Ready Emergency Supply Kit Checklist by All News Pipeline on Scribd



comments powered by

Disqus