Whatfinger: Frontpage For Conservative News Founded By Veterans
"The Best Mix Of Hard-Hitting REAL News & Cutting-Edge Alternative News On The Web"
September 30, 2017
It Has Always Been About The Flag - The Big Race-Baiting NFL Lie About 'Inequality' Is A Cover Up For The Real Reason Behind The Anthem Protests

By Susan Duclos - All News PipeLine

While the liberal media, America hating NFL players, their coaches and owners (meaning each and every one of them that kneeled during the National Anthem or did not come out of their locker room to stand proudly for the flag and anthem), want to tell the country that they mean no disrespect to the military, the flag or the National Anthem, but are "protesting" inequality, police brutality, racial injustice and oppression, I call BS.

I see some NFL fans that see it as "wrong" to protest during the national anthem, while attempting to excuse the players, coaches and NFL owners by saying it really wasn't their "intent" to disrespect the flag and the anthem, while players claim it has nothing to do with the flag itself, but in reality, if we go back to where this all started with Colin Kaepernick, back in 2016, we see it is a direct protest against the flag and it was intentional, and he publicly said so.

"I am not going to stand up to show pride in a flag for a country that oppresses black people and people of color." - Colin Kaepernick, August 2016

Right from the horse's ass and in his own words, Kaepernick made it very clear it was all about the flag, it was all about the country, so the military members and veterans taking offense at the nearly 200 players that decided to do the very same thing, under some BS guise of protesting inequality or whatever excuse and justification they are trying to feed their fans now, have every right to be offended.

That choice is intent.... period.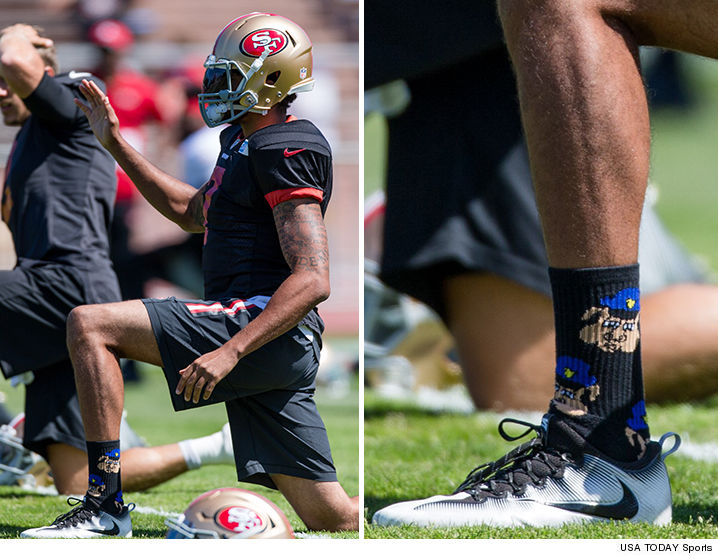 Kaepernick was also known to wear socks, often, with little pigs on them wearing police hats (see image above). Kaepernick also donated $25,000 to group named after convicted cop killer and former Black Liberation Army member Assata Shakur. (Source)

So when Michael Eric Dyson went on CNN to claim "The protest is not against the flag, the protest is against the injustice that African-American people are subjected to," it was literally "fake news," or I could be very generous like Larry O'Connor over at MediaIte and call it "historical revisionism," but frankly I am not in the mood to be overly generous.

Not to the players that followed Kaepernick's deliberate and admitted disrespect for the flag and National Anthem, not to the owners that backed those players, until ticket sales plummeted and fans started burning NFL memorabilia and tickets, and polling showed Americans none to pleased with them using the anthem or the sport itself to show "solidarity" of America-hating sentiment that started these anthem protests to begin with. The same owners that joined those "protests" and are now expecting some type of praise because they are now encouraging players to stand during the anthem going forward, not because it is the right thing to do, but because the protests have turned out to be bad for business and fans have pushed back, hard.

Whether one agrees with the majority of President Trump's tweets and topics and how he uses social media to bypass the media to get his words, unedited, to his supporters, in this instance all he did was highlight the fact that these protests are deliberately disrespectful to the flag, during the National Anthem, and should not be tolerated. Not the by the NFL, not by the team owners, not by the coaches and not by the fans.

Since we are talking about football players, another incident that recently hit the news about the race-baiting Seattle Seahawks defensive end Michael Bennett, who sat through the National Anthem during a pre-season game and has stated he plans to protest throughout the whole season.

In late August Bennett accused police of "racially profiling him" in an incident where he was put to the ground, cuffed, and later released. After his accusation, the Las Vegas Metro Police Dept. released body-cam and other footage showing they responded to an active shooter report, entered the hotel and casino, told everyone to "get down" and Bennett crouched, ran behind a slot machine, then made a beeline for the door, jumped a gate and hit the street.

The officers, two Hispanics and one African American, chased him, put him down at gun point, then cuffed him and roughly shoved him in the back of a police car while they continued to search for the active shooter. They later released him and explained to him that his actions were seen as suspicious, which is why he was detained.

This is a perfect example of how people like Bennett, always interpret actions as "racially" motivated, to the point where he publicly accused the PD of racially profiling him, when in reality, it had nothing to do with race.

The only one that seems to be focused on "race" are the race-baiters.



While folks can debate police tactics all day long, the fact that a 6-foot, 4-inch, 274-pound man, no matter the color of his skin, ran when officers were searching for an active shooter and had told everyone to get down, offers enough of a reason to detain him until they could identify him as not being the shooter, and had nothing at all to do with race, but to people like Bennett, everything "looks" like a race issue because he made it one, not the cops.

This is all part of a bigger picture which is detailed in an outstanding manner in an article I found over at Steve Quayle's website this morning, titled "Disrespect for the National Anthem, Suppression of Speech, Violence . . . What is going on? The Answer," showing the invasion of America by "The Immoral Faction, The Identity-Based Faction, The Violence-Based Faction," all destroying America from within, seething in hatred for the very country they reside in. (Note - I consider this a MUST READ piece, showing how this NFL issue ties into everything we have been documenting over the years!)

FANS ANGERED AND BOYCOTTING

According to a new survey by Morning Consult, the NFL's Brand Favorability has just dropped to the lowest point since they started tracking it, and their net favorability has dropped from 30% on September 21 to 17% on September 28.

Many say it is the NFL's right to protest, and they are right, it is. Seeing that they chose, with intent, to do their protesting during the National Anthem, it is also the right of the public to protest that choice, which is what we are seeing now, not just in dwindling ticket sales, or crowds that booed the NFL kneelers, but going forward, there are many not prepared to forgive the deliberate slap in the face to America, and are organizing mass protests, by way of a Veteran's Day boycott, which so far has over 75,000 prepared to boycott the games on Veteran's Day, and that number has been growing daily.

The Facebook event states: "We will be not be watching or listening to NFL games on November 12th in solidarity with veterans around the country, as football players have continued to disrespect the national anthem, the American flag, and everything our nation stands for."

An ANP emailer has asked we share with our reader the news that Anheuser-Busch, which is one of the sponsors of the NFL, now has an option on their automated phone system offering people a chance to comment on their sponsorship. The number is 1 -800-342-5283.  Evidently, a social media campaign posted their number asking users to call and let them know how they felt about Anheuser-Busch sponsoring the NFL, which resulted in their consumer help line temporarily going down on Friday.

Restaurants around the country are refusing to show the NFL games, in their own form of protest - Quotes below highlighted by Sports Illustrated:


Baxters Family Food and Fun, Hixson, Tennessee

Statement: (via the restaurant's Facebook page): "We might lose some clients over this but I feel that it's the right thing to do. Until the NFL comes to its senses on this National Anthem tragedy, we will no longer be showing NFL games at our restaurant. You can still view the college games on Saturday, and we will still be open on Sundays. But my grandfathers fought for our country for that symbol. They lost friends and brothers. My father served under that flag. My grandfather was awarded the Purple Heart with that flag flying high!! And I will not allow anyone to prosper hiding behind the very freedom it created!! So until further notice, we will not be showing the NFL games."

Borio's; Cicero, New York

Statement 1 (via sign posted on restaurant that is now removed): "Borio's Restaurant is thankful to be in America! Due to the recent decision of the Pittsburg Stealers team to stay in the locker room during out country's National Anthem the Borio family will no longer show the NFL in our restaurant. If and when this disrespect ends we will be happy to show this product on our restaurant again. America is great we can all make decisions!"

Statement 2: (via restaurant's Facebook page): "We would like to thank everyone for all your comments. This will be our final comment on the NFL subject. First, we would like to make it clear that we did not post or have our sign posted to the web. Our intention was never to seek publicity or incite political arguments. Our action is purely a sign of patriotism. We respect the National Anthem, the United States flag, the military and all people of this country. We hold these values near and dear to our heart. Therefore, we stand by our initial post. We will not air any NFL games at Borio's Restaurant.

Canyon Road Barn & Grill, Breckenridge, Texas


Statement: (via the restaurant's Facebook): "NOTICE: There will be no viewing of any televised NFL games on any of the six big screen TV's until further notice. For the 99 great things being an American Citizen affords us, there will always be that 1 that ignites some. Freedom of speech being exercised in this establishment so COME FOR THE FOOD BUT STAY AT HOME IF YOU WANT TO WATCH AN NFL GAME :) Put your money where your mouth is...Semper Fi."


Cooper's Landing; Cicero, New York


Statement: (via the restaurant's Facebook page. The post has now been deleted): "So after this past weekend with the NFL Cooper's will be joining Borio's and NOT airing the NFL games enough is enough its time for these million dollar snowfakes to stop disrespecting the Men-Women-Dogs that signed a blank check for them to act like this Hopefully things will change WE will be airing Baseball-Hockey-Mud-Water & Snow sports with Specials United We Stand".


Palmetto Restaurant and Ale House, Greenville, South Carolina.


Statement: (via the restaurant's Facebook): "There's no change in my position. Palmetto Restaurant and Ale House will not be showing NFL games until the NFL rids itself of protest by their employees during the presentation of colors and the national anthem."


Sarita's Grill & Cantina Denham; Denham Springs, Louisiana


Statement: (via the restaurant's Facebook page): "NFL Update. Until further notice, Sarita's has decided not to broadcast any future NFL games or the NFL Network. We respect everyone's right to freedom of speech; however, we do not support anyone that disrespects our Flag, our Country and the people who have fought and/or died for the freedoms that we have."


WOW Cafe & Wingery; St. Bernard, Louisiana


Statement: (via the restaurant's Facebook page): "I apologize to all of our guests but we will not be viewing the Saints game today in house. Some of our local players chose to sit during the National Anthem, which will not be supported or praised at WOW. Again, we apologize for any inconvenience this may cause. Thank you"

There is also a #BoycottNFLSponsors and #PunchThemInTheWallet campaign being shared all throughout social media, with a graphic listing the major sponsors, saying "Here is a list of the ONLY opinions the NFL cares about."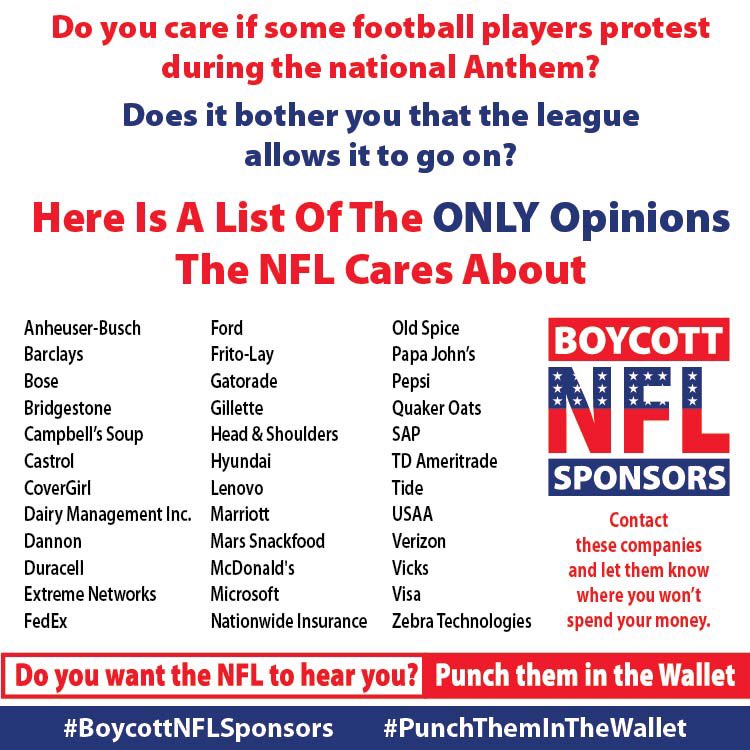 BOTTOM LINE - IT HAS ALWAYS BEEN ABOUT THE FLAG

The media, the NFL, and the kneelers are all basing their protest on a lie, a race-baiting lie, as the original kneeler, Colin Kaepernick, admitted his protest was all about the flag. By standing in "solidarity" with Kaepernick's protest against the flag, they are protesting the flag itself as well.

The question is not whether they have learned their lesson, the fact that have not apologized for using the National Anthem to protest while showing extreme disrespect for the flag, shows they are in no way sorry for offending millions of Americans and have learned nothing other than Americans are angered, and it is bad for business.

Do not let the NFL, their coaches, the kneelers or the MSM mislead you, this whole thing was started as a way to protest the "flag" itself, as evidenced by Kaepernick's own explanation that he would not show pride for the flag or the country, so it is a protest against the flag and the country, started by an American hater and if the NFL wants to stand in "solidarity" with him and his message, they need to be boycotted.

If they stand now, it is because of the backlash, not out of respect for the stars and stripes.







Help Keep Independent Media Alive, Become A Patron for All News PipeLine at 

https://www.patreon.com/AllNewsPipeLine






comments powered by

Disqus