Whatfinger: Frontpage For Conservative News Founded By Veterans
"The Best Mix Of Hard-Hitting REAL News & Cutting-Edge Alternative News On The Web"
June 16, 2020
Mass Cell Phone Outages From Coast To Coast Another Sign 'Zero Hour' Is Approaching - This Chart Shows How Quickly America Could Be Brought To It's Knees 
- Preparing For The Worst Case Scenario With America A Nation In Chaos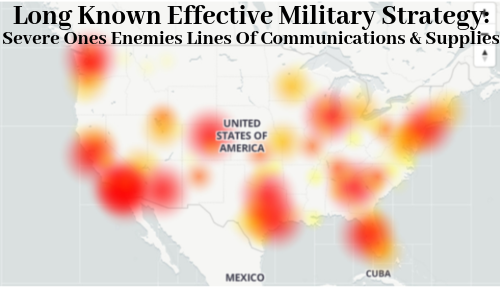 By Stefan Stanford - All News Pipeline - Live Free Or Die
According to this Monday story over at RT, all of the major phone companies in America suffered massive and widespread outages on Monday from coast to coast as seen in the map at the top of this story from Down Detector showing just the outages for T-Mobile.
Reporting that AT&T and Verizon also had suffered major outages, the RT story also reported that according to 'Anonymous', "all mobile phone operators 'were' under the largest DDoS attack in the history of the United States of America right now." 

With the alleged DDoS attacks by 'Anonymous' and hackers worldwide as seen in the image below also targeting many other 'social media' and 'tech' companies such as Instagram, Facebook, YouTube, Comcast, Google and many others, we couldn't help but notice that Steve Quayle had just put out an SQAlert the day previously with the very prescient headline: "What will you do when your phone does not ring or you cannot call out and what will you do when your internet no longer works?"

And while phone service eventually came back on Monday as it usually does, cutting off one's enemies communications and supply lines has long been a key military strategy, dating all the way back to Sun Tzu's "The Art of War" if not before, so we'll be taking a look within this story at alternative communications options available right now should we soon arrive at 'Zero Hour' and an America that we've only imagined in our worst nightmares.
So let's take a look here and now at this important SQAlert before we continue.
"What will you do when your phone does not ring or you cannot call out and what will you do when your internet no longer works?"
These are not idle questions for you to consider but they are more blunt to the point LIKE THIS:

WHAT IS YOUR ACTION PLAN WHEN THE COMMUNICATIONS NETWORK OF THE USA GOES DOWN AND THE FOLLOWING SERVICES NO LONGER WORK ?

 
Your land phone no longer rings and has no dial tone.
Your home and business internet connections no longer work.
Your cell phone can no longer make voice calls or receive voice calls or send or receive text messages and has no internet connection.
Radio and TV networks will cease to function and only the people at the local station will be able to broadcast out to the local area.
With a breakdown of the communications systems the following things will cease:
No credit or debit card transactions can occur.
In a few minutes or hours, the electric power grid will fail because the workers that keep it running will no longer be able to communicate with each other.
In a few minutes or hours, the fresh water supply will cease to function because of lack of communications to manage the delivery systems.
With all of those issues being just a few of the problems that we'd have to deal with should a long-term communications outages strike America, as 'Science Guy' also warned Steve in the alert, we serve our families and loved ones best by taking these issues seriously and developing a plan because "enemies of the USA can bring the communications to it's knees, a natural disaster can bring the system to its knees and the US government can shut down the system to force the people to comply with new government demands on a whim". Please read this entire important SQalert here.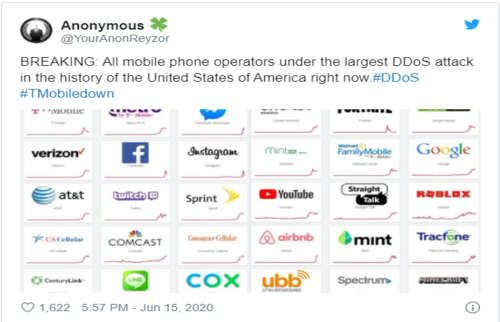 Steve also had another important SQAlert from 'Science Guy' that he published on Monday warning us all of a HUGE HEADS UP on the next coronavirus outbreak in China and what might happen should it be as bad as many are now saying.
Warning that all internal shipping including the US Postal Service, FedEx, DHL, UPS, trucking companies, airlines, and ships could be shut down should a 'worst case scenario' arrive, with many truckers already saying they'll be avoiding 'antifa-occupied terrorist zones' across America, as has been long warned previously, should America's trucks stop completely, it wouldn't take long at all for practically everything to grind to a complete halt.
As we had reported on ANP back in June of 2019, America's truckers were already then warning of a 'bloodbath ahead' and a 'perfect storm of problems ahead' and that was long before the Covid-19 lockdowns and Democrats unleashing their terror mobs upon America. From that June of 2019 story.
As Business Insider reported within this June 18th story titled "Truckers are warning of a 'bloodbath' as trucking companies go bankrupt or slash their profit expectations", a perfect storm of problems is now hitting the trucking industry that is leading to major problems within the industry, these also coming at a time when a seemingly perfect storm is hitting the US food supply, with a massive number of suspicious food recalls happening at a time of absolutely ferocious flooding hitting America's breadbasket, completely preventing many farmers from even planting their crops this year.
In fact, while searching on Saturday and Sunday, I then ran into each of these stories. From Wolf Street: "Trucking Swerves Deep into Slump, from Red-Hot Boom. Smaller Truckers Hit Hardest". From Markets Insider: "11 incredible facts about the $700 billion US trucking industry" . From the Marietta Daily Journal: "SAMMY BREWSTER: We need to keep the trucking industry thriving". From Transport Topics "Data Shows There Are More Truckers Than Ever, but Experts Say the Driver Shortage Is Still an Issue". From Yahoo Finance: "'Quietest in 20 years': Truckers feel chill of slowing US economy". And this May story from Freight Waves titled "Conditions for fleets are deteriorating and it will get bloody".

What would life in America be like without trucks? With truckers warning of a bloodbath ahead and our nations food supply already being hit by what could be asymmetric warfare, there's never been a better time than now to prepare for just such a scenario while we still can.
So we'll absolutely continue to stress preparation for the electrical grid being taken down, America's communications networks being disabled and getting our families ready for a worst case scenario should communications go down as we'll be taking a look within the final section of this story.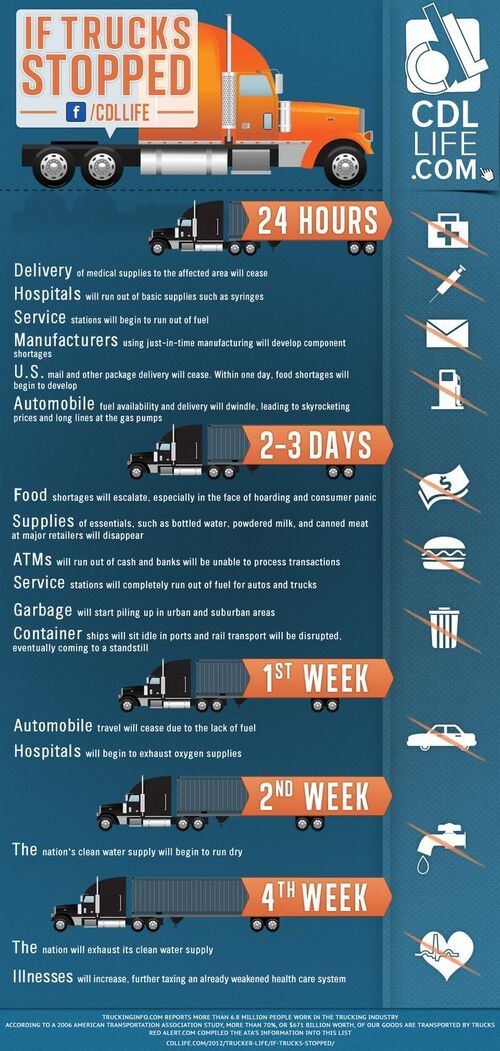 As we see in the graphic above, should the trucks stop running, it wouldn't take long at all for America to be completely shut down, with such a shutdown making the Covid-19 lockdown seem trivial. With such a shutdown negatively impacting hospitals, service stations, mail delivery and manufacturing companies within the first day alone, and massive food shortages, banks running out of money and gas stations completely running out of gas within just 2 to 3 days, within a month, large parts of America would have no potable water to drink with illnesses taking down our health care system.
So while we'll pray that all of these scenarios we've been looking at will be avoided, we feel it best to prepare for any and all such scenarios now while we're still able to with any massive outages of communications, the electrical grid or disruptions to our trucking supply line here in the US sure to unleash panic in US streets on a level never seen before in most of our lifetime's.
So we've gone ahead and put together a list of different survival supplies that could come in very handy during most SHTF scenarios, including generators, communications devices and of course, long term food and water storage solutions that could help keep you and your families alive while others are not so fortunate.
DuroStar Hybrid Dual Fuel DS10000EH 10,000-Watt Portable Generator
Champion 3800-Watt Dual Fuel RV Ready Portable Generator with Electric Start


Duromax XP4850EH 3850 Running Watts/4850 Starting Watts Dual Fuel Electric Start Portable Generator
DuroStar DS4000S, 3300 Running Watts/4000 Starting Watts, Gas Powered Portable Generator
Champion Power Equipment 48034 25 ft. 30A 125V Generator Power 3750 Watts (L5-30P to Three 5-15R) Extension Cord, yellow
Baofeng Emergency Communications Radios
BaoFeng BF-F8HP (UV-5R 3rd Gen) 8-Watt Dual Band Two-Way Radio (136-174MHz VHF & 400-520MHz UHF) Includes Full Kit with Large Battery
2019 Unlocked IsatPhone 2.1 Satellite Phone with 100 Unit Prepaid SIM Card (77 Minutes/Valid 90 Days) - Voice, SMS, GPS Tracking, Emergency SOS Global Coverage - Water Resistant
Personal Emergency Communications: Staying in Touch Post-Disaster: Technology, Gear and Planning Paperback – April 24, 2012

Ham Radio Walkie Talkie (UV-5R 8-Watt) UHF VHF Dual Band 2-Way Radio with 2 Rechargeable 2100mAh Battery Handheld Walkie Talkies Complete Set with Earpiece and Programming Cable
Motorola Talkabout T460 Rechargeable Two-Way Radio Pair (Dark Blue)
2PCs Baofeng Radios UV-5R MK4 8 Watt MP Max Power with Programming Cable Compatible with Baofeng Ham Radio, Two Way Radios Mirkit Edition
Ham Radio Walkie Talkie UV-5R Pro 8-Watt Dual Band Two Way Radio with one More 3800mAh Battery and Handheld Speaker Mic and NA-771 Antenna and USB Programming Cable


Augason Farms 30-Day 1-Person Emergency Food Supply – QSS Certified 
Augason Farms Lunch and Dinner Variety Pail Emergency Food Supply 4-Gallon Pail 
Augason Farms Breakfast Emergency Food Supply 11 lbs 1.8 oz 4 Gallon Pail 
Augason Farms Simply Meal Pack Emergency Food Storage 17 Can Kit 
Augason Farms 6-07910 Water Filtration and Storage Kit 55 Gallon BPA-Free Water 6
AUGASON FARMS SEARCH AMAZON SEARCH PAGE
Millennium Energy Bars Assorted Flavors Including Emergency Guide
Survival Tabs 60-Day 720 Tabs Emergency Food Ration Survival MREs Food Replacement for Outdoor Activities Disaster Preparedness Gluten Free and Non-GMO 25 Years Shelf Life Long Term - Mixed Flavor

Crystal Geyser Pallet Of 84 Cases, Of Alpine 100% Natural Spring Water, 24 16.9oz bottlesper Case, Bottled at The Source
In the first video below our videographer takes a look at the fact that many truckers are now saying they won't deliver any good to areas such as 'CHAZ' in Seattle should police be defunded in those regions while the 2nd video takes a brief look at what might happen to America should the trucks stop running. In the 3rd video below our videographer takes a look at America in 2020, what he sums up as 'a nation in chaos' while the final video below takes a look at emergency communications should suddenly and without warning, America's mainstream communications systems fail. 
PLEASE DONATE TO ANP: With non-stop censorship and 'big tech' attacks upon independent media, donations from readers are absolutely critical in keeping All News Pipeline online. So if you like stories like this, please consider donating to ANP.

All donations are greatly appreciated and will absolutely be used to keep us in this fight for the future of America.

Thank you and God Bless. Susan and Stefan.

PLEASE HELP KEEP ANP ALIVE BY DONATING USING ONE OF THE FOLLOWING METHODS.
One time donations or monthly, via Paypal or Credit Card:

Or https://www.paypal.me/AllNewsPipeLine
Donate monthly from $1 up by becoming an ANP Patron.


Donate Via Snail Mail

Checks or money orders made payable to Stefan Stanford or Susan Duclos can be sent to:



P.O. Box 575

McHenry, MD. 21541






comments powered by

Disqus