Whatfinger: Frontpage For Conservative News Founded By Veterans

"The Best Mix Of Hard-Hitting REAL News & Cutting-Edge Alternative News On The Web"
'This Week, It's Going To Get Bad' - Dire Warning From Surgeon General About Coronavirus Shows Why We Should Still Be Preparing For The Worst While Hoping For The Best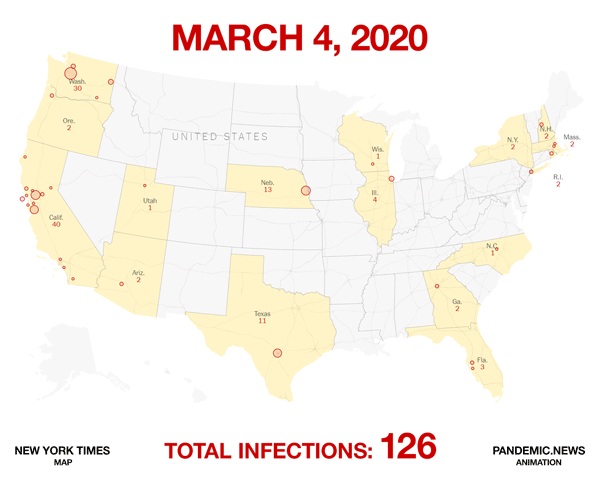 By Susan Duclos - All News PipeLine

This COVID-19 Coronavirus is proving to be a great equalizer. It doesn't favor the poor nor the rich, the young nor the old, the famous nor the regular everyday schmo working to survive.... it attacks them all.

Members of Congress have been diagnosed with having the coronavirus, others are in self-quarantine. A seven month old baby in Michigan, along with a 12 year old girl in Atlanta, tested positive as well. A 44 year old man, in excellent condition before COVID-19, is now in the hospital on a ventilator, fighting for his life. 

From NBA players to Hollywood actors, this coronavirus isn't playing favorites, everyone is at risk and some are simply more prone to die from it than others, although there is no set guarantee that any one group or age range will survive.   

Like I said, this deadly virus is the great equalizer.

We also have no actual statistics and numbers, as what is out there is worthless since the cause of death for some is listed as "acute respiratory failure," and not COVID-19, if the patient wasn't tested prior to passing away. The numbers are about to get even more worthless now that some geographical areas in the U.S. have decided to not test for this coronavirus on some patients, giving up on attempting to contain the virus.

With the incubation period ranging from about 14 days to 37 days according to some studies, the numbers that we do have, are not only inaccurate but are also at least two weeks to over a month behind, as you will hear the Surgeon General talk about in the video below. 

With some warning Americans to "settle in" to quarantine for at least "several months," the most concerning warning reported today comes from the U.S. Surgeon General, Dr. Jerome Adams. Adams made it crystal clear that Americans did not take the threat as seriously as they should have, therefore did not help prevent the spread of COVID-19, and states "I want America to understand this week, it's going to get bad."


"I want America to understand this week, it's going to get bad," Adams said in an interview on the "TODAY" show.

The disease is spreading, he said, because many people — especially young people — are not abiding by guidance to stay at home and practice social distancing.

"Right now, there are not enough people out there who are taking this seriously," he said.

Adams said that young people are flocking to the beaches in California and people are still heading to the National Mall in Washington to view the cherry blossom trees that bloom each year. He warned that young people need to understand that they can contract COVID-19, the disease caused by the coronavirus, and they can be hospitalized and potentially die from it.

"Everyone needs to act as if they have the virus right now. So, test or no test, we need you to understand you could be spreading it to someone else. Or you could be getting it from someone else. Stay at home," he said.


Watch:



The Johns Hopkins COVID-19 updates, via email every day, shows the exact nature of each of the "stay at home" orders in individual states. They also detail what is considered the differences from state to state.


"STAY AT HOME" ORDERS Following closely on the heels of California, New York Governor Andrew Cuomo issued an executive order on Friday, directing that "100% of the workforce must stay home, excluding essential services" such as "shipping, media, warehousing, grocery and food production, pharmacies, healthcare providers, utilities, banks and related financial institutions." The New York COVID-19 website describes it as: "New York State on PAUSE." Previously—on March 18 and March 19—Governor Cuomo issued executive orders to direct businesses statewide that provide non-essential services to reduce the non-essential workforce by 50% and 75%, respectively. Additionally, "non-essential gatherings," including parties or other social events, are cancelled or postponed, regardless of size. When people do go into public, they "must practice social distancing of at least six feet from others," and they should limit their use of public transportation to the extent possible. The current executive order extends the restrictions to April 19. New York published detailed guidance on what qualifies as essential businesses and services, which includes bars, restaurants, liquor stores, breweries, distilleries, and other establishments that produce or sell alcohol. Despite efforts to keep restaurants viable during the COVID-19 crisis, there are reports that some (or possibly many) have already determined that maintaining limited operations for takeout of delivery is not feasible and closed their doors and laid off their entire staff.

Illinois, Connecticut, New Jersey, Ohio, Delaware, Louisiana, and Massachusetts each also issued statewide "stay at home" orders, as did a number of cities, including Philadelphia. All of the orders generally include similar provisions. Individuals are directed to stay at home to the extent possible, but they are permitted to leave their homes to shop for groceries and other supplies; seek medical, dental, or veterinary care; provide care for others; exercise or engage in other outdoor activities; work at essential businesses; and utilize other essential services (e.g., post office, laundry). When people do need to go into public, the orders direct them to maintain social distancing, including staying 6 feet away from others and reducing public transit use, if possible. Some states require written documentation for essential workers to be carried while they are in public. Additionally, the orders direct restaurants, bars, and other eating establishments to operate only for drive-thru, takeout, or delivery, and the orders may place restrictions on other types of public spaces, like playgrounds, beaches, and parks.

Sign up for the Johns Hopkins daily updates here. (H/T Mara natha)



YOU SHOULD STILL BE PREPARING

For those that have considered themselves "preppers" before this and for those that either never got around to it or never saw the need, this pandemic, and the warnings of what is still to come, should offer plenty of incentive to get off your duffs and either begin or continue to do more.

With grocery store shelves still being emptied in locations that confirm cases of COVID-19, as then people start to panic, the thought of even going to the grocery store, where other people are and touching products, possibly passing on contamination, the danger is not just from a broken food chain and the difficultly for establishments to get items restocked fast enough, but being around other people.

Watch the short clip below and ask yourself...... how much is going to be left on the shelves after all those people get inside?


The states may be leaving stores open so people completely unprepared can still find something to eat from the goods still left on the shelves, but if at all possible people should be avoiding any contact with those outside their homes. 

• Plant your own gardens, indoor and outside if possible.

• Get grow bags, produce your own potatoes, carrots, green peppers, lettuce, tomatoes, and more. 

• Some potting soil, some grow lights and even those that live in apartments with limited space can grow their own fruits and vegetables in a closet if need be.

• Learn canning and can & preserve anything and everything that is not needed at the time of harvest.  

The point here is even those the best prepared with cases upon cases of emergency survival food, are going to want and need some fruits and vegetables that are not freeze dried after a few months,  without having to go out into public and risking exposure. 

Leave that to those that didn't bother to prepare, and refuse to start, and are moronic enough to think "it can't happen to me."


BOTTOM LINE

Even up here in our little corner of Western Maryland, we just got word of our first two cases of confirmed Coronavirus, so I am not making any suggestions that we aren't doing ourselves.

As the Surgeon General made clear, things are going to get much worse before they get better.

Stay safe, be healthy and God Bless.






ANP EMERGENCY FUNDRAISER: With non-stop censorship and 'big tech' attacks upon independent media, donations from readers are absolutely critical in keeping All News Pipeline online. So if you like stories like this, please consider donating to ANP.

All donations are greatly appreciated and will absolutely be used to keep us in this fight for the future of America.

Thank you and God Bless. Susan and Stefan.

PLEASE HELP KEEP ANP ALIVE BY DONATING USING ONE OF THE FOLLOWING METHODS.

One time donations or monthly, via Paypal or Credit Card:



Or  https://www.paypal.me/AllNewsPipeLine
Donate monthly from $1 up by becoming an ANP Patron.



Donate Via Snail Mail

Checks or money orders made payable to Stefan Stanford or Susan Duclos can be sent to:



P.O. Box 575

McHenry, MD. 21541

ANP is a participant in the Amazon Services LLC Associates Program.







comments powered by

Disqus