Whatfinger: Frontpage For Conservative News Founded By Veterans
"The Best Mix Of Hard-Hitting REAL News & Cutting-Edge Alternative News On The Web"
September 14, 2018
Another 'Carrington Event' Could Lead To The Deaths Of Hundreds Of Thousands Of Americans On The First Day While Costing Society Over $35.7 Billion Daily!
'God's Way Of Leveling The Electronic Battlefield?' - Steve Quayle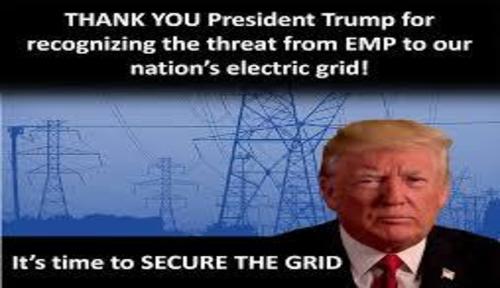 By Dr. Peter Vincent Pry - All News Pipeline
President Franklin Roosevelt's Manhattan Project (1942-1945) was a crash emergency program to develop the atomic bomb before Nazi Germany could confront Western Civilization with an unanswerable existential threat.
Miraculously, in merely three years, the Manhattan Project organized an army of scientists and engineers, built nuclear industrial facilities and entire cities that never before existed, and achieved the seemingly impossible feat of translating arcane and problematical scientific theories into the reality of revolutionary new weapons that ended World War II and prevented the Cold War from becoming World War III.
Today the United States and the world faces another existential threat — from an electromagnetic pulse (EMP), that can be caused by Nature or Man, and topple the technological pillars of modern electronic civilization with another 'Carrington Event' possibly the most likely we'll see in the years ahead. .
My new book EMP Manhattan Project: Organizing Survival Against An Electromagnetic Pulse Catastrophe (Amazon.com) advocates another Manhattan Project to protect the U.S. electric grid and other life-sustaining critical infrastructures.
Why does the EMP threat warrant another Manhattan Project?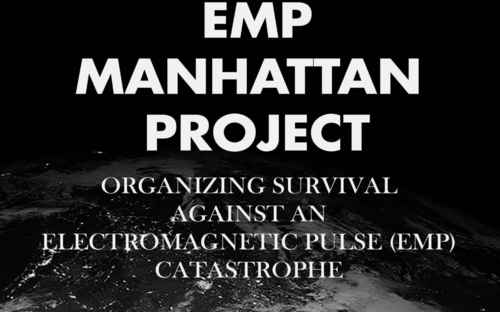 Appended to my book are some of the most recent unclassified reports of the Congressional EMP Commission that provides the most definitive assessment of the EMP threat and solutions for purposes of public policy.
EMP Commission Chairman Dr. William Graham, warns an EMP event causing a nationwide blackout lasting one year could kill up to 90 percent of the American people.
An EMP catastrophe could, figuratively and literally, turn out the lights across entire nations and be the advent of a new Dark Ages.
Worth quoting at length is the Congressional EMP Commission's 2017 Executive Summary "Assessing the Threat from Electromagnetic Pulse":
"The United States — and modern civilization more generally — faces a present and continuing existential threat from naturally occurring and manmade electromagnetic pulse assault and related attacks on military and critical national infrastructures.
"A nationwide blackout of the electric power grid and grid-dependent critical infrastructures—communications, transportation, sanitation, food and water supply—could plausibly last a year or longer. . . . A long-term outage owing to EMP could disable most critical supply chains, leaving the U.S. population living in conditions similar to centuries past, prior to the advent of electric power. In the 1800s, the U.S. population was less than 60 million, and those people had many skills and assets necessary for survival without today's infrastructure.
"An extended blackout today could result in the death of a large fraction of the American people through the effects of societal collapse, disease, and starvation.
"While national planning and preparation for such events could help mitigate the damage, few such actions are currently underway or even being contemplated."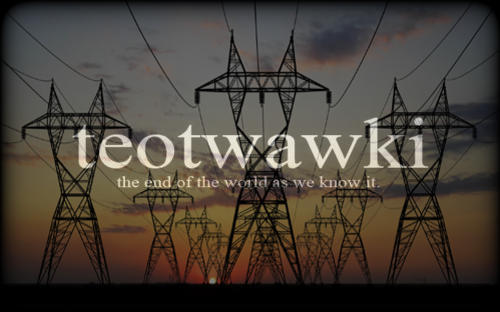 The EMP Commission recommends protecting the national electric grid and other critical infrastructures utilizing an "all hazards" strategy. Thus, protecting against the worst threat — nuclear EMP attack — can also mitigate all lesser threats, including natural EMP from solar super-storms, non-nuclear EMP weapons, cyber-attacks, sabotage, and severe weather like hurricanes.
The challenge of protecting the nation's critical infrastructures from EMP is — from a scientific, technological, and financial perspective — modest compared to the original Manhattan Project:
Scientifically. The original Manhattan Project began merely with a physics theory about atomic weapons, not knowing whether they would be possible or practical to build given the technology of the 1940s. In contrast, EMP is a proven scientific phenomenon demonstrated and well understood.
Technologically. The original Manhattan Project had to invent not only the atomic bomb, but a wide array of new machines, new chemical and metallurgical industries, new electronics and instruments, to manufacture and refine weapons-grade uranium and plutonium. In contrast, technologies for EMP protection already exist and have been used to protect military systems for over a half-century.
Financially. The original Manhattan Project cost about $20 billion in today's dollars, an enormous expense for the U.S. government in the midst of fighting World War II. In contrast, the Congressional EMP Commission estimates protecting the national electric grid would cost a few billion dollars, a relatively trivial expense.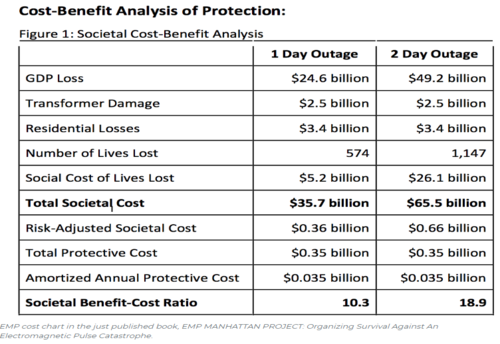 So why is an EMP Manhattan Project necessary?
The bureaucratic politics of EMP protection are so formidable, despite the best bipartisan efforts of Congress, no real progress has been achieved implementing the EMP Commission's recommendations made in 2008, a decade ago. Despite a decade of educational and legislative effort, American civilization remains unprotected from EMP extinction.
And the U.S. government of the 21st century is not the same highly competent U.S. government of the Greatest Generation who successfully ran the Manhattan Project to invent the atomic bomb, won World War II, built the national highway system, and sent a man to the moon.
Today's U.S. government is not competent to make a website for Obamacare, spends $500 million to train a Free Syrian Army of 50 men who mostly defect to al-Qaeda, relies on Russia to send U.S. astronauts into orbit, and is generally so corrupt, incompetent, and obstructionist that it seems no longer capable of carrying out great enterprises, as it did in the past.
President Trump, an EMP Manhattan Project is necessary because the bureaucratic politics of EMP protection are even more formidable than the scientific, technological, and financial obstacles that faced the original Manhattan Project's development of the atomic bomb.
This story originially published here. Dr. Peter Vincent Pry is executive director of the Task Force on National and Homeland Security. He served on the Congressional EMP Commission as chief of staff, the Congressional Strategic Posture Commission, the House Armed Services Committee, and the CIA. He is author of "Blackout Wars." For more of his reports, Go Here Now.
NOTE TO READERS: ANP Needs Your Help. With digital media revenue spiraling downward, especially hitting those in Independent Media, it has become apparent that traditional advertising simply isn't going to fully cover the costs and expenses for many smaller independent websites.

Any extra readers may be able to spare for donations is greatly appreciated.

One time donations or monthly, via Paypal or Credit Card:



Or  https://www.paypal.me/AllNewsPipeLine
Donate monthly from $1 up by becoming an ANP Patron.





comments powered by

Disqus