Whatfinger: Frontpage For Conservative News Founded By Veterans

"The Best Mix Of Hard-Hitting REAL News & Cutting-Edge Alternative News On The Web"
February 23, 2016
China Has Won The Global Game Of Monopoly And Ended Up With Park Avenue - And Everything Else! The United States Of China


The Chinese have defeated the United States in the game of Monopoly - They took Americas printing press money in exchange for Chinese merchandise and then took the cash and bought the country. - SQ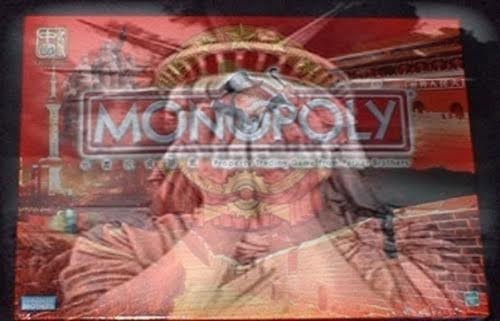 By Susan Duclos - All News PipeLine

With recent news that lawmakers are "freaking out" over the record rate that the Chinese are buying up American companies, including the Chicago Stock Exchange, we take a look at news from 2009 to present day and have to ask if America has become the United States of China?

News that a Chinese company, Chongqing Casin Enterprise Group (CCEG) agreed to terms to acquire the Chicago Stock Exchange has spurred 45 members of Congress to sign a letter to the Treasury Department's Committee on Foreign Investment in the US (CFIUS), where it is noted that CCEG's financial assets were originally owned by the Chinese government and the company was created to absorb those state controlled assets in 1997.

"This proposed acquisition would be the first time a Chinese-owned, possibly state-influenced, firm maintained direct access into the $22 trillion US equity marketplace," the letter reads.

Read the entire letter to the CFIUS here. (PDF)

With China being the biggest holder of America's debt we are reminded of a 2009 Washington Post report where China was said to be "saber-rattling" when China demanded the Obama government offer them a "guarantee the safety" of its $1 trillion (at that time) in America bonds. 

Specifically noted in that article was that "Secretary of State Hillary Rodham Clinton urged the Chinese to keep buying U.S. bonds."  What wasn't noted in that article was the nature of the "guarantee" China was actually given, but subsequent reports since 2009 show that the Chinese have acquired a significant amount of land, businesses and real estate within the U.S., but the following quote from that piece gives us a clue of what was to come.

"The power that China now has is that its actions are seen as a leading indicator of the confidence that foreign investors will have in the ability of the U.S. government to pay the debt," said Eswar Prasad, senior fellow at the Brookings Institution. "These comments are saber-rattling in the sense that they are using that leverage to tell the U.S. to back off on currency policy and trade policy."

A look at the "Stimulus" package from 2009 and Quantitative easing, with the Fed printing money out of thin air, in conjunction with the report from Reuters in October 2015 that America suffered the "largest expansion" in terms of "trade deficit" in five months while China's imports "surge" and we see that added to the record rate of businesses and land Chinese entities are buying up - the U.S. has indeed been sold down the river..... to China.

Look at the numbers, updated on February 8, 2016:

The U.S. trade deficit with China was $365.7 billion in 2015  This is a new record, up slightly from last year's record of $343 billion.

The trade deficit exists because U.S. exports to China were only $116.2 billion while imports from China hit a new record of $481.9 billion. The deficit keeps growing because imports are rising faster than exports.

For years we have been seeing reports of how much American real estate the Chinese have been buying, from FORBES stating in 2013 "by most estimates, they are snatching up high end real estate in Los Angeles, San Francisco and New York, in particular."

Across the country, however, Chinese purchasers bought over $10 billion of U.S. real estate in 2011 and account for 9% of foreign U.S. house buyers, second only to Canadians, according to Juwai.com, a Chinese real estate website geared towards international home shoppers.

By comparison, and across the 50 states, the Chinese buy more U.S. homes than Indians, Mexicans or the British. While Mexicans are big in California and all across the south, China still ranks within the top five foreign nationalities buying real estate in 44 states.  China, for instance, is ahead of Mexican buyers throughout the more costly Northeast. They already are the number one foreign buyer group in states like West Virginia and Massachusetts. They are number two in New York, Maine, Indiana, Missouri, Colorado, Wyoming and Hawaii.

By 2014, Zero Hedge points out that China is on the way to becoming  "the dominant land owner in the entire country." Noted in that piece is that not only is China buying up large tracts of land but in some cases the land is being given away to them for free as an enticement to build factories!

Gov. Robert Bentley said Friday that he will announce an economic development project in Thomasville, Ala., Monday morning. That project is likely a copper tube plant to be built by Golden Dragon Precise Copper Tube Group. A legal notice published Thursday indicates that the city of Thomasville and others intend to give land and other incentives to GD Copper USA, which state corporation records identify as a Florida-based subsidiary of Golden Dragon.


Golden Dragon Precise Copper Tube Group president is Li Changjie :

Li Changjie, male, Han nationality, was born in the Yuanyang County, Henan Province in 1946. He graduated from the physics department of Zhengzhou University in July, 1970, is a member of Communist Party of China, professor level senior engineer, winner of the state council special allowance. He is the president and party secretary of the Golden Dragon Precise Copper Tube Group Inc., director of Chinese Academy of Sciences Precise Copper Engineering Research Center; He is also the council member of International Copper Association (ICA), director of International Wrought Copper Council (IWCC), executive member of China Refrigeration and Air-conditionning Association , vice chairman of China Non-Ferrous Metals Industry Association, member of CPC Xinxiang Committee, representative of the seventh, eighth, ninth party congress of CPC Henan province, representative of the tenth, eleventh and twelfth NPC; He also won the honorary title of National Model Worker, May 1st Labor Medal, Outstanding Party Member of Henan Province, Model Worker of Henan Province and Excellent Private Entrepreneur of Henan Province, etc.

See just a few examples of China's purchase of U.S. real-estate and businesses here and here. Just do a search on any search engine for China land purchases in the U.S., or businesses, or real-estate, and you will be amazed at how much of the U.S. they own already.

FORBES from 2014:

Last year, China accounted for $12.8 billion of the $68.2 billion in foreign real estate transactions, according to the National Association of Realtors. For the last 12 months ending in March, China accounted for $22 billion of what is now a $92 billion market. Moreover, Chinese purchasing power moved them from a 19% share of the market last year, to a 24% share so far this year.

Thanks to all the money the Chinese are spending on penthouse suites in midtown Manhattan, the median price of a home purchased by the Chinese is greater than all the other top international markets.  On average, China home buyers dished out over $523,000 for a home, more than the U.K. ($350,000), India ($342,000), Canada ($212,000) and Mexico ($141,000).

In New  York's super high-luxury housing market, the Chinese have surpassed the Russian oligarchs. For new properties costing over $20 million, China is the main foreign customer these days, says Martin Purcell, a broker for Rutenberg Realty.

In 2012 the Federal Reserve also gave the thumbs up for Chinese firms to buy up U.S. Banks.

As to the headline about owning NY's Park Avenue, that isn't facetious as Xin Zhang, the chief executive officer of Soho China, already owns a significant stake in the Park Avenue Plaza, and other Chinese firms and investors are buying up notable properties across New York, and in May, a large piece of the General Motors Building in Manhattan was purchased by a Chinese real estate developer, and who can forget the Waldorf Astoria, a landmark that has hosted every U.S. president from Hoover to Obama, located at 301 Park Ave, New York, is now owned by the Chinese.

Related: THE BIG APPLE OR BEIJING? Chinese investment in NYC real estate has skyrocketed over the past year

Another point that has to be made is what happens when China owns more of the U.S. between debt, "guarantees," land and real estate, than Americans do? Well, we already know China's state-run media has called for the disarming of Americans, so how soon before they own enough to start dictating our laws and policies?

BOTTOM LINE

China has outsmarted America - They own a significant portion of our debt, they took all that money we printed out of thin air, via the trade deficit, then they used our own money to buy up the country.... as the quote via SQ states at the top of the article, "The Chinese have defeated the United States in the game of Monopoly. 


Found this first video over at SQ's site with a great note which states : America Fire Sale With China Buying US Companies And Land, Where Are Your Elected Officials?:RAPE ,PILLAGE AND PLUNDER THE UNITED STATES, NO LONGER EXISTS, IN CASE YOU WONDER!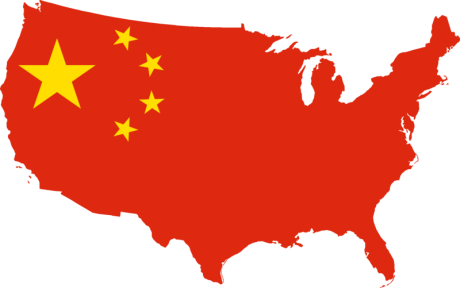 comments powered by

Disqus