Whatfinger: Frontpage For Conservative News Founded By Veterans
"The Best Mix Of Hard-Hitting REAL News & Cutting-Edge Alternative News On The Web"
March 13, 2017
A 'Legacy Of Blood' - Obama, Clinton, And Lynch Plotting A Violent Uprising Against Trump?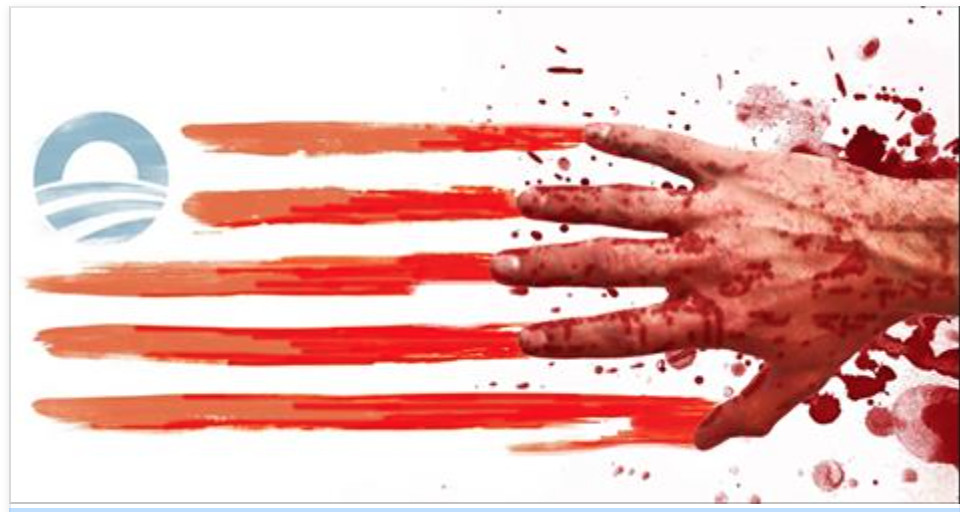 By Susan Duclos - All News PipeLine

Over the past two months we have seen Barack Obama encourage protesters to continue protesting against President Trump, despite the fact that many of the protests since Trump announced his candidacy have turned into violent riots. We have seen Hillary Clinton recently come out and encourage "resistance." Following that, and perhaps the most disturbing is a video where former Attorney General Loretta Lynch ended it with "It has been people, individuals who have banded together, ordinary people who simply saw what needed to be done and came together and supported those ideals, who have made the difference. They marched, they bled, yes some of them have died. This is hard, every good thing is. We have done this before, we can do this again."

Understand, this wasn't just a private video Lynch decided to create and publish, this was released by the United States Senate Democrats, listing democrats.senate.gov at the end of the video.



Frankly I cannot see any other way to interpret the ending portion of her statement as anything other than a call for blood and death on the streets of America.

THE PLOT FOR A VIOLENT UPRISING AGAINST THE TRUMP ADMINISTRATION

In order to understand the scope of what we are watching now, we have to take a step back and look at the picture as a whole, back to when Trump was a candidate, and the violent riots that were engineered at his events. His Chicago rally was canceled because of a major riot, others received wall-to-wall coverage, with the mainstream media, Clinton, Obama and Democrats all blaming Trump's rhetoric, until Project Veritas released the results of their year-long investigation, showing that Democratic entities, headed by a man that visited the White House, many times meeting directly with Barack Obama.  Another man on those hidden camera videos admits to working in collusion with the DNC and the Clinton campaign, also admitting they arranged the most violent incidents at those Trump campaign events.


Scott Foval is the National Field Director for a non-profit organization named Americans United for Change. In the video, he told an undercover investigator that they contract "directly with the DNC and the [Clinton] campaign both."

"I am contracted to him [Bob Creamer]," says Foval to an undercover reporter. "But I answer to the head of Special Events for the DNC and the head of special events and political for the campaign."

"The [Clinton] campaign pays DNC, DNC pays Democracy Partners, Democracy Partners pays the Foval Group, The Foval Group goes and executes the shit…" continued Foval. "Democracy Partners is the tip of the spear on that stuff."

Note- Not only do they admit to working with the Clinton campaign and the DNC, but according to White House logs, Creamer visited the WH over 340 times since 2009 and 40 of those were listed as direct meetings with Barack Obama. Creamer is also the husband of Jan Schakowsky, the Congressional Representative for Illinois's 9th congressional district, and in 2005 pleaded guilty to tax violations and $2.3 million in bank fraud in relation to paying checks with insufficient funds, to fund his public interest group in the 1990s, served five months in prison at Terre Haute and eleven months house arrest. (Source) 

Via Project Veritas:


In the hidden camera video, Black shares credit with Creamer for the Chicago Trump rally which was shut down.

"So the Chicago protest when they shut all that, that was us," says Black/Minter. "It was more him [Bob Creamer] than me, but none of this is supposed to come back to us, because we want it coming from people, we don't want it to come from the party. So if we do a protest and it's a DNC protest, right away the press is going to say partisan. But if I'm in there coordinating with all the troops on the ground and sort of playing the field general but they are the ones talking to the cameras, then it's actually people. But if we send out press advisories with DNC on them and Clinton campaign it just doesn't have that same effect."

See more in "Video 1: Clinton Campaign and DNC Incite Violence at Trump Rallies"



Part two "Mass Voter Fraud," and part 3 "Creamer Confirms Hillary Clinton Was PERSONALLY Involved," are also very enlightening, as well as clear evidence of the lengths the Clinton campaign and the DNC, the Democratic party headed by Barack Obama at the time, were willing to go to in order to prevent Donald Trump from winning the election.

They failed. Trump was elected in November, was inaugurated on January 20, 2017, where once again violent protests occurred in DC over that weekend. Follow that up with the MSM, Democrats and Clinton constantly harping on "Russia" connections with the Trump campaign, despite the former National Intelligence Director, James Clapper stating clearly that as of the time he left his position, which was on inauguration day, there was "no evidence" of any collusion between Team Trump and Russia. Add in Obama, Clinton and lynch pushing for more protests, which have inevitably turned violent, and we see a direct push by all the aforementioned parties, to incite a violent uprising against the Trump administration.

As was detailed in Sunday's article, there has been a massive escalation in assassination threats against President Trump, and as we also discussed yesterday, a "mentally ill" man managed to scale the fence of the White House and make it to the entrance, while Trump was in residence.

I want to highlight two aspects of the reports on the White intruder, to which I find concerning. One: According to ABC News, his note mentioned "Russian Hacking." Two: The letter also allegedly stated he had "been called schizophrenic."

I doubt that anyone reading this has not seen the constant and relentless push by everyone on the liberal side of the political aisle, including the MSM, to push the "Russian hacking" meme, so I won't bother with the hundreds of links proving that assertion, a simple search on Google brings up 21,500,000 results, so anyone can check my assertion.

The reference to the White House intruder being called "schizophrenic" really caught my eye, because if we go back to the first Project Veritas release, ANP reported at the time that those captured on the hidden camera/audio, directly stated "I'm saying we have mentally ill people, that we pay to do sh*t, make no mistake."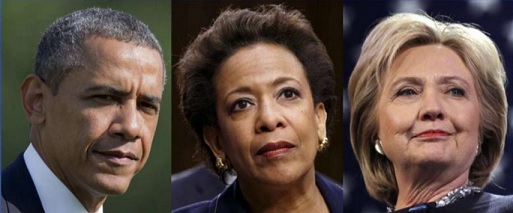 OBAMA, CLINTON, & LYNCH RUNNING SCARED

Why are we seeing this recent push from Obama, Clinton, and Lynch along with their media surrogates to incite a violent uprising against Trump?

It is because they are running scared.

With the Trump administration purging "deep state" Obama operatives, and the Attorney General Jeff Sessions being open to the idea of reviewing Obama's DOJ actions, along with the Congressional investigations, which are still ongoing into Hillary Clinton's private server. starting with Jason Chaffetz, the House Oversight leader, seeking criminal charges against the man who set up Hillary's email server, after requesting all data on Clinton's server from the FBI..... Democrats, Obama, Clinton, Lynch, and everyone connected to the higher levels of the Obama administration, can all envision possible legal ramifications of what they did while in office.


Attorney General Jeff Sessions said he would consider having outside counsel review actions taken by the Justice Department under the Obama administration — including an examination of charges that the IRS was engaging in politically-motivated investigations, and a probe of the department's handling of an investigation into former Secretary of State Hillary Clinton's use of a private email server.

With the the latest purge of Obama holdovers, 46 U.S. Attorneys, any investigations and possible charges against Obama, Clinton, Lynch or any official previously part of the Obama administration, would not be argued in court by U.S. attorneys appointed by Obama, who might show favoritism to the Obama admin rather than arguing the cases on their merits, should any charges be leveled against any of them. 

Since this latest purge was expected, it does offer one explanation as to why we are seeing an escalation of calls for "marching," and protesting, with Lynch citing blood and death, which is clearly a call to incite violence on the streets of America.

Recent reports claim that Obama's new residence will be the base of operations for an "insurgency" against the Trump administration to force his resignation or through impeachment, with other reports stating Obama has "deployed a team to 'keep tabs' on the Trump administration and attempt to preserve his legacy," with the New York Post reporting Obama has an "army of agitators," to which they claim is around 30,000.


Far from sulking, OFA activists helped organize anti-Trump marches across US cities, some of which turned into riots. After Trump issued a temporary ban on immigration from seven terror-prone Muslim nations, the demonstrators jammed airports, chanting: "No ban, no wall, sanctuary for all!"

Run by old Obama aides and campaign workers, federal tax records show "nonpartisan" OFA marshals 32,525 volunteers nationwide. Registered as a 501(c)(4), it doesn't have to disclose its donors, but they've been generous. OFA has raised more than $40 million in contributions and grants since evolving from Obama's campaign organization Obama for America in 2013.

OFA, in IRS filings, says it trains young activists to develop "organizing skills." Armed with Obama's 2012 campaign database, OFA plans to get out the vote for Democratic candidates it's grooming to win back Congress and erect a wall of resistance to Trump at the other end of Pennsylvania Avenue.

BOTTOM LINE

With Obama encouraging more protests across the country by saying he is "heartened" by the protests that have so often turned violent, and Clinton pushing for "resistance," while Loretta Lynch is actively talking about violent marches where people have bled and died, saying it has been done before and can be done again, and the establishment media doing everything in their power to incite violence as well, we are looking at what appears to be an organized attempt and plot for a violent uprising on the streets of America.

They are playing on people's fear, creating more, encouraging them to rise up against the Trump administration, and if they succeed, then Obama's so-called "legacy," will be a legacy of blood.








comments powered by

Disqus