Whatfinger: Frontpage For Conservative News Founded By Veterans
"The Best Mix Of Hard-Hitting REAL News & Cutting-Edge Alternative News On The Web"
July 20, 2015
REPOSTED 7-14-2016: Foreign Troops On US Soil Confirmed As Northern Strike Begins - War & Depopulation Or Change? There Are No Other Choices


By Stefan Stanford - All News Pipeline - Live Free Or Die

ANP NOTE: REPOSTED STORY ON 7-14-2016 AFTER IT HAS GONE VIRAL AGAIN.

Once called 'conspiracy theory', foreign troops in America have long been proven fact and if we need any more proof, we get it this morning from WNEM in Michigan and the 1st video below from Dave Acton who tells us all about Operation Northern Strike in Michigan that will feature units from Latvia, Poland, Australia and Canada in both air and ground combat exercises. While Jade Helm 15 has dominated the headlines this summer, this exercise, too, will allow soldiers to 'train the way we fight' according to exercise director Michigan Air National Gurd Lt. Col. Matthew Trumble.

"When we deploy to a combat theater, ground and air assets work closely together to accomplish their objectives. This exercise simulates operations in a counter insurgency environment, similar to situations the U.S. military has been involved with over the past several years."
Northern Strike and Jade Helm are just two of the latest massive military 'exercises' to take place across America and Europe in preparation for something huge, whether a potential WW3 with Russia, ISIS terrorists † or forthcoming economic collapse in America and worldwide, those in charge of coordinating all of these exercises clearly know something that the majority of the American people don't. Maybe they understand what Catherine Austin Fitts warns of in the 2nd video below with Greg Hunter - we soon will either get war and depopulation or change. We've reached a point there are no other choices.



While outlet malls being built like FEMA camps† are going up all across America, we take a look at two stories from SHTFPlan and Mike Adams at Natural News which show us a dawning retail apocalypse in America where we see at least 6,000 retail store locations across the nation closing down in 2015 which tie in perfectly to why so much preparation is likely taking place.

Despite retail apocalypse, somehow, malls with guard towers spring up like they're going out of style with names such as 'The Crossroads' and 'The Crossings' as pointed out by one astute ANP reader, who wonders about the symbology of those names and the illuminati depopulation agenda. "Will FEMA camp malls soon be the death camps for millions of Americans and Christians?"

With stores going out of business across the country (you have to see the mindblowing list below videos!) but new outlet malls popping up across America, we see a huge disconnect...unless, of course, these new outlet malls were built with multiple purposes.

Check out the picture below of the new outlets going up at Little Rock, Arkansas. Can you think of anything else that they would be able to use these buildings for if necessary? 6 'guard towers', one at each 'entrance/exit' strategically placed around the complex. Meanwhile, names like Abercrombie & Fitch, Aeropostale and American Eagle Outfitters just for a start are shutting down over 400 stores combined, and they are just the tip of the iceberg.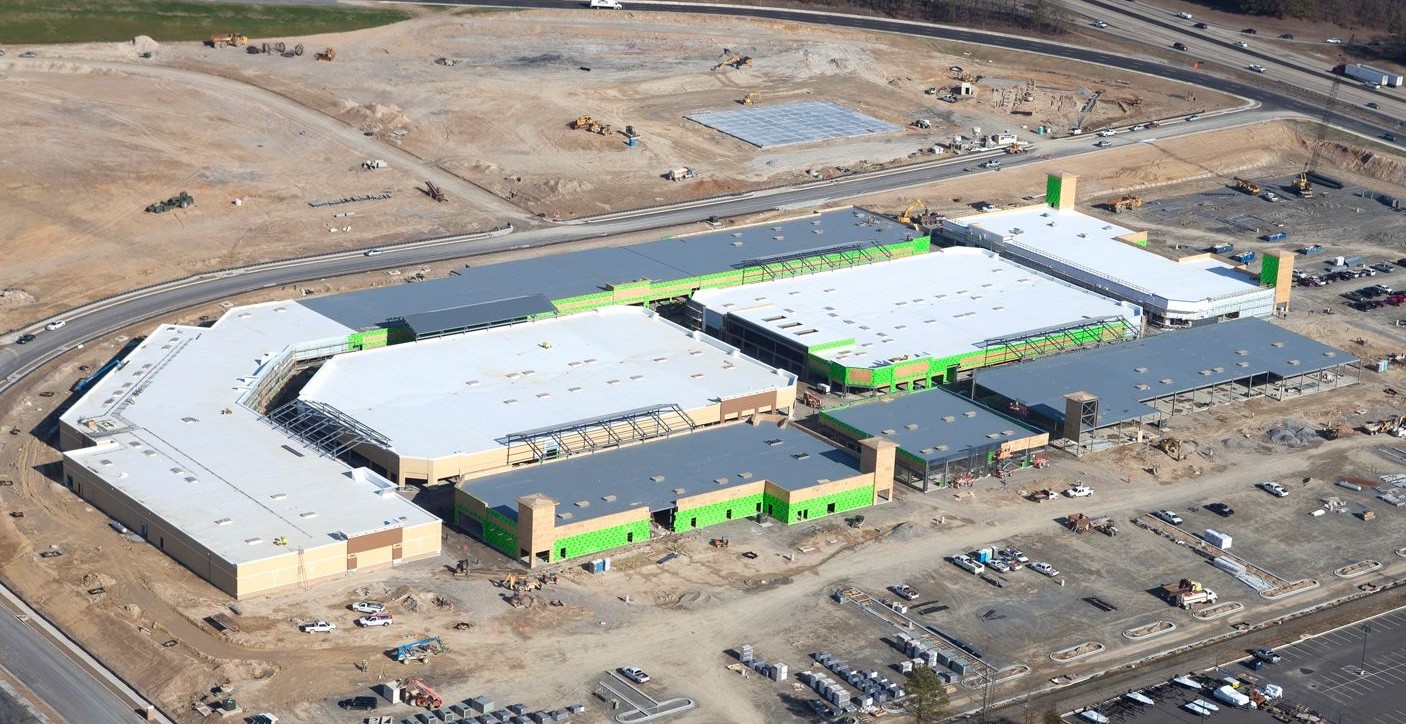 Catherine-Austin Fitts, a former member of the 1st Bush's cabinet, joins USAWatchdog's Greg Hunter in the brand new video below and issues us a stark warning, if there isn't huge change coming, there will be war and depopulation to deal with. There is no other way around it.†



For those who call the depopulation agenda a 'conspiracy theory', we suggest that you watch the video below, a documentary in which we learn exactly why government's across the world are engaging in poisoning their populations and the slow-kill of their own people.



Below we see a full list of stores who have recently announced upcoming store closures. List courtesy of Natural News.com.

Abercrombie & Fitch: 180 stores (by 2015)

Aeropostale: 75 stores (through January 2015)

American Eagle Outfitters: 150 stores (through 2017)

Barnes & Noble: 223 stores (through 2023)

Body Central/Body Shop: 265 stores

Bottom Dollar Food: 66 stores

Build-A-Bear: 25 stores (through 2015)

C. Wonder: 32 stores

Cache: 21 stores

Chico's: 120 stores (through 2017)

Children's Place: 200 stores (through 2017)

Christopher & Banks: 17 stores

Coach: 70 stores (fiscal 2015)

Coco's/Carrows: 70 stores

Deb Shops: 300 stores

Delia's: 92 stores

Dollar Tree/Family Dollar: 340 stores

Einstein Bros. Bagels: 39 stores

Express: 50 stores (through 2015)

Frederick's of Hollywood: 31 stores

Fresh & Easy Grocery Stores: 50 stores

Friendly's: 14 stores

Future Shop (Best Buy Canada): 65 stores

Golf Galaxy: 54 stores (by 2016)

Guess: 50 stores (through 2015)

Gymboree: 26 stores

JCPenney: 40 stores

Jones New York Outlet: 127 stores

Just Baked: 10 stores

Kate Spade Saturday & Jack Spade: 28 stores

Macy's: 14 stores

Office Depot/Office Max: 400 stores (by 2016)

Pep Boys: 63 stores ("in the coming years")

Pier One: 100 stores (by 2017)

Pick 'n Save: 20 stores (by 2017)

Radio Shack: 1,784 stores

Ruby Tuesday: 13 stores

Sears: 77 stores

SpartanNash Grocery Stores: 10 stores

Staples: 55 stores (2015)

Target, Canada: 133 stores (bankruptcy)
Tiger Direct: 31 stores
Walgreens: 200 stores (by 2017)
West Marine: 10 stores
Wet Seal: 338 stores
Wolverine World Wide: 80 stores (2015 - Stride Rite & Keds)



comments powered by

Disqus