Whatfinger: Frontpage For Conservative News Founded By Veterans
"The Best Mix Of Hard-Hitting REAL News & Cutting-Edge Alternative News On The Web"

August 15, 2020
Expect The 'Clinton Body Count' To Skyrocket As Americans Are 'Tracked, Whacked And Stacked' And The Nightmare Marriage Between Communism & Crazy Win In November
- Remember! Democrats Had 72-Kinds Of Law Abiding Americans Listed As Potential Terrorists

While the top-voted comment on this Friday story over at the Daily Mail was simply "please just go away", the subject matter of the story is enough to make 10's of millions of Americans convulse, with their story reporting 'body count' Hillary Clinton is claiming she's 'ready' to serve in a Biden administration and 'wants to help fix the US'. 
With Clinton also recently tweeting "I'm thrilled to welcome @KamalaHarris to a historic Democratic ticket. She's already proven herself to be an incredible public servant and leader. And I know she'll be a strong partner to @JoeBiden. Please join me in having her back and getting her elected", one doesn't have to speculate too hard to decipher 'what's really on Hillary's mind'. 
And with a majority of Americans believing Joe Biden won't even finish one term in office should he somehow 'steal' the election, while even CNN has hinted at Biden's plans to "step aside" after the election should he win as heard in the first video at the bottom of this story, a Biden presidency would be practically "installing" a 'President Kamala Harris', with a very real possibility that Harris would potentially bring on Hillary as her new VP. 
And while such a move by Harris would immediately place her on the very top of the 'long list' of potential new 'Clinton body count victims' should Hillary weasel her way back into Washington DC and national politics and position herself just one step away from her long-desired 'presidency', one look at the speakers list for the Democrats 'virtual' convention next week proves the Democrats are gazing backwards, and certainly not moving 'forward'. With Hillary and her husband Bill, and Barack and Michelle Obama, put in the highlighted Convention speaking rolls, its as if the Democrats are trying to make sure nobody pays any attention to the babbling coming out of the mouth of Joe Biden as the final speaker. 
More of the top-voted comments from this Daily Mail story seen below show Americans are sick and tired of Hillary and all that she brings to the table. And with the democrats/globalists attempt to destroy Christianity, freedom and everything 'America' in 2020, these monsters will do absolutely anything in their attempts to take back power in America, even killing, especially with a member of the 'clinton crime family' throwing her name back into the political circus. 
Now that's a good enough reason not to vote for Biden. 
I feel like I'm in the twilight zone. Kiss us all goodbye if that happens.
She will be the death of Biden's campaign, no pun intended.
That's the LAST thing Biden should want people thinking about right now. Three years ago she was flying all over the country on her super-whiny Excuse Tour, blaming everything & everyone but herself for the 2016 election. People do tend to have short memories when it comes to politics, but not that short, especially with things like that. It was the single most pathetic display of sore-losership in US political history. Letting her jump on board would not be a net positive for Biden's campaign. 
Hillary is like a t*rd that just won't flush. Just when you think you finally got rid of it, out pops its ugly head again. Take the plunger to this nasty, corrupt piece of liberal filth.
And some of the worst-rated comments on the story included:
America needs Hillary to help repair the damage caused by Trump. Reverse the tax cuts for the rich and one percent as a start.
Well she was more popular than trump four years ago and that could only have improved after the Trump experiment has failed so spectacularly. 
It would be worth appointing her to a high position just to see the faces of the Trump supporters. Make her Secretary of State. She could take her revenge on Putin then. Hahahahahah!
(ANP Emergency Fundraiser: Following Stefan's medical emergencies during the month of July and upcoming medical bills for surgeries he'll need, ANP is holding an emergency fundraiser during the month of August. So if you like stories like this, please consider donating to ANP to help keep us in this 'Info-war' for America at a time of systematic censorship and corruption).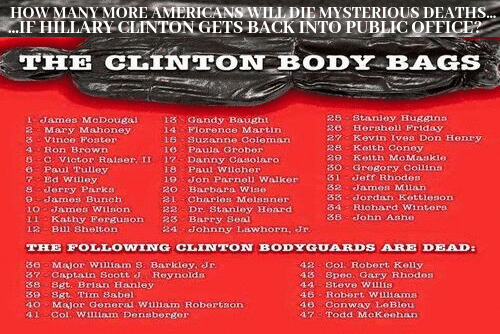 And while the 'Clinton body count' has long been called a 'conspiracy theory' by the large majority of the mainstream media, the 2019 death of Jeffrey Epstein added more fuel to that fire, and even this 2016 story over at CBS Las Vegas dared to venture out on a limb with a story titled "The List of Clinton Associates Who Allegedly Died Mysteriously. Check It Out". From that story before we continue. 
THE CLINTON DEAD POOL
1- James McDougal – Clintons convicted Whitewater partner died of an apparent heart attack, while in solitary confinement. He was a key witness in Ken Starr's investigation.
2 – Mary Mahoney – A former White House intern was murdered July 1997 at a Starbucks Coffee Shop in Georgetown .. The murder …happened just after she was to go public with her story of sexual harassment in the White House.
3 – Vince Foster – Former White House counselor, and colleague of Hillary Clinton at Little Rock's Rose Law firm. Died of a gunshot wound to the head, ruled a suicide.
4 – Ron Brown – Secretary of Commerce and former DNC Chairman. Reported to have died by impact in a plane crash. A pathologist close to the investigation reported that there was a hole in the top of Brown's skull resembling a gunshot wound. At the time of his death Brown was being investigated, and spoke publicly of his willingness to cut a deal with prosecutors. The rest of the people on the plane also died. A few days later the Air Traffic controller committed suicide.
5 – C. Victor Raiser, II – Raiser, a major player in the Clinton fund raising organization died in a private plane crash in July 1992.
6 – Paul Tulley – Democratic National Committee Political Director found dead in a hotel room in Little Rock , September 1992. Described by Clinton as a "dear friend and trusted advisor."
7 – Ed Willey – Clinton fundraiser, found dead November 1993 deep in the woods in VA of a gunshot wound to the head. Ruled a suicide. Ed Willey died on the same day his wife Kathleen Willey claimed Bill Clinton groped her in the oval office in the White House. Ed Willey was involved in several Clinton fund raising events.
8 – Jerry Parks – Head of Clinton's gubernatorial security team in Little Rock .. Gunned down in his car at a deserted intersection outside Little Rock Park's son said his father was building a dossier on Clinton He allegedly threatened to reveal this information. After he died the files were mysteriously removed from his house.
9 – James Bunch – Died from a gunshot suicide. It was reported that he had a "Black Book" of people which contained names of influential people who visited prostitutes in Texas and Arkansas
10 – James Wilson – Was found dead in May 1993 from an apparent hanging suicide. He was reported to have ties to Whitewater.
11 – Kathy Ferguson – Ex-wife of Arkansas Trooper Danny Ferguson, was found dead in May 1994, in her living room with a gunshot to her head. It was ruled a suicide even though there were several packed suitcases, as if she were going somewhere. Danny Ferguson was a co-defendant along with Bill Clinton in the Paula Jones lawsuit Kathy Ferguson was a possible corroborating witness for Paula Jones.
12 – Bill Shelton – Arkansas State Trooper and fiancee of Kathy Ferguson. Critical of the suicide ruling of his fiancee, he was found dead in June, 1994 of a gunshot wound also ruled a suicide at the grave site of his fiancee.
13 – Gandy Baugh – Attorney for Clinton's friend Dan Lassater, died by jumping out a window of a tall building January, 1994. His client was a convicted drug distributor.
14 – Florence Martin – Accountant & sub-contractor for the CIA, was related to the Barry Seal, Mena, Arkansas, airport drug smuggling case. He died of three gunshot wounds.
15 – Suzanne Coleman – Reportedly had an affair with Clinton when he was Arkansas Attorney General. Died of a gunshot wound to the back of the head, ruled a suicide. Was pregnant at the time of her death.
16 – Paula Grober – Clinton's speech interpreter for the deaf from 1978 until her death December 9, 1992. She died in a one car accident.
17 – Danny Casolaro – Investigative reporter, investigating Mena Airport and Arkansas Development Finance Authority. He slit his wrists, apparently, in the middle of his investigation.
18 – Paul Wilcher – Attorney investigating corruption at Mena Airport with Casolaro and the 1980 "October Surprise" was found dead on a toilet June 22, 1993, in his Washington DC apartment had delivered a report to Janet Reno 3 weeks before his death.
19 – Jon Parnell Walker – Whitewater investigator for Resolution Trust Corp. Jumped to his death from his Arlington ,Virginia apartment balcony August 15, 1993. He was investigating the Morgan Guaranty scandal.
20 – Barbara Wise – Commerce Department staffer. Worked closely with Ron Brown and John Huang. Cause of death: Unknown. Died November 29, 1996. Her bruised, naked body was found locked in her office at the Department of Commerce.
21 – Charles Meissner – Assistant Secretary of Commerce who gave John Huang special security clearance, died shortly thereafter in a small plane crash.
22 – Dr. Stanley Heard – Chairman of the National Chiropractic Health Care Advisory Committee died with his attorney Steve Dickson in a small plane crash. Dr. Heard, in addition to serving on Clinton 's advisory council personally treated Clinton's mother, stepfather and brother.
23 – Barry Seal – Drug running TWA pilot out of Mena Arkansas, death was no accident?
24 – Johnny Lawhorn, Jr. – Mechanic, found a check made out to Bill Clinton in the trunk of a car left at his repair shop. He was found dead after his car had hit a utility pole.
25 – Stanley Huggins – Investigated Madison Guaranty. His death was a purported suicide and his report was never released.
26 – Hershell Friday – Attorney and Clinton fundraiser died March 1, 1994, when his plane exploded.
27 – Kevin Ives & Don Henry – Known as "The boys on the track" case. Reports say the boys may have stumbled upon the Mena Arkansas airport drug operation. A controversial case, the initial report of death said, due to falling asleep on railroad tracks. Later reports claim the 2 boys had been slain before being placed on the tracks. Many linked to the case died before their testimony could come before a Grand Jury.
THE FOLLOWING PERSONS HAD INFORMATION ON THE IVES/HENRY CASE:
28 – Keith Coney – Died when his motorcycle slammed into the back of a truck, 7/88.
29 – Keith McMaskle – Died, stabbed 113 times, Nov, 1988
30 – Gregory Collins – Died from a gunshot wound January 1989.
31 – Jeff Rhodes – He was shot, mutilated and found burned in a trash dump in April 1989.
32 – James Milan – Found decapitated. However, the Coroner ruled his death was due to "natural causes."
34 – Richard Winters – A suspect in the Ives/Henry deaths. He was killed in a set-up robbery July 1989.
THE FOLLOWING CLINTON BODYGUARDS ARE ALSO DEAD
35 – Major William S. Barkley, Jr.
36 – Captain Scott J . Reynolds
37 – Sgt. Brian Hanley
38 – Sgt. Tim Sabel
39 – Major General William Robertson
40 – Col. William Densberger
41 – Col. Robert Kelly
42 – Spec. Gary Rhodes
43 – Steve Willis
44 – Robert Williams
45 – Conway LeBleu
46 – Todd McKeehan
And Seth Rich, the DC staffer murdered and "robbed" (of nothing) on July 10. Wikileaks found Assange claims he had info on the DNC email scandal.
Yet with a number of new names added to the 'body count' since that 2016 story was written, including Epstein; close Clinton friend and confidant Steve Bing; Clinton/pedo-gate investigator Jenny Moore; former UN ambassador John Ashe, who was allegedly set to testify against Hillary and the DNC; attorney Shawn Lucas, the attorney that served the DNC with legal papers in a lawsuit alleging fraud for actively working against the Bernie Sanders campaign; and Clinton private investigator Victor Thorn, just imagine if corpses could talk! Oh what stories would they tell?
And with that many deaths following Bill and Hillary around wherever they go, and Democrats now pushing for socialism/communism and the 'body count' that always goes along with such a totalitarian political philosophy, just imagine how many more names will be added to that 'body count' should Hillary somehow get into the Biden administration and the Democrats fully implement their brand of socialist/communist tyranny.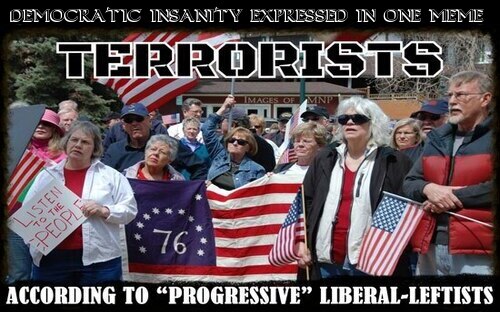 As two recent alerts at the website of Steve Quayle warn us, one of the democrats/globalists favorite ways of taking down patriots and those opposed to globalism is going on right now. With Steve long calling that process 'identify, vilify, nullify and destroy', one of those alerts warns of the possibility of spy planes being used for the GPS'ing of gun owners homes while this 2nd alert warns law-abiding Americans are definitely being targeted: 'tracked, whacked and stacked' at the appointed time.  
And we shouldn't be surprised. As Michael Snyder had reported several years ago, during the Obama administration, 72 types of law-abiding Americans were listed as potential terrorists in official US government documents including just as a start: Conservatives; libertarians; Christians and gun owners. Also: those opposed to abortion, globalism, Communism, illegal immigration, the United Nations and the New World Order. What do you think these treasonous globalists might do if they get back into power? Especially with Hillary Clinton now jockeying herself into a position on Biden's team?  
According to this May of 2020 story, written prior to the selection of Kamala Harris as Biden's VP selection, Hillary Clinton was doing everything possible to position herself to be on the 2020 ballot once again. Reporting back then what we've just had confirmed now in this Daily Mail story, that Hillary absolutely wants 'back in', should Biden slip and stumble his way towards November, especially should he be 'shellacked' by President Trump in the debates, who'd be ruling out Hillary somehow getting back on the Democrat ticket, especially with a very inexperienced Harris #2 in line?  
Liz Peek, a former partner of major bracket Wall Street firm Wertheim & Company, believes that Hillary Clinton is getting ready to step forward should Joe Biden fail. 
Clinton is ready and eager. She is desperate to avenge her 2016 loss (which she still blames on Putin) and has pumped up her public profile to keep herself in consideration. In past months she has conducted endless interviews, promoted the uber-flattering four-part Hulu film about herself, made headlines by attacking Bernie Sanders and Mark Zuckerberg, and fired unending broadsides against President Trump. 
More recently, she joined Vice President Biden in a town hall devoted to women's issues, during which she effusively endorsed her long-time colleague. She reminisced about their time together in the Obama administration, talked about their mutual love of Scranton, Pa., where her father grew up, and recalled meetings in the Situation Room. In fact, Clinton talked so much about their shared history that it was easy to forget that she was endorsing Joe Biden. It almost sounded as though she were touting her own resume instead. Maybe she was. 
How would Hillary stack up as a nominee this time around? Hillary certainly looks stronger and more fired-up than Biden; she has the energy he lacks. She has a bigger following on social media (28 million Twitter followers, compared to 5 million, for instance) and she has a large devoted following who, like Hillary, still cannot believe she lost in 2016. She could count on President Obama to campaign for her, as Biden also can, and she would also have ever-popular husband Bill helping out. 
In 2016, Democrats were not wildly excited about her candidacy, but her "enthusiasm" readings were better than Biden's today. As was her polling in critical battleground states. Hillary is hideously polarizing, but she would be a more forceful nominee than Biden, has enormous name recognition, and perhaps most important, can begin and end a sentence without major detours. And, she has not been credibly accused of sexual assault. 
Hillary may be Democrats' nominee of last resort. You know she wants it.
With any chance of Hillary Clinton getting back into public office in a very high position sure to bring with it more lies such as we witnessed in Benghazi, more attacks upon the independent media and likely many more names added to the 'Clinton body count', the 2020 election has quickly set itself up to be the most important election of our lifetime's and sadly, most Americans still remain dumbed down to the consequences. 
So in the first two videos below we hear more about the very real possibility that Joe Biden wouldn't even last one term in office should he somehow win the election, setting up a Kamala Harris presidency that could easily devolve into something Hillary related while in the final video below from the youtube channel THE LAST OUTLAWS, former Secret Service Agent Gary J. Byrne joins to discuss his thoughts on the Clinton body count, a long list of names and bizarre deaths.
PLEASE DONATE TO ANP: With non-stop censorship and 'big
tech' attacks upon independent media, donations from readers are absolutely critical in keeping All News Pipeline online. So if you like stories like this, please consider donating to ANP.

All donations are greatly appreciated and will absolutely be used to keep us in this fight for the future of America.

Thank you and God Bless. Susan and Stefan.

PLEASE HELP KEEP ANP ALIVE BY DONATING USING ONE OF THE FOLLOWING METHODS.
One time donations or monthly, via Paypal or Credit Card:

Or https://www.paypal.me/AllNewsPipeLine
Donate monthly from $1 up by becoming an ANP Patron.



Donate Via Snail Mail

Checks or money orders made payable to Stefan Stanford or Susan Duclos can be sent to:



P.O. Box 575

McHenry, MD. 21541







comments powered by

Disqus