Whatfinger: Frontpage For Conservative News Founded By Veterans

"The Best Mix Of Hard-Hitting REAL News & Cutting-Edge Alternative News On The Web"

March 26, 2021 
The World's Most Expensive Traffic Jam Guarantees Supply Chain Shortages In The Days Ahead With Many Warning Of A Worst Case Scenario: 'It's Going To Get Ugly'


While Bill Gates recently said that 'the world should be back to 'normal' by the end of the year 2022, and due to vaccines' in his mind, what will never be discussed by the msm, globalists nor democrats is what the world we live in might look like by then if we continue upon the same path we've been set upon, with more and more signs the 'normal' they speak of will look nothing like the 'normal' of the past, something long gone forever. 
With 'incrementalism' a sinister tool of tyranny used to whittle away at rights previously held, with every small decision feeling 'rational' to some but used as the next stepping stone towards greater government infringements upon human rights, we're being slowly cooked like a frog, who would jump out of a pot of boiling water, but instead boils to death when the temperature gets slowly raised to a boil.
And with 'the Great Reset' that the globalists have been lauding giving us a look at what the 'future normal' might look like should the globalists have their way, that 'Great Reset' is nothing less than the complete re-organization of our society into what the globalists had also envisioned under the United Nations 'Agenda 21' and 'Agenda 2030'.  
So with America rapidly being herded into dark times under Joe Biden's open borders, the 'Democrats forever bill' they hope to jam through Congress and into law and their war upon the 2nd Amendment and freedom of speech, we definitely shouldn't overlook another sign of what may be ahead, with massive supply chain shortages of many different materials seeming to grow every day as we'll explore within the next section of this story below.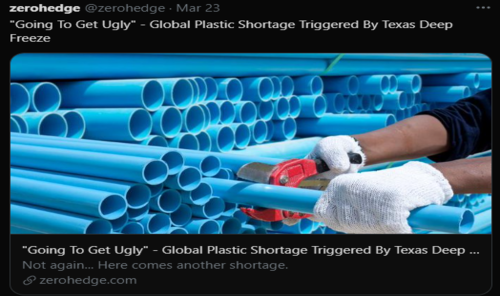 According to this new story over at the Wall Street Journal (saved at Archive), what's being called 'the world's biggest traffic jam' is devastating global trade and will surely lead to more supply shortages with the Suez Canal one of the busiest waterways in the world. 
With some warning the 'beached whale ship' could be stuck for weeks, CNBC warned in a story Thursday morning that the Suez Canal closure could cause problems for the entire world, with 12% of the world's seaborne trade flowing through the canal. From that story.: 
A prolonged blockage could lead to "significant disruptions to global trade, skyrocketing shipping rates, further increase of energy commodities, and an uptick in global inflation," JPMorgan warned. 
And as we'll see in the series of tweet screenshots and linked stories above and below, even prior to this Suez Canal disaster, a huge series of hits to the global supply chain have been happening and are still ongoing. 
From Zero Hedge, March 23rd: "Going To Get Ugly" - Global Plastic Shortage Triggered By Texas Deep Freeze".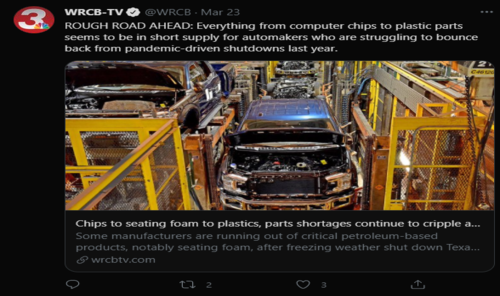 From WRCBTV, March 23rd: "ROUGH ROAD AHEAD: Everything from computer chips to plastic parts seems to be in short supply for automakers who are struggling to bounce back from pandemic-driven shutdowns last year."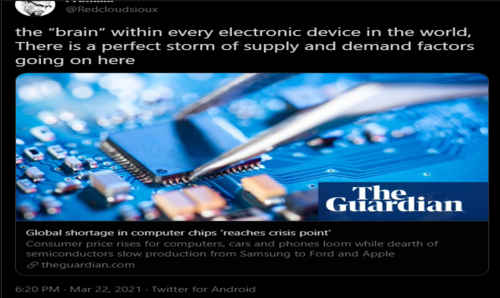 From the Guardian, March 22nd: "Global shortage in computer chips 'reaches crisis point' - Consumer price rises loom while dearth of semiconductors slow production from Samsung to Ford".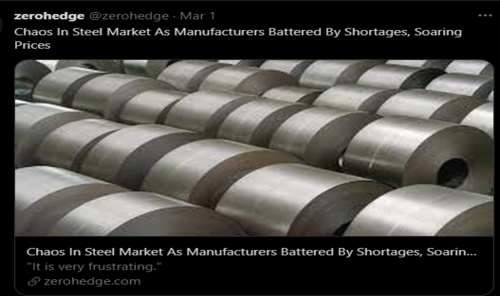 From Zero Hedge, March 1st: "Chaos In Steel Market As Manufacturers Battered By Shortages, Soaring Prices".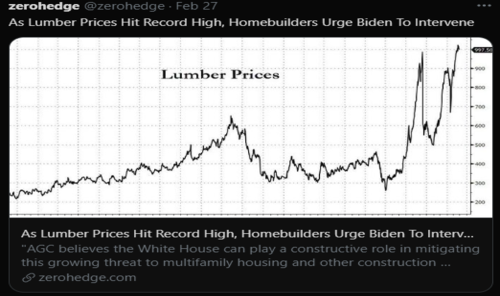 From Zero Hedge, February 27th: "As Lumber Prices Hit Record High, Homebuilders Urge Biden To Intervene".
With those stories being just 5 over the past month showing that these shortages had already arrived prior to the 'Suez Canal beached whale', wars have historically brought about supply chain shortages due to rationing and government diverting resources away from human use and consumption. 
So with Lt. Gen. Tom McInerney recently warning: "We are in World War III. We did not have a pandemic, we had a biological attack". And the Washington Post putting out this 2020 story (saved at archive) warning America was facing 'wartime shortages' due to the Covid 19, we serve our families and loved ones best by preparing for whatever may lay ahead, especially with no end in sight to the shortages and them growing worse seemingly every day. 
In the only video below, 'Ice Age Farmer' takes a look at the Suez Canal blockage and the 'worst case scenario for trade' that will unfold in the weeks, months and possibly even years ahead, with the 'world's most expensive traffic jam' happening at a time when global tensions between the world's superpowers are heating up, 

And at the very bottom of this story, we have gone ahead and republished much of this 'ANP Still or Back in Stock prepping page' to help those who have yet to prepare. And as always, if you have any thoughts or suggestions, please share them in our story comment section below. Your ideas will definitely help others (including us!) and could save lives. 
ANP is a participant in the Amazon Services LLC Associates Program.
ANP EMERGENCY FUNDRAISER: With non-stop censorship and 'big
tech' attacks upon independent media, donations from readers are absolutely critical in keeping All News Pipeline online. So if you like stories like this, please consider donating to ANP.

All donations are greatly appreciated and will absolutely be used to keep us in this fight for the future of America.

Thank you and God Bless. Susan and Stefan.

PLEASE HELP KEEP ANP ALIVE BY DONATING USING ONE OF THE FOLLOWING METHODS.
One time donations or monthly, via Paypal or Credit Card:

Or https://www.paypal.me/AllNewsPipeLine
Donate monthly from $1 up by becoming an ANP Patron.



Donate Via Snail Mail

Checks or money orders made payable to Stefan Stanford or Susan Duclos can be sent to:



P.O. Box 575



McHenry, MD. 21541




STILL/BACK IN STOCK ITEMS FOR DELIVERY

Meats:
Porter & York - Whole Chickens 6-pack

Kansas City Sampler Steak Set - 2 Filet Mignon and 2 Strip Steaks

Chicago Steak Meal Set Includes Savory Ribeye, Top Sirloin Steak, Angus Steak Burgers, & Lemon Herb Chicken Breasts

Maine Lobster Now - 2 Pounds Fresh Maine Lobster Meat

Aged Angus Filet Mignon Top Sirloin NY Strip Ribeye and Premium Ground Beef by Nebraska Star Beef - All Natural Hand Cut and Trimmed - Steak Gift Packages Delivered to Your Door

Bison Burgers & Steaks Combo Pack: 100% All-Natural, Grass-Fed and Grain Finished North American Bison Meat with no Growth Hormones or Antibiotics - USDA Tested - 14 Piece of Tender, Flavorful Meat

H.F.'s Outstanding All Natural Skinless Boneless Chicken Breast, 40 Ounce

Porter & York, Prime Beef Bone In Ribeye Steaks 20oz 4-pack

Porter & York Brand Meats - Prime Beef Boneless Ribeye Steak 16oz 4-pack

T-Bone Steaks, 6 count 16 oz each from Kansas City Steaks

Angus Wagyu Ground Beef Patties By Nebraska Star Beef - The Ultra Premium Package for Family Grilling Events

Freeze Dried Foods:

Wise Company Long Term Emergency Freeze-Dried Food Supply, Breakfast and Entree Variety

MRE Meals - 124-Serving Freeze Dried Emergency Food Supply

Long Term Dehydrated Food Storage - 120 Large Entree Servings - 29 Lbs- Disaster Prepper Freeze Dried Supply Kit

Wise Company ReadyWise, Emergency Food Supply, Emergency Freeze Dried Fruit Bucket, 120 Servings

Wise Company Emergency Food Supply, Freeze Dried Meat Variety, 15-Year Shelf Life, 60 Servings

Wise Company Emergency Food Supply, Variety Pack, 25-Year Shelf Life, 104 Servings

Wise Company ReadyWise, Emergency Food Supply, Freeze Dried Vegetables, 120 Servings

Mountain House Classic Bucket | Freeze Dried Backpacking & Camping Food | 24 Servings

Mountain House Diced Beef #10 Can Freeze Dried Food - 6 Cans Per Case

Mountain House Cooked Diced Chicken #10 Can

Augason Farms Lunch and Dinner Variety Pail Emergency Food Supply 4-Gallon Pail

Augason Farms Breakfast Emergency Food Supply 11 lbs 1.8 oz 4 Gallon Pail

Other foods: 

PB2 Original Powdered Peanut Butter - [2 Lb/32oz Jar]

Augason Farms Vegetable Stew Blend 2 lbs 0.5 oz No. 10 Can

It's Just - Whole Egg Protein Powder, Made in USA, Non-GMO (8oz)

Augason Farms 5-90158 Scrambled Egg Mix, 2 lbs, 4 oz. No. 10 Can

Augason Farms Dried Whole Egg Product 2 lbs 1 oz No. 10 Can

Hoosier Hill Farm All American Dairy Whole Milk Powder 1 lb

Hoosier Hill Farm Heavy Cream Powder Jar, 1 Pound

Hoosier Hill Farm Real Butter powder, Gluten and Hormone.free, 2 lbs

Augason Farms Dehydrated Chopped Onions 1 lb 7 oz No. 10 Can

Nutristore Freeze Dried Mozzarella Cheese Shredded Premium Quality

Amazon Search 'Flour'

Canned/Packaged Goods:

Wellsley Farms White Premium Chunk Chicken Breast in Water, 12.5 Ounce, 6 Count

Keystone Meats All Natural Canned Chicken, 28 Ounce by Keystone Meats

Swanson Chicken á la King Made with White and Dark Meat Chicken, 10.5 Ounce Can (Pack of 12)

Dinty Moore Beef Stew with Fresh Potatoes & Carrots 20 oz (Pack of 12)

Armour Star Classic Homestyle Beef Stew, 20 oz. (Pack of 12)

Keystone Meats All Natural Canned Beef, 28 Ounce

SAMPCO Shredded Beef 3lb.

Kirkland Signature Chicken Breast (Chicken Breast -6 Count)

Keystone Meats All Natural Canned Pork, 28 Ounce

Armour Star Roast Beef With Gravy, 12 oz.

Armour Star Banner Sausage, Easy Open Can, 10.5 oz. (Pack of 12)

Wild Planet Skipjack Wild Tuna, Sea Salt, Keto and Paleo, 3rd Party Mercury Tested, 5 Ounce (Pack of 12)

Armour Star Luncheon Meat, 12 oz. (Pack of 12)

Canned Vegetables Variety Of Options

Canned Fruits Variety Of Options

Rice

Beans

Pasta

Other Survival Items:
Generators:

Honda EU2200i 2200-Watt 120-Volt Super Quiet Portable Inverter Generator

WEN 56203i Super Quiet 2000-Watt Portable Inverter Generator w/Fuel Shut Off, CARB Compliant, Ultra Lightweight

A-iPower SUA2000iV 2000 Watt Portable Inverter Generator Quiet Operation, Lightweight

Westinghouse WGen7500 Portable Generator with Remote Electric Start - 7500 Rated Watts & 9500 Peak Watts - Gas Powered - CARB Compliant - Transfer Switch Ready

Champion Power Equipment 76533 4750/3800-Watt Dual Fuel RV Ready Portable Generator with Electric Start

Champion Power Equipment 100692 2000-Watt Ultralight Portable Inverter Generator

Extension Cords:

Southwire 2588SW0002 Outdoor Extension Cord- 12/3 American Made SJTW Heavy Duty 3 Prong Extension Cord- Great for Commercial Use, Gardening, and Major Appliances ( 50 Foot- Yellow)

AmazonBasics 16/3 Vinyl Outdoor Extension Cord | Orange, 100-Foot

Solar Panel Kit:

ECO-WORTHY 1KW Complete Solar Panel System Kit with Battery and Inverter for Homes House Shed Farm

Items For your Power Outage Kit:

RunningSnail Solar Crank NOAA Weather Radio for Emergency with AM/FM, Flashlight, Reading Lamp and 2000mAh Power Bank (Green)

Service Survival Emergency Radio & NOAA Weather Radio | 2000mAh Hand Crank Radio & Battery Powered Radio AM/FM NOAA Solar Radio Weather Radio Weather Radio LED Flashlight USB Power Charger

GearLight LED Tactical Flashlight S1000 [2 PACK] - High Lumen, Zoomable, 5 Modes, Water Resistant, Handheld Light - Best Camping, Outdoor, Emergency, Everyday Flashlights

Energizer Max 9V Batteries, Premium Alkaline 9 Volt Batteries (8 Battery Count)

AmazonBasics D Cell 1.5 Volt Everyday Alkaline Batteries - Pack of 24

Energizer Max C Batteries, Premium Alkaline, 4 Ct, Packaging May Vary

Energizer AAA Batteries (48 Count), Triple A Max Alkaline Battery

2-in-1 First Aid Kit (348-Piece) 'Double-Sided Hardcase' + Bonus 32-Piece Mini Kit: Perfect for Home & Workplace Safety [50 Person Kit]

Communications:

5-Way Powered Solar Hand Crank NOAA Weather Alert Radio,AM/FM Shortwave Survival Portable Outdoor Emergency Radio,2500mAh Rechargeable Battery Cellphone USB Charger, LED Camping Flashlight, SOS & Compass

Eton Elite Executive AM/FM/Aircraft Band/SSB/Shortwave Radio with RDS & Custom Leather Carry Cover, Model:NELITESATELLIT

Eton Elite, The Classic, Clear-Sounding AM/FM/LW/VHF/Shortwave with Single Side Band (SSB) Radio

BaoFeng UV-5R Dual Band Two Way Radio (Black)

Motorola Solutions T480 Talkabout Rechargeable Emergency Preparedness Two-Way Radio Single Unit (Red/White)

Ham Radio: The Ultimate Ham Radio Quickstart Guide - From Beginner to Expert (Ham Radio, Survival, Communication) Paperback

Tenway UV-5R Pro 8Watt Dual Band Two Way Radio with Ham Radio and Handheld Speaker Mic and NA-771 Antenna 6Pack and One USB Programming Cable

Ham Radio Walkie Talkie (UV-5R 8-Watt) UHF VHF Dual Band 2-Way Radio with 2 Rechargeable 2100mAh Battery Handheld Walkie Talkies Complete Set with Earpiece and Programming Cable

READER SUGESTIONS:

Ammo:

Federal .223 55 gr FMJ - Ammoland

Federal American Eagle 5.56 mm 55 gr FMJ - Ammoland.

Coolers:

Coleman 100-Quart Xtreme 5-Day Heavy-Duty Cooler with Wheels, Blue

Coleman 150 Quart Performance Cooler

AmazonBasics Reusable Hard Sided Rectangular Ice Pack, 6.5" X 4.3" X 1.2", Blue, Pack of 4

All American Sun Oven Dehydrating and Preparedness Accessory Package

Books:

The Resilient Gardener: Food Production and Self-Reliance in Uncertain Times

The Tao of Vegetable Gardening: Cultivating Tomatoes, Greens, Peas, Beans, Squash, Joy, and Serenity

TECSUN PL-310ET FM Stereo/SW/MW/LW World Band PLL DSP Radio Black


Radio/Charger:
Solar Power Bank, Qi Portable Charger 10,000mAh External Battery Pack Type C Input Port Dual Flashlight, Compass, Solar Panel Charging

Emergency Water Storage:

WaterBOB Bathtub Emergency Water Storage Container, Drinking Water Storage, Hurricane Survival, BPA-Free (100 Gallon)







comments powered by

Disqus