"The Best Mix Of Hard-Hitting REAL News & Cutting-Edge Alternative News On The Web"
April 22, 2017
Sanctuary City Crackdown Begins - First 9 Jurisdictions Targeted With Compliance Letter As DOJ Fires A Shot Across The Bow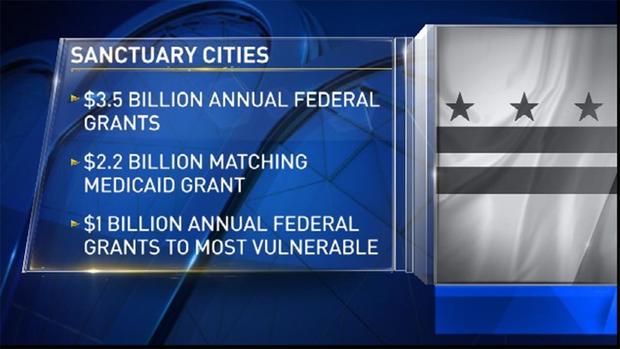 By Susan Duclos - All News PipeLine

On January 25, 2017, President Trump issued an Executive Order titled "Enhancing Public Safety in the Interior of the United States," where in Section 9, detailed specific actions to be taken by his administration to force states' compliance with immigration laws, or have their federal funding stripped.

Those actions included a requirement to determine which jurisdictions were not complying with 8 U.S. Code § 1373 - "Communication between government agencies and the Immigration and Naturalization Service," which states in general "Notwithstanding any other provision of Federal, State, or local law, a Federal, State, or local government entity or official may not prohibit, or in any way restrict, any government entity or official from sending to, or receiving from, the Immigration and Naturalization Service information regarding the citizenship or immigration status, lawful or unlawful, of any individual."

The Executive Order specified legal actions the Department of Justice was to take in order to properly punish states and jurisdictions that were refusing to comply with the law, generally referred to as "Sanctuary Cities." The steps included the following, from Section 9, sub-categories a & c.

Section 9, (a): In furtherance of this policy, the Attorney General and the Secretary, in their discretion and to the extent consistent with law, shall ensure that jurisdictions that willfully refuse to comply with 8 U.S.C. 1373 (sanctuary jurisdictions) are not eligible to receive Federal grants, except as deemed necessary for law enforcement purposes by the Attorney General or the Secretary.  The Secretary has the authority to designate, in his discretion and to the extent consistent with law, a jurisdiction as a sanctuary jurisdiction.  The Attorney General shall take appropriate enforcement action against any entity that violates 8 U.S.C. 1373, or which has in effect a statute, policy, or practice that prevents or hinders the enforcement of Federal law.

Section 9, (c): The Director of the Office of Management and Budget is directed to obtain and provide relevant and responsive information on all Federal grant money that currently is received by any sanctuary jurisdiction.

While many would wonder why grants and federal funding cannot simply be stopped, it comes down to the fact that the approval for said funds came from the previous administration, with no provisions to claw back money already approved, but there was a "compliance" mandate which under Obama, if it was not met they would be given a "reasonable amount of time," to fix issues that were causing non-compliance before becoming ineligible for funds.

Hence President Trump's January Executive Order, to set the stage for legally stripping Sanctuary Cities of Obama approved federal funding for refusing to comply with immigration laws.

On Monday, March 27, 2017, Attorney General Jeff Sessions issued a statement, seen in the video below, explaining "some states and cities have adopted policies designed to frustrate the enforcement of our immigration laws.  This includes refusing to detain known felons under federal detainer requests, or otherwise failing to comply with these laws.  For example, the Department of Homeland Security recently issued a report showing that in a single week, there were more than 200 instances of jurisdictions refusing to honor Immigration and Customs Enforcement (ICE) detainer requests with respect to individuals charged or convicted of a serious crime.  The charges and convictions against these aliens include drug trafficking, hit and run, rape, sex offenses against a child and even murder."

Towards the end of his speech, he urged states to comply with the law and made it crystal clear that the Department of Justice will require jurisdictions seeking or applying for Department grants to certify compliance with Section 1373 as a condition for receiving these awards.


This policy is entirely consistent with the Department of Justice's Office of Justice Programs (OJP) guidance issued last July under the previous administration. This guidance requires state and local jurisdictions to comply and certify compliance with Section 1373 in order to be eligible for OJP grants. It also made clear that failure to remedy violations could result in withholding of grants, termination of grants, and disbarment or ineligibility for future grants.

The Department of Justice will also take all lawful steps to claw-back any funds awarded to a jurisdiction that willfully violates Section 1373.




SHOT FIRED ACROSS THE BOW

On April 21, 2017, the Department of Justice fired the first shot across the bow, took the next legal step to either force compliance or to "claw-back" grants and funding that was awarded to jurisdictions protecting criminal illegal aliens from Immigration Enforcement, by sending out nine letters demanding documentation which validates the jurisdictions are complying with 8 U.S. Code § 1373. That validation must also be supported by a legal opinion by counsel, to be received no later than June 30, 2017.

Those letters, embedded below, are addressed to Kathleen Howard, Executive Director, California Board of State and Community Corrections; Eddie T. Johnson, Chicago superintendent of Police; Mayor Mitchell Landrieu, City of New Orleans, Criminal Justice Coordination; Mayor Jim Kenney, City of Philadelphia; Yolanda King, County Manager, Finance-Community Resource Management; Mayor Carlos A. Giminez, Miami Dade County, Miami Dade Police Department; Christopher Abele, County Executive, Milwaukee County; Elizabeth Glazer, Director, New York City Mayor's Office of Criminal Justice, and; Toni Preckwinkle, President, Cook County (IL) Board of Commissioners.

According to Immigration Prof Blog, the funding in question for those specified range from $11,000+ for Clark County, NV, to $4.3 million to the City of New York. 


The City of New York received a $4.3 million grant in 2016. Other places sent a letter included the State of California, which received $10.4 million, divvied up among 128 cities and counties; Chicago and its county, Cook, shared a $2.3 million grant; New Orleans, $265,832; Las Vegas's Clark County, $11,537; Miami-Dade County, $481,347; Milwaukee County, $937,932; and Philadelphia, $1.7 million.

Note- We are surprised that Travis County, Texas, was not included in these letters, as they alone were responsible for 70 percent (142 of the 206)  of the "declined detainers" shown in the first Ice Declined Detainer Outcome Report. Whether that is because they were not eligible for the specified Byrne JAG Grant, or whether they are leaving it in the hands of the Texas Governor who has taken a very public stance against "Sanctuary Sally," the sheriff responsible,  is unknown at this point. 




DOJ Proof of Compliance Letters To Sanctuary Cities uploaded by Susan Duclos on Scribd



BOTTOM LINE

Future approval for funding, grants or federal funds will no doubt be dependent on compliance with the law, but in order to "claw back" funding already approved, but which hasn't been allocated yet, requires steps to assure it is being done in a legal manner, because there is no doubt these, and future jurisdictions targeted, will attempt to fight back legally, with a mindset that they can flout federal law and still expect to receive federal funding.

Cancelling funding to Sanctuary Cities was one of the promises in President Trump's Contract with the American Voter, as part of his "Five actions to restore security and the constitutional rule of law," to which I have been carefully following because it was key to my early support of Donald Trump during the campaign season.

With more than a 100 jurisdictions implementing Sanctuary policies, we fully expect to see more of these letters highlighting other types of grants, sent to jurisdictions already approved for funding by the previous admin, and hopefully when the new rounds of grants and federal funding applications start coming in, any and all jurisdictions that are not in full and complete compliance, will be denied any federal funding.

If they do not comply with federal law meant to keep our nation safe, then they should received nothing by way of federal funding.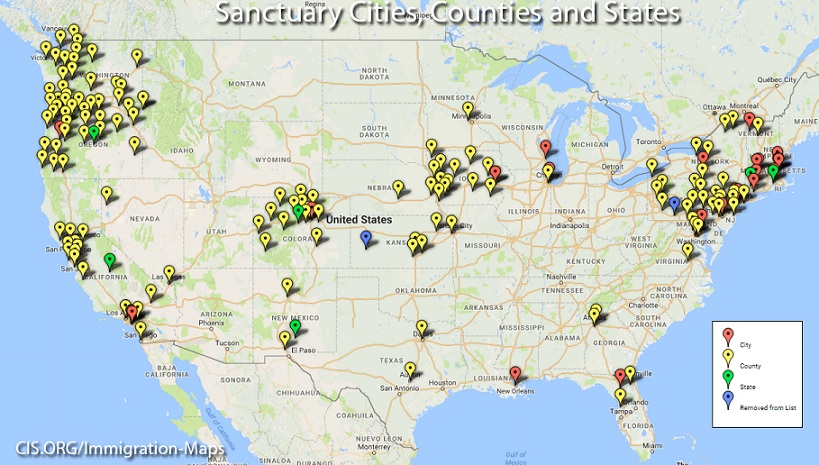 Help Keep Independent Media Alive, Become A Patron for All News PipeLine At https://www.patreon.com/AllNewsPipeLine



comments powered by

Disqus