Please Visit Whatfinger News - Conservative Frontpage founded by veterans.
"The Best Mix Of Hard-Hitting REAL News & Cutting-Edge Alternative News On The Web"
Mob Attacks, Outing Sexual Assault Victims & Threatening Business Owners Are All Just 'Collateral Damage' In Liberals Quest For Power As Dem Leaders Says 'So Be It'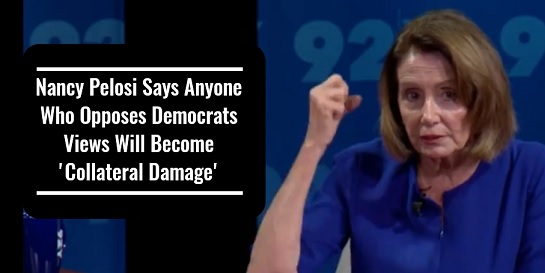 By Susan Duclos - All News PipeLine

Browsing the news this morning I noted a number of articles detailing attacks against conservatives, something we are seeing almost daily as the Breitbart Rap sheet of media approved harassment, threats, and attacks now tops 600 examples, all encouraged and incited by Democrat politicians, along with their media cohorts, in the quest to obtain more government power for liberal politicians.

LIBERAL MOB BEHAVIOR INTENSIFIES

In Nevada a democrat operative, Mike Stark, was arrested after physically assaulting a female campaign manager for gubernatorial candidate Adam Laxalt.


"I could not move," Davidson said in her statement to police, which was shared with the Free Beacon. "Stark grabbed my right arm, twisted it behind my back, squeezed it very hard, and every time I tried to pull away he pulled me closer and gripped my arm tighter."

"I kept screaming help me, stop hurting me, you are hurting me," she wrote. "Stark would not stop and grabbed my arm tighter and pulled me closer to him and the door. I was terrified and at that point saw multiple colleagues try to pull him off me but Stark held tighter."

The campaign shared images of bruising on Ms. Davidson's arm, also detailing injuries to her neck, shoulders and lower back.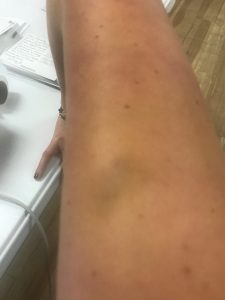 (Image- Laxalt Campaign)


Stark was following the Laxalt campaign around, and is an operative for David Brock's (Media Matters founder) American Bridge 21st Century super PAC (Soros funded) . Stark also has a history of physically assaulting female conservatives, as documented at Free Beacon:


Stark has a history of aggressive behavior when tracking Republicans. Last year he was arrested, and later convicted, for disorderly conduct in Virginia as he attempted to cover Republican gubernatorial candidate Ed Gillespie, according to the Washington Post. Stark was similarly arrested back in March after pushing a female staffer for Interior Secretary Ryan Zinke to the floor and was charged with simple assault by U.S. Capitol Police.

A description by the campaign regarding this attack against Davidson, provides a clear look into the mob-like behavior of Democrat operatives in today's political climate.


"After an education rally, a large male liberal operative began chasing members of the Laxalt campaign and the Attorney General, getting physically aggressive to push himself onto staff. When the team entered a side room and closed the door, the man pushed the door open—trapping Kristin in the doorway, grabbing her arm, and forcefully twisting it behind her back and squeezing. She screamed, "You're hurting me! Stop hurting me!" but he would not stop and grabbed her arm tighter—creating painful bruises and straining her neck, shoulder, and lower back. The man would not relent and screamed: "You can make this stop, Adam." Kristin was terrified and begged for him to stop and could not get free until Las Vegas City Marshals intervened. They arrested him, and while Kristin's head, neck, and arm were throbbing with pain, they took him to the Las Vegas City jail."

A large man, holding a much smaller woman, twisting her arm behind her back while she is screaming that he hurting her, looking at the Republican candidate and saying "You can make this stop, Adam." Sounds like it came directly from a gangster movie script.

This is the perfect visual of what the liberal Democrat party has become today.

Another story detailed by multiple websites, including The Hill, Free Beacon and City Pages, shows that Minnesota State Rep. Sarah Anderson was attacked after she stopped her car to tell a self-proclaimed "anarchist" that he shouldn't be kicking over political signs legally placed along the roadway. After informing her that he could do what he wants because he is an "anarchist," he then backed her into the roadway. She managed to get back to her car, then noted he walked over to a gas station, where she managed to get a picture of him as he started charging at her again, saying he punched her in the arm.

She spoke with local news reporters to describe the attack, shown below.



 


The next story I saw while browsing the Internet, was about another Republican Minnesota House candidate, Shane Mekeland is recovering from a concussion after he was attacked and "blindsided"  as he was speaking to patrons at a restaurant and bar.

According to the Star Tribune, the suspect, who has not been named publicly yet, admitted to assaulting Mekeland without provocation, and the police were "awaiting medical reports and surveillance footage," as part of their investigation. No arrest has been made yet,

Mekeland issued a statement via his Facebook page:


On Friday evening, I was assaulted in Benton County. I suffered a concussion and the incident is now in the hands of law enforcement.

While I had never met my assailant, the words he yelled at me before he attacked lead me to believe his actions were politically motivated. When I chose to run for office, I expected to be politically attacked, but never physically. I weighed whether or not to share this today, but ultimately I think we all need a reminder to be civil to each other regardless of our perspectives.

Finally, thank you to those of you have reached out — my family and I are so grateful for your prayers and words of support.

Mekeland did not publicly name the bar and restaurant where the attack took place, which is probably good news for the owners of the establishment, as the next story shows.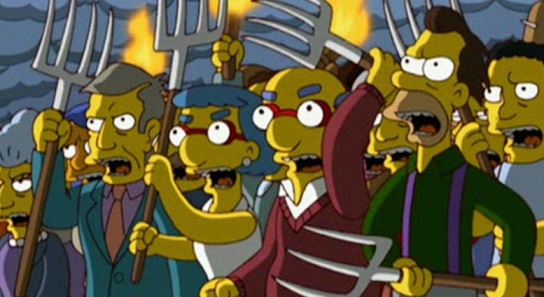 Courtney's Restaurant and Catering in Mt. Juliet, TN, rented an event room at his establishment to U.S. Senate candidate Rep. Marsha Blackburn on Saturday for a meet-and-greet stop. 

The liberal social media mob instantly started attacking the owner, Tom Courtney and his employees, calling him a "Nazi" an abuser, threats to his life, and his employees are being verbally attacked.


The Blackburn campaign called him recently to rent out the room at 7 a.m. last Saturday for a breakfast and meet-and-great stop.

"I did not think anything of it," Courtney said. "I run a business. We were going to serve a hundred-plus people."

Courtney said he initially didn't endorse the candidate, and just was being a businessman, but after what he's been through he can support only Blackburn.

"I'm one who votes for the person, not the party," he said. "But with everyone saying they are going to boycott my restaurant because Marsha came here to treat my employees and customers, I can't even fathom people like that."

The restaurant owner said he posted a picture of Blackburn on social media and thanked the candidate for coming to Mt. Juliet. The backlash was immediate.

"I was called a Nazi sympathizer of all things," he said. "It's hurt my business, my staff, me and my family. I've never seen grown people, or whoever is hidden behind the screens, act in such a manner. I have partners."

The poor man was just trying to make a living and made it clear that if Blackburn's opposition candidate wanted to rent an event room, he would gladly have done so. He also maintains that his establishment does not discriminate in anyway against people or their political affiliations. It was a business decision and the liberal mobs just blindly attacked.

This is the Democrat party today.

The next story I saw, was a follow up on the egregious blunder on the part of ND Democrat Senator Heidi Heitkamp after her campaign publicly named sexual and domestic abuse survivors, who did not give her permission to publicly name them.

Heitkamp was using sexual and domestic abuse survivors as fodder against her Republican candidate and through some type of massively damaging mistake, someone on her campaign publicly outed women without approval or permission.

Heitkamp has apologized profoundly for the error, but the backlash appears to have just begun as some are talking about taking legal action, others are saying "the damage has already been done." 

Making matters worse, there is at least one victim who is now terrified because she has been in hiding since her assault, and the ad Heitkamp named her in, also revealed her town.

Via KFYR-TV:


Many taking to social media claiming their names were published on this ad without their consent. One victim in her twenties says this all started after she was tagged in a post that she never responded to asking for women to initial Heitkamp's letter to Congressman Cramer.

Victim: "Some of the woman that were put on the list, their names on the list are spelled exactly how their names are on Facebook. It's not actually how they're spelled in person. So I know these names came strictly from Facebook."

She says she's terrified for her safety like many other victims because of this situation.

Victim: "There are people that I'm in hiding from when these actions happened to me when I was a teenager. My name being blasted out there, you know, especially I didn't realize this until this morning that the town that I live in was also posted on this."

Several victims say they feel humiliated and hurt and say it will take a lot more than a phone call from Heitkamp to make things better.

Several people say they are looking into seeking legal action against Heitkamp.

Below one of the women speaks to CNN, describing how she never approved, never responded to the Facebook post that tagged her, to which Heitkamp's people used to obtain names to use in her ad. 



Using and abusing alleged female sexual assault victims has become campaign fodder for liberals to accuse Republicans of not caring about women, with the recent example of Democrat Senator Diane Feinstein, or other Democrat operatives, leaking a letter from Christine Blasey Ford to the press in an attempt to derail the Kavanaugh confirmation, after Ford specifically asked her name be kept out of the public eye.

Now Heitkamp, mistake or not, was using sexual and domestic abuse victims as political fodder to attack her Republican opponent.

There is no excuse for this, but what finally made me put aside anything else I wanted to work on in favor of this article, is seeing the top Democrat, House Minority Leader Nancy Pelosi, the woman most likely to become Speaker of the House if Democrats take control of the House of Representatives after the 2018 midterms, say "If there's some collateral damage, for some others that don't share our view, well so be it."

She stated "We owe the American people to be there for them, for their financial security, respecting the dignity and worth of every person in our country, and if there is some collateral damage for some others who do not share our view, well, so be it, but it shouldn't be our original purpose."



BOTTOM LINE

Now, Pelosi was apparently talking about the Democrat agenda as a whole, but that is the type of callous mindset that the violent faction of the liberal Democrat party seems to be in agreement with. Any violence, any attacks, any harassment including the death threats and physical harm, is "justified" in order to obtain power and enact their policies.

Anyone harmed in their quest for power is just "collateral damage."

Every single Independent and Republican political candidate should run that statement by Pelosi in every single campaign ad from now until the midterm elections, because that is the leader of the Democrat party.





NOTE TO READERS: ANP Needs Your Help. With digital media revenue spiraling downward, especially hitting those in Independent Media, it has become apparent that traditional advertising simply isn't going to fully cover the costs and expenses for many smaller independent websites.

Any extra readers may be able to spare for donations is greatly appreciated.

One time donations or monthly, via Paypal or Credit Card:



Or  https://www.paypal.me/AllNewsPipeLine
Donate monthly from $1 up by becoming an ANP Patron.




comments powered by

Disqus