"The Best Mix Of Hard-Hitting REAL News & Cutting-Edge Alternative News On The Web"
July 20, 2016
RNC Protests Heat Up On Day Two - Reports Of Bags Of Urine Thrown, Alex Jones Attacked, And Riot Squads Sent In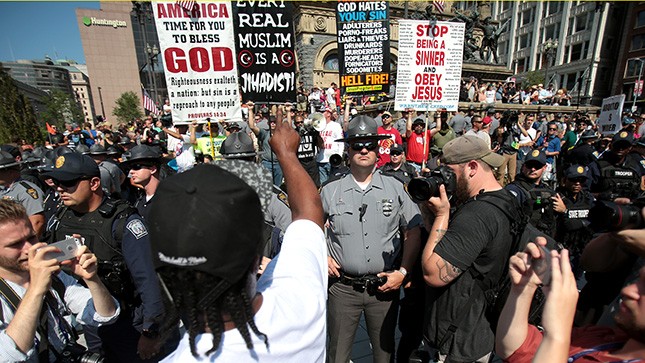 By Susan Duclos - All News PipeLine

While the mainstream media attempts to downplay the protests which  heated up on Day Two outside the Republican National Convention, others attending are reporting clashes, attacks and protesters throwing bags of urine at police officers and/or each other.

OUTSIDE THE CONVENTION

Yesterday it was mentioned to me that there had been very little news reporting on twhat was happening outside the Republican National Convention, given the fact that so many groups had planned protests and I responded, that is good news and bad news. If no reports were coming out there was no violence, that was the good news. The bad news is that if those craving attention and headlines don't get them, they will turn violent.

Unfortunately, on day two, that started happeing as Pamela Geller reports that a violent crowd of protesters started lobbing bags of urine at police and two to three hundred police officers were attempting to "handle the mayhem."

While city officials denied the urine throwing, Geller's report is confirmed by a local report from KPLC 7,  and one from Cleveland 19,  stating "Activists from Black Lives Matter, Westboro Baptist Church and the KKK were in the square and, at one time, were said to be throwing urine at each other." 

Alex Jones from InfoWars is in Cleveland as well and reports that he "was attacked by Communist agitators outside the Republican National Convention Tuesday while leading a protest through Cleveland's Public Square."

While using a bullhorn to denounce the divisive politics of the left, Jones was attacked by a group carrying red flags who were ironically chanting "Nazi scum."

An off-duty police officer named Kevin who witnessed the attack explained in detail both how it began and the local police's response.

"There was two gentlemen from the Communist Party that came in and basically attacked Alex," he says, noting that he blocked one of the men from punching Jones as well.

This morning Jones published of video of what happened, shown below:




USA Today reports that police have received at least a dozen calls from concerned parties about a group of "anarchists," dressed in black and wearing masks, calling them a "pop-up group" and claiming they are the "only"  disrupting force so far in the series of protest events in Cleveland.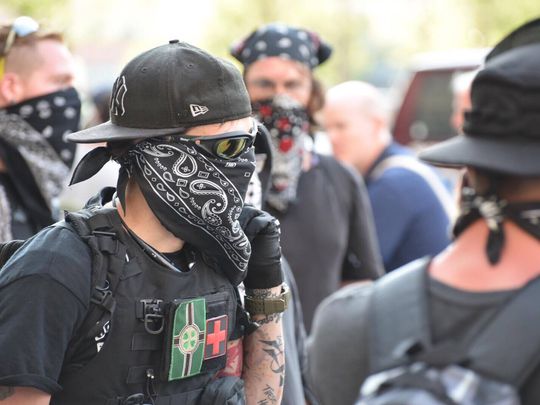 Police Chief Calvin Williams issued a warning Tuesday to an undisclosed number of loosely-affiliated masked protesters who have triggered unusual anxiety among visitors and local residents with their unplanned appearances across the city: "If you are a member of a group that causes you to have to hide your face, then you probably need a different cause."

Protests outside the Republican National Convention have been peaceful, but police have received at least a dozen calls so far related to concerns about the small groups of black-clad anarchists who often don masks during demonstrations and other protests.

Following some of the calls, Williams said, officers have recovered slingshots and gas masks, both banned from the downtown event zone for the duration of the convention. That has prompted concerns about the group's intentions, Williams said.

"If you have a different issue (other than participating in peaceful protests), then we've got a problem," the chief said during a Tuesday morning briefing.

The Secret Service was also forced to temporarily stop transporting lawmakers and other officials to and from events due to "angry street protests," with Fox News reporting it as a "midday standoff at an intersection close to where GOP congressmen and others do interviews at the TV networks' makeshift studios -- halting traffic and sending nearly a hundred police officers to the scene."

The Atlantic was on the scene and report the Revolutionary Communist Party was also there holding signs that read "America was never great," and "we need to OVERTHROW the system."  Apparently those communists are also Black Lives Matter sympathizers that were spewing anti-police rhetoric as well.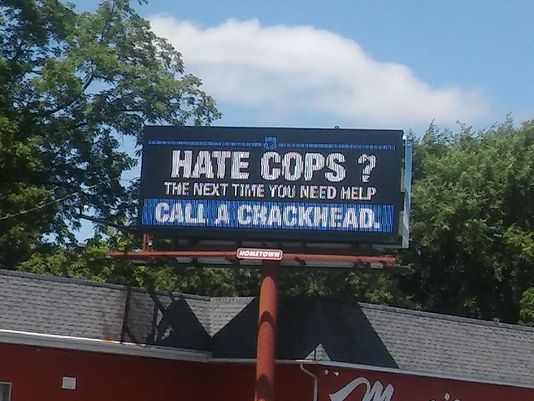 As a sidenote although it isn't Cleveland/RNC related, it is good to see some citizens fighting back against all the anti-police sentiment across the country as evidenced by a billboard in Indiana that said "Hate Cops? The Next Time You Need Help Call A Crackhead." Unfortunately, it seems free speech only counts for those hating on cops, since that particular message was removed from rotation.

Interestingly enough it is a Yahoo Finance report titled "Cleveland Protests Turn Violent as Trump Receives GOP Nomination," in the very last segment of their report that offers a glimpse of what the MSM isn't reporting:



As the states were finalizing the selection of Trump, an Ohio State Highway Patrol officer stood guard at one of the many doors to the Quicken Loan arena, listening to radio reports of what was going on out in the streets.



"Protesters are moving up 9th Street," he said to a reporter. "They've got injuries...They sent in the riot squad."


Other reports indicate there were a handful of arrests and that law enforcement was offering much "leeway" towards protesters, and have also confiscated items that have been banned from the event zone.



INSIDE THE CONVENTION

On day one it was Rudy Giuliana that brought down the house with a speech that generated much enthusiasm, but on day two, Donald Trump was officially named the Republican nomiee for president and it was his son, Donald Trump Jr. that generated the most excitement with his speech about his father.

Key Quote "For my Father, impossible is just a starting point."



Below: Watch the full replay of RSBN's live streaming coverage from the Republican National Convention for Tuesday, July 19, 2016 from Cleveland, OH. Watch the full speeches from the convention floor and see reports and updates from RSBN hosts at Quicken Loans Arena.



Day three from the RNC program: 

Wednesday: Make America First Again


Headliners: Lynne Patton; Eric Trump; former Speaker of the U.S. House of Representatives Newt Gingrich and his wife, Callista; and Indiana Governor Mike Pence, whom Donald Trump has chosen as his vice presidential running mate.








comments powered by

Disqus