"The Best Mix Of Hard-Hitting REAL News & Cutting-Edge Alternative News On The Web"
February 14, 2016
'They Killed Judge Scalia!' Reports 2nd Amendment Now In Jeopardy - When 'Conspiracy Theories' Are Proven True, Are 
They Still 'Conspiracy Theories'?

By Stefan Stanford - All News Pipeline - Live Free Or Die

Soon after the death of Supreme Court Justice Antonin Scalia, '

conspiracy theorists

' and those who like to dig deeply into finding out truth began asking who would benefit the most by the Judge's death and as our videographers point out in the 1st two videos below, there are an awful lot of legitimate questions surrounding Justice Scalia's death. Why would

his death have been ruled 'natural' hours later, prior to any autopsy being done

? Was

Scalia assassinated

as our videographers argue? We are told that crimes are solved by asking 'who benefits the most' and 'who had a motive'? Clearly, the Obama administration had a motive AND benefits the most from Scalia's death.  

Was the death of Judge Scalia a 'message to others' that 'we can get you too'? According to the new SQAlert republished directly below, there is something terribly wrong with this picture.:

OBSERVATIONS ON JUDGE SCALIA'S MURDER,FROM AN INTERCESSOR--THIS WAS A MESSAGE TO OTHERS: WE CAN GET TO YOU

STEVE,

I THINK THERE IS SOMETHING MORE WRONG WITH THIS PICTURE:
THE PILLOW WAS LEFT OVER SCALIA'S HEAD. ANYONE WANTING TO COVER UP THIS CRIME WOULD HAVE REMOVED IT. AND HIS HANDS LOOKED PEACEFUL, LIKE THERE WAS NO STRUGGLE. IT APPEARS TO ME THAT SOMEONE PUT THEM THIS WAY ONCE SCALIA WAS DEAD, AND MAY ALSO HAVE STRAIGHTENED THE BED.
. IT MAY BE THE REASON THAT HIS FAMILY IS NOT INSISTING ON AN AUTOPSY.ONE MORE THING ON THIS DEATH IS NEVER AS CLEAN AS THE PICTURE SOMEONE TRIED TO GIVE THE PUBLIC. HANDS ALMOST FOLDED, SHEETS NOT RUMPLED, GIVE ME A BREAK! IS THERE ANYONE WHO GOES TO BED AND SLEEPS LIKE THAT, WITH UNRUMPLED SHEETS?

PICTURE IS WAY TOO CLEAN TO BE REAL!

As was quickly pointed out by Matt Drudge on the Drudge Report, an entire slew of cases with conservative causes that were to be argued before the court this year including immigration, 2nd Amendment Rights and abortion may now turn against conservatives with the death of Scalia. Could the assassination of 'Constitutionalist' Scalia be what helps the globalists ensure the completion of their 'new world order' and the long-planned overthrow of America? 

The National Rifle Association has come out since Scalia's death to warn that the 2nd Amendment is now in danger. With Barack Obama reportedly willing to spend billions of dollars in 2017 to take away Americans rights we have to ask, did the Obama administration have Judge Scalia killed? It surely wouldn't be the 1st time govt had political oppostion killed. 

This death has 'targeted murder' written all over it and many who remember the murder of Andrew Breitbart, likely via the CIA's 'heart attack gun' which leaves the death appearing 'natural', agree that Scalia's murder may have been carried out in the same manner. Was the murder of Scalia one of the next moves necessary by this administration to ensure they'll be able to confiscate firearms from all 50 states and institute martial law and their 'new world order' in 2016? For those who are not yet aware of the CIA's heart attack gun, the 3rd video below will bring you up to speed.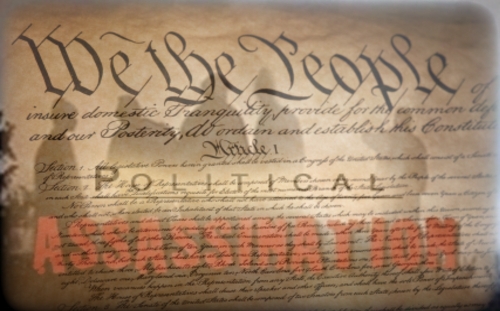 Was Scalia 'eliminated' by a covert operation originiating within the Obama administration due to the power that he held in his position within the US Supreme Court that he could have used to help shut down Obama's push to overthrow America? If what were once called 'conspiracy theories' are proven true, are they still 'conspiracy theories'? The final video below takes a look at 50 recent 'conspiracies' that have been proven based upon facts, eyewitness testimonies, classified documents and government and independent investigations. 

Focusing on events such as the 1999 'shoot down' of a plane with John Kennedy Jr. in it to help ensure a Hillary Clinton NY Senate seat, this video is not for everyone and clearly helps to prove what 'criminals within govt' don't want us to know. 

While we do not have proof that Mr. Scalia was assassinated by Obama's goon squad, we have to ask these questions again, why was this labeled a 'natural death' prior to an autopsy being done? Who stands to benefit the most from his untimely death? Was Scalia 'eliminated' because he stood in between Obama's goals for an America w/o a Constitution, w/o 2nd Amendment Rights, w/o rights for the unborn? What would have an 'alive' Justice Scalia have been able to accomplish against the Obama administrations continued push to allow illegal aliens, members of ISIS and other mass-murdering criminals into America? 

In the 3rd video below, we learn all about the CIA's 'heart attack gun' that allows them to kill anybody without being detected. How many more Andrew Breitbart's and Judge Antonin Scalia's are there out there who have been 'taken out' by corrupt and criminal members of our own government? If the death of Antonin Scalia is any indication of the way America dies, America, too, dies 'deep in slumber'. 

Rest in Peace US Supreme Court Justice Antonin Scalia.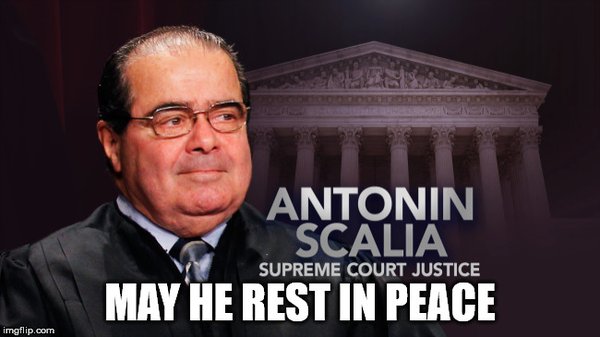 comments powered by

Disqus