Please Visit Whatfinger News - Conservative Frontpage founded by veterans.
"The Best Mix Of Hard-Hitting REAL News & Cutting-Edge Alternative News On The Web"
Triggered By A Trump Bumper Sticker, Deranged Woman Rams Her Car Into Another - Dangerous Liberals & Their 'Hate Movement' Against MAGA Supporters Hits Staggering Heights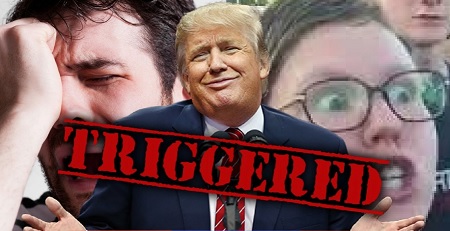 By Susan Duclos - All News PipeLine

According to the Cape Cod Times, a Massachusetts woman, Chloe Wright, 25, became so triggered and enraged by seeing a Trump bumper sticker on a man's car, she started honking at him as he was stopped at a red light, then followed him to the next one, and kept honking, while yelling at him. The man, thinking something was wrong with the back of his car stepped out of his vehicle.


"She said, 'You voted for Trump?'" the man wrote in a statement. "I said yes. She called me a racist and several other names."

As the man began recording the incident on his phone, the woman drove around his car, prompting him to step back into the driver's side door opening, he told police, according to the report. The woman then drove at him and hit the open door, he said, according to the report.

"She bent my door and I had to lean back to avoid getting hit," the man wrote. "She also hit the side of my car."

The woman drove away down North Street, the man told police.

The man's recording of the incident shows the woman's car, a gray Honda Civic, drive around his car and hit the open driver's-side door, according to the report. A statement by the man's girlfriend, who was in the car with him during the incident, confirmed the man's account, the report says.

She was arrested, charged with assault with a dangerous weapon, and faces additional charges of vandalizing property and leaving the scene of property damage. Wright pleaded not guilty, was released with a $1,250 bail and ordered stay away from the victim. Her pre-trial hearing is scheduled for August 28, 2018.

This is just the latest example deranged liberals getting triggered and becoming violent against a Trump supporter, something that is happening with increasing frequency.

On the other side of the country, in California, on Hollywood Boulevard, another man was triggered by a man wearing a Trump shirt, which ended in a brawl, the second time this has happened in a four day period.




On July 25th, it was reported that a man, Clifton Ward, was indicted after threatening to assault and murder Republican congress woman Diane Black, in yet another example in a growing list of GOP politicians being threatened with death, as well as their families, which ANP reported on just last week.

Those GOP politicians include; Senator Rand Paul, a death threat against him and a threat to "chop up" his family with an ax; Representative Lee Zeldin was targeted along with his wife and young daughters; A campaign volunteer of Zeldin's was also almost run over after a liberal became triggered seeing a MAGA hat in a car; An intern of Representative Brian Mast was told over the phone "I'm going to find the congressman's kids and kill them"; Republican Representative Jason Lewis received "sick messages" which threatened him and his daughters."

Mobs chasing Trump supporters out of businesses, as crazed libs attack teen Trump supporters because of their MAGA hats. One spitting on the hat, and another ripping it off a teenagers head (with some hair) then throwing a drink in the kids face. 


Since January of 2018, there are 140+ acts of documented harassment, violence, vandalism, and hate that have been perpetrated against Trump supporters, Trump administration officials, Republican politicians, and conservatives, by triggered liberals.

THAT IS TRIGGERED AND DANGEROUS...... BUT THE MEDIA CALLS 'HECKLERS' THE REAL DANGER

I read about the 542 acts of harassment, threats, and violence against Trump supporters, watching that list grow weekly, sometimes daily, but the media, rather than informing the public of how dangerous triggered liberals with "Trump Anxiety Disorder," aka Trump derangement Syndrome (caused by the media!) have become collectively, instead have spent the last two days whining because CNN's Jim Acosta was heckled at a Trump rally by Americans utilizing their First Amendment free speech right by chanting "CNN SUCKS."

A look at CNN media personalities, has Acosta himself leading the pack, claiming "I'm very worried that the hostility whipped up by Trump and some in conservative media will result in somebody getting hurt."

Ironic that he has never once shown any concern about "hostility" whipped up by the media, and how that has already resulted in "people getting hurt."

That was followed up by CNN's political analyst April Ryan claiming Acosta's "life was in jeopardy" at that rally becuase President Trump "stoked the flames."

More irony, since the actual violence, as opposed to the words "CNN SUCKS," against Trump supporters, is never concerning to Ryan

CNN'S Brian Stelter just had to weigh in, claiming that heckling Acosta is part of a "hate movement," against the press. Yes, really. If you dare criticize the press, the same press that allows their guests to call Trump supporters racists, compare them to Nazis and rapists, and any other label they can think of, it is a "hate movement."



Contrary to Stelter's assertion, as the video above shows, it is the media that is creating a "hate movement".... against Trump supporters. 

As Steve Quayle highlighted on his site on Thursday, Acosta's whining prompted other media personalities and celebrities, and the 'blue-checked" triggered liberals on Twitter to join in, calling for Trump supporters to be "euthanized," calling them Nazis and KKK, among other overly dramatic declarations, claiming it "terrifies" them to see a crowd of Americans, using their 1st Amendment right of free speech, telling Acosta that CNN SUCKS.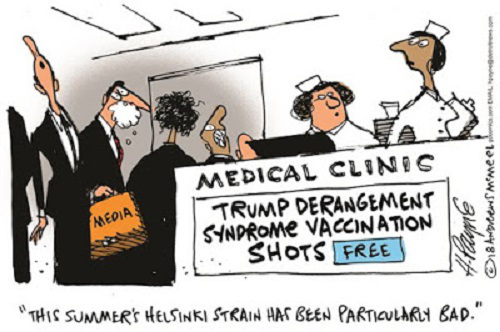 BOTTOM LINE

The dramatic rise in violence, harassment and hate against MAGA supporters and conservatives across the country appears to coincide with the ever increasing media hysteria seen every day, whether on liberal cable news, the pages of establishment media papers, or late night talk shows.

Note - Right before hitting publish, doing one last browse across the internet, I see that in Thursday's press briefing, Jim Acosta, attempted to demand the White House Press Secretary Sarah Sanders, say the press were not the enemy of the people, her response is something I would like to note because she highlights the same thing we at ANP have spoken about on multiple occasions.

At approximately the 1:10 minute mark, she points out "The media resorts to personal attacks without any content other than to "incite anger." Her full response is well worth the two minutes it takes to listen.





NOTE TO READERS
: 
ANP Needs Your Help

. With digital media revenue spiraling downward, especially hitting those in Independent Media, it has become apparent that traditional advertising simply isn't going to fully cover the costs and expenses for many smaller independent websites.


SECOND HALF OF OUR ANNUAL PAYMENT FOR ANP DOMAIN, HOSTING AND DEDICATED IP IS DUE THIS MONTH (AUG.), soo...


Any extra readers may be able to spare for donations is greatly appreciated.
One time donations or monthly, via Paypal or Credit Card:

Or  https://www.paypal.me/AllNewsPipeLine
Donate monthly from $1 up by becoming an ANP Patron.




comments powered by

Disqus