"The Best Mix Of Hard-Hitting REAL News & Cutting-Edge Alternative News On The Web"
December 1, 2016
The 'Queen Of Blood' Is Back Throwing Her 'Hail Mary' Pass! Why Won't Hillary Clinton Just Go Away?
- GOP Files FEC Complaint Over Clinton/Stein Collusion On Recount Efforts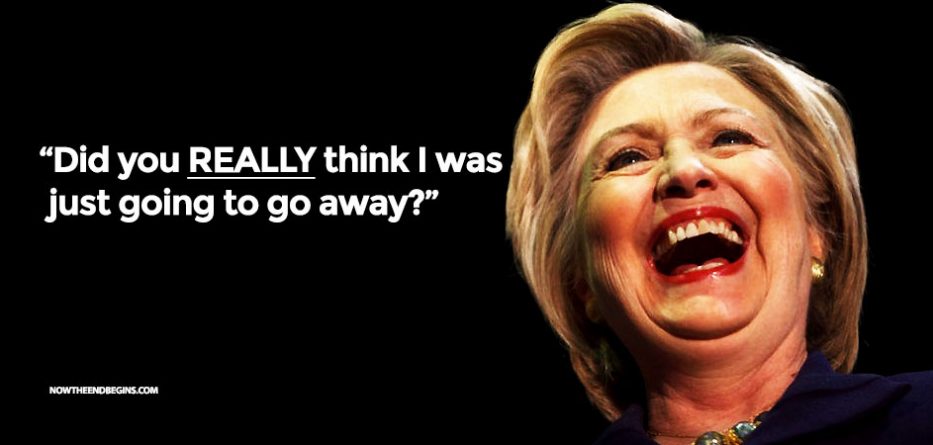 By Susan Duclos - All News PipeLine

On November 8, 2016, we at ANP stayed up with our readers until 4 am watching the election results. We saw Donald Trump score one of the biggest upsets in our political history as he won the election. We watched his victory speech, stayed tuned in to see Hillary Clinton's concession speech, but instead she sent her campaign Chairman John Podesta out to send all her supporters home, promising she would speak the next day. The following day we watched Clinton's concession speech, where she stated "we must accept this result and then look to the future. Donald Trump is going to be our president. We owe him an open mind and the chance to lead."

We thought that Hillary Clinton aka 'The Queen of Blood" would just fade away into obscurity because according to Clinton, to question the results of a presidential campaign is a threat to "democracy," her words, not mine, because I happen to know we are a Republic that holds democratic elections because our founding fathers were leery of a straight democracy.

I am sure everyone remembers how "horrified" Hillary Clinton was when Donald Trump refused to say whether he would accept the election results, after all, Hillary spent the last weeks of her campaign tweeting and giving speeches that lamented how he was threatening democracy by leaving his options open.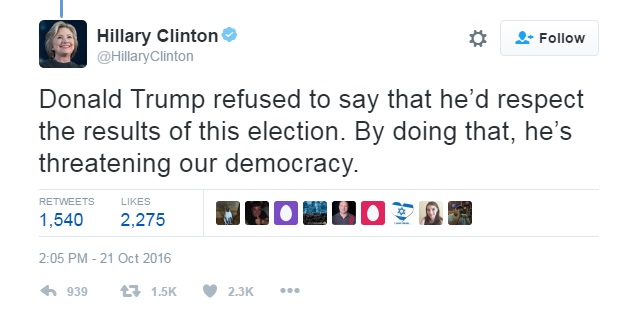 Then on November 22, 2016, it was reported by NY Mag that a  group of "activists held a conference call with Clinton campaign chairman John Podesta and campaign general counsel Marc Elias," to encourage the Clinton campaign to challenge the results in three swing states, Wisconsin, Michigan and Pennsylvania, all states that Donald Trump won but that team Hillary had expected to win.

The very next day, November 23, 2016 it was reported that Green Party candidate Jill Stein, who had received less that one percent of the vote on election day, was expected to file petitions for a recount in just three states, coincidentally (or not!) those states were the very same states that were specified in the NY Mag article, WI, MI and PA.

Stein set up a fundraising page to collect $2.5 million for the effort, then after reaching that goal increased that amount to 4.5 million, then a day later raised it again to 7.5 million, as we reported on a previous piece asking if this was a big con.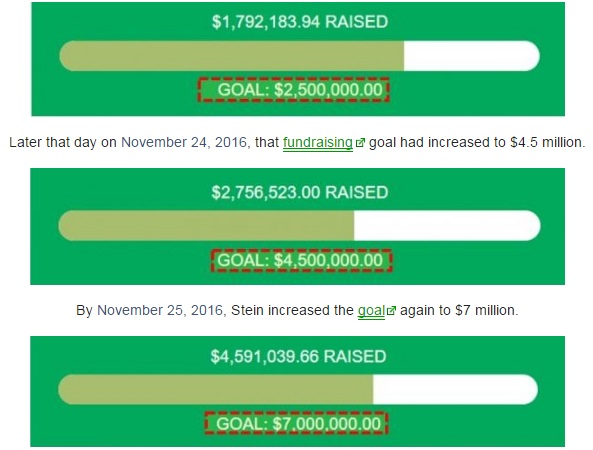 For the record, Stein's new goal is $9.5 million.

HILLARY CLINTON WON'T GO AWAY!

In the midst of Stein's amazing donation drive, where she collected more money in a matter of days than she managed to collect during her entire presidential campaign, the Hillary Clinton campaign decided to participate in the recount efforts, despite her campaign general counsel stating they "had not uncovered any actionable evidence of hacking or outside attempts to alter the voting technology," and claiming "that a recount has been initiated in Wisconsin, we intend to participate in order to ensure the process proceeds in a manner that is fair to all sides."

In the Elias announcement at Medium, he stated the following:


If Jill Stein follows through as she has promised and pursues recounts in Pennsylvania and Michigan, we will take the same approach in those states as well. We do so fully aware that the number of votes separating Donald Trump and Hillary Clinton in the closest of these states — Michigan — well exceeds the largest margin ever overcome in a recount. But regardless of the potential to change the outcome in any of the states, we feel it is important, on principle, to ensure our campaign is legally represented in any court proceedings and represented on the ground in order to monitor the recount process itself.

As can be seen below, the hypocrisy of Clinton's assertions before the election about "accepting the results," by her and the mainstream media, is simply too much for MSNBC's Joe Scarborough as he starts laughing uncontrollably while reporting on it.



Back to Elias' claim that the Clinton campaign just wants to "monitor" the process and make sure they are represented, we now see the Clinton campaign is actively asking for volunteers for the Michigan recount, as seen in the screenshot taken this morning from her campaign website: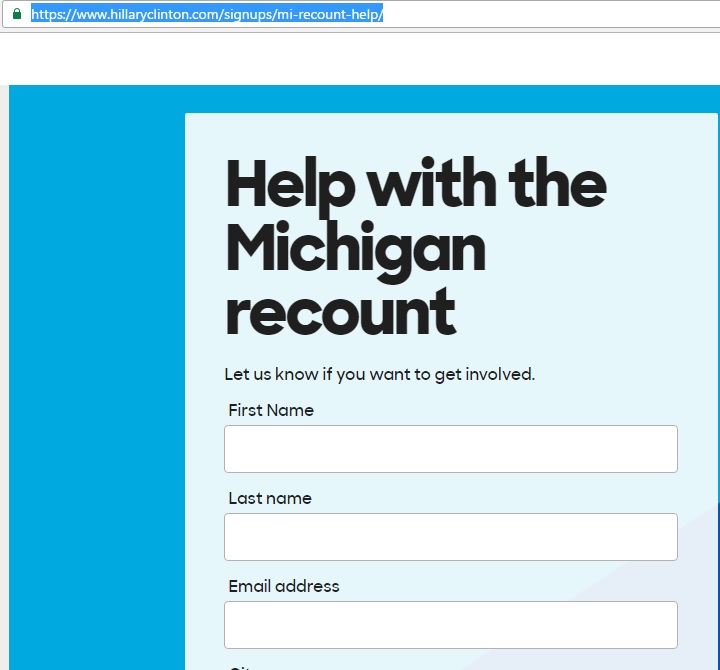 Anyone else think the timing of Stein's recount push, in the exact states that activists pushed Clinton to challenge, with Stein's decision just one day after the NY Mag report, in conjunction with the fact that states that Hillary won by a far smaller margin, such as New Hampshire and Nevada, are not part of this recount effort...... smells a bit fishy?

The Republican Party of Wisconsin does and they have filed a complaint federal complaint alleging that the campaigns of Jill Stein and Hillary Clinton are illegally coordinating to force a recount of the presidential race in Wisconsin, as reported by Fox6 News.


"Any reasonable person can see that Ms. Stein has no way of improving her fourth place finish and clearly does not stand to benefit from the recount process moving forward, despite the substantial outlay of at least $3.5 million in order to conduct," wrote Mark Morgan, executive director of the Republican Party of Wisconsin. "Clinton stands as the only actor that would benefit from a recount taking place in Wisconsin or elsewhere."

According to the FEC Complaint filed by the Republican Party of Wisconsin, they allege "The actions taken by the Stein campaign are tantamount to $3.5 million of coordinated expenditures made on behalf of the Clinton for President campaign, far exceeding the federal limit of $2,000 that may be spent by a campaign committee on behalf of another campaign committee."



FEC Complaint GOP Stein and Clinton Coordination uploaded by Susan Duclos on Scribd



RECOUNT NEWS

The recount in Wisconsin carried a hefty price tag, with Stein paying $3.5 million out of the nearly $3.9 million it is estimated to eventually total, but Stein will not receive the hand recount she has sued to get, with a Dane County judge denying the request on Tuesday.


A Dane County judge on Tuesday denied a request by Green Party presidential candidate Jill Stein and Democratic candidate Hillary Clinton to require all votes in Wisconsin's presidential election to be recounted by hand, as officials in each of the state's 72 counties ready for the recount to begin Thursday.

The recount in Michigan could cost the taxpayers of that state more than $4 million, as Stein only had to pay $973,250 out of an estimated cost of $5 million.


Michigan's Secretary of State Ruth Johnson said that the cost of a recount of the 4.8 million ballots could total $5 million. Stein's attorneys submitted a $973,250 check at the state Bureau of Elections Wednesday (the legally required fee for a recount), leaving the remaining cost on state and county governments.

We have to wonder how Michigan residents feel about that.

In Pennsylvania the recount attempt has hit a major roadblock as The Times Herald reports that a "Montgomery County judge has dismissed the petitions of voters in 78 precincts to recount votes or forensically analyze voting machines."


During the hearing the judge questioned whether the recount request would require a statewide audit of votes, as Pennsylvania law requires that a recount effort include every district in which the office in question was on the ballot.

Trump campaign attorney Lawrence Tabas argued that the law was in place to shut down the kind of "cherry-picking" that the Stein campaign was seeking.

"They were trying to cherry-pick just those precincts to recount that they thought would help them and ignored others that may have gone against them," Tabas said.

The Stein campaign will continue to seek a recount in Pennsylvania through attempts in other counties and a statewide recount petition that will be heard by the Commonwealth Court in Harrisburg on Monday. Tabas said the efforts were so far-fetched that it would "insult the term 'Hail Mary pass' to say that's what it is."


BOTTOM LINE

All three of the states Stein and Clinton are asking for recounts in would have to flip, a feat experts on both sides of the political aisle consider an impossibility, for Hillary's final "Hail Mary" to hand her an election that by all accounts is over. She lost, she conceded, she should be fading into the background and helping her supporters deal with the loss, rather than offering them "fake" hope for something that will never happen.

GO AWAY HILLARY!

















comments powered by

Disqus