Whatfinger: Frontpage For Conservative News Founded By Veterans
"The Best Mix Of Hard-Hitting REAL News & Cutting-Edge Alternative News On The Web"
'Death Spiral': Twitter Busted & Blasted, Facebook Stock Plunges And Google 'Kills' A Senator As Big Tech Has A Very, Very Bad Week
- Some might call this Karma.


By Susan Duclos - All News PipeLine

Technically it was Wikipedia that falsely listed Senator Orrin Hatch as having died on September 11, 2017, but Google uses Wikipedia, as does Google's YouTube video platform, as some type of "authority," so by virtue of automatically showing Wikipedia in their knowledge panel when users utilize their search function, they must accept the responsibility when the information given is false.

On July 23, 2018, Senator Hatch's official Twitter account sent a message and a screen shot of what came up on Google as a result of searching for Hatch, to Google's Twitter account. The message simply said "Hi.. @Google?

We might need to talk."

The image Hatch's staff attached is shown below: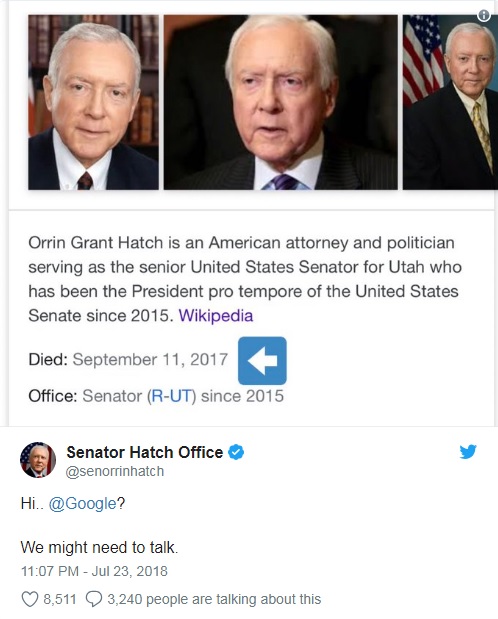 Google Communication's account immediately responded with "You certainly are alive and sporting a great sense of humor. We apologize for the error. We'll have it fixed shortly." Which they did. Hatch's office spent the day having a little fun with it by proving that Senator Hatch was alive and well, showing images of him reading newspapers, signing bills and out at public events.

No harm done, but the fact that Google continues to use Wikipedia is problematic for the tech giant, as this is not the first time the company has been publicly humiliated by their practice of using Wiki so prominently as their source of information. Back in late May 2018, when users searched Google for California Republicans, the knowledge panel informed them that the CA GOP's ideology was "Nazism." This happened as California was getting ready to hold statewide primary elections.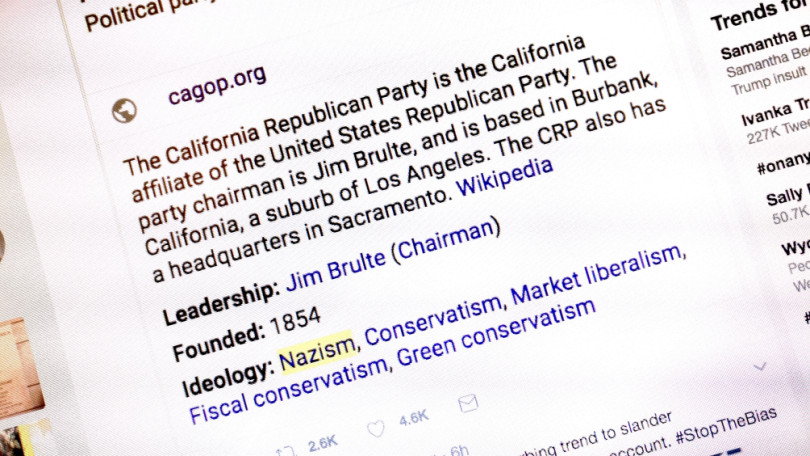 Google blamed Wikipedia "vandalism" for the information, yet Google continues to use Wikipedia.

They may wish to rethink that decision as recent reports show that Wikipedia has now listed former congressman Ron Paul and current congressman Steve King as "American White Supremacists," alongside "cult leader Charles Manson, American Nazi Party founder George Lincoln Rockwell, convicted mass murderer Dylann Roof, and former Ku Klux Klan Grand Wizard Don Black," as Breitbart reported on July 25. (The Wiki page was saved using Archive.is)


TWITTER BUSTED AFTER LIBERAL SITES PROVE THEY ARE CENSORING CONSERVATIVES

After years of liberals claiming that conservative complaints about being shadow banned and censored by Twitter and other social media platforms was just a "conspiracy theory," it is quite ironic that two liberal websites exposed yet another way Twitter has found to censor conservatives.

Gizmodo and Vice News, both reported that Twitter was limiting the visibility of prominent Republicans, such as the Republican Party chair Ronna McDaniel, several conservative Republican congressmen, and Donald Trump Jr.'s spokesman, and others. Vice took it a step further and checked to see if it was happening to high profile Democrats as well.


Democrats are not being "shadow banned" in the same way, according to a VICE News review. McDaniel's counterpart, Democratic Party chair Tom Perez, and liberal members of Congress — including Reps. Maxine Waters, Joe Kennedy III, Keith Ellison, and Mark Pocan — all continue to appear in drop-down search results. Not a single member of the 78-person Progressive Caucus faces the same situation in Twitter's search.

"The notion that social media companies would suppress certain political points of view should concern every American," McDaniel told VICE News in a statement. "Twitter owes the public answers to what's really going on."

Twitter denied the censorship was due to "political" affiliation, and claimed it was an algorithm issue which searched for "behaviors," and in the case of Rep. Matt Gaetz, they claimed it was an "error."

Gaetz's office responded to Breitbart News, stating "Our office is aware of claims that Twitter has discriminated against multiple accounts maintained by Congressman Gaetz. We are investigating the depths and impact of these serious charges. It is curious that these allegations would arise the week following Congressman Gaetz's heated exchange with Twitter senior executives before the House Judiciary Committee. Congressman Gaetz continues to believe that interactive computer services, such as Twitter, should not discriminate against content while simultaneously asserting that they are a nonbiased public forum under federal law."

Gaetz informed the Daily Caller that he is considering filing a complaint against Twitter with the FEC (Federal Election Commission), not only over the newly discovered method employed by Twitter to censor him and other Republicans, but he claims that his office has been collecting analytical evidence that shows his Twitter engagement was cut by 75 percent since Twitter changed their algorithms.


"I am contemplating a complaint with the FEC, because if my political opponents have better access to the Twitter platform than I do, that's no different than a private company giving my political opponents access to a billboard or television time or radio time," Gaetz said. "That wouldn't be equal."

"So I believe that Twitter may have illegally donated to the campaigns of my opponents by prejudicing against my content," he said.

Gaetz saw his growing Twitter account suddenly lost steam immediately after the algorithm change, he told TheDCNF.

Twitter representatives "keep calling and emailing my office saying that they're not shadow-banning me, so I guess I can either believe them or my lying eyes," Gaetz said.

"I'm not an algorithm expert. I can tell you that my office maintains very detailed records of our Twitter engagement, and following the change in their protocols in May, my growth was cut by about 75 percent," he added.

Six weeks of social media data provided by Gaetz's office to TheDCNF confirms that his account added followers at a much slower rate in the weeks immediately following the algorithm change.

Back in January 2018, Project Veritas captured Twitter employees admitting on hidden camera to "shadow banning" conservatives, via setting their algorithms to search for specific speech patterns, to "ban a way of talking," where if a user spoke of God, Guns or America First, they were "teaching" their AI machine to label those people as "bots" or trolls or Russian propaganda. 


This directly contradicts Twitter's official statements and congressional testimony where they deny they ban, censor, or shadow ban conservatives on the basis of their political ideology.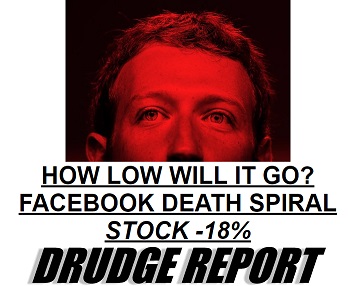 FACEBOOK 'DEATH SPIRAL'

Yet another social media giant, Facebook, is in the news today after their string of missteps, privacy issues and censorship practices, all hit the company at once, causing a massive percent plunge in stocks after their Chief Financial Officer David Wehner predicted bad news for the second half.

The severity of the reaction can be seen in the stock market chart for the last five days, screen shot below.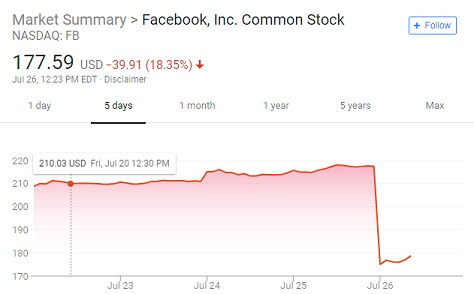 The reaction has been brutal for Facebook CEO and chairman Mark Zuckerberg, as it is being reported he personally took a $15 billion hit.  The Daily Mail is reporting that shareholders are trying to oust Zuckerberg from his position as chairman, citing his mishandling of a slew of scandals that has hit the social media giant over the past couple of years.

CNBC informs readers that three analysts have downgraded Facebook's stock, while Bloomberg highlights that Facebook insiders, including Zuckerberg, have been dumping their stocks at a rapid pace since the Cambridge Analytica data-mining scandal hit the company in March.

Related: Facebook's grim forecast: privacy push will erode profits for years

BOTTOM LINE

From the Google/Wikipedia fiasco to the Facebook "death spiral," to liberals outing Twitter for their newest methods of censoring conservatives, big tech has had a very bad week so far.

Ironic that what each of these companies have in common is they have spent the better part of two years attacking conservatives, via censorship, shadow bans, lockouts, and tweaking algorithms to harm conservatives and Independent Media.

Some might call this karma.







NOTE TO READERS
: 
ANP Needs Your Help. With digital media revenue spiraling downward, especially hitting those in Independent Media, it has become apparent that traditional advertising simply isn't going to fully cover the costs and expenses for many smaller independent websites. 

OUR ANNUAL PAYMENT FOR ANP DOMAIN, HOSTING AND DEDICATED IP IS DUE THIS MONTH (JULY), soo...

Any extra readers may be able to spare for donations is greatly appreciated.
One time donations or monthly, via Paypal or Credit Card:

Or  https://www.paypal.me/AllNewsPipeLine
Donate monthly from $1 up by becoming an ANP Patron.




comments powered by

Disqus