Whatfinger: Frontpage For Conservative News Founded By Veterans
"The Best Mix Of Hard-Hitting REAL News & Cutting-Edge Alternative News On The Web"
March 17, 2018
'Panic Is In The Air'  - Obama Deep State Freaks Out After McCabe Firing As The Dominoes Start To Fall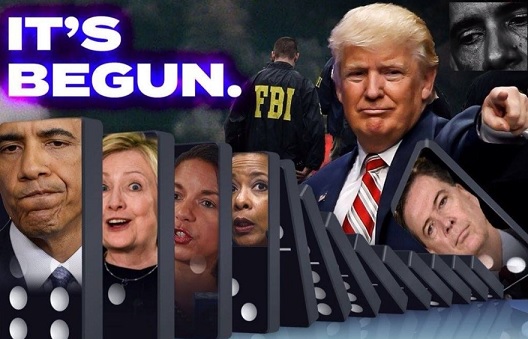 By Susan Duclos - All News PipeLine

Just days before he would have been eligible for lifetime pension and lifetime medical benefits for his whole family, former Deputy FBI Director Andrew McCabe was officially fired. McCabe had stepped down amidst scandal in January 2018, going on "terminal leave," with his official resignation slated to come on March 18, 2018, when he would have been elegible for his full pension package.

According to Attorney General Jeff Sessions' statement on the firing, the action was recommended by FBI's Office of Professional Responsibility (OPR) after receiving a detailed report of McCabe's misconduct from the Department's Office of the Inspector General (OIG), who has been investigating FBI/DOJ actions running up to the 2016 presidential election.

Sessions' statement below:


After an extensive and fair investigation and according to the Department of Justice procedure the Department's Office of the Inspector General (OIG) provided its report on allegations of misconduct by Andrew McCabe to the FBI's Office of Professional Responsibility (OPR).

The FBI's OPR then reviewed the report and underlying documents and issued a disciplinary proposal recommending the dismissal of Mr. McCabe. Both the OIG and FBI OPR reports concluded that Mr. McCabe had made an unauthorized disclosure to the news media and lacked candor – including under oath – on multiple occasions.

The FBI expects every employee to adhere to the highest standards of honesty, integrity, and accountability. As the OPR proposal stated, 'all FBI employees know that lacking candor under oath results in dismissal and that our integrity is our brand.'"

Pursuant to Department Order 1202, and based on the report of the Inspector General, the findings of the FBI Office of Professional Responsibility, and the recommendation of the Department's senior career official, I have terminated the employment of Andrew McCabe effective immediately.

While the upcoming OIG report is expected to be "Pure TNT," according to Former FBI Assistant Director Chris Swecker, the information that has already been reported from the investigation has implicated a number of senior officials from the FBI and DOJ, including the revelations of tens of thousands of text messages by anti-Trump/pro-Clinton FBI agents Peter Strzok and FBI lawyer Lisa Page.

Those texts revealed plotting to discredit an incoming president with an "insurance policy," which later came to be the whole Russia investigation into collusion between the Trump campaign and Russia; the two were actively leaking information to reporters; Strzok changed the wording of former FBI Director James Comey's exoneration statement for Hillary Clinton in the private server/classified email criminal investigation to language which decriminalized her actions.

More recently it was discovered that Strzok and Page plotted to meet with a FISA judge who presided over Michael Flynn's guilty plea and was later removed from the case.

A number of high ranking officials from multiple agencies have been terminated, reassigned, demoted or resigned due to information uncovered by DOJ Inspector General Michael Horowitz, all before his official report has even been released. 

OBAMA DEEP STATE FREAKS OUT OVER MCCABE'S FIRING

While the news of McCabe's firing came out late Friday evening, reactions were immediate, starting with a statement by McCabe himself where he attempts to portray this action as one where he is being "singled out," but interestingly enough, as part of his statement he appears to implicate former FBI  Directr James Comey, stating that Comey "was aware" of his interactions with a reporter, which the OPR had determined was "unauthorized disclosure to the news media." 

McCabe's statement in response to the charges within the Session's statement that he "lacked candor – including under oath – on multiple occasions," is to claim he "answered questions truthfully and as accurately" as he could "amidst the chaos that surrounded me."

A screen shot of his statement is below, click image to enlarge for better reading. (It will open in a new tab/window)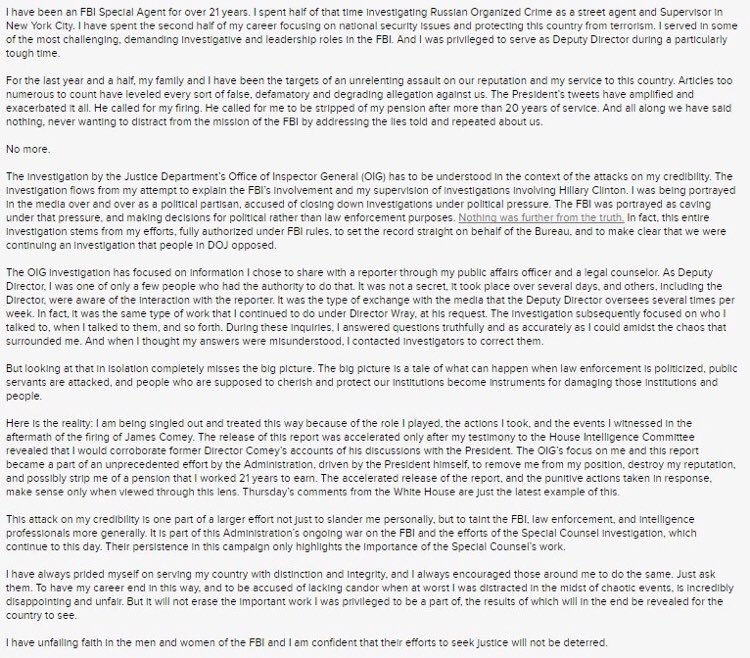 Jonathan Turley, Shapiro Professor of Public Interest Law at George Washington University, seems to agree with my assessment that McCabe's statement did, in fact, implicate Comey in leaking sensitive information to the press, as he explains at The Hill, it also appears to implicate Comey in "lying to Congress."


If the "interaction" means leaking the information, then McCabe's statement would seem to directly contradict statements Comey made in a May 2017 congressional hearing. Asked if he had "ever been an anonymous source in news reports about matters relating to the Trump investigation or the Clinton investigation" or whether he had "ever authorized someone else at the FBI to be an anonymous source in news reports about the Trump investigation or the Clinton investigation," Comey replied "never" and "no."

Read Turley's entire analysis, as he believes this could also spell trouble for the Mueller investigation as well.

According to former FBI special agent Bobby Charon, who was with the agency for 27 years, "lack of candor," which is the charge made by the OPR against McCabe, after reviewing the documentation provided to him from the OIG's investigation, is the "number one" reason people get fired from the FBI.


Bobby Chacon, a retired special agent, told Fox News that a street agent would "absolutely" be fired for lack of candor.

"I am not surprised and I'm kind of heartened by it," Chacon said of McCabe's firing. "Look, I was a special agent for 27 years…if I had done the same transgressions as Andrew McCabe had done I would have been fired before now."

"From day one in Quantico in the FBI Academy, they nail into our heads that lack of candor is the biggest thing that will get you fired," he said. "Lack of candor is key. It's almost always worse than whatever you've done to hide the lie."

Chacon said that lack of candor is ultimately the "number one" reason that agents get fired from the FBI and that "morale would have taken a big hit" if McCabe were allowed to retire on Sunday.

Obama's former CIA Director, John Brennan, instantly took to social media to accuse president Trump of being behind McCabe's firing. It should be noted that while Trump has previously been vocal about McCabe being allowed to run out the clock until receiving his full pension benefits, once the OPR recommendation to fire McCabe was presented to Sessions, the White House made it very clear that the president would not weigh in on whether McCabe should be fired or not, leaving the decision to Sessions.

After Sessions issued his statement on McCabe's firing, the president then stated "Andrew McCabe FIRED, a great day for the hard working men and women of the FBI - A great day for Democracy. Sanctimonious James Comey was his boss and made McCabe look like a choirboy. He knew all about the lies and corruption going on at the highest levels of the FBI!"

Brennan's statement in response to Trump makes his political leanings quite clear, stating "When the full extent of your venality, moral turpitude, and political corruption becomes known, you will take your rightful place as a disgraced demagogue in the dustbin of history. You may scapegoat Andy McCabe, but you will  not destroy America...America will triumph over you."

What Brennan ignores in his panicked temper tantrum is that the OIG investigation into the wrongdoings of senior intelligence agency officials, and any issues that arise from his investigation, began on January 12, 2017, before President Trump was inaugurated, and the recommendation stemming from what the OIG uncovered came from the FBI's Office of Professional Responsibility, not the President.

As another social media user pointed out in response to Brennan "Not at all strange when the previous CIA Director...a (supposedly) non partisan, unelected official...makes statements like this. Panic is in the air. #ObamaGate"

Brennan's "panic" stems from the fact that he himself is engulfed in controversy over his own under oath statements to Congress, as was reported in a heavily detailed Real Clear Politics Investigation piece in February, titled "Exclusive: CIA Ex-Director Brennan's Perjury Peril."


House Intelligence Committee Chairman Devin Nunes next plans to investigate the role former CIA Director John Brennan and other Obama intelligence officials played in promoting the salacious and unverified Steele dossier on Donald Trump -- including whether Brennan perjured himself in public testimony about it.

The OIG final report is due to be released within the next few weeks, but the information already public has highlighted a sophisticated attempt, on the part of multiple senior members of a variety of U.S. intelligence agencies to 1) Protect Hillary Clinton before the 2016 presidential election; 2) Instigate the Russia probe as an "insurance policy" in the event that Donald Trump won the election; 3) Leak classified information, much of which was proven false, in order to discredit a sitting president, and; 4) Lie to Congress.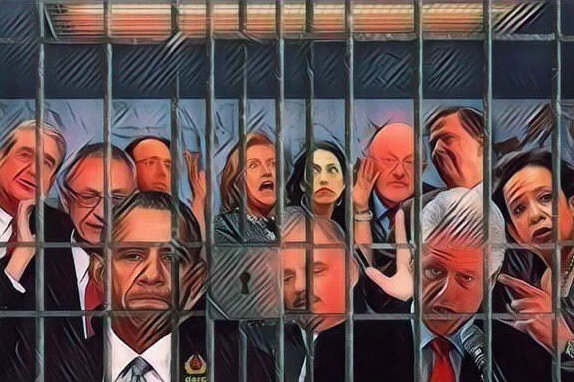 WHY ARE WE TALKING 'PENSIONS' AND NOT PRISON?

The question we see consistently across the internet, in one form or another, is "why are we talking about pensions when we should be talking about prison" terms for lying to FBI, lying to Congress, obstructing justice, leaking classified information to the press, a whole host of other potential criminal actions on the part of "deep state" members of U.S. intelligence agencies?

It is a reasonable question and the answer is as simple as it is frustrating for those that just want to see these deep state actors held accountable.

The short answer is: The OIG report has not been issued. 

The OIG investigation has been ongoing since early January 2017, millions of documents have been compiled, along with hundreds of interviews, and while portions have been revealed to agencies in order to remove some of these people from ongoing investigations, or positions where they could still cause harm to America, and those ongoing investigations, the entirety of the OIG findings have not been released to the entities that prosecute crimes.

The fact that the FBI's Office of Professional Responsibility (OPR), upon reviewing evidence compiled by the OIG, took such an extraordinary action in recommending a 21 year career employee like McCabe be terminated, just days before his pension kicked in, indicates that the statement by Sessions saying McCabe "made an unauthorized disclosure to the news media and lacked candor – including under oath – on multiple occasions," is most likely just the tip of a very, very large iceberg.

Other questions noted online include "Why doesn't President Trump just arrest them all now? Answer: The President does not arrest people, nor does he personally investigate or prosecute. 

Question: Why doesn't Trump just order Sessions to arrest them all? A question as an answer: Wasn't that the type of politicization of our intelligence agencies Obama  perpetrated that we are asking to be cleaned up now? Do we really want President Trump to continue Obama's unethical and possible illegal actions? 

Choose, we cannot have it both ways.

BOTTOM LINE

The fact that Brennan came out so quickly to attack President Trump for an action he played no part in, other than tweeting about it here or there, tells us that he understands that many Obama era officials, whether still employed by an intelligence agency or not, is about to get buried under the weight of the documented evidence the OIG has compiled.




NOTE TO READERS

 - 

If we make it through March when we start seeing the revenue generated by the new ad network, we may just have a chance to turn big techs' bias back against them and come through this stronger, louder and more powerful, together. February 2018 has been the most brutal month yet due to the censorship we have been battling against this past year, so any extra readers may be able to spare for donations is greatly appreciated.









comments powered by

Disqus