Whatfinger: Frontpage For Conservative News Founded By Veterans

"The Best Mix Of Hard-Hitting REAL News & Cutting-Edge Alternative News On The Web"
July 31, 2020
This Is What Most Americans Are Missing: The Ties Between Bill Gates, The Covid 19 Vaccine, Digital ID's And The Full Implementation Of The Global Control Grid
- 'Most Tyrannies Begin Because Men Have Moved Too Late'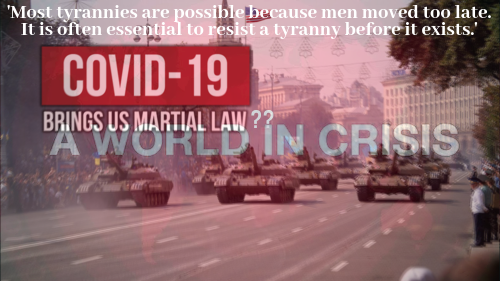 By Professor Steven Ferry for All News Pipeline
We have just compared the demands made by governments (to protect us from a vicious and omnipresent viral scourge) to the harmful results (economic, health,individual freedoms) brought about by acquiescing to those demands while no pandemic materialized. We examined the censorship of all information departingfrom the official narrative and the harmful nature of the enforced vaccinations that lack efficacy and consistently demonstrate harm.
This week, we shine a spotlight on those individuals and organizations who have brought about this complete upending of life for the whole planet; we offer solutions to help put an end to the monkey business so we can regain the joys of living.

"Most tyrannies have been possible because men moved too late. It is often essential to resist a tyranny before it exists." - G.K. Chesterton, Eugenics and Other Evils: An Argument Against the Scientifically Organized State
Special Interest Groups with Undisclosed Agendas

There is no doubt that there are as many agendas, both hidden and open, regarding this pandemic as there are companies, associations, and individuals who would benefit in some way-such as from a vaccine being enforced on the worldwide population; or governments of certain countries or even political parties, etc. positioning themselves in pursuit of their own interests (certain Democratic party leaders, for instance, are on record as saying they should take advantage of the pandemic to pass laws favorable to their political goals or to oust a sitting president. Even the WHO has an agenda, including trying to levy a 10% tax on all countries to "fight the virus."
Vaccines are the cornerstone upon which governments are relying for their Covid-19 strategy, yet as covered earlier in this series, vaccinations for viruses have limited efficacy and plenty of downsides.
One might be curious as to what is driving this fixation for mandatory vaccines as the solution, especially considering the normally lengthy time-to-market for such vaccines and the concomitant financial collapse being visited upon the entire planet.
Curiously enough, key players seem to be the richest individuals in the world and their foundations: Mr. Rockefeller and his foundations and the same Mr. Gates who brought us buggy software programs (disclaimer-the author is a decades-long Macophile).
The stage was set in the early 1900s, [when] America's first Billionaire, John D. Rockefeller bought a German pharmaceutical company that would later assist Hitler to implement his eugenics-based vision by manufacturing chemicals and poisons for war. Rockefeller wanted to eliminate the competitors of Western medicine, so he submitted a report to Congress declaring that there were too many doctors and medical schools in America, and that all natural-healing modalities were unscientific quackery.
Rockefeller called for the standardization of medical education, whereby only his organization be allowed to grant medical school licenses in the US. And so began the practice of immune suppressive, synthetic, and toxic drugs. Once people had become dependent on this new system and the addictive drugs it provided, the system switched to a paid program, creating lifelong customers for the Rockefellers.
Currently, medical error is the third leading cause of death in the US. Rockefeller's weapon to success was the strategy known as, "problem-reaction-solution." Create a problem, escalate fear, then offer a pre-planned solution. Sound familiar?  Plandemic movie literature (ANP: 'Plandemic' the movie embedded as final video at the bottom of this story).
"Those who are capable of tyranny are capable of perjury to sustain it." - Lysander Spooner
Using this preferred medicine paradigm, the fledgling pharmaceutical industry, took advantage of the millions of American Army recruits called up for war in 1917 to test up to 25 vaccines designed to cause a mild case of the disease they were supposed to prevent-the problem being that it was impossible to predict whether the case would be mild, severe, or fatal-as some prove to be instantly. Many of the vaccines brought about unrelated diseases, such as the smallpox vaccine causing syphilis, paralysis, leprosy, and cancer.
The yellow fever vaccine alone resulted in 63 deaths and 28,585 cases of hepatitis in half a year. The Rockefeller Institute for Medical Research in New York oversaw the Bacterial Meningitis Vaccination Experiment at Fort Riley Kansas in 1918, wherein thousands of US Army recruits were vaccinated with a horse-cultured vaccine. These soldiers exported the Spanish Flu as it came to be known to the world, killing up to 100 million people with bacterial pneumonia (not a flu or virus)-the largest death-event in recorded history.
Mr. John D. Rockefeller's debut in the field of medicine left something to be desired. Was he a doctor? No, a rapacious oil tycoon and a businessman interested in accumulating even more money and power. If Mr. Rockefeller really wanted to protect his fellow citizens, he would not have engaged in the strategy outlined above, focusing on the use of chemicals as outlets for his oil empire that are only capable of alleviating symptoms, rather than the preferred (for citizens) focus on preventing or curing diseases.
To downplay this contrast, the medical community has lobbied for it to be illegal in the US, at least, to cure, or to state that one can cure anything and has conditioned patient expectations to managing symptoms, not enjoying a cure. Any doctors who cure patients find themselves on a fast track to being shut down, often at gunpoint or simply murdered.
Note: This is not an attack on western medicine, which definitely has its place, as do traditional, alternative, and integrative medicines. A true medical science focused on prevention, alleviating, and curing would be good for patients, but not the pocketbooks of pharmaceutical and other vested interests that profit from managing sickness rather than health.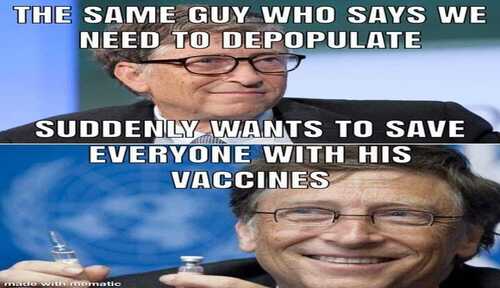 Mr. Gates Switches from Software to Vaccines

In March 2017, Mr. Gates told the US President, who was concerned about vaccine safety, not to establish a Vaccine Safety Commission headed by Robert Kennedy, Jr. so it was not set up. Just to be clear, Mr. Gates is not a public health expert, a doctor, an epidemiologist nor an infectious disease expert. He is simply one of the richest men in the world, which does not give him expertise in medical matters, but does in making money (and computer programs, specifically, although stealing software and control and "brain rape" of competitor breakthroughs may not reflect software genius so much as a deficient business ethics).
Looking at how Mr. Gates (the Rockefeller Foundation and others) has been steering this whole pandemic response, let's examine a partial timeline of Covid-19 activities involving Mr. Gates or his Foundation over the last nine months:
October 18, 2019, the Bill and Melinda Gates Foundation co-hosted Event 201 in New York, a high-level simulation of a coronavirus pandemic that predicted 65 million deaths within 18 months;

February 4, 2020 with eleven active cases in the USA, Dr. Fauci (Director of the US National Institute for Allergy and Infectious Diseases [NIAID] of the National Institute of Health [NIH] and also on the Board of Directors of the Gates Foundation) quietly pushed through regulations giving coronavirus vaccine makers full immunity from liability, in order to accommodate Mr. Gates, who had been funding multiple vaccine development efforts and owns major stakes in the leading vaccine makers; he had refused to distribute any vaccines until the government agreed to indemnify vaccine producers against lawsuits-he was worried about the dangers of adverse reactions to vaccines, a real concern as reported by Robert F. Kennedy, Jr.  

"Scientists first attempted to develop a coronavirus vaccine after China's 2002 SARS-CoV outbreak. Teams of US & foreign scientists vaccinated animals with the four most promising vaccines. At first, the experiment seemed successful as all the animals developed a robust antibody response to coronavirus. However, when the scientists exposed the vaccinated animals to the wild virus, the results were horrifying. Vaccinated animals suffered hyper-immune responses including inflammation throughout their bodies terminating with fatal lung infections. Researchers had seen this same 'enhanced immune response' during human testing of the failed RSV [a respiratory virus]  vaccine tests in the 1960s."
Mid-February, Microsoft software used by Neil Ferguson, the British epidemiologist at Gates-funded Imperial College in London, predicted the Wuhan virus, in the absence of an extended lockdown, would result in 2.2 million American and 500,000 British deaths. Thus were lockdowns initiated in both countries and elsewhere-whereas the evidence given earlier in this article shows that with or without lockdowns, mortality rates are low and occurring in the old and ill, not the entire population-which would really call for a quarantine of at-risk individuals, not all of society;
March 13, 2020, Mr. Gates resigned from Microsoft, saying he wanted to focus on his "philanthropy;"
March 18, 2020, Mr. Gates says "Eventually we will have some digital certificates to show who has recovered or been tested recently or when we have a vaccine who has received it." Such a system is being introduced into Bangladesh as part of project ID2020 to create a global digital ID, beginning with immunizations, and "ultimately, supporting access to rights and services throughout one's life-course. "-all backed by the UN, the Rockefeller and Gates Foundations. Mr. Gates funded an invisible Quantum Dot to be tattooed onto the skin of children to identify those who have been vaccinated (December 2019, MIT).
March 27, 2020, Dr. Fauci, as head of the White House's coronavirus task force, fast-tracked his own vaccine (partially funded by Mr. Gates) and seven of Mr. Gates' vaccines, setting aside the vital animal trials normally conducted that would provide early warning of runaway and fatal immune responses (as happened with SARS vaccine trials in 2002). Full testing protocols are especially important for these Covid-19 vaccines as the new technology being introduced includes risky genetically engineered vaccines - mRNA vaccines, for instance, use nanotechnology to transport the RNA of the virus inside liquid droplets into every cell of the body and reprogram them to produce the virus' spike protein and so confer immunity. April 4, 2020, Mr. Gates announced the investment of billions of dollars to build seven factories to start making various Covid-19 vaccines;
April 5, 2020, Mr. Gates announced on Fox Business News "It is fair to say things won't go back to truly normal until we have a vaccine that we've gotten out to basically the entire world." This position, and implementing a digital proof of vaccination, was echoed by Dr. Fauci;
Mr. Gates is the #1 funder of the World Health Organization, which withheld information given to them by Taiwan on December 31 about human-to-human transmission of the Wuhan virus, ignored statements from Wuhan doctors to the same effect, and stated on January 22 that the coronavirus did not pose a public health emergency of international concern, thereby justifying continued international travel from Wuhan and China. All the while, the WHO praised China's response despite their continued obfuscation of the real situation. Then the WHO created an international panic and global depression by overstating the mortality rate of COVID-19. As a side note, the Director-General of the WHO, Tedros Adhanom Ghebreyeus, who mismanaged the Covid-19 crisis, is not a doctor but is a member of two Ethiopian communist parties linked to terrorism. He covered up three cholera outbreaks in the country while Minister of Health and he made it to Director-General of the WHO after a stint as Chair of the Gates-funded Global Fund to Fight AIDS, Tuberculosis, and Malaria and as a Board member of the Gates-funded Global Alliance for Vaccines and Immunization (GAVI);
May, 4, 2020, the Gates Foundation is exposed greasing the wheels with $10 million in bribes to lawmakers for the smooth passage of a mandatory vaccine law in Nigeria, even though The Nigeria Centre for Disease Control had no input and opposed the bill;

May, 2020, Bill Gates suggests on CNBC that 700,000 could suffer side effects from any new vaccine (0.001%);

May, 23/24, two of the fast-tracked Gates vaccines prove to be a failure, when all the inoculated monkeys fell ill, yet they forged right ahead with the human trials; the second vaccine trial with Moderna was too brief and small to be significant, but resulted in 20% of the high-dose recipients becoming severely ill, which fact was withheld from the public. With such rushed and perfunctory trials, it is hard to see how only 0.001% recipients would suffer side effects, as claimed by Mr. Gates, whereas the trials showed 20%-100%. The media painted the trials as great successes, but when these facts were made known by Robert F. Kennedy Jr., they were removed immediately by Facebook.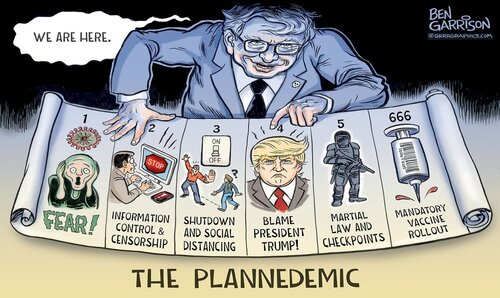 Following the Money is Usually Good Therapy for Cases of Fraud

Mr. Gates is not the only player working the vaccine angle behind the scenes-there is also Dr. Fauci.
Despite these lackluster results, and the fact that Remsdesivir already failed to achieve results with another viral outbreak, Ebola (being too expensive and resulting in a 33% death rate compared with another drug with a 6% death rate) and with significant known side effects, Dr. Fauci asserted Remdesivir would "be the standard of care" for Covid-19 and one million vials of the drug were shipped to US hospitals at the beginning of May.
Dr. Fauci has a long and fraudulent history of medical malpractice with Gilead Sciences, as well as other companies: He developed a false-positive-prone test for AIDS and gained FDA fast-track approval for Burroughs Wellcome's chemotherapy drug, AZT as a "preventive drug" for HIV-diagnosed patients. According to Roberto A. Giraldo, MD and Etienne de Harven, MD, the scientist who produced the first electron micrograph of a retrovirus, "None of these tests detect the HIV virus itself, nor do they detect HIV particles...more than 70 different documented conditions [including influenza, the common cold, and pregnancy] can cause the antibody tests to react positive without an HIV infection.... The fact that after 25 years of intense research HIV has been neither isolated nor purified in terms of classical virology indicates to us that the infectious view of AIDS as a contagious viral disease is based on an apparently non-existent microbe!"
Dr. Fauci financed clinical trials of the AZT drugs for people who did not have HIV -using toxic HIV drugs on healthy people as a preventative measure to "reduce risk" so they did not get AIDs. Gilead supplied the chemotherapy drug, Truvada for Phase III of these human trials on four groups of 2,000-5,000 test subjects. The CDC then recommended this use of Truvada in 2014 despite two of the four trials being abandoned as unworkable.
Of note is that the same tests are used today to determine SARS-CoV-2-positive.
Concurrently, Dr. Fauci contradicts the April 28 endorsement by the Association of American Physicians and Surgeons of hydroxychloroquine (with zinc) for the treatment of COVID-19 patients, which in several countries had demonstrated a 90%+ success rate and very low cost. He also invalidated any other potential cures; it is being made very hard and even illegal for doctors to source and use hydroxychloroquine with zinc for Covid-19 patients ; fake studies were conducted without the use of zinc to prove that hydroxychloroquine is ineffective against Covid-19;
China holds the patent on Remsdesivir through an agreement with Gilead's drug-patent-sharing subsidiary, UNITAID, which has an office near Wuhan;
The main financial investors in UNITAID are George Soros, the Bill & Melinda Gates Foundation, and the WHO - the latter being funded by the Gates Foundation to the tune of $2.4 billion over the last two decades.
Mr. Gates' track record is not better than Dr. Fauci's when it comes to viruses and vaccines. More from Robert F. Kennedy :
"Promising to eradicate Polio with $1.2 billion, Mr. Gates took control of India 's National Advisory Board (NAB) and mandated 50 polio vaccines (up from 5) for every child before age 5. Indian doctors blame, and are suing, the Gates campaign for a devastating vaccine-strain polio epidemic that paralyzed 496,000 children between 2000 and 2017 [at which point] the Indian Government dialed back Gates' vaccine regimen and evicted Gates agents from the NAB, after which polio paralysis rates dropped precipitously. The World Health Organization reluctantly admitted that the global polio explosion is predominantly vaccine strain, meaning it is coming from Gates' Vaccine Program. The most frightening epidemics in Congo, the Philippines, and Afghanistan are all linked to Gates' vaccines. By 2018, ¾ of global polio cases were from Gates' vaccines."
"In 2010, the Gates Foundation funded a trial of a GSK's experimental malaria vaccine, killing 151 African infants and causing serious adverse effects including paralysis, seizure, and febrile [fever] convulsions for 1,048 of the 5,049 children."
"In 2014, the Gates Foundation funded tests of experimental HPV vaccines, developed by GSK and Merck, on 23,000 young girls in remote Indian provinces. Approximately 1,200 suffered severe side effects, including autoimmune and fertility disorders. Seven died. Indian government investigations charged that Gates-funded researchers committed pervasive ethical violations: Pressuring vulnerable village girls into the trial, bullying parents, forging consent forms, and refusing medical care to the injured girls. The case is now in the country's Supreme Court."
"In 2014, a new 5-shot anti-tetanus campaign was launched in Kenya but administered only to 2.3 million girls and women of childbearing age - laboratory analysis showed it had been laced with the pregnancy hormone, HCG, developed by the Rockefeller Foundation and the WHO in 1992, which causes miscarriages three years later. This fertility regulating vaccine requires 5 shots, not the usual 3 for tetanus. Similar programs were discovered in Mexico, the Philippines, and Nicaragua at least, prior to 1995."

Today, we have genetically engineered nanotech vaccines (that reprogram our cells) being fast-tracked through testing, adverse reactions swept under the table in the rush to claim the mandatory-vaccine bonanza for a virus that has already peaked and never amounted to more in severity than the seasonal flu. The labs, corporations, and their backers must believe they are better than nature at programming cells and improving the human genome, and that this is all worth doing to protect us from viruses when we have a perfectly workable immune system that, unfortunately, does not offer substantial profits to boost compared with the profits proven possible over the last century from a health paradigm based on managing disease with chemicals rather than creating health.
Need one go on, or does one see a pattern when "Dr. Gates" attends to the world's health?
A core mission for the Gates Foundation when founded in 2000 was reducing population numbers, with the accurate premise that improved health would result in reduced population numbers when parents did not feel they needed lots of children in order to ensure at least one survived to look after them in their dotage. The fact that this correct assessment was followed up not with wholesome food (the UN estimates that a mere $30 billion would solve world hunger ), clean water, proper nutrition, hygiene, and sustainable farming initiatives to reduce the need for multiple children, but vaccinating every child on the planet with profitable toxins including, without consent of the patients or parents, covert birth-control elements, betrays some other purpose than honest and unselfish philanthropy.
In 2012, Mr. Gates granted $20 million to MicroCHIPS Biotechnology to create an implantable birth-control device that could be turned on or off remotely, which was produced by 2014.
By 2017, the goal had morphed into providing every child with a digital biometric identity - indicating that population control no longer referred to controlling the numbers of people, but the people themselves. GAVI joined the ID2020 Alliance to spearhead a global digital-biometric-identity standard.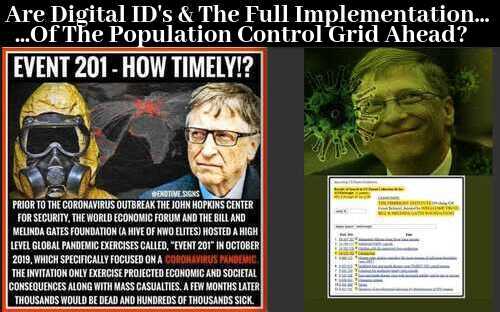 And so we come to 2020, when Mr. Gates answered the question : "What changes are we going to have to make to how businesses operate to maintain our economy while providing social distancing?" with "Eventually we will have some digital certificates to show who has recovered or been tested recently or when we have a vaccine who has received it." 

He did not let on that he had been spearheading the whole idea and invested in it, including enrolling the entire Indian population in a biometric identification database.
The digital ID for health was paralleled by the Better Than Cash Alliance founded by the Gates Foundation in 2012 "to accelerate the transition from cash to digital payments globally" and sold as an opportunity for "financial inclusion" of the world's poorest in the banking system - not that the Indians felt empowered when 87% of their cash was made illegal in 2016 and most of them operated only with cash. It is equally a system for exclusion of any person or transaction not approved by the authorities - much along the lines of the ongoing censorship of all information by social media and tech giants that does not align with the official narrative for Covid-19 or vaccines.
Most of the players behind the vaccination drive are funded by the Gates Foundation: the Coalition for Epidemic Preparedness Innovations, to which the NIH/NIAID has outsourced oversight of the vaccination program, GAVI and  the WHO.
One has to wonder how many billions the Rockefeller and Gates families and interests have made and will make with their philanthropy. Over the past two decades, the Gates Foundation has given $250 million in charitable grants to companies in which the foundation holds corporate stocks and bonds, while receiving tax breaks for these charitable donations. Another example: Mr. Gates' GAVI hired a company to lobby the Canadian Prime Minister 19 times over the last two years for mass vaccination of Canadian citizens. Canada is now sending nearly $800 million to GAVI to push vaccines globally, and the Global Polio Eradication Initiative, to advance sexual and reproductive health programs, and introduce new Covid-19 vaccines when available.
It is both illegal and disingenuous to take tax deductions for philanthropic efforts that then funnel far more funds into a corporate entity benefitting the philanthropist's pocket book as well as improving their image, thereby opening even more doors and further fattening their pocketbooks. After a decade of philanthropic efforts, Mr. Gate's fortune has doubled to $100 billion and he admitted that vaccines have provided a 20:1 return, "better than anything else," which means he has made a nice package on the $10 billion+ he has already invested in vaccines.
The population control grid/DigitalID that Mr. Gates is funding can be understood better knowing the eugenics background of Bill Gates and his father. The roll out of contact tracing with endless and enforced quarantines for a virus that has disappeared already and which never presented as a pandemic, is merely one more node being put into place in the population control grid - immunity passports being another.   See also here, here, here, and here.
We could go on and on with the things that do not add up about the virus and the various actions being taken with regard to it, and some of the movers and shakers behind it, but let's examine in our next story one last piece of the puzzle that is vital to implementing the programs.
ANP is a participant in the Amazon Services LLC Associates Program.
PLEASE DONATE TO ANP: With non-stop censorship and 'big
tech' attacks upon independent media, donations from readers are absolutely critical in keeping All News Pipeline online. So if you like stories like this, please consider donating to ANP.

All donations are greatly appreciated and will absolutely be used to keep us in this fight for the future of America.

Thank you and God Bless. Susan and Stefan.

PLEASE HELP KEEP ANP ALIVE BY DONATING USING ONE OF THE FOLLOWING METHODS.
One time donations or monthly, via Paypal or Credit Card:

Or https://www.paypal.me/AllNewsPipeLine
Donate monthly from $1 up by becoming an ANP Patron.


Donate Via Snail Mail

Checks or money orders made payable to Stefan Stanford or Susan Duclos can be sent to:



P.O. Box 575

McHenry, MD. 21541




comments powered by

Disqus