Whatfinger: Frontpage For Conservative News Founded By Veterans

"The Best Mix Of Hard-Hitting REAL News & Cutting-Edge Alternative News On The Web"
Tick Tock! Walls Closing In On Deep State - DOJ IG Report Imminent, Leads To Durham 'Review' Status Changed To Criminal Investigation
- Media, Democrats So Panicked They Are Already Spinning Like Mad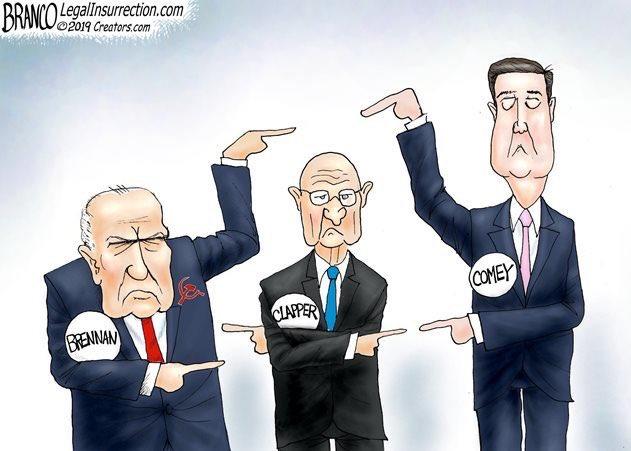 By Susan Duclos - All News PipeLine

It appears that the public is about to get the answers we have all be waiting so impatiently for in regards to the multiple investigations being conducted into the actions of top level intelligence community officials leading up to, and after, the 2016 presidential election.

DOJ INSPECTOR GENERAL REPORT IMMINENT

On Thursday the DOJ Inspector General, Michael Horowitz informed congress that the declassification process in regards to his his upcoming report from his lengthy investigation into potential Foreign Intelligence Surveillance Act (FISA) abuses ahead of the 2016 presidential election, was not only nearing completion but that his final report would be "released publicly with few redactions,"  and that once the classifications are concluded he will begin the process of finalizing his final report for release and he does "not anticipate the time for that review to be lengthy.

According to Fox News "Horowitz noted that he did not anticipate a need to prepare or issue "separate classified and public versions of the report."

This means that Congress and the public will see the same report, so politicians cannot preemptively "spin" a narrative before the public gets to see it. Once the final report is handed to Attorney General Bill Barr, if past reports are anything to go by, he will be releasing it to Congress simultaneously as he does to the public.


(If you appreciate stories like this, please consider donating to ANP to help keep us in this battle for the future of America.)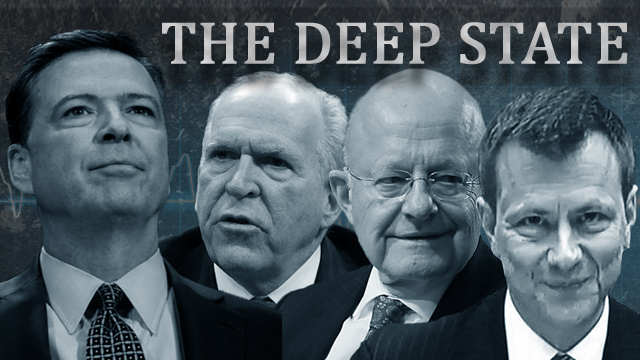 DURHAM 'REVIEW' STATUS CHANGED TO 'CRIMINAL' INVESTIGATION

U.S. Attorney John Durham was tapped by AG Barr to conduct a thorough review into the origins of the Russia investigation, which led to the appointment of a special counsel. Durham has been working in coordination with the DOJ IG, since much of the investigations overlapped.

Within hours of the news breaking that the IG report is near completion and will ready for release soon, news broke that Durham's "review" status had been officially changed to a "criminal" investigation, meaning the investigators now have the ability to subpoena witnesses, file charges, and impanel fact-finding grand juries.

According to multiple reports the change in status from review to criminal investigation will be explained by the IG's report into the FISA abuses.


U.S. Attorney John Durham's probe into the origins of the Russia investigation has become a criminal inquiry, two sources told Fox News on Thursday – and an upcoming report on alleged FBI surveillance abuses against the Trump campaign will shed light on why, one source said. Justice Department Inspector General Michael Horowitz said Thursday his report would be available to the public soon, with "few" redactions.

Recent previous reports have shown that the timeline of the Durham investigation, reviewing the actions of senior level intelligence community members under Obama leading to the 2016 election, was expanded to include a period after the 2016 election, up until the appointment of the special counsel, based on "new evidence" that was obtained after Barr and Durham met with Italian intelligence officials.

While the DOJ IG investigation lasted over 18 months, Durham was appointed to investigate the origins of the Russia investigation in May 2019, but the nature of the overlapping reviews, and with Durham working in conjunction with the IG, having access to all the materials, including over one million documents and more than 100 witness interviews, gave him a running start into his review, which explains why he is further along that most people expected.


MEDIA, DEMOCRATS PANICKED AND SPINNING LIKE MAD

In preparation for the IG report and the fallout from the changed status of the Durham Investigation, the liberal establishment media, led by the New York Times, and Democrats, are already attempting to discredit both investigations by implying that 'alarms' are being raised that the Durham investigation is "political payback," on behalf of President Trump.

As Deputy Director of Communications - Rapid Response for @realdonaldtrump's 2020 campaign, Matt Wolking, points out, "Without a shred of evidence, the NYT is feeding the conspiracy theory that Barr and Durham are engaged in a political witch hunt. The greatest political scandal in the history of our country could soon be exposed and the media is laying the groundwork to defend the perpetrators."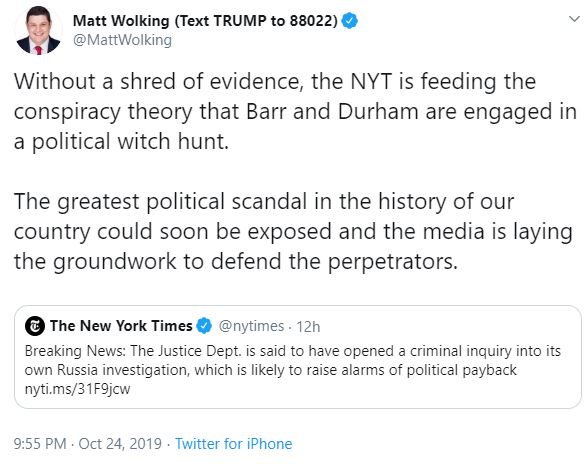 It didn't take long at all after the NYT promoted their article with the preferred narrative before Democrats and other liberal media outlets latched on to that narrative.

Congressman and the first Democrat presidential candidate to drop out of the race, Eric Stalwell, wants AG Barr disbarred!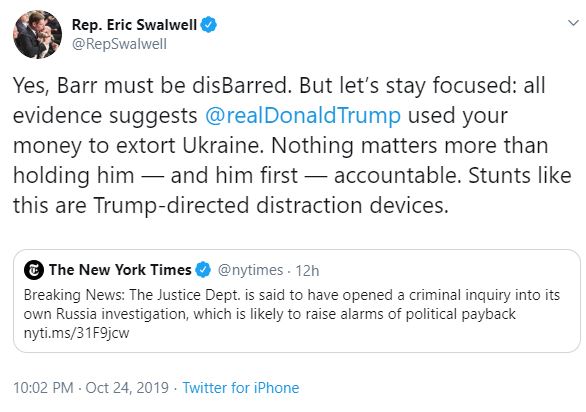 Democrat congressman Jerry Nadler, chimed in with "These reports, if true, raise profound new concerns that the Department of Justice under AG Barr has lost its independence and become a vehicle for President Trump's political revenge."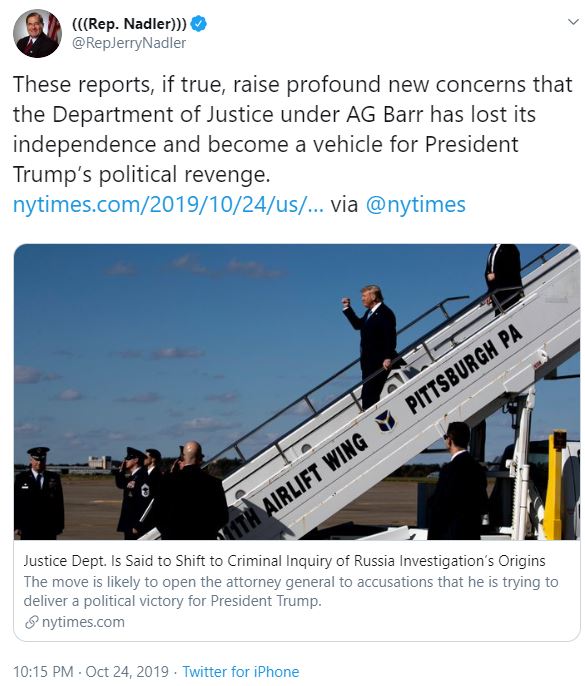 MSNBC, the network that spent more than three years pushing the "Russia collusion" conspiracy onto their viewers, are now pushing this investigation into the investigators as a "conspiracy."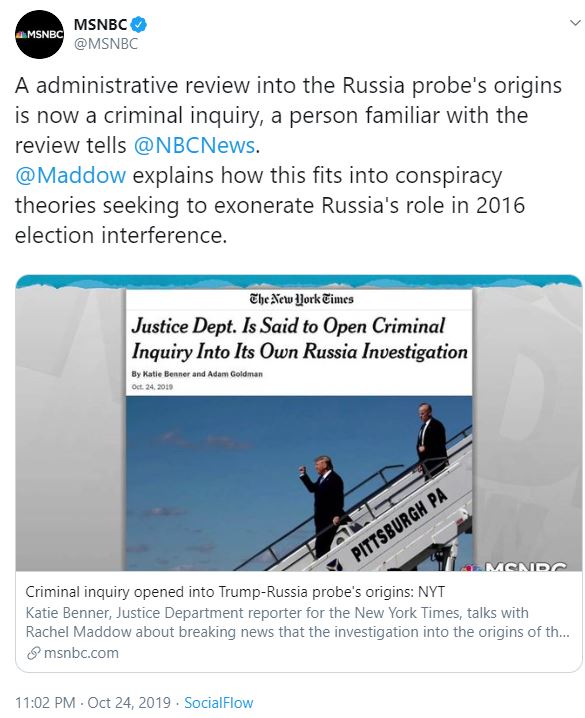 Pot. Kettle. Black?

More reactions can be found over at Twitchy.


BOTTOM LINE

We at ANP have long believed that we would not see a status change in the Durham investigation until the DOJ IG completed his report, and announcing the status change from a review to a full fledged criminal investigation just hours after the IG issued their letter to Congress announcing the declassification process was nearly complete and that the timeline to issue the report would not be "lengthy," indicates that the Durham investigation has found evidence of "criminal" conduct and are now preparing to issue subpoenas and impanel a grand jury.

Right about now, there are probably multiple former Obama intelligence community officials setting up long meetings with their criminal attorneys. Looking at you James Comey, John Brennan And James Clapper.





ANP FUNDRAISER: With non-stop censorship and 'big tech' attacks upon independent media, donations from readers are absolutely critical in keeping All News Pipeline online. So if you like stories like this, please consider donating to ANP.

All donations are greatly appreciated and will absolutely be used to keep us in this fight for the future of America.

Thank you and God Bless. Susan and Stefan.



PLEASE HELP KEEP ANP ALIVE BY DONATING USING ONE OF THE FOLLOWING METHODS.

One time donations or monthly, via Paypal or Credit Card:



Or  https://www.paypal.me/AllNewsPipeLine
Donate monthly from $1 up by becoming an ANP Patron.



Donate Via Snail Mail

Checks or money orders made payable to Stefan Stanford or Susan Duclos can be sent to:



P.O. Box 575

McHenry, MD. 21541







comments powered by

Disqus