Whatfinger: Frontpage For Conservative News Founded By Veterans

"The Best Mix Of Hard-Hitting REAL News & Cutting-Edge Alternative News On The Web"
October 12, 2016
Latest Trump Ad Showing Sickly Hillary Placed Behind 'Restricted Mode' Firewall For 'Inappropriate Content' By YouTube
- Hillary Clinton Also Prepares To Disappear From Campaign Trail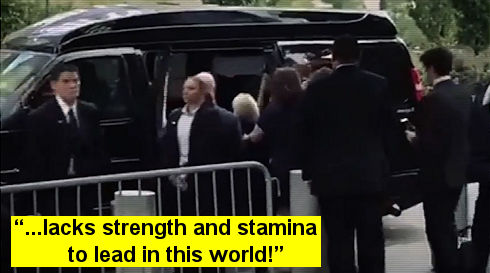 (Latest Trump ad highlights Hillary Clinton's lack of strength and stamina)


By Susan Duclos - All News PipeLine

During this presidential campaign it has been noted that social media giants such as Facebook and Twitter have actively censored anti-Clinton news, specifically when in regards to her failing health and email leaks damaging to the Clinton campaign. We have also seen multiple reports showing Google was also censoring search results, via their auto-complete function, about Clintons health, by Fox News, Infowars, Breitbart and others providing screen shots proving their assertions. 






In early June 2016, Wikileaks founder Julian Assange said that "Google is directly engaged in Hillary Clinton's campaign," highlighting that "many high up Google employee names appear within Clinton's leaked email transcripts." 

We should understand that Google… is intensely aligned with U.S. exceptionalism… personally at the top aligned with Hillary Clinton's election campaign and almost certainly once Hillary Clinton becomes president, those people in Google, like Jared Cohen, will be placed into positions around the new Clinton presidency" said Assange, heavily implying that Google and it's employees could directly benefit from a Clinton presidency.

When searching the Wikileaks  compilation of Clinton's leaked emails, the name Jared Cohen is found 23 times, offering some credence to Assange's claims. Furthermore, that claim becomes very relevant now that Assange has recently promised to release information on subjects including the U.S. election and Google before the November presidential election.

Assange became concerned about former Google CEO Eric Schmidt's ties with the State Department in 2009 when Hillary Clinton was serving as secretary of state. He has claimed that Schmidt, who is a chairman at the company, has worked with the Clintons for years, as Donald Trump accused Google of political bias saying that it suppresses negative news about Clinton.

Speaking by video link to an anniversary news conference in Berlin earlier this week, he said the leaks include 'significant material' on war, arms, oil, internet giant Google, the U.S. election and mass surveillance.

Before detailing the latest attempt to prevent voters from seeing how sickly Hillary Clinton really is, we must note that YouTube is a subsidiary of Google, who bought the video-sharing website in November 2006 for $1.65 billion.

Now we see that YouTube is also taking actions to limit views on a brand new Donald Trump ad that highlights viral images of Hillary Clinton needing two Secret Service members to help her up a short flight of stairs as well as a clip of her passing out, falling forward and having to be carried into her van at the 9/11 ceremony in New York.

On October 11, 2016, Gateway Pundit noted, and provided a screenshot of a "warning" by YouTube which stated "This video is unlisted. Be considerate and think twice before sharing," as well as YouTube putting this hard hitting video ad behind their "restricted mode" firewall. 

As of this morning when I enabled the "restricted mode" which according to YouTube "hides videos that may contain inappropriate content flagged by users and other signals," the video became unavailable, showing that Google, via their YouTube subsidiary is continuing to try to block voters from understanding how sickly Hillary Clinton really is.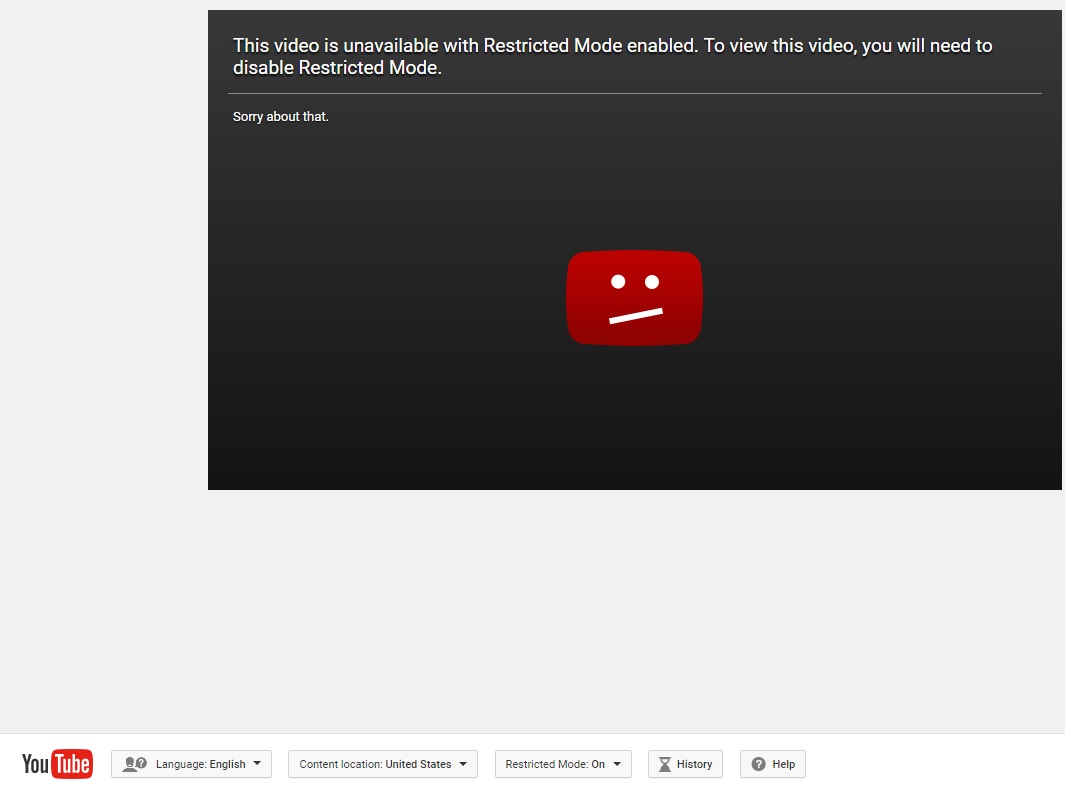 The ad titled "Dangerous,"  will air throughout the U.S., with a focus on battleground states, and is shown below, after a brief description:

The 30-second spot titled "dangerous" begins with an announcer saying, "Our next president faces daunting challenges in a dangerous world." The narrator then lists foreign threats to the United States, like the Islamic State and North Korea.

The ad then pivots to Clinton, showing pictures and clips of her coughing, being helped up stairs, and of her falling as she tries to get in a van after falling ill at a 9/11 ceremony in New York.

"Hillary Clinton failed every single time as Secretary of State. Now she wants to be President," the narrator says as the clips play. "Hillary Clinton doesn't have the fortitude, strength or stamina to lead in our world."

Readers can decide for themselves if there is any "inappropriate content" in the Trump ad, below.



As to the sub-header on this article, we see by Hillary Clinton's schedule she is planning to disappear from the public eye once again, only this time for an unprecedented period of time before a presidential election. She has two rallies set for today where her name is listed, then a private fundraiser in San Francisco tomorrow..... then nothing until the October 19, 2016 presidential debate, then again nothing for the rest of October and early November until election day.

Via American Thinker:

No chance for the cameras to catch her chronic cough, her exotropia (failure of her eyes to converge when looking outward), her dyskinesia (involuntary head movements in response to lights and noise), her tremors, her freezes, her falls. And she'll have plenty of time to take drug holidays – structured treatment interruptions – to increase the effectiveness of her medications when she resumes treatment just before a debate.

The failure to campaign in October is without precedent in any American presidential election in living memory. Even in 1944, FDR, in failing health and confined to his wheelchair, campaigned vigorously in October.

The media, of course, is studiously ignoring Hillary's hibernation. Donald Trump shouldn't.

BOTTOM LINE

New Wikileaks emails reveal that journalists from NYT gave Hillary Clinton "veto power" on quotes, Washington Post was giving advance notice to the clinton campaign on articles as well as assuring them they would "withhold" damaging information, all providing further evidence that the mainstream media is in Clinton's pocket.

Social media has actively censored negative articles about Clinton as well as blocking stories on her health from being shared.

Google has been tampering with their auto-complete function, although they deny doing so, the screen shots are clearly damning when compared to other search engines results. Now Google, via their YouTube platform is preventing a Trump ad that shows how sickly Hillary Clinton is.

Clinton is right, there is a "vast conspiracy" going on, but it isn't against her as she plays the victim card and claims, it is for her and the evidence has mounted up to a point where it is undeniable.


Below we see more proof of Google protecting Hillary Clinton from exposure.








comments powered by

Disqus