Whatfinger: Frontpage For Conservative News Founded By Veterans
"The Best Mix Of Hard-Hitting REAL News & Cutting-Edge Alternative News On The Web"

July 13, 2021 
With Food Long Used As A Weapon Of War Against Free People, Joe Biden And Democrats Keep Giving Americans A Reason To Double Down On Their Prepping
- Manufactured Shortages Ripping America Apart As Left Keeps Pushing A Tried And Failed System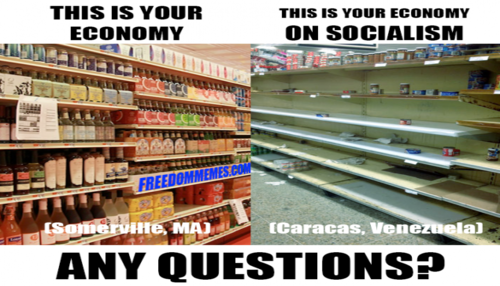 While browsing through the news online over this past weekend, I was a bit surprised to see this July 7th story over at Nature.com titled "How to buffer against an urban food shortage". 
Confirming much of what we've been reporting lately, reporting within their story "there is widespread concern that the risk of food shocks, sudden disruptions to food supply, are increasing,", that story came out the very same day as my then most recent trip to the local grocery store, a trip in which I found a number of items on our shopping list were not available while they always had been before.
Finding numerous products either completely out of stock or very limited in supply, as the Nature story warned, urban areas where more than half of the planet's population now lives are particularly vulnerable to such 'food shocks', with the kind of toilet paper panic buying that we saw back in 2020 over Covid emptying out not only entire stores but the entire supply chain. 
Also reporting within that story that "for decades, scientists and industry have been warning governments and consumers about the risks of food shortages", and that "such shortages have a range of possible causes, including droughts and heatwaves, pest and disease outbreaks, financial downturns and trade policies, they concluded that the COVID-19 pandemic has led academics and society to revisit the question of just how fragile food supplies really are in urban areas, especially America's biggest cities. 
So with one big Democrat-run city after another already falling to pieces as the leftists insanely push for more defunding of police at a time when crime is spiking and the criminals start to take over the streets, the following linked stories hint of disaster ahead if we continue traveling along the road to socialism that Biden and Democrats now have America on. 
From the Wall Street Journal published July 6th: "Supermarkets Are Stockpiling Inventory as Food Costs Rise - Grocers are setting aside larger amounts of frozen meat, sugar and other items to protect profits ahead of anticipated price increases". 
From Specialty Food Magazine published July 5th: "Warning of food shortages "as bad as the first lockdown"".
From CBS Dallas Fort Worth published July 6th: "North Texas Restaurants Struggling With Food Shortages".
From Restaurant Dive published July 8th: "Study: Labor shortages, food costs are now restaurants' biggest concerns".
From the Express published July 9th: "National food shortages affecting many UK supermarkets hits Lidl's southwest stores" 
From Bloomberg from back on June 26th: "U.K. Faces Food Shortages as Worker Scarcity Gets Worse" 
So with shortages galore and more forecast ahead, we'll be taking a look within this story at what's happening now all across America and doubling down on our prepping with socialism historically leading to deadly shortages wherever it is unveiled. 
(ANP NEEDS YOUR HELP: Before continuing, we wanted to thank everybody who has donated to ANP over the years. With donations and ad revenue all that keep ANP online, if you're able, please consider donating to ANP to help keep us in this fight for America's future at this critical time in US history. During a time of systematic, 'big tech' censorship and widespread Democrat corruption, truth-seeking media and alternative views are crucial, and EVERY little bit helps more than you could know!)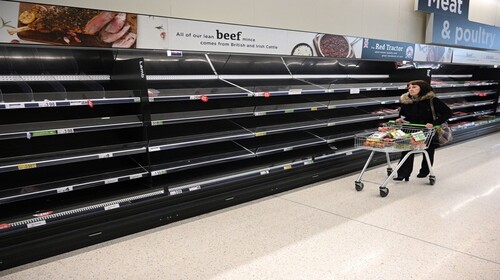 With the Nature.com story mentioned above embedding the photograph seen directly above with the photo description: "Empty supermarket shelves during the COVID-19 pandemic. Many city dwellers around the world experienced such scenes, which were largely driven by panic buying and changing consumer behavior", what happens to such areas in a real SHTF scenario? 
While some on the left still think the possibilities of major food shortages in America is a 'far right conspiracy theory', who knows better than the grocers? The excerpt below from this Wall Street Journal story saved at archive.com lays it all on the line for us. 
Supermarkets are stocking up on everything from sugar to frozen meat before they get more pricey, girding for what some executives anticipate will be some of the highest price increases in recent memory. 
Some supermarkets said they are buying and storing supplies to keep their shelves full amid stronger demand. Grocery sales in the U.S. for the week ended June 19 rose about 15% from two years earlier and increased 0.5% from a year earlier, according to Jefferies and NielsenIQ data. 
Stockpiling by food retailers is driving shortages of some staples, grocery industry executives said, and is challenging a U.S. food supply chain already squeezed by transportation costs, labor pressure and ingredient constraints.
The move is a reversal from last year when consumers hoarded groceries because of concerns about food availability, disrupting the food industry. Now, retailers themselves are stockpiling to keep costs down and protect margins. 
"We're buying a lot of everything. Our inventories are up significantly over the same period last year," said David Smith, chief executive officer of Associated Wholesale Grocers Inc. The nation's largest wholesaler for more than 3,000 grocery stores recently purchased 15% to 20% more inventory, mainly of packaged foods with longer shelf life, he said.
Yet the double whammy to it all is the prices are going up, hitting the consumer right where it hurts, while the shortages are growing more widespread, pushing Americans even closer to the 'danger point' with food one of the absolute necessities that cannot be put off for more than a couple of days and everybody needing it in one shape or form or another to survive. 
Simply put, a massive food shortage would spell disaster.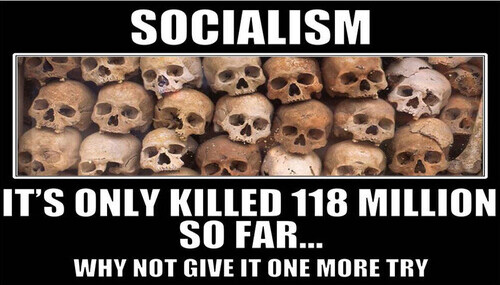 So is it just me or are all of these food shortages coming along at the same time as Joe Biden and Democrats pushing America towards socialism just a coincidence or something much more sinister?
With it long being warned that 'food is a weapon of war' that is wielded by the 'global elite' against the people, and man-made famine over the years killing millions and nothing less than genocide, as this May of 2019 story at the National Review warned, "from a historical perspective, every prediction that socialism would produce nothing but chaos, deprivation, poverty, suffering, and death turned out to be true!!"
Warning within that story that everything about socialism screams 'FAIL!!!', including what socialism inevitably brings to 'human rights and human dignity', it also warned: "Among the most conspicuous of socialism's failings is its capacity to generate vast shortages of things essential for life. This is a universal feature of a socialist "economy," and it always has been." Sound familiar in Joe Biden's America? From that story.: 
In Venezuela, there is no meat, medicine, flour to make hosts for Communion, or reliable electricity, and the population is reduced to barter. The same is true in North Korea — where toilet paper is scarce and matches are housewarming gifts — the experience of which is a repeat of the tremendous deprivation of every other socialist experiment. Consistent with all evidence, "famine is a disproportionately prevalent outcome of socialist systems," writes American Enterprise Institute resident scholar Benjamin Zycher. 
There is no reason to think it will ever be otherwise. There is a reason to think that many people will continue to deny that it matters. Consider the views of two London-based journalists, Alan Gignoux and Carolina Graterol, who were recently interviewed by Counterpunch. They looked at the absence of meat in Venezuela and praised the population for going vegetarian: "Mango trees are everywhere, so you can pick a mango whenever you want," Gignoux enthused. As for the energy shortage, Graterol said, "During blackouts, people told stories, played music, or went out and talked on the streets. It was a paradise, no TVs, smartphones, but real human contact." 
Yes, they actually used the word "paradise" to describe Venezuela today. If certain leftists are unable to see why mass deprivation of food and energy is so bad, it seems hopeless that they will see cause and effect at work in small-scale instances of government intervention. After all, the entire economy doesn't need to be socialist to achieve the effect of shortage, restriction, and deprivation.
In this July 6th story by Michael Snyder over at the Economic Collapse Blog titled "5 Specific Reasons Why You Should Stockpile Food Right Now", Snyder lays out for us some great reasons why we should all be doubling down on our prepping right now. Warning within his story that several factors are likely to combine to cause food price inflation to accelerate even more in the months ahead, he laid out for us the following 5 specific reasons we should all be doubling down on our prepping right now. 
#1 Supermarkets are feverishly stockpiling food, and the Wall Street Journal is reporting that they are doing this in anticipation of "the highest price increases in recent memory".
#2 The U.S. government is going to continue recklessly spending money, and the Federal Reserve is going to keep pumping more giant mountains of fresh cash into the financial system. The Biden administration doesn't seem to have an "off button", and neither does the Fed. This continual flow of new money will continue to push food prices even higher. 
#3 Gas prices keep surging, and this is making it more expensive to transport food around the country. According to the AAA Gas Price Index, the average price of a gallon of gasoline is up 56 percent from what it was last May.
#4 The endless "megadrought" in the western states just continues to intensify. If you look at the latest U.S. Drought Monitor map, it is a horror show. We haven't seen anything like this since the Dust Bowl days of the 1930s, and water levels are dropping dangerously low.  Because there is not enough water, many farmers are having to dramatically reduce the amount of crops that they are growing. 
#5 On top of everything else, an enormous plague of grasshoppers is now causing massive headaches for farmers in our western states. In some areas, the swarms are so thick that "it can appear the earth is moving", and there are times when the swarms are so large that they are actually appearing on radar. Grasshoppers will continue to eat our crops on a massive scale for many months to come, and this is another factor that will be driving up food prices. 
Warning in his conclusion that the food outlook for the months ahead is rather bleak, with a perfect storm being brewed up to push prices higher and higher while shortages grow worse and worse, he concluded with: "What we have experienced so far is just the tip of the iceberg."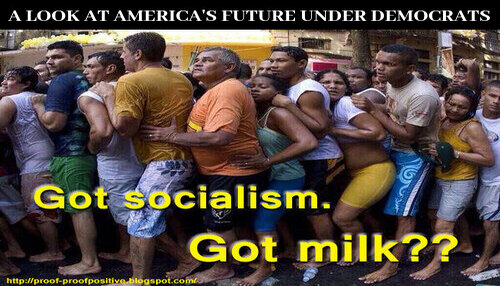 So we continue to serve our families and loved ones best by preparing for a TEOTWAWKI event or events in the months or years ahead, with any permanent move towards a totalitarian governing structure in America bringing with it historically guaranteed food shortages on a massive scale as seen most recently in Venezuela. With long-term survival food always a good investment as it can last anywhere from a few years to several decades, depending upon the preservation process and its storage conditions, while we may not need these things now, they provide security for an unknown future. 
Meats:
Bison Burgers & Steaks Combo Pack: 100% All-Natural, Grass-Fed and Grain Finished North American Bison Meat with no Growth Hormones or Antibiotics - USDA Tested - 14 Piece of Tender, Flavorful Meat

H.F.'s Outstanding All Natural Skinless Boneless Chicken Breast, 40 Ounce

Freeze Dried Foods:

Wise Company Long Term Emergency Freeze-Dried Food Supply, Breakfast and Entree Variety

MRE Meals - 124-Serving Freeze Dried Emergency Food Supply

Long Term Dehydrated Food Storage - 120 Large Entree Servings - 29 Lbs- Disaster Prepper Freeze Dried Supply Kit

Wise Company ReadyWise, Emergency Food Supply, Emergency Freeze Dried Fruit Bucket, 120 Servings

Wise Company Emergency Food Supply, Freeze Dried Meat Variety, 15-Year Shelf Life, 60 Servings

Wise Company Emergency Food Supply, Variety Pack, 25-Year Shelf Life, 104 Servings

Wise Company ReadyWise, Emergency Food Supply, Freeze Dried Vegetables, 120 Servings

Other food items

PB2 Original Powdered Peanut Butter - [2 Lb/32oz Jar]

Augason Farms Vegetable Stew Blend 2 lbs 0.5 oz No. 10 Can

It's Just - Whole Egg Protein Powder, Made in USA, Non-GMO (8oz)

Augason Farms 5-90158 Scrambled Egg Mix, 2 lbs, 4 oz. No. 10 Can

Augason Farms Dried Whole Egg Product 2 lbs 1 oz No. 10 Can

Hoosier Hill Farm All American Dairy Whole Milk Powder 1 lb

Canned/Packaged Goods:

Wellsley Farms White Premium Chunk Chicken Breast in Water, 12.5 Ounce, 6 Count

Keystone Meats All Natural Canned Chicken, 28 Ounce by Keystone Meats

Swanson Chicken á la King Made with White and Dark Meat Chicken, 10.5 Ounce Can (Pack of 12)

Dinty Moore Beef Stew with Fresh Potatoes & Carrots 20 oz (Pack of 12)

Armour Star Classic Homestyle Beef Stew, 20 oz. (Pack of 12)

Keystone Meats All Natural Canned Beef, 28 Ounce

SAMPCO Shredded Beef 3lb.

Kirkland Signature Chicken Breast (Chicken Breast -6 Count)

Keystone Meats All Natural Canned Pork, 28 Ounce

Armour Star Roast Beef With Gravy, 12 oz.

Armour Star Banner Sausage, Easy Open Can, 10.5 oz. (Pack of 12)

Wild Planet Skipjack Wild Tuna, Sea Salt, Keto and Paleo, 3rd Party Mercury Tested, 5 Ounce (Pack of 12)

Armour Star Luncheon Meat, 12 oz. (Pack of 12)

In the outstanding first video below, we hear about how the 'great reset' is tied into the current food shortages and food price hikes, with a 'great reset' of our entire food system also now being 'engineered' by the global elite who seek to use the supply of food to control us all. As our videographer points out in his opening, Henry Kissinger long ago warned us: "Control the food and you control the people". 

And in the 2nd video below, videographer Ice Age Farmer talks with us about all of these 'manufactured shortages' coming about at a time when the globalists desperately seek to 'control the people'. 
ANP is a participant in the Amazon Services LLC Associates Program.

 
ANP FUNDRAISER: With non-stop censorship and 'big
tech' attacks upon independent media, donations from readers are absolutely critical in keeping All News Pipeline online. So if you like stories like this, please consider donating to ANP.

All donations are greatly appreciated and will absolutely be used to keep us in this fight for the future of America.

Thank you and God Bless. Susan and Stefan.

PLEASE HELP KEEP ANP ALIVE BY DONATING USING ONE OF THE FOLLOWING METHODS.
One time donations or monthly, via Paypal or Credit Card:

Or https://www.paypal.me/AllNewsPipeLine
Donate monthly from $1 up by becoming an ANP Patron.



Donate Via Snail Mail

Checks or money orders made payable to Stefan Stanford or Susan Duclos can be sent to:



P.O. Box 575

McHenry, MD. 21541







comments powered by

Disqus