Whatfinger: Frontpage For Conservative News Founded By Veterans
"The Best Mix Of Hard-Hitting REAL News & Cutting-Edge Alternative News On The Web"
Where Is The Feminist And LGBT Outrage Over The 'Wax My Balls' Pretend Transgender That Now Wants To Host 'Topless' Pool Parties For 12 Year Olds With Parents And Guardians Banned From Attending?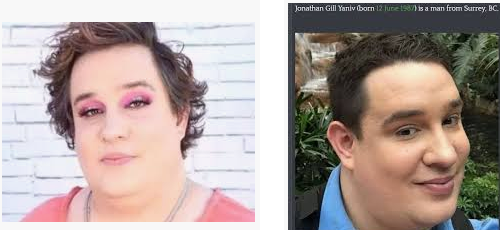 (Jonathan "Jessica" Yaniv)



By Susan Duclos - All News PipeLine

If the "Wax my balls" reference in the headline offends you, then the story of a man, Jonathan Yaniv that "claims" to be a transgender woman ('Jessica'), trying to sue 16 female beauticians that specialize in waxing "females" only because they refused to literally wax his testicles, who also goes into girls' bathrooms and takes photos, speaks inappropriately to minors online, and is now trying to get permission to host a pool party where being topless is optional for people 12 years old and up, specifying that adult "parents and caretakers will be prohibited from attending," should enrage you.

Also disturbing is that feminists, those that claim to want to protect and empower young women, and LGBT activists, are completely silent and refusing to call out the alleged predator, and that free speech activists are being banned from social media for clashing with this so-called "transgender woman," because she "misgendered" him, by calling a person that has a penis and testicles, a guy, or referring to him as a him!


PART ONE: THE TESTICLE WAXING DISPUTE...........

Jonathan Yaniv, a man, who presents himself as a male on Google, LinkedIN, You Tube and other social media platforms, but likes to dress up as a woman and go into ladies' restrooms, identifying as a "transgender female," has filed 16 complaints to the British Columbia's Human Rights Tribunal (CHRC), against female beauticians that advertise waxing for females "only,"  because they refused to wax his male privates... his testicles, scrotum and groin area.

National Review explains the background:


This week, British Columbia's Human Rights Tribunal (CHRC) — a self-described "quasi-judicial body created by the B.C. Human Rights Code" — held hearings on whether or not female beauticians should be forced to handle male genitalia. The complainant, known until Wednesday under the alias "J. Y." owing to a court gag order, is Jonathan/Jessica Yaniv, a self-identified transgender woman.

Yaniv has filed 16 different complaints against estheticians in the past year. Yaniv argues that, as a transgender woman, being denied services on account of her gender identity was discriminatory. As "Jessica," Yaniv explained on Twitter:



This is not about waxing. This about businesses and individuals using their religion and culture to refuse service to protected groups because -they- don't agree with it or the person and use that to illegally discriminate contrary to the BC Human Rights Code and the CHRC.


But who said this was about waxing? This about sex, surely. Yaniv is male — a male who has not made the surgical commitment necessary to pass as a female. On top of that, in the past year, Yaniv has presented unambiguously as a male on a number of sites including Google, LinkedIn, Pinterest, and YouTube. And on top of that, Yaniv is a male who is sexually attracted to females.

For the women who declined to wax Yaniv's private parts, however, the matter was simpler still. Yaniv has male genitalia. Some preferred not to touch these for religious reasons. Others, such as business owner Marcia Da Silva, didn't feel comfortable or qualified. In the hearing, Da Silva's lawyer, Jay Cameron, further explained that forcing his client to touch Yaniv's scrotum would effectively be coercing "intimate services."

One woman was forced to close her business already, other have reportedly lost their jobs, and another paid Yaniv to withdraw his complaint because she couldn't afford further litigation. Some of these women do not want to handle male genitals for religious reasons, others because they aren't qualified to provide the service on male genitalia. 


(If you appreciate stories like this, please consider donating to ANP to help keep us in this battle for the future of America.)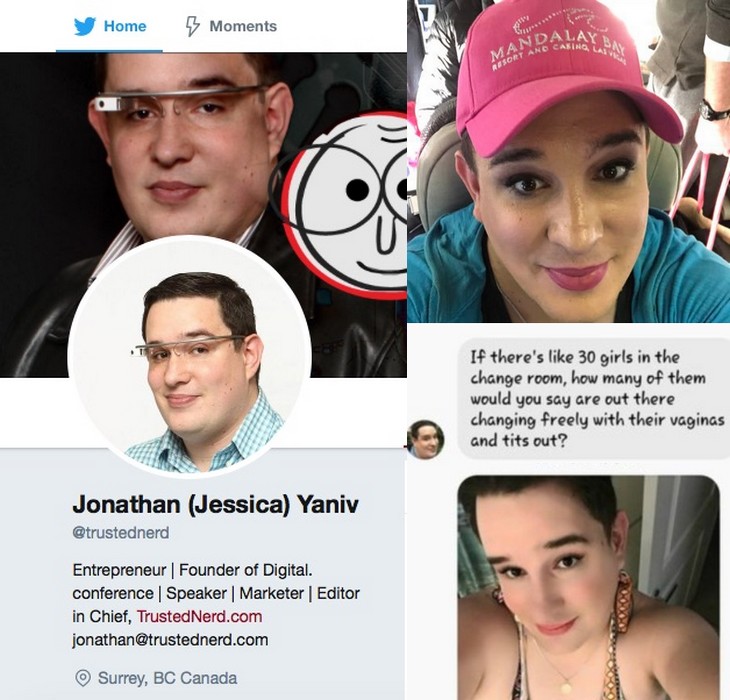 PART TWO: 'TOPLESS' POOL PARTIES FOR LGBT CHILDREN AND ADULTS, PARENTS PROHIBITED

Believe it or not, attempting to get the Canadian government to force women to handle male genitalia, is not the worst of this whole sordid story, as Yaniv has also requested to appear before the Township of Langley council, to apply for permission to host multiple "All Bodies Swim" event, which specifies it is for "people aged 12+ where these events with be restricted to LGBTQ2S," also highlighting that the attendees "will be permitted to be topless (at their leisure)," and that "parents and caretakers will be prohibited from attending."

Application shown below, with "Jessica Yaniv," listed as the name of the delegate or organization wishing to appear: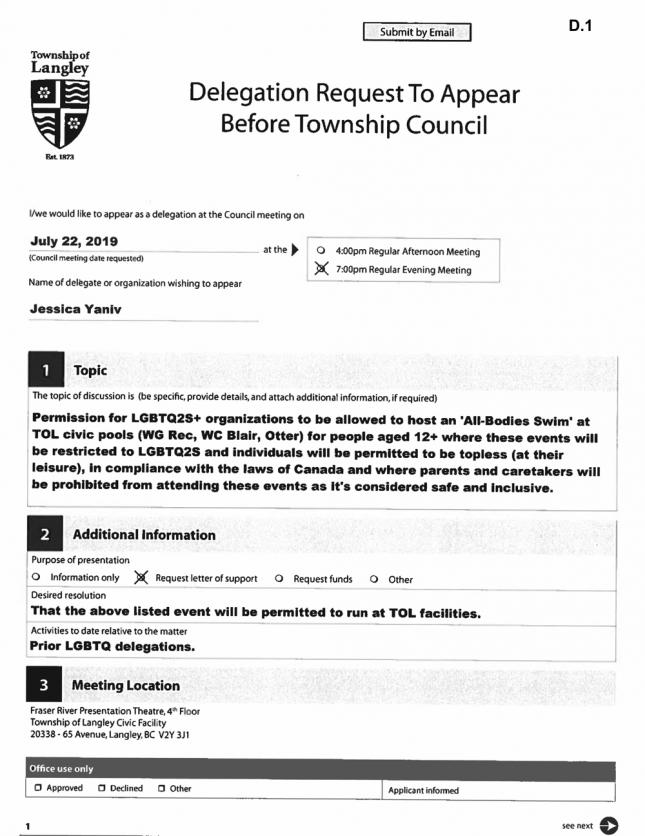 PART THREE: DISGUSTING SOCIAL MEDIA POSTS

It still gets worse.... Once the gag order was lifted and Yaniv's name was released publicly for his complaints against the beauticians that refused to handle his male genitalia to wax, a series of social media posts were attributed to him, to which he is claiming are "fake," to LifeSite News, that show a very disturbing trend of Yaniv speaking in a highly inappropriate manner to minor girls.

ANP considered not showing them since Yaniv was denying he messages young children inappropriately, until we saw that one of those minors has now filed a child exploitation report against Yaniv with CyberTip, describing interactions between the two when she was only 14 and 15 years old. Those messages from him became increasingly sexual in nature, and even started out.... creepy, for lack of a better word.

You can see screen shots from those conversations over at the Post Millennial. WARNING, the screen shots of her private messages with Yaniv are quite disturbing towards the end.

Below are a sample of other screen shots that Yaniv "allegedly" sent to different people.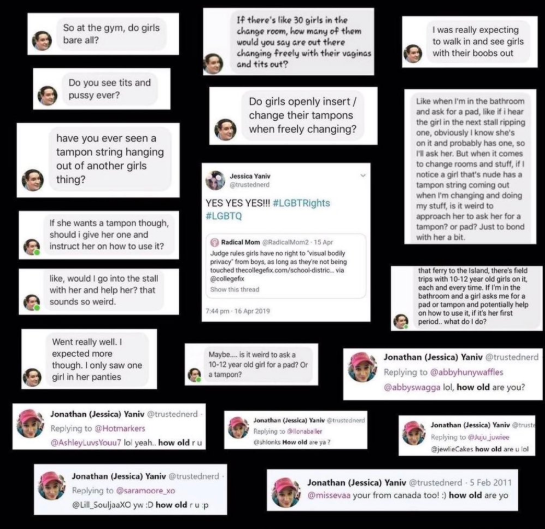 There are more but the majority apparently show an unhealthy obsessions with pads and tampons and menstrual cycles, especially for a person that has a penis and testicles and would never have a reason to need to use a pad or a tampon, and also a predatory desire to  "bond" with young girls.

Related: Oklahoma man allegedly raped toddler in McDonald's restroom during daycare field trip: police


BOTTOM LINE: WHERE IS THE FEMINIST AND LGBT OUTRAGE?

After searching for two days about information on Yaniv, I have yet to see any high profile, or even lower profile Feminist websites discussing this, and no outrage over young girls being targeted by Yaniz, nor have I see any member of the LGBT community vehemently speak out against this behavior, even as an attempt to distance themselves from this type of behavior.

What I have seen is a high profile conservative transgender activist, Blair White, one who has been shunned by the LGBT community because of White's conservative ideology, and her outspoken criticisms of the policies that allow men into the ladies' room and vice versa, and because White admits that psychologically transgenderism is considered a mental disorder and White believes that denying it is of no help to other transgender activists.

As can be heard in White's commentary below, the very fact that White is speaking out about this and taking other activists to task for refusing to do so, they are attacking her as a "mean" girl and being "anti-transgender," which in and off itself it ironic since White has already gone through transitioning medical procedures, which Yaniv has not.






EMERGENCY FUNDRAISER: Despite generous donations, the still dwindling advertising revenue over the course of the last two years has forced us to completely deplete all our savings just to survive and continue to keep All News PipeLine online.

So due to continuous attacks upon us and ongoing censorship, ANP is extending our emergency fundraiser through September.

PLEASE HELP KEEP ANP ALIVE BY DONATING USING ONE OF THE FOLLOWING METHODS.

One time donations or monthly, via Paypal or Credit Card:



Or  https://www.paypal.me/AllNewsPipeLine
Donate monthly from $1 up by becoming an ANP Patron.



Donate Via Snail Mail

Checks or money orders made payable to Stefan Stanford or Susan Duclos can be sent to:



P.O. Box 575

McHenry, MD. 21541







comments powered by

Disqus