Whatfinger: Frontpage For Conservative News Founded By Veterans

"The Best Mix Of Hard-Hitting REAL News & Cutting-Edge Alternative News On The Web"
December 22, 2017
US Senator And Congressman Warn Of Conspiracy At The Highest Levels To Take Down President Trump: 'This Could Be Worse Than Watergate'
By Stefan Stanford - All News Pipeline - Live Free Or Die
According to the December 21st tweet from Senator Rand Paul seen screenshot below, the absolute mess that we've been watching unfolding over the past year with the DOJ, FBI and other top-ranking Obama officials colluding to prevent our legally elected President into office should be investigated at the highest levels with this 'kicker' from Paul: "This could be WORSE than Watergate!" 
While Congressman Jim Jordan from Ohio recently told Fox News that it appears there was an orchestrated plan within the DOJ and the FBI to prevent Donald Trump from becoming president as heard in the 2nd video below, Donald Trump Jr. himself recently told a gathering of 'Turning Point USA' that a conspiracy exists at the highest levels of govt to prevent President Trump from doing the job that he was elected to do by the American people. Treason? You can hear Trump Jr. in the 1st video below. From this SHTFPlan story: 

In a surprising speech to a group of young conservative activists in Florida, Donald Trump Jr. warned about the now admitted conspiracy carried out by the highest levels of the government to stop his fathers agenda by any means necessary.

Speaking to a gathering held by the Turning Point USA Student Action Summit, Trump Jr. noted that his father is currently dealing with a rigged system as well as a conspiracy by the deep state to take him out.

"There is, and there are, people at the highest levels of government that don't want to let America be America," Trump Jr. noted, echoing many voices in the alternative media who have discussed this very fact since the moment Trump was elected.

"My father talked about a rigged system throughout the campaign, and people were like, 'Oh, what are you talking about?" he continued. "But it is. And you're seeing it."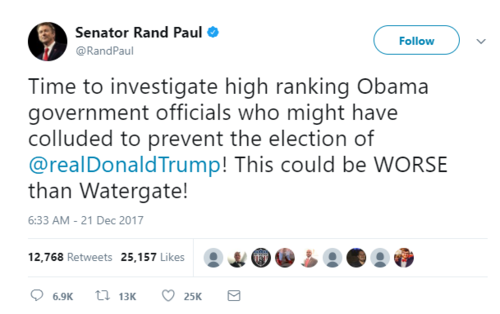 And with proof now coming out that Barack Obama put America in danger by allowing Hezbollah to run drugs, undermining efforts by US law enforcement agencies to shut down an international criminal ring, it wouldn't be much of a stretch to say that the conspiracy theorists were right again. And in this story, its quite easy to see the 'enemies of America within'. And why the deafening mainstream media silence on this huge story? From the NY Post story: 

Politico published a jaw-dropping, meticulously sourced investigative piece this week detailing how the Obama administration had secretly undermined US law enforcement agency efforts to shut down an international drug-trafficking ring run by the terror group Hezbollah. The effort was part of a wider push by the administration to placate Iran and ensure the signing of the nuclear deal.

Now swap out "Trump" for "Obama" and "Russia" for "Iran" and imagine the eruption these revelations would generate. Because, by any conceivable journalistic standard, this scandal should've triggered widespread coverage and been plastered on front pages across the country. By any historic standard, the scandal should elicit outrage regarding the corrosion of governing norms from pundits and editorial boards.

Yet, as it turns out, there's an exceptionally good chance most of your neighbors and colleagues haven't heard anything about it.

Days after the news broke, in fact, neither NBC News, ABC News nor CBS News — whose shows can boast a collective 20 million viewers — had been able to find the time to relay the story to its sizeable audiences. Other than Fox News, cable news largely ignored the revelations as well.





According to this December 21st story from Infowars, former Barack Obama adviser Ben Rhodes has used twitter to hope for the deaths of top GOP leaders Paul Ryan, Mitch McConnell and Vice President Mike Pence as seen in the screenshot below. And while its not illegal to wish death upon someone, his tweet proves that members of the former administration want this administration 'dead and gone'.  

As Joel B. Pollak from Breitbart News responded in a tweet back to Rhodes, Wishing death on your political opponents? You are truly the most disgusting people ever to have occupied the White House. Thank God @realDonaldTrump is undoing much of the damage you did. 

Rhodes tweet was in response to a tweet from another former Barack Obama official, Dan Pfeiffer, who tweeted "I hope this is the photo they use on the front page of the Times on the day Trump is indicted" in response to a photograph showing President Trump, Ryan, McConnell and VP Pence. Why so much vitriolic hatred coming from former Obama officials? Do they know something that we don't know?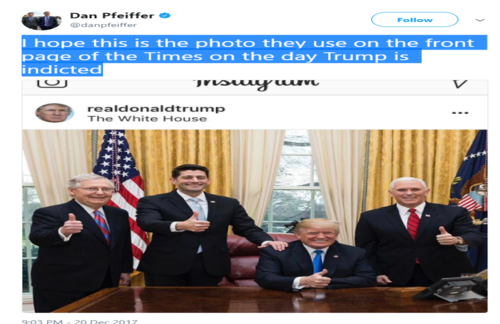 While the reputation of the FBI and the DOJ have been run through the ringer ever since it's been confirmed that the lead investigators into both the so-called 'Russian collusion' scandal and the Hillary Clinton email scandal have been highly politically motivated, we're told that what member of the FBI and DOJ have done in attempting to overthrow the will of the American people is likely a serious felony. 

And we're quite positive here at ANP that not all FBI agents have been corrupted but when the corruption starts at the top, it's inevitably going to flow downhill. As former FBI Assistant Director James Kallstrom recently stated, "Ninety-nine percent of the people in the FBI are doing a fantastic job...It's a small cabal of people running the FBI, the James Comey sycophants". We remind you here that Kallstrom had also said of the Clinton's: "They are a crime family."

As this story from Real Clear Politics reports and we hear from Kallstrom himself in the final video below, a '5th Column' has eyes upon taking over America and there is absolute corruption at the highest levels of the FBI and DOJ.  

Fmr. FBI Assistant Director James Kallstrom argues the FBI planned to destroy Donald Trump's presidency on Fox Business Network's 'Varney & Co.'

He said that the claims that a "cabal" of government workers was trying to block President Trump's progress were true "beyond question."

"Ever since he was elected, we've seen this facade, this phony challenge to Trump about collusion in Russia. Nothing could be further from the truth," Kallstrom added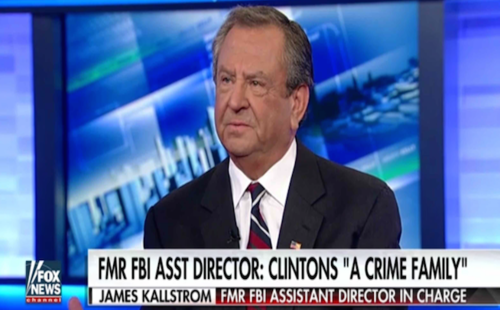 Should the Hillary Clinton and Barack Obama backing 'deep state' somehow be successful at overthrowing the will of the American people and taking down President Trump, there's little doubt that all hell would break loose in this country. 

Back in August of 2017, radio show host and author Michael Savage warned that the 'taking down of President Trump' would provoke a civil war in this country stating 'All of you leftists who think you're going to steal our vote, you're wrong'.

And while we'll pray that the truth comes out on this mess and that America can go peacefully forward together, united rather than divided, should the deep state be successful at taking down President Trump, as Savage warned back in August, there may be nothing to stop an uprising as the American people get absolute proof we live under a criminal dictatorship, an America still run by the likes of Barack Obama and the 'Clinton crime family'. From the WND story on Savage: 

If the left succeeds in its effort to remove President Trump from office or renders him virtually powerless, America's working class – the "Eddies and Ediths" – will revolt, warned author and nationally syndicated talk-radio host Michael Savage.

Referring to a 1939 novel, Savage told his listeners Friday that "The Day of the Locust" will come and people will "resort to mob violence" when they "are finally aware of the fact that they've been tricked by their society, and that no matter how hard they work as middle class people" they are denied. Michael Savage Michael Savage

"That is what's going to happen in this country," Savage said. "You have not yet seen mob violence in this country. You've seen some mob violence instigated by George Soros' mobs. … But you haven't seen the thing I'm telling you is coming in this country. You haven't seen the 'Day of the Locust' yet






comments powered by

Disqus