Whatfinger: Frontpage For Conservative News Founded By Veterans
"The Best Mix Of Hard-Hitting REAL News & Cutting-Edge Alternative News On The Web"
October 23, 2016
The Mother Of All Bombshells Is About To Drop..... Right On Hillary Clinton's Head
- O'Keefe Message To Trump: More Video Coming Showing Clinton 'Personally Involved' In Directing Violence At Trump Rallies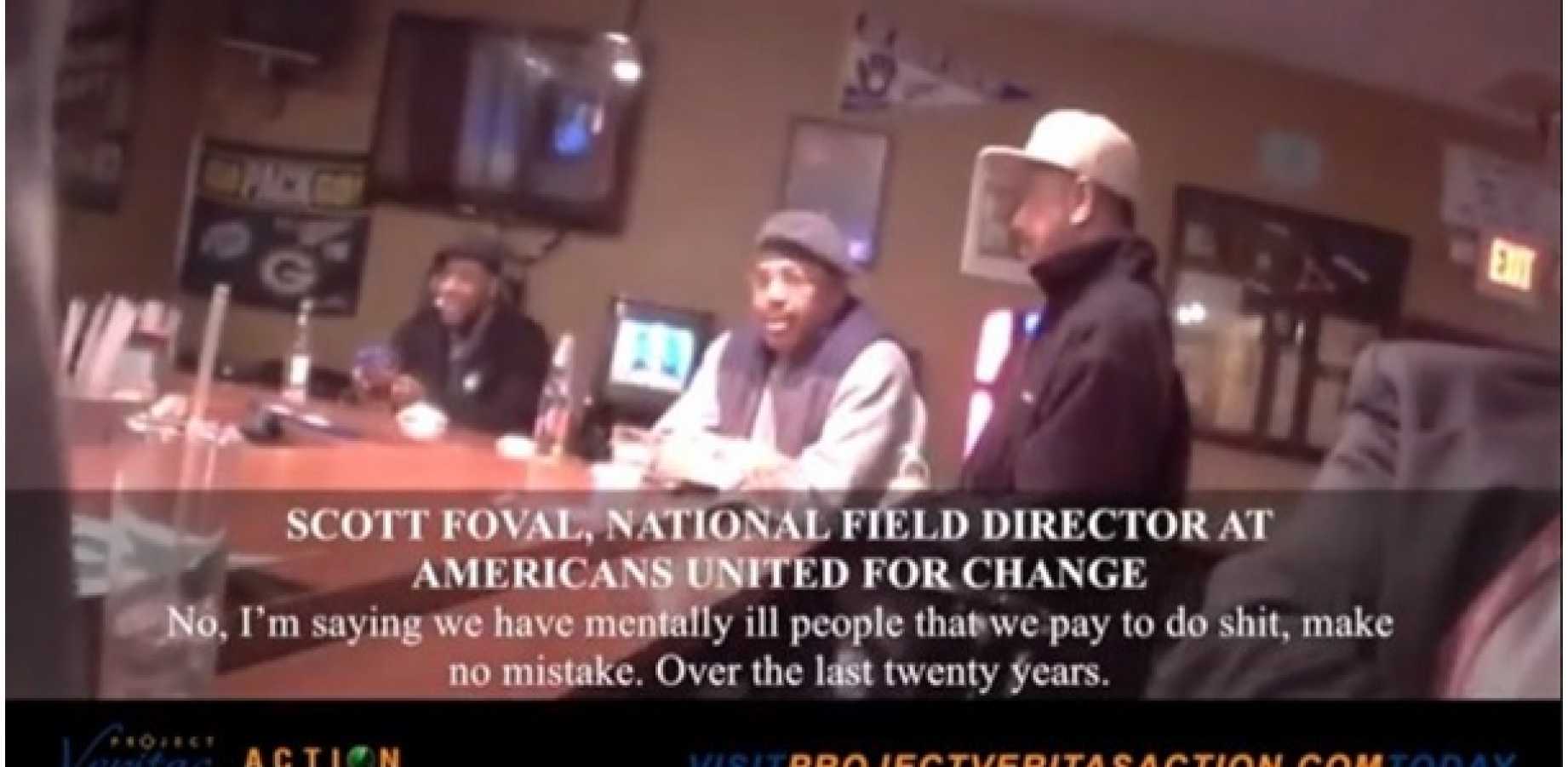 By Susan Duclos - All News PipeLine

While many are talking about GOP nominee Donald Trump's Gettysburg address speech and his unveiling of his "first 100 days" agenda, calling it a Contract with America, what hasn't been heavily reported by the mainstream media is that Trump also spoke of the newly released Project Veritas undercover videos where DNC and Clinton campaign operatives admitted to organizing violent riots at Trump rallies, bragging how they shut down his Chicago rally and stating that they pay 'mentally ill' peopleto "do sh*t" at Trump events. (Video and article on that here)

At the 10:25 minute mark in the video of Trump's Gettysburg speech at the end of this article, he states "It has just been learned, on video, that the violent protests at some of my rallies, like in Chicago where police and others were seriously hurt, you saw that, blood pouring down their face, was caused by paid, PAID, DNC and Clinton campaign operatives." Trump continued on to say "We didn't know this, this just came out two days ago, we didn't know this, we were amazed at the level of violence."

He then said that it is a criminal act and that those responsible should be prosecuted, assuring the audience that more information will come out during litigation.

In response to Trump's assertion that he will be taking legal action, Project Veritas founder and President, James O'Keefe, sent two messages via social media to Donald Trump. The first said "Don't file that lawsuit quite yet, @realDonaldTrump, more video coming that HRC was personally involved in directing what happens at rallies." The second message provided a short clip of Trump's related remarks from his Gettysburg speech, then said "More HRC evidence coming soon. Drip... Drip... Drip..."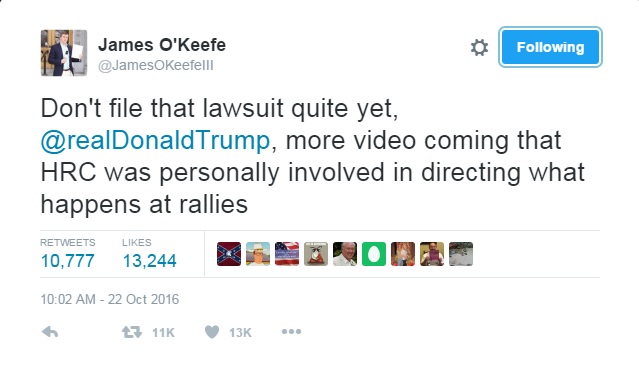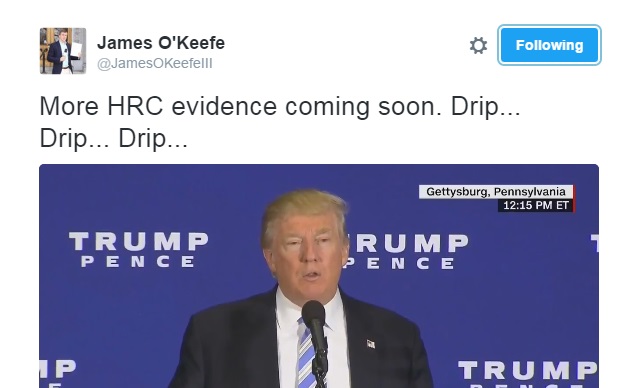 Part three of the series of hidden camera releases, taken during a year long undercover investigation into election rigging, is due to be released on Monday, October 24, 2016, and is believed by O'Keefe to be so explosive and a literal game-changer, that he has set up a "deadman's switch" by handing the information over to Joe Biggs and Alex Jones of Infowars, to be released in the event that anything happens to him.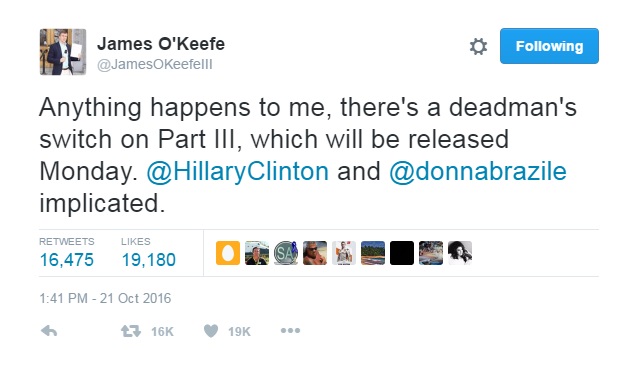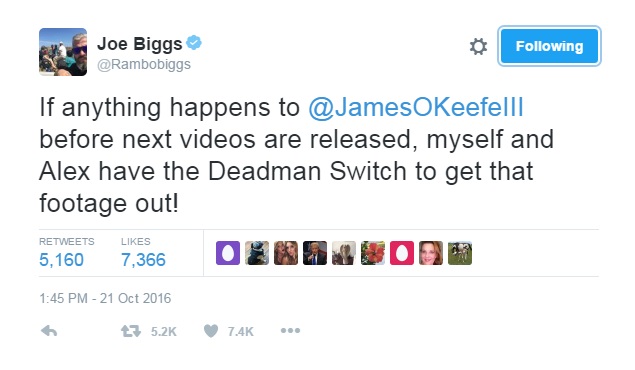 For anyone thinking it is an exaggeration, or hype about how damaging these hidden camera releases can be, one only has to look at how the first release has already caused two democratic career operatives, Scott Foval and Robert Creamer, who was a regular vistor to the white House since 2009, to become unemployeed, one stepping down and one fired.

BOTTOM LINE

The write up and videos for the first two releases, can be found at the Project Veritas website. What they have exposed is election rigging and massive fraud on the part of the DNC and organizations working in conjuntion with both the DNC and the Clinton campaign, as well as the behind-the-scenes collusion in order to create violent riots and protests at Trump events. 

The corruption within the DNC has been known for years but O'Keefe has now managed to rip the roof off of hell and showed the world the evil that lies inside.

In his next release, the mother of all bombshells is about to be dropped.... right on Hillary Clinton's head!

H/T America's Freedom Fighters 




The first release from Project Veritas, published on October 17, 2016:




The second release from Project Veritas, published on October 18, 2016:









comments powered by

Disqus