Whatfinger: Frontpage For Conservative News Founded By Veterans
"The Best Mix Of Hard-Hitting REAL News & Cutting-Edge Alternative News On The Web"

February 17, 2021 
Abominable Situation Unfolding Across America Proves Preppers Were Right To Prepare! Brutal Cold And Grid Down Scenarios Are Bringing Death And Very Hard Times To Millions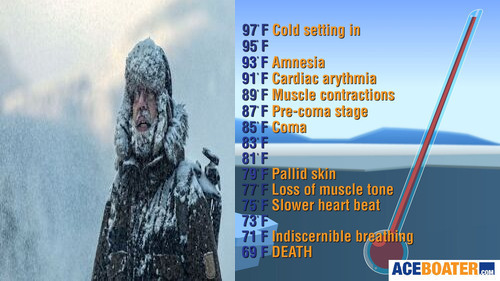 With record low temperatures in city after city across America after a prolonged arctic outbreak began smashing temperature records in the Plains and Midwest, what's being called the coldest outbreak in some 30 years in some regions, what's happening right now in huge parts of Texas should be seen as a warning to the rest of America as a 'grid down scenario' caused by rolling blackouts has caused over 4 million Texans to go without power, many for well over 24 hours already. 
Leading to at least 21 dead, and Weather.com now warning these brutally low temperatures may linger into much of the rest of this week before finally easing this weekend into early next week, some of those who didn't prepare for such a scenario have moved out of their homes and into their cars to keep warm. 
Yet with attempting to live in one's car in temperatures near '0' not only very expensive but potentially extremely dangerous as well as another snowstorm moves into the hard-hit areas, those suffering now without electricity are a reminder of why we 'prepare', with 'the elements' always something we need to take into account in our preps, as well as the very real possibility that we may need to survive without electricity at some point in the future. 
So while we pray for the good people of Texas and elsewhere across America who are now being hit hard by this abominable weather and have lost the basic modern amenity of 'electricity' and its ability to 'heat up' our surroundings, those who had read this February 6th ANP story by Susan Duclos titled "'Baby, It's Cold Outside' - Stay Warm Even Without Electricity With These Life Saving Tips, Tricks And Do-It-Yourself Ideas" had put themselves ahead of this brutal weather that has been causing deaths across America. 
So with Winter still over a month away from being officially over pretty much assuring us that more brutal cold winter weather is on the way, and the very real chance that we may lose electricity hanging over us at almost any time, we'll be taking a look within this story at some more winter prepping as well as taking a look in the next section of this story below at hypothermia and why it can kill so quickly.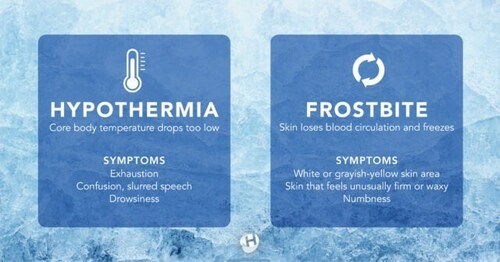 According to this new story out of Houston, Texas, hypothermia can set in very quickly in this bitter cold if you're not careful. With hypothermia kicking in in as little as 10 minutes in some conditions, and in even less time in other brutally cold conditions, let's take a look at this important story over at Live Science to see how hypothermia kills to give us a better idea on how to deal with it should it set in. 
Indeed, when temperatures dip this low, frostbite and hypothermia are real health concerns. However, death from the cold can happen even if the body isn't literally frozen. 
Core temperature drop 
A person's core body temperature usually hovers around 98.6 degrees Fahrenheit (37 degrees Celsius). Hypothermia occurs when core body temperature dips to around 95 F (35 C) or lower. Surprisingly, people can experience hypothermia in relatively cool, but not freezing, air temperatures — around 30 to 50 F (minus 1 to 10 C) — particularly if they are wet, such as from rain, sweat or submersion in cold water, according to the National Weather Service. The body loses heat about 25 times faster in water than in air, Michael Sawka, chief of the Thermal & Mountain Medicine Division at the U.S. Army Research Institute of Environmental Medicine (USARIEM), told Live Science in a 2010 interview. But hypothermia at these relatively cool temperatures is unusual. Temperatures that are subzero, however, are "a whole different animal," said Dr. Robert Glatter, an emergency physician at Lenox Hill Hospital in New York City. At minus 30 F (minus 34 C), an otherwise healthy person who isn't properly dressed for the cold could experience hypothermia in as little as 10 minutes, Glatter said. At minus 40 to minus 50 F (minus 40 to minus 45 C), hypothermia can set in in just 5 to 7 minutes, he said. A drop in body temperature prevents critical organs from working properly — including the brain and heart, according to the Mayo Clinic. 
Improper functioning of the heart results in reduced blood flow to many organs, putting the body in a state of shock and increasing the risk of conditions like liver failure and kidney failure, Glatter told Live Science. The very young and the very old are at greater risk for hypothermia because they generally have weaker heart muscles, he said. In addition, older people are more likely to take medications such as beta blockers that can slow heart rate, which further increases their risk of developing hypothermia in the cold. 
Symptoms of mild hypothermia, such as shivering, weakness and confusion, set in when core body temperature reaches about 95 F. After that, "as you start dropping [in core body temperature], bad things happen," Sawka said. At 91 F (33 C), you can experience amnesia. At 82 F (28 C) you can lose consciousness. Below 70 F (21 C), you are said to have profound hypothermia and death can occur, Sawka said. 
The record for the lowest body temperature at which an adult has been known to survive is 56.7 F (13.7 C), which occurred after the person was submerged in cold, icy water for quite some time, according to John Castellani, of the USARIEM, who also spoke with Live Science in 2010. 
Left untreated, hypothermia can lead to complete failure of the heart, and eventually death, according to the Mayo Clinic.
And as we see in this story over at the Chronicle titled "Millions of Texans left without heat overnight in frigid weather: 'A nightmare situation'", people are also now endangering themselves just by attempting to keep warm. 
By Monday evening, law enforcement in the Houston area had already said at least two deaths were likely due to the freezing temperatures. As the outages stretched into Tuesday morning, it became apparent that some Texans' efforts to stay warm were also putting them in danger. Some opted to spend the night in their cars with the engines running, prompting warnings about the risk of inhaling toxic fumes. And one suburban Houston family attempted to heat their apartment with a charcoal grill, leading two adults and four children to be hospitalized with carbon monoxide poisoning, according to WAVY. 
Many houses and apartment buildings in Texas and other parts of the Sun Belt are built with minimal insulation, meaning that residents couldn't count on their homes to stay warm for long once the power went out. On social media, Texans described frantically trying to reserve rooms at hotels, only to discover that they either lacked electricity or were already fully booked. 
"Get in one room with your family, bundle up, put blankets on, stay warm," Harris County Judge Lina Hidalgo advised residents on Monday, saying that was the "best recommendation" that she could offer at the moment. 
But they also knew that they risked running out of food if the blackout lasted much longer. With no way to use their electric stove, they couldn't cook most of the groceries that they'd stocked up on. Shelves at their neighborhood stores were emptied out and a handful of vendors were charging "an arm and leg" for basic supplies, Castillo said. Meanwhile, people all over the city were becoming desperate for hot meals, and footage posted by KTRKshowed a line of roughly 50 cars wrapped around a Burger King on Monday night.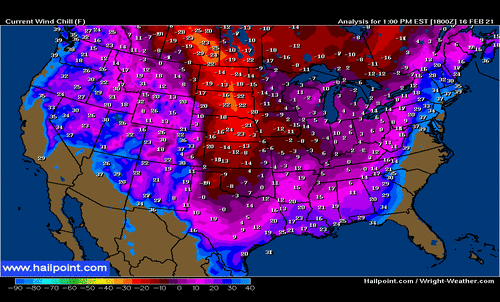 So with what's now happening in Texas and elsewhere across America giving all of the rest of us a great reminder of why we all should prepare for just such extreme weather, with lack of preparation potentially bringing death, we'll take a look in this closing at doing just that. 
With winter wind chills dipping way below zero across large parts of America as seen in the image above, winter could be around for a while so 'better prepping late than never' absolutely applies here. And having a generator is much more than just a 'winter thing', with generators able to be used in any other power outage scenario as well.  
Generators: 
DBPOWER Portable Power Station, 178Wh/250W Lithium Ion Battery Solar Generator with 110V AC Outlet for Home Outdoor Camping Adventure Travel Fishing Emergency Backup Power Supply
WEN 56203i Super Quiet 2000-Watt Portable Inverter Generator w/Fuel Shut Off, CARB Compliant, Ultra Lightweight
Pulsar G2319N 2,300W Portable Gas-Powered Inverter Generator with USB Outlet & Parallel Capability, CARB Compliant, Gray
DuroMax XP5500E Gas Powered Portable Generator - 5500 Watt - Electric Start - Camping & RV Ready, 50 State Approved
Generac 7127 iQ3500-3500 Watt Portable Inverter Generator Quieter Than Honda, Orange/Black
Wood Stoves:
Fltom Camp Tent Stove, Portable Wood Burning Stove for Tent, Shelter, Camping Heating and Cooking, Includes Stainless Wall Chimney Pipes
US Stove US1269E 900 Sq. Ft. Log Wood Cast Iron Stove, Black
Ashley Hearth AW1120E-P 1,200 Sq. Ft. EPA Certified Pedestal Wood Burning Stove, Black
Drolet HT3000 on pedesta - High-efficiency 2020 EPA certified wood stove DB07300 - The HT3000 succeeds to the HT2000
Portable Heaters:
Propane:
Mr. Heater F232000 MH9BX Buddy 4,000-9,000-BTU Indoor-Safe Portable Propane Radiant Heater, Red-Black
Mr. Heater MH18B Propane Heater, Red
Mr. Heater 30,000 BTU Vent Free Blue Flame Natural Gas Heater MHVFB30NGT
Kerosene:
Sengoku KeroHeat 10,000-BTU Indoor/Outdoor Portable Radiant Kerosene Heater, CTN-110
Dura Heat DH2304S 23,800 BTU Indoor Kerosene Heater
23,800 BTU Indoor Kerosene Heater, Convection Space Heaters Portable
Both of the videos below take a look at Winter prepping and survival tips and items that could save lives one day. And as always, Susan and I have both found that ANP readers offer the greatest suggestions and survival tips, so please do so if you'd like in the comment section below - your own tips and suggestions could make the difference between life and death to others. 
ANP is a participant in the Amazon Services LLC Associates Program.
EMERGENCY FUNDRAISER: With non-stop censorship and 'big
tech' attacks upon independent media, donations from readers are absolutely critical in keeping All News Pipeline online. So if you like stories like this, please consider donating to ANP.

All donations are greatly appreciated and will absolutely be used to keep us in this fight for the future of America.

Thank you and God Bless. Susan and Stefan.

PLEASE HELP KEEP ANP ALIVE BY DONATING USING ONE OF THE FOLLOWING METHODS.
One time donations or monthly, via Paypal or Credit Card:

Or https://www.paypal.me/AllNewsPipeLine
Donate monthly from $1 up by becoming an ANP Patron.



Donate Via Snail Mail

Checks or money orders made payable to Stefan Stanford or Susan Duclos can be sent to:



P.O. Box 575

McHenry, MD. 21541







comments powered by

Disqus