Whatfinger: Frontpage For Conservative News Founded By Veterans
"The Best Mix Of Hard-Hitting REAL News & Cutting-Edge Alternative News On The Web"
January 5, 2018
God's 'Cold Fury' Unleashed - Was A Prophetic Word Given 23 Years Ago, In Great Detail Coming To Pass, And Are The Great Quakes Next?

By Susan Duclos - All News PipeLine

In response to a request by ANP to Steve Quayle for permission to use a screen shot of prophetic word given to Quayle in 1994, which is posted on his website, after granting permission, Steve offered the following quote: "In the last couple of days the Lord has impressed upon my spirit to tell his people to repent and read, memorize and quote Psalm 23 and Psalm 91, as there will be great loss of life in the U.S. due to volcanoes in the Cascadia region coming active along with great EQ's in both the U.S. and South America and world wide- but He is now bringing this 23 year old word to pass, specifically in dealing with America's perversions and total rebellion against Him."

The first four paragraphs, shown in the screen shot below are eerily descriptive of what we are witnessing today as God's "Cold Fury" sweeps across the east after drought and fire decimated parts of the west.




MUST READ- Entire 1994 prophecy.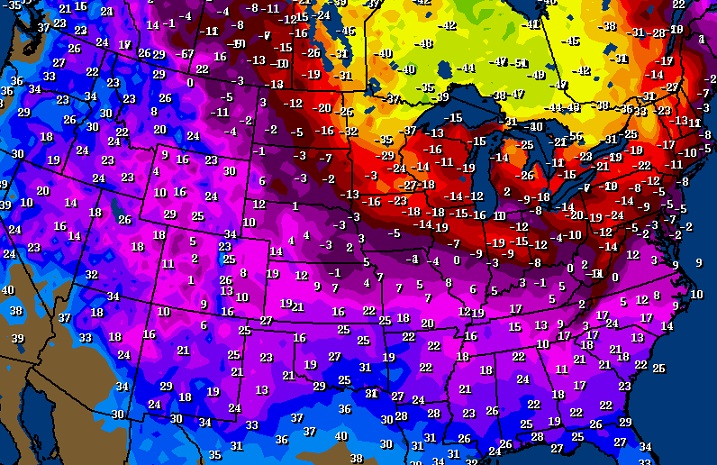 GOD'S 'COLD FURY'

As the chill map above taken on January 5, 2018 shows, much of the U.S. is experiencing freezing temperatures, with wind chill warnings being issued across the east coast as yet another winter storm blasts through as the "arctic outbreak" continues. Weather-related deaths have already been reported in North and South Carolina, Pennsylvania,Virginia, Texas, Wisconsin, Missouri, and North Dakota this week, as businesses and schools are closing, some airline and railway services are being cancelled, with thousands of utility outages reported.

An example of the wind chill warnings, such as the one for Garret County, MD, states the following:


* WHAT...Dangerously cold wind chills expected. The dangerously cold wind chills will cause frostbite in as little as 10 minutes to exposed skin. Expect wind chills to range from 10 below zero to 30 below zero.

* WHERE...Portions of southwest Pennsylvania, western Maryland and northern West Virginia.

* WHEN...Until 3 PM EST Saturday. PRECAUTIONARY/PREPAREDNESS ACTIONS...

A Wind Chill Warning means the combination of very cold air and the wind will create dangerously low wind chill values. Frost bite can occur quickly and even hypothermia or death if precautions are not taken.

In the deep south officials have taken to opening up warming centers, as hospitals in places like Atlanta are seeing a surge in emergency room visits for hypothermia and even in states as far south as Florida, reports of cold-blooded reptiles, like Iguana's, are raining down from trees after being rendered immobile from the plummeting temperatures.

'Cold Fury' seems to be an apt description as the weather is predicted to become even colder.




(Image- LA Times)


WEST COAST BURNS - GREAT FIRES AND DROUGHT

2017 was California's largest and most destructive fire season in a decade, following years of drought. In Ventura County where hundreds and hundreds of structures were destroyed with wildfires devastating the entire area in early December 2017.

By the years end, the Thomas Fire (Ventura and Santa Barbara counties) has encompassed over 281,893 acres, with only 91 percent containment, destroyed over a thousand structures with damage to nearly 300 more. Creek fire (Sylmar) spread over 15,619 acres, and 60 residences and 63 other structures were destroyed with another 55 residences and 26 other structures listed as damaged, and an additional 2,500 structures marked as threatened. (More at LA Times)

As Steve Quayle pointed out this morning via email, more fires will follow the great quakes, "The word will be ongoing, look at the timing of these judgments, as they are taking place at a time when corruption, perversion, murder, cannibalism, and child sacrifice are exploding, while the nation parties on, as foreigners plunder and treason reigns supreme."  He continues on to say "Lawlessness has become the order of the day."

It is hard to miss the timing of these events as sexual assault, rape scandals child abuse scandals, have beset Hollywood, and we see that some of the most powerful men in Silicon Valley are regulars at exclusive, drug-fueled, sex-laced parties that occur about once a month, in what Quayle calls the "Caligula's crowd." As California politicians flaunt federal laws in order to declare California a "sanctuary state," described as "CA going to hell in a handbasket,"  is it any wonder that God would render His judgment upon them?

THE GREAT QUAKES ARE NEXT AND BEGINNING NOW.....

"THE PROPHETIC WORD  IS BURNING IN MY HEART AND LIPS-LITERALLY I  WANT TO VOMIT AT WHAT IS NOW UNFOLDING -I HAVE NO IDEA OF EXACT TIMING, BUT THE URGENCY IN MY SPIRIT IS PROFOUND, AS THE LOSS OF LIFE WILL BE HUGE. IT WILL START WITH A SMALL, SERIES OF QUAKES AND BUILD  AND THE SCOFFERS WILL MOCK  DURING THE SHORT PERIOD OF CALM AND THEN BOOM-LIKE DOMINOES THE GREAT QUAKES (MAGNITUDE 9 PLUS) WILL COME." - Steve Quayle, January 5, 2018 - via email.


Michael Snyder over at The Economic Collapse website highlights that there have been "68 earthquakes in the vicinity of Mount St. Helens since New Year's Day, and there have been a total of 629 earthquakes in the state of California within the last 30 days." A strong 4.4 magnitude EQ rattled 9.8 million people in the Bay Area on Thursday, along the Hayward Fault. 

With the series of quakes in California, and the swarms in the Mount St. Helens area, one must also consider the volcano concerns, not just at Mount St. Helens, but along the whole Cascadia. While most focus on the Cascadia Subduction Zone fault and the ramifications if a megaquake was to occur there, not as many discuss the Cascade volcanoes, also referred to as the Cascade Volcanic Arc or the Cascade Arc, which runs from British Columbia, through Washington, Oregon and Northern California.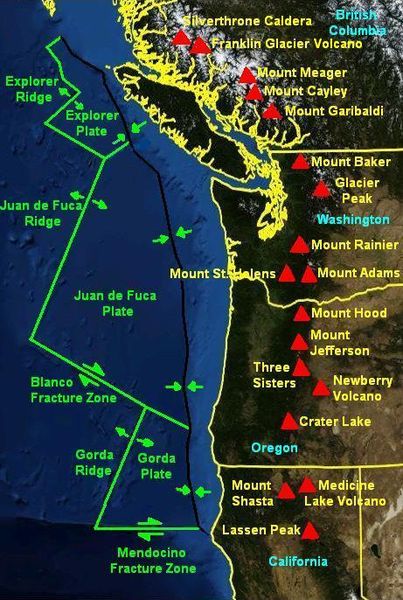 According to the USGS, during the past 4,000 years, volcanoes in the Cascade Range have experienced eruptions on average of two a century and "periods of eruptive activity at various Cascade volcanoes have lasted for a few to tens of years per century." 


Volcanic threat is the combination of hazards (the dangerous or destructive natural phenomena produced by a volcano) and exposure (the people and property at risk from the volcanic phenomena). Based upon eruption history and distance to population centers, a national volcanic threat assessment (NVEWS) designated nine volcanoes in Washington and Oregon with a "high" or "very high" rating. Very High Threat: Crater Lake, Glacier Peak, Mount Baker, Mount Hood, Mount Rainier, Mount St. Helens, Mount Adams, Newberry, Three Sisters. HIGH: Mount Adams.

The loss of life should some of these volcanoes erupt, along with the great quakes, would be catastrophic, hence Quayle's urging for people to repent and read, memorize and quote Psalm 23 and Psalm 91.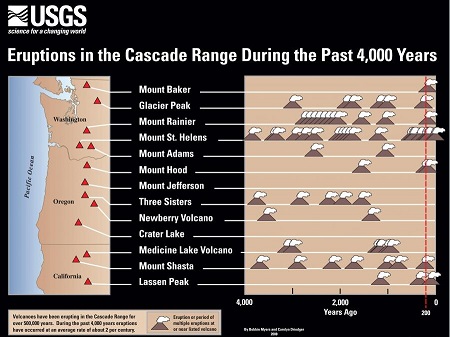 We also note that in Yakima County, in Washington state, there is a gigantic 20 acre-long crack on Rattlesnake Ridge that has been active since October 2017. Via Strangesounds we see "It is 20 acres in size, is moving at a rate of about 1.3 feet per week and is accelerating each week." Drone footage uploaded on January 1, 2018, below:



FINAL NOTE FROM SQ: "FOR THE TESTIMONY OF JESUS IS THE SPIRIT OF PROPHECY."


Revelation 19:9-11 - King James Version (KJV)

9 And he saith unto me, Write, Blessed are they which are called unto the marriage supper of the Lamb. And he saith unto me, These are the true sayings of God.

10 And I fell at his feet to worship him. And he said unto me, See thou do it not: I am thy fellowservant, and of thy brethren that have the testimony of Jesus: worship God: for the testimony of Jesus is the spirit of prophecy.

11 And I saw heaven opened, and behold a white horse; and he that sat upon him was called Faithful and True, and in righteousness he doth judge and make war.


BOTTOM LINE

I have heard Steve say on many occasions that he is not a prophet, does not consider himself one either, just someone who God called to warn his people.

With that said, read the entire  prophetic word from April 1994, at Steve Quayle's website.









comments powered by

Disqus