Whatfinger: Frontpage For Conservative News Founded By Veterans
"The Best Mix Of Hard-Hitting REAL News & Cutting-Edge Alternative News On The Web"
March 6, 2018
Senator: 'Clinton's Tentacles Go Everywhere' From Dossier To Deep State In Manufactured Russia Probe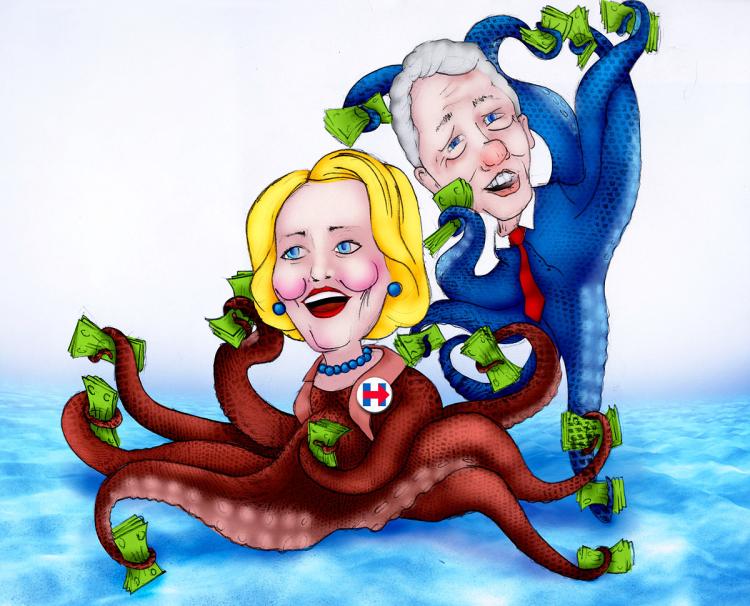 By Susan Duclos - All News PipeLine

Every time a new report emerges regarding the Russia "Collusion" narrative the media has been shoving down Americans' throats for the past year, following the trail always leads back to the Clinton's, their allies or Deep State members of the Obama administration that actively tried to meddle in the U.S. election process to get Hillary Clinton elected.

Every. Single. Time.

In late December 2017, as the FBI/DOJ was being engulfed in in the growing "deep state" scandals, which included how the agencies senior officials used the unverified, Kremlin sourced, Steele dossier that was funded by the Hillary Clinton campaign and the DNC, in order to obtain a FISA warrant to surveil a former Trump campaign member. It was later revealed that the intelligence members that used the dossier, did so without informing the FISA that 1) It was unverified, and; 2) That the Clinton campaign and DNC funded it.

Enter the NYT with a piece which attempted to distract from those scandals by claiming that the Russian inquiry began because George Papadopoulos, a former foreign policy advisor for the Trump presidential campaign had drinks at a bar with an  Australian diplomat in Britain, Alexander Downer, and told him that Russia had "political dirt" on Hillary Clinton. Two months later Wikileaks started publishing leaked emails from the DNC, then later the Podesta emails from Clinton's campaign. That was when Australia passed along the Downer's claims of what Papadopoulos said and voila! The Russian inquiry began........ according to the NYT.

In December when that NYT piece came out there was enough holes in their "reporting" to drive trucks through, such as what proof did they have that Papadopoulos actually said anything of the kind? Were their recordings or a transcript? Nope, they admitted in their story "Exactly how much Mr. Papadopoulos said that night at the Kensington Wine Rooms with the Australian, Alexander Downer, is unclear."

Another obvious question was whether the "political dirt" on Hillary Clinton that Russia was said to have, had anything to do with emails at all?

Did they name any source that could confirm or verify this narrative? Nope again, they claimed the information came from "four current and former American and foreign officials with direct knowledge of the Australians' role." Hmmmmmm.   Were any of them those in the news since December, found to have been leaking to the press like FBI agent Peter Strzok, who played a key role in initiating the Russia probe as an "insurance policy" in case Donald Trump won the presidential election. Or FBI lawyer Lisa Page, whose texts with Strzok showed they liked to leak information to the press? Or former FBI deputy Director Andrew McCabe who is now accused of approving leaks to the press and misleading Inspector General investigators?

The point here is that the NYT offered great click bait, but nothing they reported could be confirmed, which brings us to another assertion in that piece, that when looked at in light of the information that has just been revealed, has some very disturbing implications.


It was not, as Mr. Trump and other politicians have alleged, a dossier compiled by a former British spy hired by a rival campaign. Instead, it was firsthand information from one of America's closest intelligence allies.

That is a reference to Australia, but where did Australia's intelligence agency get that information? From Downer, which brings us to the blockbuster report by John Solomon and Alison Spann, who uncovered a huge Clinton connection with Downer. Documents embedded at The Hill article show that Mr. Downer arrange "one of the largest foreign donations to Bill and Hillary Clinton's charitable efforts," to aid the Clinton Foundation. To the tune of $25 million. According to that same report, the FBI never informed congress of Downer's connection to the Clinton Foundation.


"The Clintons' tentacles go everywhere. So, that's why it's important," said Rep. Jim Jordan (R-Ohio) chairman of a House Oversight and Government Reform subcommittee that has been taking an increasingly visible role defending the Trump administration in the Russia probe. "We continue to get new information every week it seems that sort of underscores the fact that the FBI hasn't been square with us."

Read the entire article at The Hill. 




With this new revelation we see those Clinton tentacles are entwined with every aspect of the Russian investigation, from inception. 

1) The Australian "source" of Papadopoulos' alleged comments at the bar, was a Clinton Foundation ally.

2) Clinton campaign and DNC funded Steele dossier which was used in FISA applications to obtain warrants to surveil Carter Page, without telling the FISA court about the Clinton/DNC connection.

3) Clinton confidant Sidney Blumenthal exchanged information with former State Department official Jonathan Winer, who admits to consorting with Christopher Steele. Winer worked with the State Department from 2009 until 2017, resigning amidst the scandal that he was part of the Russia "insurance policy," plot against President Trump. That means Winer was employed by the State Department while Hillary Clinton was Secretary of State.

4) Strzok was behind the "insurance policy" (Russian probe), and via his texts with his lover FBI lawyer Lisa Page, both were virulently anti-Trump and pro-Clinton according to their own text messages. Strzok was also responsible to some key changes in the language of former FBI director James Comey's exoneration statement of Clinton in the private server/email scandal, changing the term "grossly negligent," which was the statutory language that would have led to legal consequences, to "extremely careless," which helped her bypass charges. 

Strzok also participated in the FBI interview with Michael Flynn, who was indicted as part of the Mueller probe, for lying to the FBI, in an interview struck was part of.  Coincidence? 

Related: McCabe May Have Asked FBI Agents to Change 302 Forms

Another new report now indicates that Strzok was also informed of a "irregularity in the metadata of Hillary Clinton's server that suggested a possible breach," but he did not follow up on the information as intelligence community directives demanded.

Knowing all of the above about Strzok, it is safe to call him a deep state Clinton ally.

John Solomon and Sara Carter joined Sean Hannity to discuss these latest revelations, and how every aspect of the Russia investigation began and ended with people paid by Hillary Clinton or were donors to the Clinton Foundation. Then we have Peter Strzok, who by his own words sent in thousands of texts made it very clear he was a Clinton ally and vehemently against Donald Trump.

All roads to and from the Russia investigation appear to lead right to Hillary Clinton.



NOTE TO READERS

 - 

If we make it through March when we start seeing the revenue generated by the new ad network, we may just have a chance to turn big techs' bias back against them and come through this stronger, louder and more powerful, together. February 2018 has been the most brutal month yet due to the censorship we have been battling against this past year, so any extra readers may be able to spare for donations is greatly appreciated.









comments powered by

Disqus