Whatfinger: Frontpage For Conservative News Founded By Veterans
"The Best Mix Of Hard-Hitting REAL News & Cutting-Edge Alternative News On The Web"
May 8, 2015
What Happened To America? Assassination Attempts And Threats Are Being Sanctioned.... Where Is The Outrage?
By Susan Duclos - All News PipeLine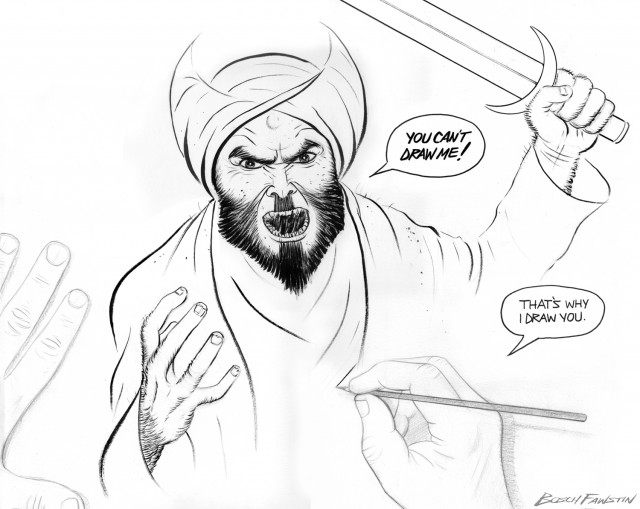 Love her or hate her, Pamela Geller has been one of the defining voices over the years warning of the erosion of American freedoms, guaranteed by the US Constitution, and she has courageously put her life on the line to prove her assertions..... ironically it was ISIS and/or ISIS sympathizers that finally made her point for her, helping escalate her fight for America's liberties to the headlines of every major news outlet.

Recently Ms. Geller helped sponsor a "Draw Muhammed" contest, where two men wearing body armor, carrying assault rifles, one of which declaring loyalty to ISIS, were killed after trying to ambush the event which was held in Garland Texas.

Over the years I have watched Ms. Geller attempt to wake up the masses to what has been happening, in America, right under our noses, she has been called a "hate monger," been called an "Islamophobe," among other charges because she asserts that the US has been insidiously heading toward a place where "Sharia Law" replaces US law, turning America, the Land of the Free into Amerika where the US constitution is nothing more than paper with no meaning.

ISIS has now openly called for the death of Ms. Geller and anyone that protects her, with further assertions that there are "71 trained soldiers in 15 different states ready at our word to attack," specifying five states where attacks will occur, those are Virginia, Maryland, Illinois, Michigan and California."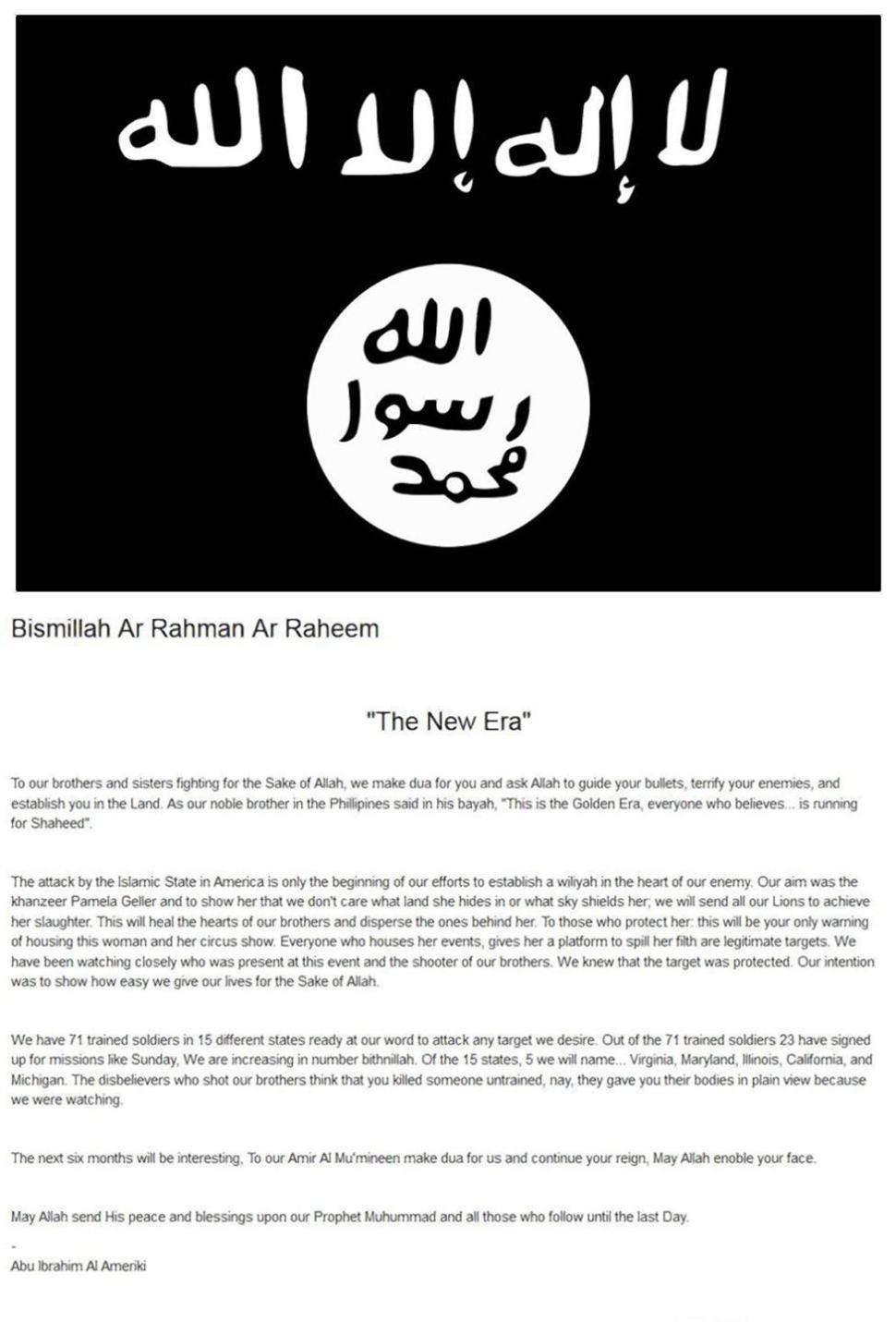 (Click image to enlarge)

Whether one agrees with Ms. Geller's methods or not, the attack on the Draw Muhammed event, but more importantly events subsequent to the attack on the event, have spectacularly made Ms. Geller's point for her, on a national stage, not just a political one.

Keep in mind we have a president that refuses to name our enemy, shies away from calling ISIS "radical jihadists," or Islamic extremists," using political correctness as a club to bludgeon those that exercise their free speech rights. We have politicians that are so scared of being labeled Islamophobes that they will not stand up and protect our constitutional rights, while our country is being infiltrated by terrorists as well as importing them into the country, while US officials admit those imported jihadists are recruiting here in the US and planning attacks on US soil. (See more on that in a previous ANP article) 

Ms. Geller was interviewed by Breitbart News, please read the entire interview, but the following two questions and answers, should be read before watching the video below, where Pamela Geller faces off against radical Imam Anjem Choudary on Fox News, Hannity, where Mr. Choudary, not only condones the threats against Ms. Geller, but suggests that she "put before Shariah court and tried and of course she would face capitol punishment," because she organized a free speech event in America.

Breitbart News: What in Islam makes it so controversial when one draws Muhammad?

Pamela Geller: Islam forbids representation of the human form as idolatry, and particularly of Muhammad, who is considered to be the perfect man. Supposedly if Muhammad were represented, Muslims (and others) would be tempted to worship him. This argument is absurd, of course, for if it were true that seeing Muhammad would tempt one to worship, the early Muslims would have all become idolaters when they saw Muhammad. In any case, the representation of Muhammad carries the death penalty in Islamic law.

Breitbart News: What is Sharia Law? What do you mean when you allege that individuals and groups are enforcing the Sharia?

Pamela Geller: Sharia is Islamic law, considered by Muslims to be the law of Allah, and encompassing every aspect of human behavior. It forbids criticism and mockery of Islam on pain of death. Thus when Western non-Muslims say we should not draw Muhammad, they are recommending that we conform to Sharia, which Islamic supremacists wish to impose upon us.

In the video below, Mr. Choudary confirms each and every assertion made by Ms. Geller, when he states "We're talking about people who deliberately had a competition to insult the messenger Mohammad… If you saw the cartoons that Charlie Hebdo drew you would understand the anger. And now this woman was to draw cartoons or have people draw cartoons to insult the prophet knowing full well that this carries the death penalty in Islam… She should be put before Shariah court and tried and of course she would face capitol punishment."

(Article continues after the video)



It is not only radical Imam's promoting the concept that free speech should be limited if it "offends" someone, which is a very slippery slope, but as can be seen below Megyn Kelly has a very heated discussion with Richard Fowler, where Kelly firmly aaserts "When people exercise their first amendment rights, and two jihadis show up to murder them, the relevant question at that time is not what were they saying... The more offensive the speech is Richard, the more protection it needs. That is how the first amendment works... I am concerned about the America you would have us live in. That is not the way it was set up."



In the last video, Kelly declares that when free speech is attacked more than those killing over it, the "the jihadis are winning."




She reiterated that free speech is protected, "no matter how abhorrent," and you don't have to endorse it to defend it. And with all the focus on scolding Pamela Geller's group, Kelly said, "if this is where American sentiment stands on this, then the jihadis are officially winning."

Kelly even accused the media of drawing a "moral equivalence" between people who do offensive things and people who kill over those offensive things. She brought on Eugene Volokh to continue emphasizing the point, going after the media and CNN's Chris Cuomo in particular.

Watching the division over this latest terrorist attack on US soil by Islamic extremists and ISIS members/sympathizers, all that runs through my head is the headlined question.... what has happened to America? Since when is attempted murder and threats of assassination sanctioned and condoned?

I am going to give the last word to Steve Quayle, who has issued a SQ alert on May 7, 2015:



I AM ASKING ALL OF YOU WHO ARE PRAYING AND FASTING WITH US FOR THE NEXT 40 DAYS TO PRAY FOR PAMELA GELLAR'S SAFETY AND DIVINE INTERVENTION ON HER BEHALF

WHEN PAMELA GELLAR STANDS UP AGAINST THE MOST EVIL AND POWERFUL ISLAMIC SHARIA MOVEMENT OF OUR DAY AND COMES UNDER ATTACK BY KNOWN ISIS MEMBERS, WE NEED TO STAND WITH HER IN PRAYER AND INTERCESSION.WHAT ABJECT COWARDICE OF THE PRESS,THAT REFUSES TO IDENTIFY THE MONSTERS THAT ARE BEHEADING CHILDREN,BURNING MEN AND WOMEN ALIVE, AND CANNIBALIZING OUR BRETHREN ,AND MANIFESTING A BLOOD LUST FROM THE PIT OF HELL AGAINST CHRISTIANS WORLDWIDE DEMANDS THAT YOU STAND THIS DAY! NOW IS THE TIME FOR YOU TO SAY ENOUGH IS ENOUGH.THE FACT THAT CHRISTIANS AND PULPITS IN GENERAL ARE "SATANICALLY SILENT" ON THE SLAUGHTER OF OUR BRETHREN IS EVIDENCE ENOUGH THAT THE GREAT FALLING AWAY IS TRULY UNDERWAY.THE FACT THAT DHS AND THE FBI HAVENT EVEN CONTACTED HER OR ARE CONCERNED FOR HER PROTECTION IS PRIMA FACIA EVIDENCE THAT THEY ARE NOT GOING TO HELP HER-MAY THE GOD OF HEAVEN SEND HIS WARRING ANGELS TO STAND WITH HER AND MAYBE SOME WHEN OF VALOR WHO HAVE NOT BECOME POLITICAL EUNUCHS RISE TO HER DEFENSE!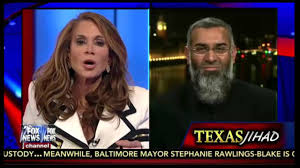 comments powered by

Disqus