Whatfinger: Frontpage For Conservative News Founded By Veterans
"The Best Mix Of Hard-Hitting REAL News & Cutting-Edge Alternative News On The Web"
    
April 8, 2016

UPDATE 4-19-2016 FROM STEVE QUAYLE - Did You Fall For This 'Tool Of Mass Distraction'? Yellowstone Park - My Perspective By Steve Quayle - 'The Most Serious Super Event Is Not Yellowstone But The Loss Of Our Country To The New World Order Takeover Devils And Their Traitorous Plans' 

YELLOWSTONE LAKE TODAY 4/7 /16 AT 10:30 ABSOLUTELY NO LAKE ICE MELT OVER THE VENT ON LAKE BOTTOM, THAT WOULD BE MELTING THE ICE ABOVE IT WITH ANY MAGAMA MOVEMENT ACTIVITY- NONE - NADA - NYET!
By Stefan Stanford - All News Pipeline - Live Free Or Die

UPDATE 4-19-2016 FROM STEVE QUAYLE:

SQ-THINGS I WOULD RECOMMEND PEOPLE WATCH CONCERNING YELLOWSTONE NATIONAL PARK-NUMBER ONE 1.) IN THE PAST THERE HAVE BEEN ALASKAN EQ'S THAT HAVE INITIATED SYMPATHETIC SEISMIC EVENTS IN YELLOWSTONE PARK,MICRO TREMORS ARE NOT THE ISSUE.,NUMBER 2.) MAGMA WOULD MOST LIKELY BREAK THROUGH THE GROUND AT NORRIS GEYSER BASIN OR  MAMMOTH HOT SPRINGS PRIOR TO ANY MAJOR EXPLOSION-3.)WEST THUMB GEYSER BASIN WITH LAKE SIDE STEAM AND GEYSER VENTS, AND LONG  DORMANT GEYSERS ONCE AGAIN BECOMING ACTIVE ALL AT ONCE 4.) MASSIVE ICE MELT OVER MAIN VOLCANIC VENT IN YELLOWSTONE LAKE FURIOUSLY MELTING ICE OVER ITS LOCATION.5.) IMMEDIATE CHANGE IN THE HIGHER TEMPERATURE THERMOPHILE BACTERIA COLORS INDICATING MUCH HOTTER WATER.6.) ACTIVITY OF LONG PERIOD EPISODIC QUAKES  IN THE VICINITY OF IDAHO WYOMING AND THE QUAKE LAKE AREA OF MONTANA7.) HYDROGEN SULFIDE LEVELS RISING EXPONENTIALLY 8.) MASS ANIMAL MOVEMENT BEYOND SEASONAL MIGRATION OF BISON, ELK,WOLVES ETC.9.) CERTAIN AREAS OF THE PARK BEING CLOSED RANDOMLY,BEYOND THEIR NORMAL ANNOUNCED CLOSURES AND OPENINGS.10.)CHINESE SCIENTISTS AND MILITARY WOULD BE PRESENT AS THEY OWN ALL THE NATIONAL PARKS AS COLLATERAL FOR THEM LOANING MONEY TO U.S! NONE OF THIS IS CURRENTLY GOING ON -SO LEARN TO THINK ,OBSERVE AND ACT BASED ON FACTS NOT INTERNET HYPE.  BANK CLOSINGS ,FOOD SHORTAGES AND POWER SHUTDOWNS ALONG WITH RIOTS AND CREDIT CARD INTERRUPTIONS  WILL IMPACT YOUR LIFE SOONER THEN YELLOWSTONE PARK WILL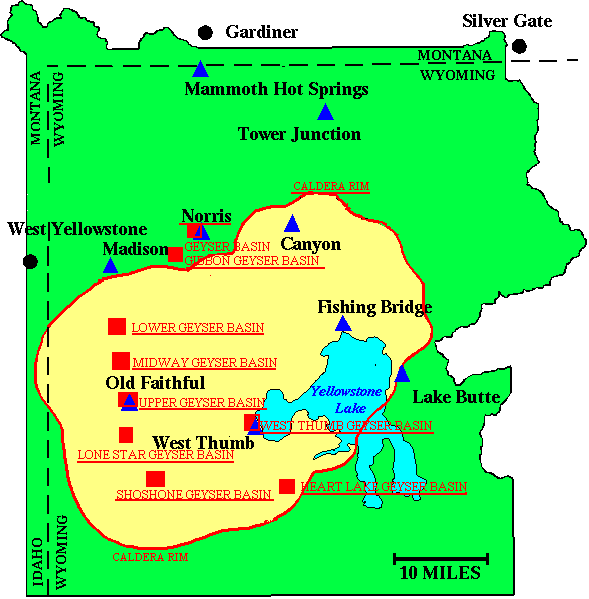 The report that had been getting a lot of attention across the alternative media world told us that the Yellowstone supervolcano may have been getting ready to erupt with govt allegedly censoring pertinent data and seismographs taken offline so that the public has no way of witnessing the alleged "massive amount of seismic activity" there. 

However, after digging deeper we now have to ask, are we witnessing attempts by the USGS or others to generate 'Yellowstone' hysteria or stoke anxiety and fear? As we learn in the 1st video below, reports of 'something happening at Yellowstone' have been occuring yearly going back at least 7 years as seismographs are taken offline for updating and data not released to the public quite regularly we learn here. 

In fact, All News Pipeline was told by a well-trusted source who lives within 50 miles by air from Yellowstone that those reports of 'Yellowstone doom' were likely false and that we should disregard them. After hearing of them, Steve Quayle also decided to visit Yellowstone on Thursday himself, being that close to the park, and the photographs that he sent to ANP republished within this story show anything but a park ready to erupt as some have been reporting. All photographs of Yellowstone within this story are owned by Steve Quayle. 1st, a statement directly from Steve. 

TO THOSE WORRIED ABOUT YELLOWSTONE BLOWING—I HAVE PHOTOGRAPHED YELLOWSTONE PARK SINCE GRADUATING FROM MONTANA STATE FILM SCHOOL IN 1972-1974, HAVING TAKEN MULTI -THOUSANDS OF PHOTOGRAPHS OF YELLOWSTONE PARK OVER A 40 YEAR SPAN OF TIME, BOTH IN VISIBLE LIGHT AND INFRARED, GROUND AND AERIAL PHOTOGRAPHS. YELLOWSTONE PARK, IS THE WORLDS MOST ACTIVE GEO -THERMAL AREA HAVING THE MAJORITY (60%) OF THE WORLDS GEO THERMAL FEATURES,ESTIMATED AT 10,000, IN A RELATIVELY SMALL AREA. YELLOWSTONE,  IS ONE OF THE MOST MONITORED AND SEISMICALLY WATCHED AREAS ON THE PLANET.I HAVE PERSONALLY BEEN IN THE PARK WHEN THEY HAVE HAD HUNDREDS APPROACHING 1000 SEISMIC TREMORS OVER A 24 HOUR PERIOD  AND COULDN'T EVEN FEEL THEM!  I  MONITOR AND WATCH ACIDITY LEVELS, SEISMOGRAMS AND "THERMOPHILE BACTERIA" (BACTERIA WHOSE COLOR INDICATES WATER TEMPERATURE) ALONG WITH CALCIFICATION OF GEYSER AND STEAM VENTS ACTIVITY ON AT LEAST A WEEKLY BASIS INCLUDING STRANGE ANIMAL BEHAVIOR, AND STAYING IN TOUCH WITH PEOPLE, WHO ARE IN THE KNOW,  FROM,SCIENTISTS, MILITARY AND INTEL PEOPLE -"TO OTHERS" - RECYCLED YNP IS GOING TO BLOW NONSENSE IS A TOOL OF DISTRACTION TO KEEP YOUR EYES OFF "REAL WORLD HOT SPOTS" -SOME VERY IGNORANT AND TROUBLESOME PEOPLE PANIC AND SPREAD THE YELLOWSTONE IS GOING TO BLOW AT ANY MINUTE IF EVEN THE SEISMIC MONITORING INSTRUMENTS GO DOWN, AS HAPPENED IN THE LAST 48 HOURS WHICH PROMPTED ME TO FLY DOWN THERE THIS MORNING COVERING HUNDREDS OF SQUARE MILES - AND NOTHING - I WILL PERSONALLY NOT POST ANY YELLOWSTONE NEWS STORIES FROM ANY BLOGGERS AGAIN—UNLESS I HAVE REAL WORLD CONFIRMATION - I SPEND MAJOR BUCKS TO TRY AND BRING YOU THE TRUTH AND MY ACTIONS ARE DEFINED - TALK IS CHEAP AND THE WORDS OF RONALD REAGAN STILL RING TRUE TODAY -TRUST BUT VERIFY, BUT BOGUS INTEL AND ANECDOTAL EVIDENCE NEEDS MORE THAN STUPIDITY AND IGNORANCE TO FLY!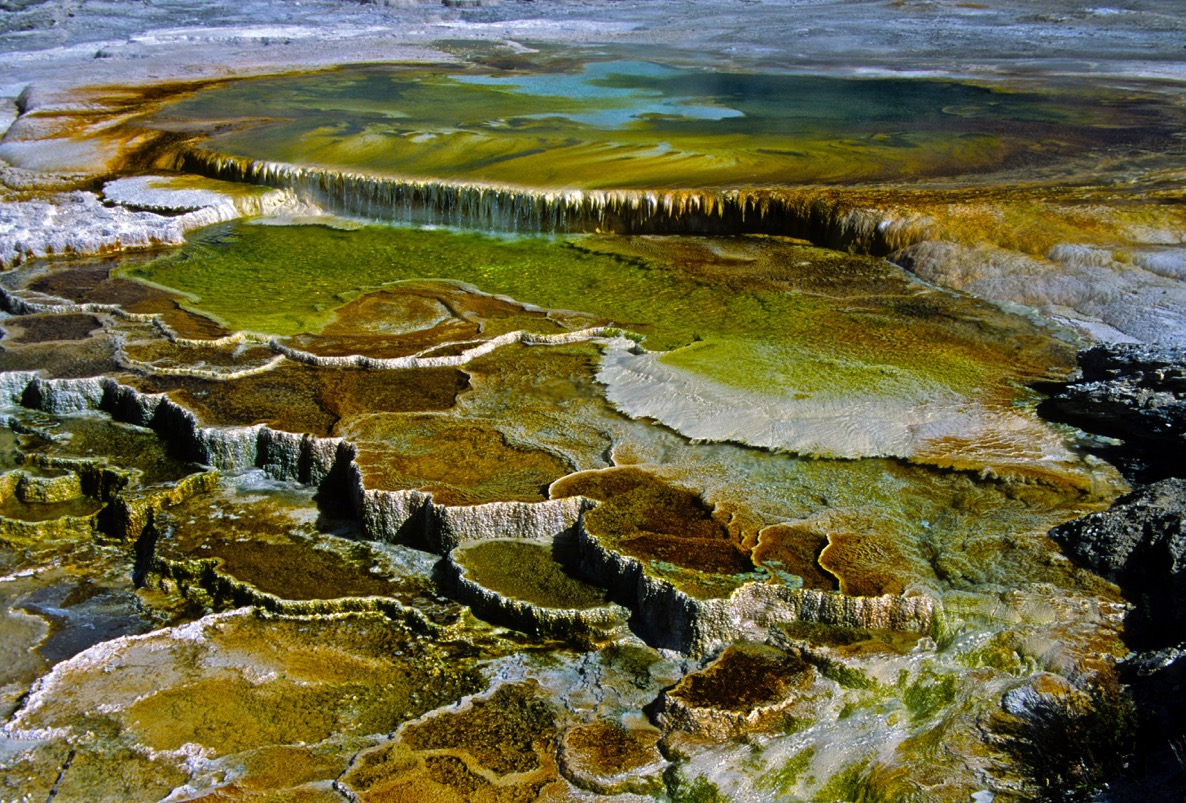 MAMMOTH HOT SPRINGS-MINERVA TERRACE_THIS TERRACE PLATEAU HAS DRIED UP IN PLACES - 2 YEARS AGO THE ROAD ON UPPER TERRACE DRIVE WAS SHUT DOWN DUE TO INCREASING GROUND TEMPERATURES DUE TO MAGMA MOVEMENT AND OR VENT PRESSURE CHANGES
Does the USGS regularly 'censor' Yellowstone data to cause alarm among the alternative media that it surely knows is paying close attention? According to Quayle, who has been photographing the park for over 40 years, we're witnessing a 'tool of distraction'. The original SQAlert from Steve Quayle on Yellowstone is also republished below. 

Should we really be concerned about what some are saying is going on now at Yellowstone? As Pastor Dave tells us in the 1st video below, every year for the past 6 or 7 years there have been 'something is going on at Yellowstone' alerts put out. As we've all since found out, each of those 'something is going on at Yellowstone' alerts has been false and we too failed to do 'due diligence' with a previous such warning. Will the 2016 'something is going on at Yellowstone' alert be any different from the warnings of the past 7 years that have been proven false? As Pastor Dave also tells us, God doesn't want us to fear, only to be prepared for any situation. The original alert from Steve Quayle's website.:
NOTHING IS GOING ON IN YELLOWSTONE PARK AS OF 4/6/16 - SUPERSTATION 95 IS INCORRECT AND I WENT ON RECORD WITH THEM EARLIER TODAY,BEFORE THEIR BROADCAST
I LIVE WITHIN 50 AIR MILES FROM YNP AND INTIMATELY AWARE OF YELLOWSTONE AS I HAVE ON THE SPOT COMMUNICATIONS WITH PEOPLE IN THE KNOW AND HAVE BEEN THERE WHEN 1000 MICRO TREMORS HAPPENED AND COULDN'T EVEN FEEL THEM-WEATHER PERMITTING I WILL BE FLYING OVER IT TOMORROW PHOTOGRAPHING CERTAIN AREAS-CHECKING THE MAIN VENT IN THE LAKE FOR ANY ABNORMAL ICE MELT-FWIW YOUR WASTING YOUR TIME ON THIS --SQ-THIS WAS MY REPLY ON 11:08 AM THIS MORNING- HAL,YOUR FRIENDS INFO IS ONLY ANECDOTAL AND IS NOT BASED ON ANY EMPIRICAL DATA NOT TO MENTION HIS HEALTH ISSUES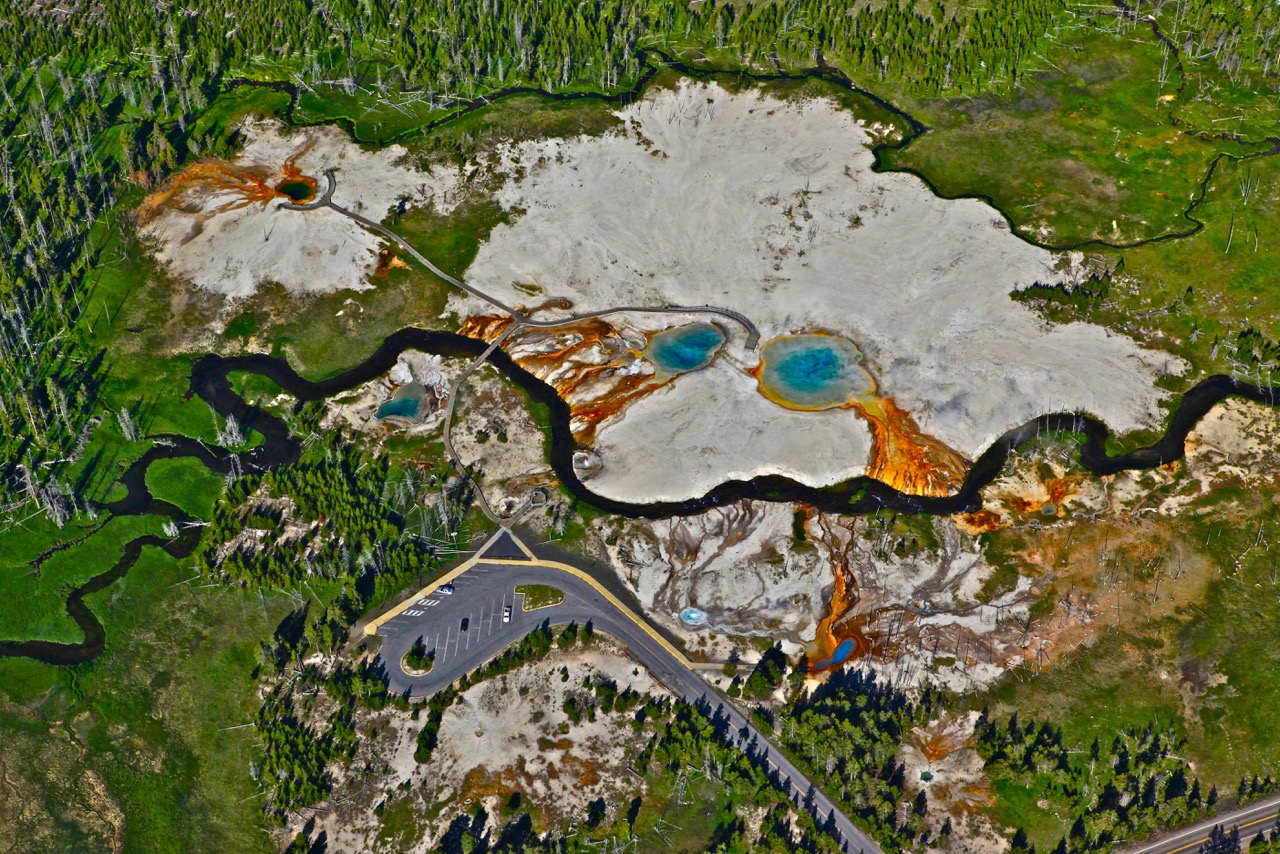 AERIAL BLACK SAND GEYSER BASIN-THIS IS WITHIN 2 MILES OF OLD FAITHFUL WHICH IS BECOMING LESS FAITHFUL IN ITS ERUPTION PATTERNS.BY COMPARING MULTIPLE DECADE PHOTOS I CAN COMPARE THE CHANGES TAKING PLACE AS OLD GEYSER VENTS CHANGE
We also decided to reach out to the owner of the "Is This Thing On" website which keeps the Yellowstone seismic chart data as seen in the screenshots below to ask why there is no seismic data on Yellowstone for the past several days dating back to April 5th, 2016. Generally, these seismic charts are completely up-to-date and are updated by the hour. We found it strange that there was no data for seismic activity in Yellowstone over the past several days after what we see for April 4th below. As of this moment, we have not heard back from the owner.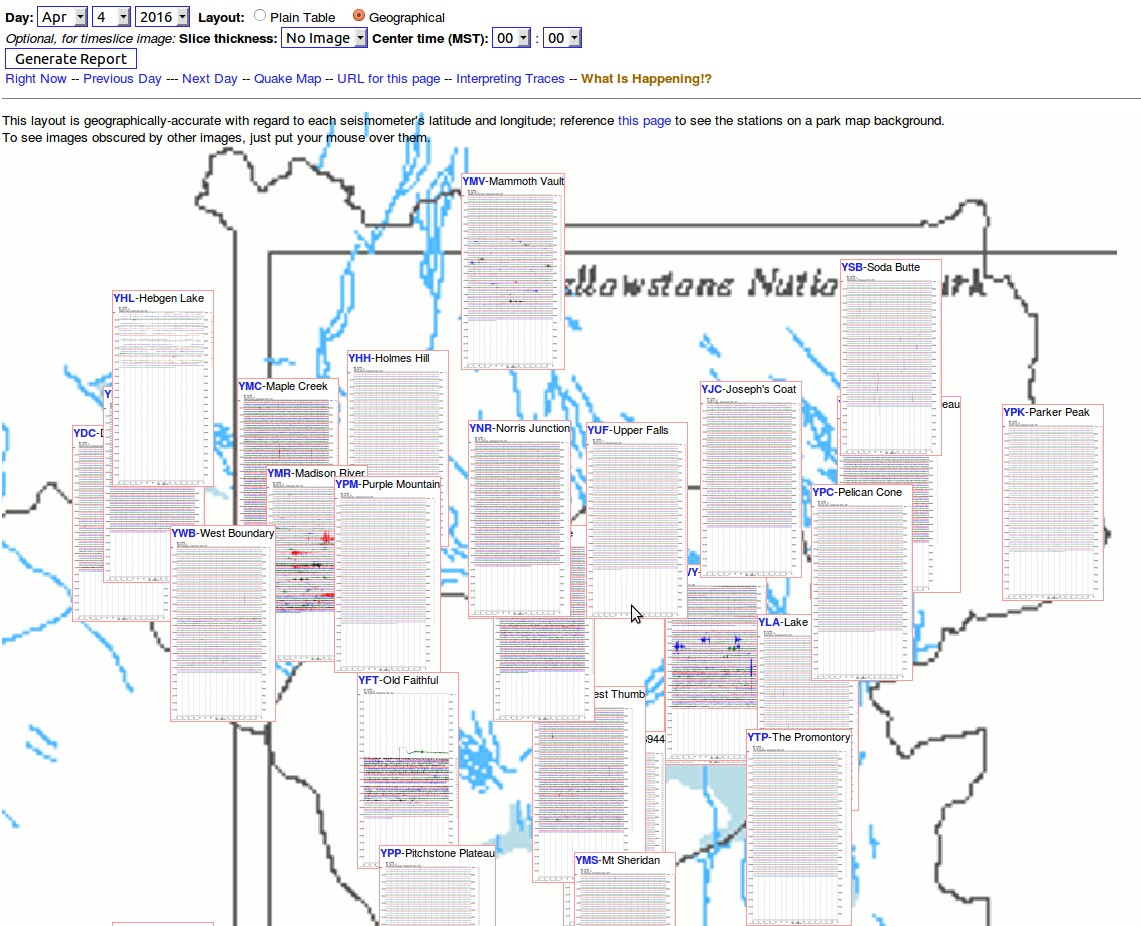 As we learned from Steve Quayle above and in the videos below, rumors of Yellowstone getting ready to blow have been happening yearly. While even scientists admit that Yellowstone will erupt one day in the future, we'll heed the advice that we shouldn't sell our homes or our farms just yet. The videos below take a look at all of this recent Yellowstone news with the attitude that we need to stay calm and as Quayle tells us, we're wasting our precious time if we're worrying about this. However, if we're prepared for something like this, we're prepared for anything.

As Quayle warns us: 'The Most Serious Super Event Is Not Yellowstone But The Loss Of Our Country To The New World Order Takeover Devils And Their Traitorous Plans'. 







AERIAL-NORRIS GEYSER BASIN -MAGMA IS NEAREST TO THE SURFACE IN THIS AREA-SINCE I HAVE BEEN PHOTOGRAPHING YELLOWSTONE PARK FOR OVER 40 YEARS, I HAVE A HISTORIC PERSPECTIVE ON THIS PARK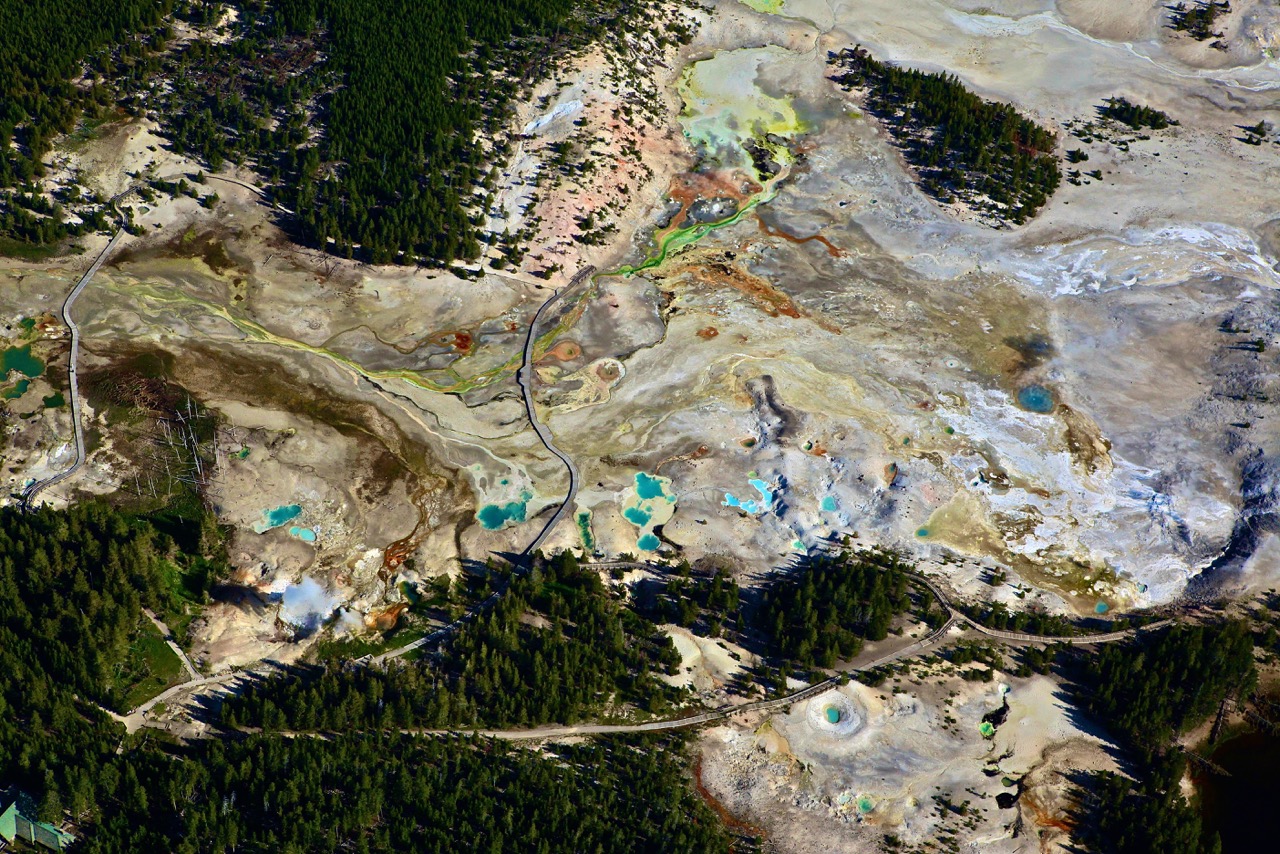 MAMMOTH TERRACE - AS THE VENT AND WATER FLOW CEASE OR CHANGE DIRECTION ALL THE MULTI COLORED MINERAL TERRACES DRY UP AND TURN TO CALCIUM CARBONATE AND LOSE THEIR COLOR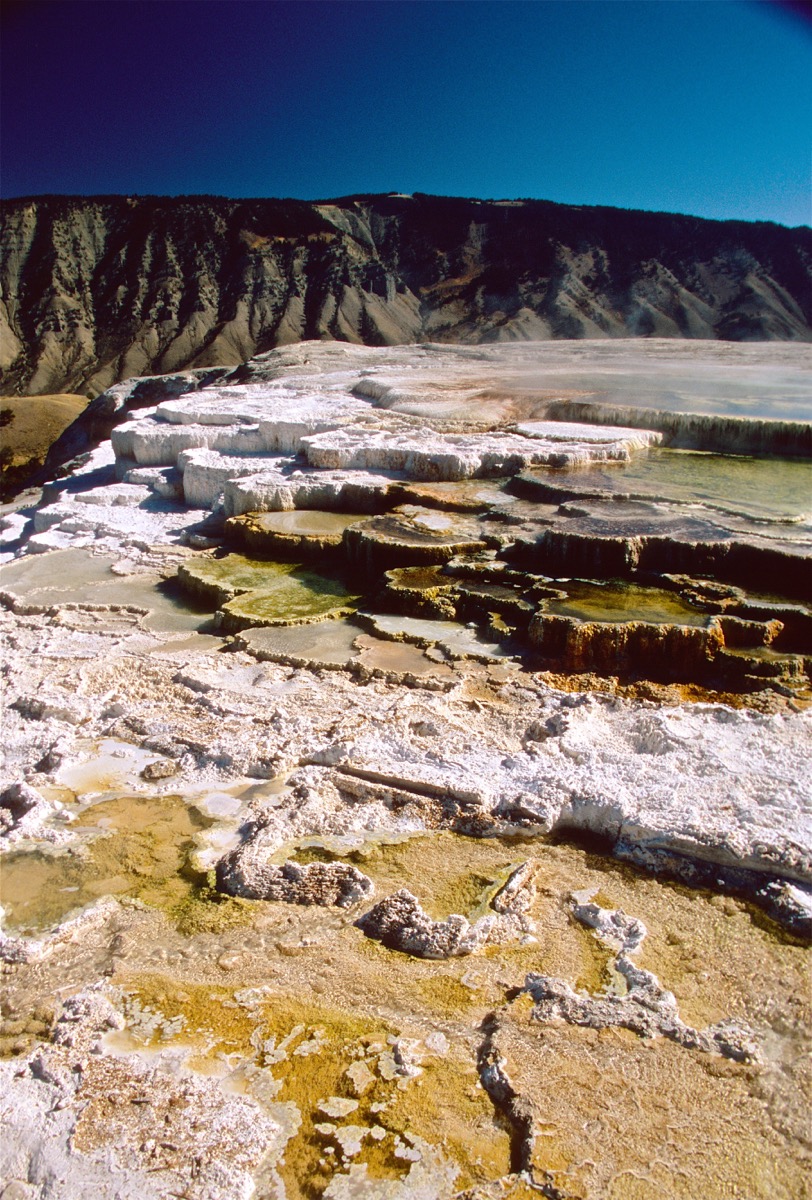 comments powered by

Disqus