Whatfinger: Frontpage For Conservative News Founded By Veterans

"The Best Mix Of Hard-Hitting REAL News & Cutting-Edge Alternative News On The Web"
May 15, 2016
When America's Farmlands Become The Killing Fields Of Tomorrow


By Susan Duclos - All News PipeLine

"25 YEARS AGO, I SHARED WITH MY RADIO AUDIENCE, THAT GOD HAD GIVEN ME A VISION, WHERE I SAW GUARD TOWERS WITH FOREIGN SOLDIERS AND MACHINE GUN TOWERS STATIONED AT THE 4 CORNERS OF  TOTALLY FENCED  FARMS AND WHEAT FIELDS,WITH STARVING AMERICAN CITIZENS BEING MACHINE GUNNED DOWNED, AS THEY TRIED TO JUST GRAB EARS OF WHEAT TO EAT"-THE TIME IS NOW HERE, AS FOOD, ALONG WITH FRESH WATER,  BECOME THE TWO MOST PRICELESS COMMODITIES ON PLANET EARTH,THAT ARE ALREADY COMING UNDER ILLUMINIST CONTROL-SQ" - Steve Quayle via email

QUICK FACTS

According to the U.S. Census Bureau, China has a population of nearly 1.4 billion people, while the U.S. has a poplulation count of over 323 million people. The two nations are of similar size  -"China 3.69 million square miles vs. US 3.68 million square miles" (Source) As of the 2012 agriculture census, approximately 40 percent of U.S. land was considered farmland, meaning it was arable, which was consistent with the prior 2007 agricultural census. Compare that to the 11 percent of China's land that can be farmed, with reports showing that much of China's arable land being degraded, and we get a better understanding of why America is basically China's grocery store at this point.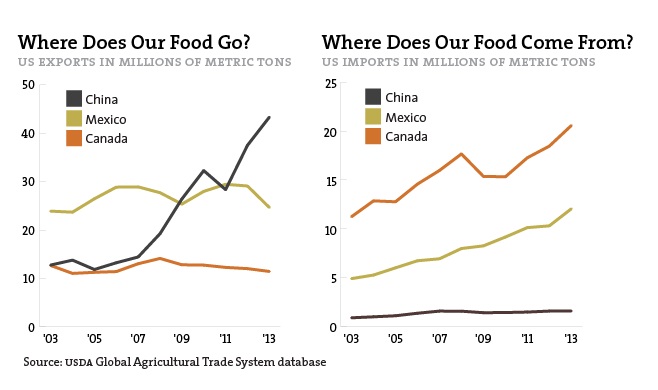 (Chart via Mother Jones - 2014)

CHINA GOBBLING UP U.S. REAL ESTATE, COMPANIES AND FARMLAND

There has been significant reportage on just how many U.S. companies are being gobbled up by Chinese investors (most of which are intertwined with the Chinese government) from movie theaters to telecom companies to hotels to General Electric. We also know that the Chinese have been heavily investing aka buying up  U.S. real estate. 

The eye-opening chart below, via USA Today from March 2016, should give readers a visual of how much of an increase can be seen in Chinese acquisitions of U.S. targets since 2011.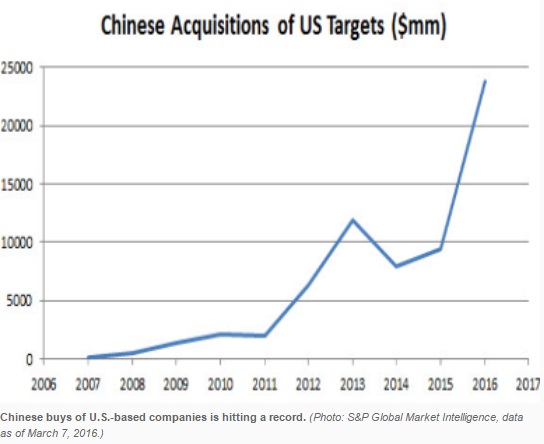 It is not just telecom companies, theaters, electronic companies, etc..  that the Chinese are buying up, but a massive increase of U.S. farmlands and global food companies, such as the $7.1 billion purchase of Smithfield Foods in 2013, the world's largest pork producer. With the Smithfield purchase, the Chinese now own 1 out of every 4 pigs raised in the U.S, according to some reports.

In fact, as the chart above shows, it was 2011 that the Chinese acquisitions of U.S. targets started spiking, which coincides with China's 2011 "five year plan," which is China's roadmap for their economy, with particular focus on "buying up overseas farmland and foreign food companies."

Via RevealNews:



In 2011, the year the five-year plan was announced, Chinese nationals owned $81 million worth of U.S. farmland.



By the end of 2012, the Chinese owned $900 million in U.S. farmland – a 1,000 percent increase – making them the largest buyers that year, according to the U.S. Department of Agriculture.



The Smithfield deal included another $480 million in U.S. farmland, which would push the Chinese stake to nearly $1.4 billion in less than two years.


IT ISN'T ONLY FOOD AND IT ISN'T ONLY CHINA BUYING UP AMERICAN RESOURCES

It is noteworthy that recent reports also show that Saudi Arabia is also buying up farmland in US Southwest.

As Forbes details in a 2013 article titled "The Foreign Companies That Are Buying Up America," we see that "The Chinese are using American money from its trade deficit with you and putting it to use to acquire American brands."

Related via Breitbart - 30 Years of 'Free Trade' Brings 400% Trade Deficit with China

It isn't only China though that is buying up American companies, meaning when you spend money on their products thinking you are "buying American," and helping the U.S. economy.... well, not so much!

Just a few examples listed below to make the point - Purina, now owned by the Swiss company, Nestle;  Alka-Seltzer, now owned by German company Bayer Schering Pharma AG; Ben & Jerrys, now owned by British-Dutch Unilever; AMC theaters, now owned by the Chinese; 7-Eleven, now owned by the Japanese company, Seven & I Holdings; Gerber, now owned by the Swiss pharmaceutical giant, Novartis and ; Firestone, now owned by the Japanese Bridgestone Corporation.

More at Economy in Crisis, Forbes, Daily Finance, 24/7 Wallstreet. 



FOOD HAS BEEN USED AS A WEAPON THROUGHOUT HISTORY

A simple search brings up countless ways food has been used as a weapon of mass starvation throughout history, with a March 1941 TIME magazine article stating "Both Stalin and Hitler use food to destroy internal opposition, reward accomplishment, punish failure, establish the class distinctions of their "new orders." 

Food Power is described in the following manner "the use of agriculture as a means of political control whereby one nation or group of nations offers or withholds commodities from another nation or group of nations in order to manipulate behavior."

BOTTOM LINE

Food can be used as a weapon by a government against its own people or by a nation against another, but now we have reached the dawn of a new day, where foreign companies and governments own significant amounts of U.S. resources and land, to the point where any major catastrophe that befalls America that results in food shortages, could find us living out Steve's vision from 25 years ago, where 'American farmlands become the killing fields of tomorrow," guarded by foreign soldiers with machine guns aimed at starving Americans.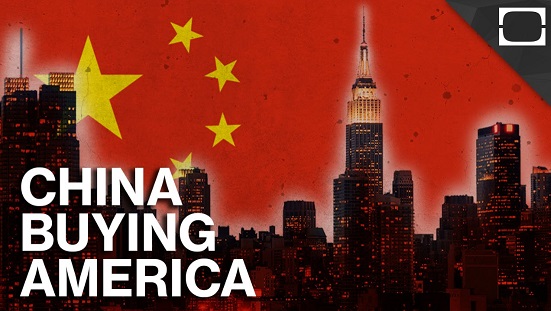 comments powered by

Disqus