Whatfinger: Frontpage For Conservative News Founded By Veterans
"The Best Mix Of Hard-Hitting REAL News & Cutting-Edge Alternative News On The Web"
Democratic Politicians Drag Out The Body Bags Again With Astroturfed Opposition & Protests Over SCOTUS Pick - Part 2 Of The Great #Resistance Meltdown Of 2018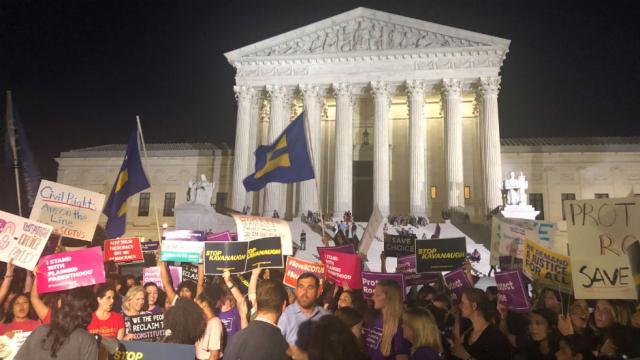 By Susan Duclos - All News PipeLine

If the hyperbolic reactions and media coverage before president Trump announced Judge Brett Kavanaugh as his second Supreme Court pick weren't deranged enough, the media-induced hysteria after the prime time reveal, is nothing short of completely unhinged.

ASTROTURFED OPPOSITION AND PROTESTS

While Judge Kavanaugh is by all accounts, respected and admired throughout the judicial community, the opposition and protests that were pre-planned were not the spontaneous grassroots demonstrations that liberals and the media want Americans to think they were. 

Multiple examples prove conclusively that no matter who President Trump nominated, they were going to be labeled as "dangerous" and "extremist," as liberals and the propaganda arm of the Democratic party, otherwise known as the MSM, took the airwaves and social media to declare that once again the world as we know it is ending.

The first example of the pre-planned nature of opposing and protesting any candidate that was nominated comes from the organization known as The Woman's March, where they were in such a rush to send out their pre-written release, where all they would have to do is fill in the name of the chosen nominee, they forgot to do so in the top paragraph and misspelled his name in the second.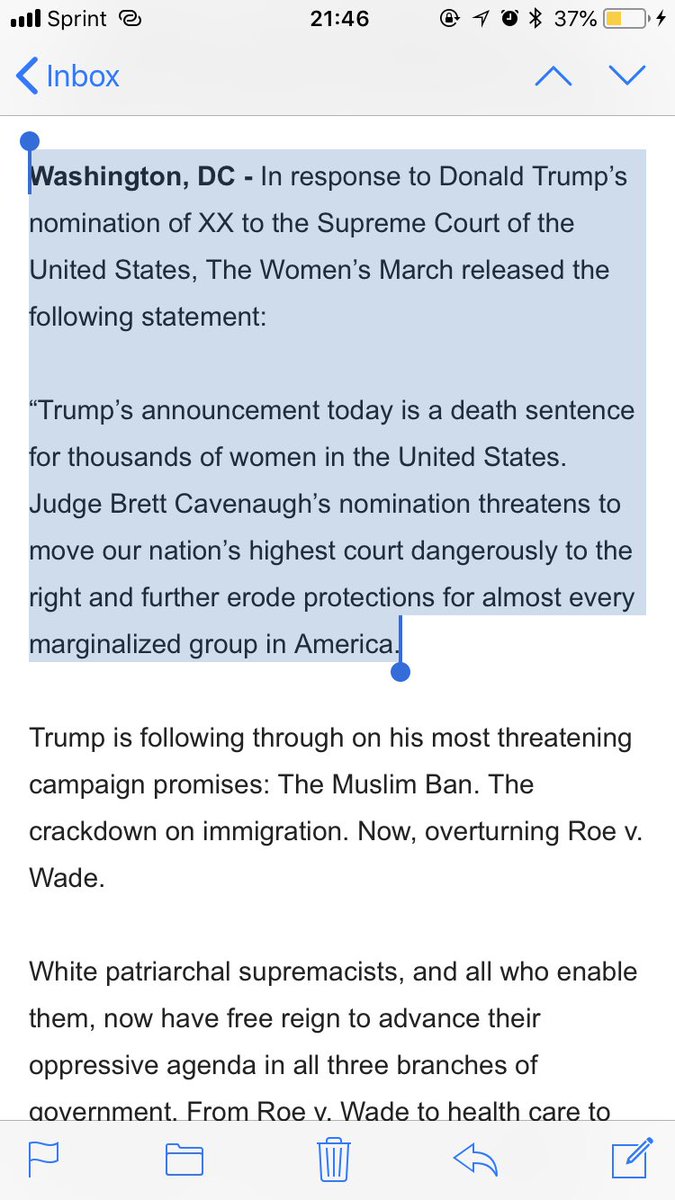 Another group that seemed to rush their statement out without "fixing" it before the release comes from Democracy for America (or DFA), who managed to get Kavanaugh's name right, but forgot to change the "she" to a "he" in their release.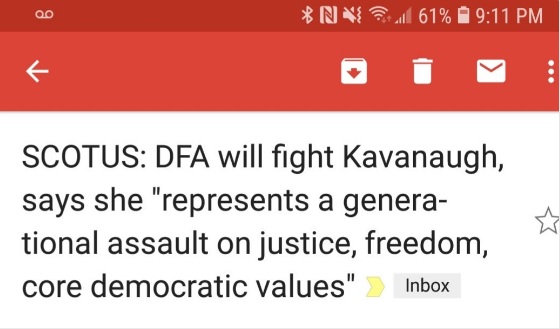 As a side note: By calling Kavanaugh a "she," in liberal-speak, doesn't that mean they "misgendered" him? Where is the outrage!??!

The second example showing the protest outside the Supreme Court was astroturfed, which is when monied groups or sponsors, artificially elevate a "protest" by organizing and funding it, while attempting to make it look like a spontaneous grassroots protest, comes from the amount of professionally created premade signs, listing the names of three different possibilities, rather than just the person that was nominated.

OAN Correspondent, Jack Posobiec, managed to capture an image which he shared on social media with the message "Sign-printing business is booming. Trump economy!"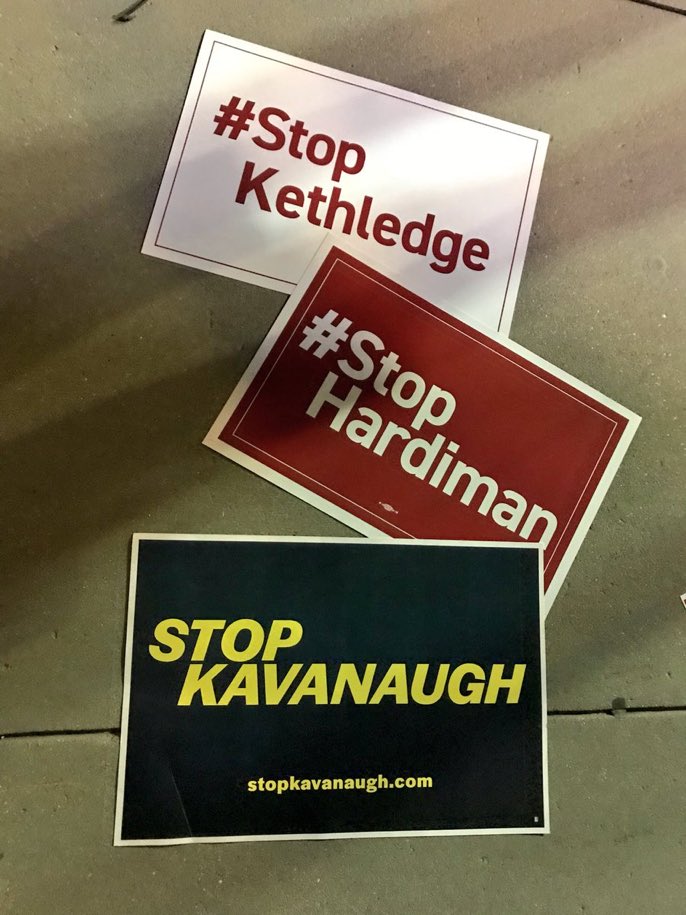 As Washington Post's Dave Weigel highlighted, before Kavanaugh was even done speaking at the press conference set up to reveal President Trump's pick, the group Demand Justice already had uploaded their opposition advertisement, via a 30 second video. There was no way to create and publish a new video before the presser was even concluded, showing conclusively they had these ads made up for each of the short list of possible nominees before the announcement and just ran with the one that applied.


ABC News, part of the propaganda arm of the Democratic party, is also being slammed for bias after tweeting a promotion which said, "Tonight on Nightline, @TerryMoran reports on the controversial Supreme Court Justice pick and the possible implications for the country," over an hour before the announcement had been made.

Reactions and criticisms came fast and furiously over their determination that the pick was "controversial" without even knowing who the nominee was going to be.

Managing Editor for Free Beacon, David Rutz: "Unannounced Supreme Court pick already branded "controversial."

Senator Oren Hatch's Office: "The President hasn't even named a nominee yet so it's very interesting to report them as "controversial." 

Conservative bloggers Chicks on the Right: "Tweeted more than an hour before this "CONTROVERSIAL PERSON" is even announced.  Way to go, Nightline.  Solid unbiased journalism there!"

Associated Editor of Media Research Center, Scott Whitlock: "You don't know who the pick is and he/she is already "controversial?"

Related: This Is the Left: Fox's Shannon Bream Forced to 'Bail' on SCOTUS Set After Threats, 'Volatile' Scene

Of course one cannot criticize media idiocy without providing an example of how clueless CNN reporters are. This time it is Chris Cillizza, who on July 2, claimed "If you believe Trump makes decisions based on image and appearance (and he does), then here's the next Supreme Court Justice," where he predicted that due to her "image" and looks, President Trump's predictable choice would be Amy Barrett. 

By July 9, after President Trump announced Kavanaugh, it was the "remarkably predictable" choice, according to Cillizza.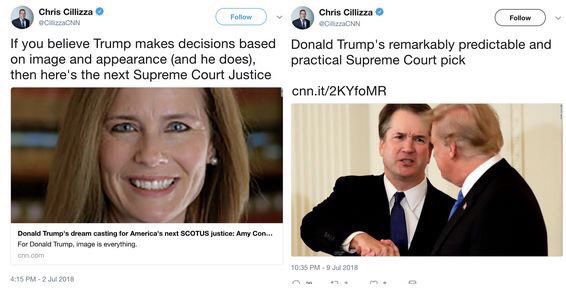 AS PREDICTED, IT GETS UGLY

As with the Tax cut bill, net neutrality repeal, the repeal of the Obamacare mandate, and just about anything else the President has done or said over the year and a half, over-the-top Democratic reactions include the dire prediction of "millions of Americans" lives will be threatened for decades to come, as stated by Virginia Gov. Terry McAuliffe.

One has to wonder how many times Democratic politicians will drag out the body bags during President Trump's term (or terms?).

If last night's reaction by liberals across the internet, including the MSM, was ugly, the headlines we are seeing today, deliberately meant to incite liberal anger (and perhaps more violence and harassment) is completely unhinged.

Over at the website Memeorandum, which spotlights political articles which are being talked about the most across the internet, we see a number of headlines, such as "How Brett Kavanaugh Will Gut Roe v. Wade," and "Surprise! Trump picks radical extremist for Supreme Court," and "Brett Kavanaugh, Trump's Supreme Court Pick, Is Probably the End of Abortion Rights and Same-Sex Marriage, just as a few examples of the continuance of the Great #Resistance Meltdown of 2018.

Related: "The Post-Nomination Meltdown Has Begun" and  "Shannon Watts, Kamala Harris, other lefties melting down over Brett Kavanaugh pick."

BOTTOM LINE

There are so many examples of how unhinged the reactions have gotten already, less than 24 hours after the announcement that it could fill up multiple pages, but we will leave you with what is being called "a troll of deeply epic proportions," by White House staff towards the opposition party White House media journalists.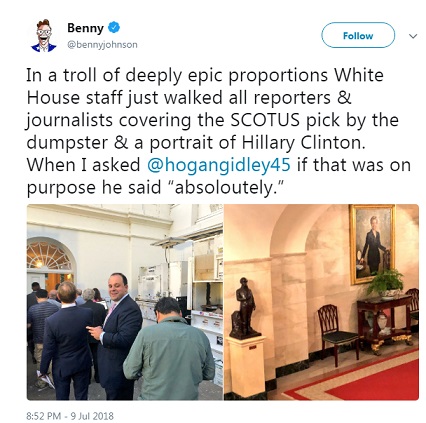 In Kavanaugh's remarks from the press conference Monday night, one line should appeal to those of us that have been documenting how federal judges have been pushing their liberal activistism in the courtroom over the last decades, rather than applying the law to the cases before them. Kavanaugh stated a judge must "Interpret the Law, Not Make the Law."

Kavanaugh makes that assertion at around the 3:20 minute mark below.





NOTE TO READERS
: 
ANP Needs Your Help

. With digital media revenue spiraling downward, especially hitting those in Independent Media, it has become apparent that traditional advertising simply isn't going to fully cover the costs and expenses for many smaller independent websites.


Any extra readers may be able to spare for donations will help keep ANP up and running and is greatly appreciated.
One time donations or monthly, via Paypal or Credit Card:

Or  https://www.paypal.me/AllNewsPipeLine
Donate monthly from $1 up by becoming an ANP Patron.




comments powered by

Disqus