Whatfinger: Frontpage For Conservative News Founded By Veterans

"The Best Mix Of Hard-Hitting REAL News & Cutting-Edge Alternative News On The Web"

March 22, 2017
Banned Video Proves The Watchmen Were Right As Food Is Being Used As A Weapon In Venezuela And Shows Why The Entire World Should Be Alarmed
- Only Time, Preparation And The Grace Of God Separates Us From Them 


By Stefan Stanford - All News Pipeline - Live Free Or Die
According to Reporters Without Borders, the nation of Venezuela ranked #137 out of 180 countries in its World Press Freedom Index for 2015. Having recently kicked 'fake news' CNN out of the country, other independent outside news reporters are either not let into the country at all or arrested if caught doing their jobs. Once the 'crown jewel of socialism', Venezuela has a lot to hide now in their mad dash towards totalitarianism.
As we have previously reported numerous times on ANP, what is happening now in Venezuela should be looked at as a warning to the world and in the brand new 1st video below featuring ABC Australia journalist Eric Campbell, Campbell defies the strict outside media ban and goes inside the desperate and dysfunctional country to get us a look inside Venezuela we were never meant to see.

Proving to us that in 2017, food is still being used as a weapon, this video shows us a 'broken' country where people starving to death has become common and gangsters who kidnap and kill others for a living find themselves rising up the social ladder.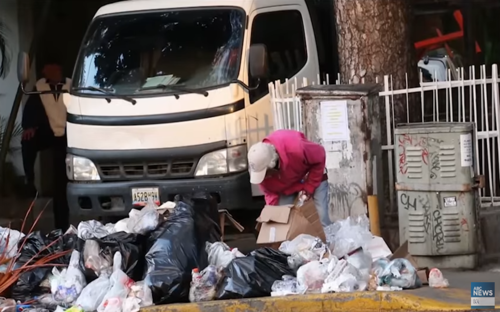 While the nation of Venezuela still has more oil than any country on the planet, its people eat out of garbage dumps and the gangsters rule. In this video, we see what every day life is like for many in Venezuela, who wake up at 2 a.m. to go stand in lines all day for food, and get confirmation from those living there that the Watchmen have been correct in their  warnings: What is happening now in Venezuela is a dire warning to the world.
Formerly Latin-America's wealthiest nation, the 'great socialist dream' has "crumbled into extreme corruption, poverty and violence". And as we learn in this video, extreme poverty in Venezuela is spreading faster than 'poverty' as the nation has turned into one of the most dangerous countries in the world. 
Actually meeting up with a gang of 'kidnappers, murderers and drug dealers' who agreed to be interviewed, Campbell claims he felt like he was in a Quentin Tarantino movie with the gang members holding their guns throughout the entire interview. Is this what a collapsed America will look like?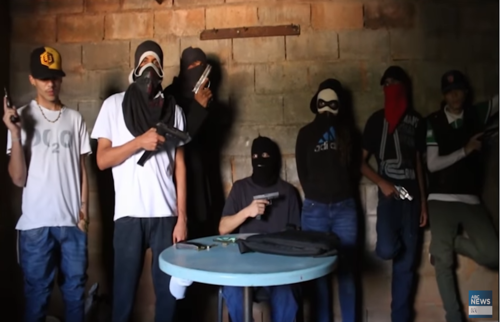 Giving us a small taste of what a nearly completely-lawless society might look like, we weren't surprised to hear the leader of the gang saying he's much better off now than he was before, proving to us that when all goes south and the SHTF, criminal gangs thrive in lawless lands. Concluding "it's hard to see any peaceful solution to the 32 million people we've left behind", this video shows us what the government of Venezuela clearly doesn't want us to see.

Once inside Venezuela, Campbell found a country terrorised by murderous gangs, where pitiful food rations forced people to eat garbage, and where essential items were in such short supply,

people used cash as toilet paper because it was cheaper.

"The bolivar is now so worthless you need a sack of money to pay a bill," Campbell said.



And while getting into the country was risky, working as a journalist in its capital, Caracas, was even riskier. During Campbell's time there, an American journalist was arrested and interrogated for days by Venezuelan authorities as part of a crackdown on unauthorized foreign media.





"We couldn't do anything officially, and when we were filming we had to be very quick on the street because even with small cameras, you can be spotted and arrested very quickly," Campbell said.





"There are so many police and soldiers and national guards. There's also this paramilitary group called colectivos — it's a civilian militia to defend the revolution — and these were the rea

lly nasty ones. If they were around we couldn't risk filming at all."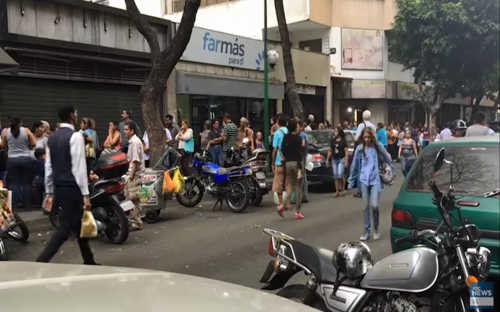 Are America and the West now heading the way of Venezuela? The story Steve Quayle linked to on his website on Tuesday from the Daily Mail reports that since Donald Trump was elected president, the sales of 'apocalypse bunkers' have surged by nearly 300%. As we hear in the 2nd video below featuring Bill Holter along with Dave from the X22Report, we have already passed the 'point of no return' here in the US.

As the Watchmen have long warned, the globalists have every reason to bring down the US economy on President Donald Trump's watch, hoping to put a final end to the spread of nationalism and complete their totalitarian 'new world order'.

Just imagine the chaos that would unfold here in America should suddenly and without warning, millions of millenials, anarchists and snowflakes be without access to food the way we have it now, instantly at our finger tips at grocery stores. As Doug Casey recently warned Greg Hunter at USAWatchdog, financial collapse is closing in on near certainty and could trigger civil war here in America. And in this video we see, what is happening in Venezuela has turned that once prosperous nation into what this new story over at The New American calls "Socialism's House of Horrors". What might America look like under the same 'total collapse' conditions? 

Only time, preparation and the Grace of God separates us from them. 



comments powered by

Disqus