Whatfinger: Frontpage For Conservative News Founded By Veterans
"The Best Mix Of Hard-Hitting REAL News & Cutting-Edge Alternative News On The Web"
November 11, 2017
This Is About to Get Very Ugly, Very Fast - Bannon Vs Establishment 'Season of War' Explodes And Bannon Is Doubling Down, Not Backing Down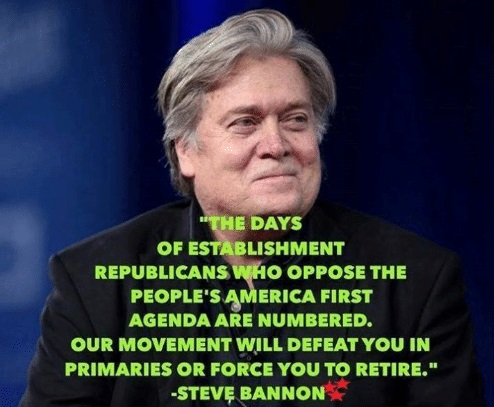 By Susan Duclos - All News PipeLine

The 'bombshell" report against GOP Senatorial candidate Judge Roy Moore, accusing him of inappropriate sexual contact with "teenagers," nearly 40 years ago, is not about Alabama, not about Moore, but is rather the establishment attempting to "slow down" Steve Bannon's promised "season of war" against establishment Republicans.

WASHINGTON POST USED AS 'PAYBACK' BY ESTABLISHMENT AGAINST BANNON

Former White House Chief Strategist Steve Bannon backed Judge Roy Moore to become the GOP candidate for the Alabama senate race, which Senate Majority Leader Mitch McConnell and establishment Republicans backed the establishment incumbent, Luther Strange.  Bannon's candidate won, establishment's lost, which Bannon referenced when he declared a "season of war" against establishment Republicans.

Enter Washington Post, stage left, the establishment's choice of paper to malign, lie, and offer "fake news" stories to the masses, offering a hit piece against the candidate opposing the Democratic candidate the Post previously endorsed, who had documented ties with far-left groups financed by George Soros.

Wapo reported that Moore, when he was in his early thirties, dated younger women, in their "teens," three of which were over the age of consent, which is 16 in the state of Alabama, according to their articles of code, and none of the "accusations" by those three women included anything of a criminal nature, nor included intercourse or anything more than kissing, so the addition of them by Wapo was nothing more than salacious fodder in an obvious hit job.

The last claim comes from a women 52 year old Leigh Corfman, that accuses Moore of inappropriate sexual contact when she was 14 years old, so that is  the only actual accusation that would include anything that would have been a crime then, but to which the statue of limitations has expired on now, and there was no allegation of rape.

Judge Moore has categorically denied contact with Ms. Corfman, telling Sean Hannity "I had nothing to do with this. This is a completely manufactured story meant to defraud this campaign," making this a he said/she said issue. 

Unfortunately in the absence of any police reports filed, which there were none made, nor any legal charges leveled at the time or now, it comes down to credibility, which is why Moore highlighted that he had been in public service for more than 40 years, in his initial statement after the Washington Post article was published, just four weeks before the election is to be held, in which Moore held a substantial lead.


Today, the Judge Roy Moore Campaign for U.S. Senate issued a statement responding to yet another baseless political attack by the Washington Post, a paper that has endorsed Judge Moore's opponent. Moore campaign chair Bill Armistead released the following statement on Thursday afternoon:

"Judge Roy Moore has endured the most outlandish attacks on any candidate in the modern political arena, but this story in today's Washington Post alleging sexual impropriety takes the cake. National liberal organizations know their chosen candidate Doug Jones is in a death spiral, and this is their last ditch Hail Mary.

"The Washington Post has already endorsed the Judge's opponent, and for months, they have engaged in a systematic campaign to distort the truth about the Judge's record and career and derail his campaign. In fact, just two days ago, the Foundation for Moral Law sent a retraction demand to the Post for the false stories they wrote about the Judge's work and compensation. But apparently, there is no end to what the Post will allege.

"The Judge has been married to Kayla for nearly 33 years, has 4 children, and 5 grandchildren. He has been a candidate in four hotly-contested statewide political contests, twice as a gubernatorial candidate and twice as a candidate for chief justice. He has been a three-time candidate for local office, and he has been a national figure in two ground-breaking, judicial fights over religious liberty and traditional marriage. After over 40 years of public service, if any of these allegations were true, they would have been made public long before now.


Moore's resume is out there, his credibility has been unquestioned in this area until these latest attacks.

Washington Post on the other hand has suffered a severe credibility problem for a number of years, from outright fake news stories which had to be corrected and retracted about Russia, to their failure to disclosed the close ties between their owner, Jeff Bezos and the CIA, when reporting on stories that include CIA sourcing or about the agency itself, and their failure to disclose that one of the "accusers" in their article about Moore worked at one point for the Clinton campaign and as an interpreter for Joe Biden and other Democratic candidates.

Ms. Corfman is the unknown and since the Post story went public, there has been a number of details revealed about her, which is a distasteful part of establishing credibility in a 'he said, she said," situation where there is no court case, police record or prior claim. Those include that Corfman has been divorced three times and had declared bankruptcy three times, neither of which is relevant to the actual claims by Wapo, but then we see that she has allegedly accused several pastors of making "sexual advances" on her.

Disclaimer: ANP is on record in multiple recent articles over the sex scandals engulfing Hollywood right now, speaking about people being found guilty in the court of public opinion, rather than a court of law, so while we are not piling on to Moore, or "defending" nor attempting to "protect" Moore, we are highlighting the facts as we see them and looking at the past actions and claims of all involved here, in order to form an opinion on credibility, because while Corfman's charge is old, it is also an extremely serious allegation.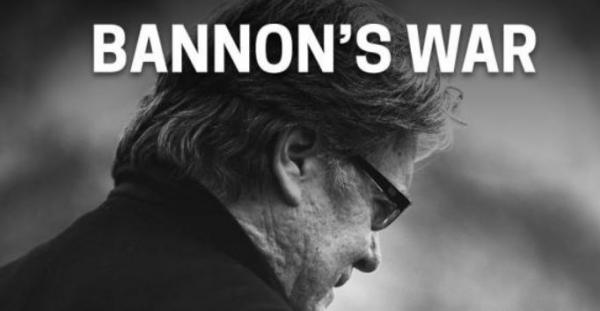 FLASHBACK: STEVE BANNON DECLARES 'SEASON OF WAR' ON ESTABLISHMENT REPUBLICANS

Back in mid-October ANP reported on Bannon's declaration of war against establishment Republicans, where he stated at the Values Voter Summit, "This is not my war. This is our war. And y'all didn't start it. The establishment started it." In that speech he used Judge Moore as an example of how we was going to mount primary challengers to any RINO (Republican In Name Only) that refuse to push through president Trump's agenda.

Via NY Post:


The president's former campaign strategist lashed out repeatedly at Senate Majority Leader Mitch McConnell (R-Ky.), who supported incumbent Strange's primary fight with $32 million of campaign cash.

"In Alabama, you took Mitch McConnell's money and you took it from his greatest asset to his biggest liability," Bannon told his audience of Trump admirers.

Bannon said values voters' grass-roots get-out-the-vote effort resulted in a win for the underfunded Moore.

"The more money they spend, the fewer votes they get," he said.

Bannon says the same fate could be in store for Senate Republicans who remain silent in the face of attacks on Trump from within the party. He called out Sens. John Barrasso of Wyoming, Dean Heller of Nevada and Deb Fischer of Nebraska as potential primary-election targets.

Jump forward to this week, when Wapo conveniently published their hit piece against Moore, the first one making headlines, was Mitch McConnell, calling for Moore to drop out of the Alabama race, followed by whole host of other establishment RINOs, like McCain, Flake, Collins, Murkowski and they even trotted out the failed two time presidential candidate Mitt Romney to call on Moore to drop out, whether he was guilty of the allegations against him or not.

Last I heard, Washington Post is NOT a court of law, and an accusation is not "proof" of wrongdoing.

If an allegation is automatically assumed to be true, then the random claim by a Twitter user with 18,000 followers, claiming "A family friend who lives in Alabama  just told my wife that a WAPO reporter named Beth offered her 1000$ to accuse Roy Moore????," along with his claim that "She has a pic of the woman named Beth and taped the conversation on her phone.I told her to take it to the DA,s office but be sure to keep a copy," automatically means that one of the writers of the Wapo hit piece, Beth Reinhard, paid someone to lie about Moore.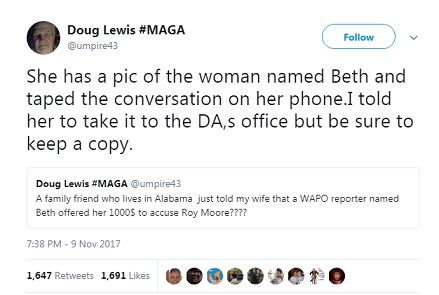 Frankly this is why people are presumed innocent unless found guilty in a court of law, or unless some type of visual or compelling evidence is offered to prove an allegation. We can believe Doug's assertion about as much as we can Wapo's, since neither has provided any concrete evidence, and Wapo has a history of publishing fake news.

Yet the Republican campaign arm has severed there campaign fundraising agreement with Moore and there is talk the Senate is debating how to force him out and exploring "extraordinary measures," all over unproven, undocumented allegations offered up by Washington Post.

Then we see the following assertion in an article by Jon Ward, Senior Political Correspondent, Yahoo News:


The explosive allegations of sexual misconduct against Republican Senate candidate Roy Moore may have an unintended casualty: Steve Bannon, the former adviser to Donald Trump who is leading an insurgency against the GOP establishment.

At least, that's what Bannon's chief target, Senate Majority Leader Mitch McConnell, R-Ky., is hoping.

BOOM! That folks, was the entire point of the hit job on Moore to begin with. I disagree with the writer that Bannon would be the "casualty," and would argue that Moore is the intended casualty, and the entire manufactured scandal was intended to "slow Bannon's insurgency," as is stated in the title of that article.

In fact, lending more credence to that belief if how the establishment GOP figures are actively attacking not Moore, but Bannon, over the Wapo story:


McConnell allies wasted no time in piling on to make sure that Bannon's name was dragged into the uproar over the allegations against Moore.

"Dear GOP, send your thank you cards to the Breitbart embassy attn: Steve Bannon," tweeted Josh Holmes, a former McConnell chief of staff.

Holmes went further in a comment to the Post: "If it's true, the GOP doesn't have any place for pedophiles and he should step down immediately."

And the SLF foreshadowed a possible line of attack in future campaign ads, contrasting Senate Republicans with Bannon's Breitbart News, which defended Moore against the allegations.

SLF linked to a clip of Breitbart's Joel Pollak downplaying the allegations against Moore.

SLF is the official account of Senate Leadership Fund Super PAC, which in looking through their feed on their verified Twitter account, seems to focus mainly on attacking Bannon himself.

On November 8, 2017, they tweeted "Lifestyles of the Rich and Populist: @Politico reports Steve Bannon insists on private jets and an entourage." On November 2, 2017, they wrote "Bannon praises Nigel Farage today on @BreitbartNews radio just days after Farage condemned for "Jewish lobby" slur." October 30, they wrote "Ouch! Local radio host accuses Bannon-backed #WISen candidate of "polishing Steve Bannon's shoes with his tongue." (see more at Twitter)

Three guesses and the first two do not count on who that Super Pac is aligned with?  Mitch McConnell!

When Judge Moore told Hannity that his campaign is doing their own investigation and that they "have some evidence of some collusion here but we're not ready to put that to the public just yet," he was referencing collusion between Republicans, Democrats and Washington Post.

"There are going to come out facts, there will be facts, that show in this situation that this was a Democrat and maybe even establishment Republican effort to undermine this campaign, because they don't want to hear the truth in Washington and they don't want to hear the truth about God and the Constitution," Moore said.

While the MSM piles on as establishment lapdogs and rushes out new polls claiming these allegations against Moore have stripped his lead and the race is now tied (keep in mind how wrong all those polls were during the presidential election), an ABC affiliate on the ground in Alabama says "Out of all the voters we spoke with Friday in Columbiana, we didn't find one voter who believed the Washington Post report about Moore."

BOTTOM LINE 

What the establishment doesn't seem to understand yet, is the "we the people" know how corrupt the MSM has become, how the majority have become nothing more than the propaganda arm of the Democratic party and the establishment globalists, and the majority of Americans do not believe them anymore.

Remember, nearly two-thirds (65 percent) of Americans see the MSM as publishing "fake news," and 53 percent of those were Democrats.

The GOP establishment, in going after Moore, is doing the very same thing they did after Donald Trump was officially named the GOP candidate for president, so unwilling to give up their "swamp" and control that some of them even publicly stated they would rather vote for the Democratic candidate Hillary Clinton, than for the GOP candidate.

The GOP establishment is willing to give up their majorities in the Senate and House rather than see the swamp drained and the president's agenda enacted and whether they take down Moore here, or whether voters elected him anyway after this latest Wapo stunt, it won't matter because if they think Bannon will back down instead of doubling down, they have another thing coming.

This is about to get very ugly, very fast.

Steve Bannon addresses the allegations against Moore coming from the Washington Post, stating "That's what I mean when I say opposition party," meaning Wapo, along with the majority of the MSM is "part of the apparatus of the Democratic party," and that they "don't make any bones about it."



The entire speech from Bannon is below, the lead in to the portion above can be heard at approximately the 9:30 minute mark.




Help Keep Independent Media Alive, Become A Patron for All News PipeLine at https://www.patreon.com/AllNewsPipeLine





comments powered by

Disqus