Whatfinger: Frontpage For Conservative News Founded By Veterans
"The Best Mix Of Hard-Hitting REAL News & Cutting-Edge Alternative News On The Web"

April 29, 2016
Alarming Phenomenon Has Entire Continent Imperiled - 'The Danger Is Real And Persistent' Experts Warn


By Stefan Stanford - All News Pipeline - Live Free Or Die
The three latest stories from ENENews delved into within this story tell us what the mainstream media will never tell us and as we learn within these linked stories and the videos below, there is likely good reason they're not putting this information out to the world; for to do so would be to admit their own 5+ year failure to alert the public to the dangers we all face and an entire continent in peril. As we're told by nuclear experts in the 1st video below, the danger we all face is very real and it's very persistent. 
According to experts in a new program put out called "Fukushima And Its Aftermath", if the Fukushima nuclear plant keeps on leaking, the entire continent of North America will not be safe from radiation. We find that is a bit of an understatement as in fact, we learn here, RIGHT AFTER the Fukushima disaster back in 2011, seals suddenly died on the shores of Vancouver, Canada, thousands of miles away. From the story:
Vancouver is located on the west coast of Canada.

Right after the Fukushima nuclear power plant accident in 2011, seals suddenly died on the shores of Vancouver,

and

Cesium levels five times the usual amount were detected in the seaweed and fish

. The whole world took notice of the strange phenomena that occurred on the shores of Vancouver, thousands of kilometers away from Japan. One Canadian research center has been analyzing marine plants on the Vancouver shores since 2012 to identify the cause. The result of their tests showed that iodine and cesium were detected in much of their marine plants.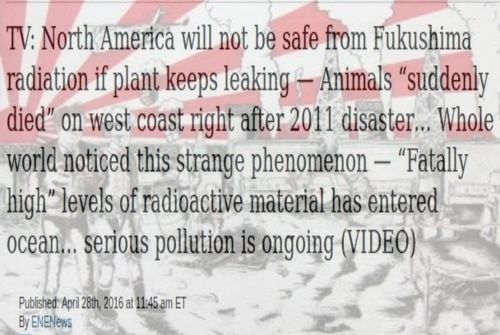 Now more than 5 years since the disaster, we learn that while most people still don't feel the direct impact from the continuous flow of poison into our oceans and into our atmosphere, fatally high concentrations of radiation have been leaked into the sea and, at least at the current moment, there is no way to put a stop to it. Sea life continues to take a massive hit despite the fact that the mainstream news media continues to implicate itself in this ongoing crime against life by not reporting what's really going on in the Pacific Ocean and along the West Coast. 

The story from April 25th at ENENews tells us all about that. "Dead animals litter California beaches...an alarming phenomenon...a graveyard of washed-up sea life....influx of malnourished sea creatures...the animals are starving to death." 

ANP readers know all about the mass animals deaths that have been taking place in our Pacific Ocean and along the West coast from California up to Alaska. We have documented these mass deaths over and over and over again. Despite the fact that you won't be hearing much about Fukushima from the national mainstream media, the stories are beginning to show up almost daily in the local news, and we're thankful for that, as seen in the stories linked below.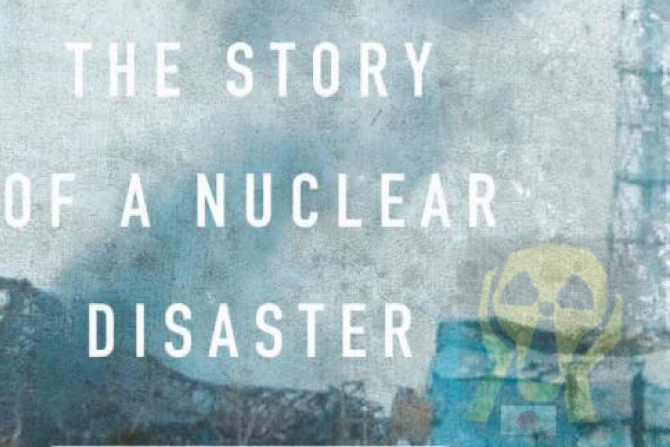 Why's the national msm refusing to sound the alarm ENENews is sounding loudly and clearly? We thank each of the outlets below for covering this extremely important topic; all of the linked stories below are from the past month alone. Much more below including several new video reports on this ongoing disaster for humanity and all of life upon Earth. 


NBC L.A., Apr 19, 2016 (emphasis added): Officials are investigating why sick sea lions are washing up onshore… The Laguna Beach Pacific Marine Mammal Center has an overflow of sea lions… The reason for the influx of sea lions remains a disappearing cold water food source.


Laguna Beach Independent, Apr 23, 2016: Most are malnourished and many are infected with parasites,
Salon, Apr 21, 2016: Dead animals litter California beaches — California is in its third straight year of "unusual mortality" rates for sea lions. The

dismal state was first declared in January of 2013 and death rates have increased each year since

… It looks like

2016 will be worse

… They are

starving to death

.

The same goes for birds… California beaches are littered with dead sea lions and birds.

Watch our video for more on this

alarming phenomenon

.

Pepperdine University's student newspaper ('The Graphic'), Mar 28, 2016: A walk on Point Dume's beach [Malibu, California] recently resembles a graveyard of washed-up sea life. On the stretch of the Pacific Coast… dead sea lions, tuna crabs and crows littered on the sand, a defunctive and rotten smell permeating the sea air… [S]tranded sea lions have become a regular sight for those who frequent Point Dume, as beach-goers stretch their towels yards away from the rotting corpses. "This has been a coast-wide problem for the past four years," Seasonal Assistant Marine Coordinator Colleen Weiler said.
KRON, Apr 11, 2016: Marine Mammal Center dealing with influx of malnourished sea creatures… Hundreds of elephant seals, harbor seals, and sea lions are [at the center]… Rescue crews are bringing them in daily because they simply don't have enough to eat… Dr. Shawn Johnson is the lead veterinarian at the center and said the animals are starving…
The Channels Newspaper, Apr 22, 2016: Rescued seals are brought [in] with seaborne diseases… causing bumps and blisters on the face, neck and flippers…
Marin Independent Journal, Apr 10, 2016: Marine Mammal Center coping with relentness influx of ailing sea lions… "They are skin and bones, they are malnourished, they have secondary infections like pneumonia because their immune systems are suppressed," said [Dr. Shawn Johnson]… the sea lions appear to be experiencing stunted growth… "These are the smallest pups we have seen in 41 years of study," [NOAA's Sharon Melin] said.
The Marine Mammal Center, Mar 29, 2016: This is the fourth year in a row that we've seen California sea lions in crisis… [This year] these animals are also unusually small… essentially fur-covered skeletons—they seem to be experiencing stunted growth… pup weights are the lowest ever documented.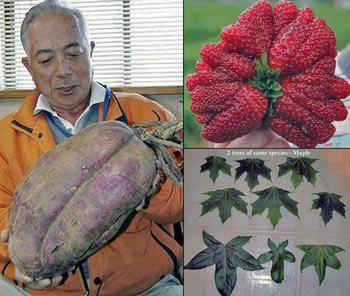 Should we really be concerned about the radiation poisoning our water and our air if we can't even see it nor feel it nor taste it nor hear it nor does it seem to be damaging us in any way, at least at the moment? The final story from ENENews that we'll report on today tells us one reason why we should be alarmed and it comes to us straight from the area surrounding Fukushima. According to Arnie Gunderson, who visited the Fukushima Prefecture recently, many cases of 'gargantuanism' have been showing up in fruits and vegetables, especially in the 2nd and 3rd generations. We're told that more and more people have been reporting this kind of thing as also heard from Arnie in the 3rd video below. 

As we read from Daniel Barker over at Natural News and hear from Gary Franchi of the Next News Network in the 2nd video below, babies of Fukushima are being born with extra body parts, if they are born at all. If children are being born with extra arms and legs, and the mainstream media isn't reporting it, are these births really even happening after all?  

For those who want to hear directly from several people who have survived nuclear disasters, the 1st video below features Bonnie Kouneva, a Chernobyl survivor who lived 800 miles away from the plant when the accident happened on April 26th, 1986. Bonnie speaks about how the accident impacted her life as well as the health of her children. She was only 16 at the time of the accident. Also featured are several more experts who share their own experiences on 'Nuclear Hotseat' 30 years after Chernobyl with Fukushima still bringing death to American shores whether the msm reports upon it or not.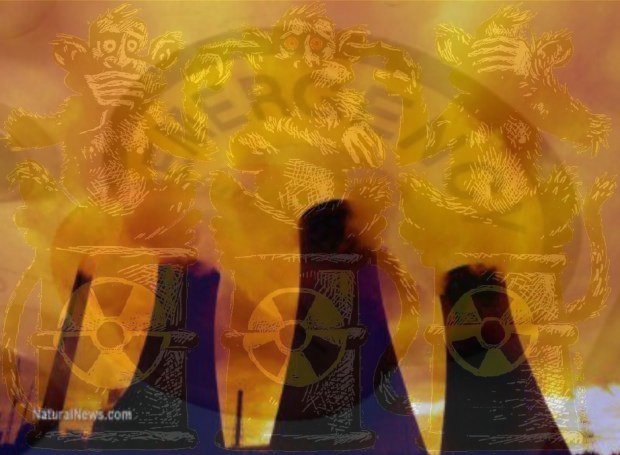 comments powered by

Disqus