Whatfinger: Frontpage For Conservative News Founded By Veterans
"The Best Mix Of Hard-Hitting REAL News & Cutting-Edge Alternative News On The Web"
December 12, 2017
Globalists 'Ultimate Killing Machines' Are Hiding In Plain Sight - Russia Blows Whistle But The World Remains Silent


By Stefan Stanford - All News Pipeline - Live Free Or Die
The must-read December 6th story from Mac Slavo over at SHTFPlan titled "20 Million Could Starve To Death In Coming Months As Bio-Systems Of Earth Are Imploding" has Slavo sharing with us this dire warning recently given to the world by Dane Wigington:  
"Our situation is far more dire and immediate than anyone yet comprehends, and climate engineering is making it worse, not better. Official statistics say 20 million people could starve in the coming months, and that number will increase exponentially. The biosystems of the planet are imploding."
While the mainstream media apparatus would quickly call Wigington's statement 'fake news' as they continue to cover up 'weather modification' itself, Wigington warns that climate engineering is the biggest cover-up in human history with the cooperation of governments and mainstream media outlets all across the planet as heard in the final video below.

And while there is great evidence that food has been used as a weapon throughout history, with millions having been starved to deaths by totalitarian and socialist government's alike going back many years, the thought that we may be witnessing it once again in 2017, stealthily being carried out before our eyes, is quite infuriating.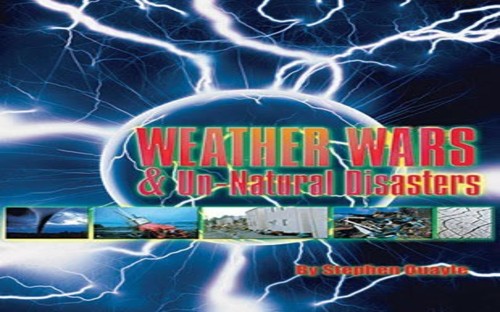 As Steve Quayle warned us of years ago in his book "Weather Warfare & Un-Natural Disasters", man would fruitlessly attempt to 'play God' while "Technology will make available, to the leaders of the major nations, techniques for conducting secret warfare, of which only a bare minimum of security forces need be appraised… Techniques of weather modification could be employed to produce prolonged periods of drought or storm."

As we see in Wigington's warning republished below, the attempts being made to modify the weather are coming back to haunt all of us with catastrophic results, results that even now we have no idea about how bad they may soon become. 
"They are legally required to give those to our attorneys, and they are not doing that. In fact, NOAA, in essence, flipped us the middle finger by sending back FOIA's saying they know nothing about any sort of weather modification anywhere ever. Think how absurd this is when there are 300 regional weather modification programs that NOAA is required to sign off on every single year (in the contiguous 48 states). They are denying all of it.

This is the biggest cover-up in human history, with the largest most extensive operation in history, with the cooperation of governments around the globe. That is not speculation. You have to look and understand the gravity of the situation that is unfolding. Countries around the globe, whatever you are focused on, if it's not saving the life support systems of the planet, everything else amounts to arranging deck chairs on the Titanic. . . . This is the single most destructive endeavor ever launched by the human race. Mathematically, it's the greatest threat we face short of nuclear catastrophe."
– Dane Wigington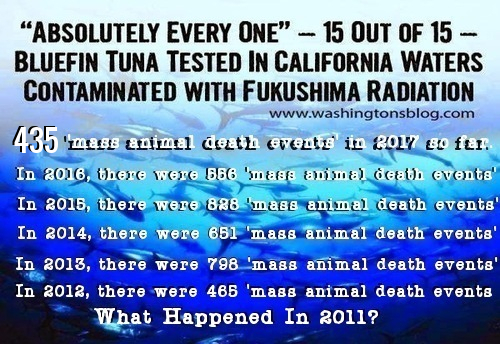 And weather modification alone isn't the only way that our food supply is now being decimated with Fukushima's endless flow of death still poisoning and polluting our Pacific Ocean and decimating the food chain as heard in the 2nd video below and as we've read in story after story from ENENews over the past year, stories that the MSM is also covering up as if they don't exist.

For those who may have missed them, some of the recent story titles over at ENENews included:

ALARM: Record die-off of marine life along West Coast — Huge numbers washing up on shore… "This is just the tip of the iceberg" — Several types of animals found dead — Hemorrhaging from brain infection 

Brain-rotting toxin killing huge numbers of marine animals on California coast — Die-offs skyrocket over past week — Expert: "It's worst year we've ever seen" — Mass deaths of sea lions, dolphins, birds — Officials warn outbreak is spreading

Mass die-off ongoing along US West Coast — TV: "It's just not clear why all the marine life is washing up like this… Reports coming in every day" — Experts: 'Unknown' organisms eating away brains, hearts… New infection never seen before 

"Most catastrophic fisheries collapse in history" expected along West Coast — Official: "This is a nightmare, I have never in my life dreamed that it could get this bad" — Threat of "coast-wide fishing failure" 

With 'mass animal death events' now up to 435 in 2017 spread across 79 different countries according to the 'End Times Prophecy' blog, let's remember that in the year of 2016, there were 556 KNOWN 'mass death events' in 81 countries. In the year 2015 there were 828 known 'mass death events' in 96 countries. In 2014 there were 651 known 'mass death events in 76 countries. In 2013 there were 798 known 'mass death events' in 93 countries. In 2012 there were 465 known 'mass death events' in 67 countries.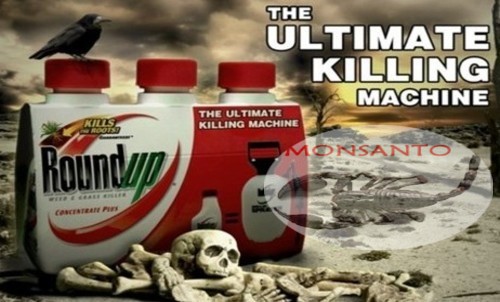 And as we hear now in the 1st video below from a Russian television station, humanity also has genetically modified foods to contend with with a massive ongoing cover-up and corruption at the highest levels of the European Union and across the planet as 'the ultimate killing machine' created by Monsanto is further unleashed upon the masses. 

As the Guardian recently reported in a story which Steve Quayle linked to on his website, why are US farmers committing suicide in record numbers? That question was not fake news. While their story goes on to report this shocking news, that the suicide rate for farmers is more than double that of veterans, it never mentions Monsanto once within their story despite the fact that over in India, Monsanto sowed seeds of suicide with an epidemic of farmer suicides blamed upon Monsanto's business practices. 

How was the creator of some of the world's most ultimate killing poisons allowed to get into the food business, anyways? For those who are unaware, not only does Monsanto dabble in genetically modified foods but the company was the creator of not only 'agent orange' but DDT and 'roundup' as well. And now, they're knee deep in food all over the world.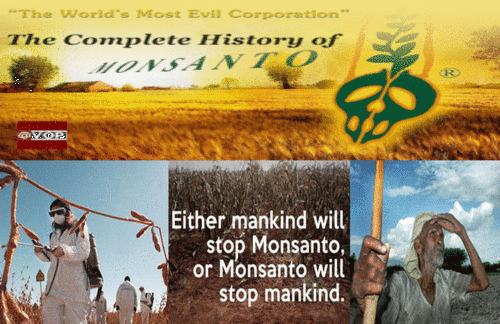 In this July 2017 story from Global Research, Dr. Vandana Shiva reported "The Seeds Of Suicide: How Monsanto Destroys Farming" in which he warns us farmers in India were killing themselves off in record numbers as well. While 'Monsatan' launched a public relations campaign attempting to distance themselves from the farmer suicides in India, the damage had been done. 

As was warned by the website Collective Evolution back in October of 2014, Monsanto (called the most evil corporation in the world for good reason) was also the creator of a 'dirty dozen' products including saccharin, DDT, PCB's, polystyrene's, and aspartame not to mention dioxin and the previously mentioned 'agent orange' and roundup. 

With 'agent orange' used as a weapon of war back in the 1960's over in Vietnam, and Monsanto the creator of that weapon with deep ties to the global luciferians, should we believe that genetically modified foods are anything but their latest, covert 'weapons of war', the ultimate 'slow-killing machines'? 

It has long been warned that only 9 meals stand between civilization and anarchy and with a very clear 'depopulation agenda' having been set for the US with current Deagel estimates of only 54 million people living here in 2025, down from 324 million in 2016, its wise to remember a desperate people will stop at nothing to feed their families.

A few good, recent related stories include:

Winter Is Coming—How To Deal With The Food Crisis In A World Without Walmart

When The Shelves Run Empty The Majority Of You Will Die. Do not assume that it will never happen. We are living in dangerous times. Some of us see it, but many do not… 

And from the Survivalist Blog: 

The Ultimate Prepper's Survival Guide – Survive When Disaster Strikes. A Comprehensive Guide to Home Storage, Bartering, Bugging Out, Weapons, and Self-Defense. Stuff You Need to Survive When Disaster Strikes.








comments powered by

Disqus